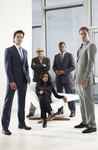 Starring:

Tim DeKay

,

Willie Garson

,

Tiffani Thiessen

Summary:

Neal Caffrey and FBI special agent Peter Burke continue to solve crimes together in the second season, as they also seek answers to what happened to Kate.

Genre(s):

Drama

,

Action & Adventure

,

Suspense
Creator:

Jeff Eastin

Season 2 premiere date:

Jul 13, 2010

Episode Length:

60
Please enter your birth date to watch this video:
You are not allowed to view this material at this time.
It's gotten better at delivering on its strengths -- light character drama and caper-ish crime proceedings.

Neal still has Peter Burke (Tim DeKay), and the bro-mance between the art thief and his by-the-book FBI handler is still the best reason to watch this show.
Neal, Mozzie, and Peter - it's the perfect combination! It shouldn't work, but it does so in spades! I'm dying for the next episode. I've

Neal, Mozzie, and Peter - it's the perfect combination! It shouldn't work, but it does so in spades! I'm dying for the next episode. I've watched season 1 and all of the previous season 2 episodes again during the break, that is how addictive White Collar is!

…

Expand

The Mozz makes this show. We all know someone like Mozz, the paranoid conspiracy theorist with a knack to dig up dirt on anyone or anything.

The Mozz makes this show. We all know someone like Mozz, the paranoid conspiracy theorist with a knack to dig up dirt on anyone or anything. He adds flair to what otherwise would have been just another CIA / Criminal partnership.

…

Expand

White Collar is a great example of what good TV can and should be. Where most TV shows tend to dwell too much on try to catch the audience by

White Collar is a great example of what good TV can and should be. Where most TV shows tend to dwell too much on try to catch the audience by resorting to, for the most part, cheap thrills, White Collar focuses more on the fun of telling a good story. It's one of those shows that you just believe must be blast to work on because the actors's interactions just seem to appear naturally. It's just plain fun TV with a good story and just the right dose of suspence and excitement.

…

Collapse

"White Collar" is a unique and compelling **** of crime, romance, and thrilling plot-twists that will have you simultaneously cheering and

"White Collar" is a unique and compelling **** of crime, romance, and thrilling plot-twists that will have you simultaneously cheering and screaming at your television screen. Blended together with a stellar cast, solid acting, and sharp dialogue this break-out show transforms into a must-watch. The most challenging con is always the next one, and this critic is assured that the upcoming season will not fall short of delivering a similar caliber of quality entertainment.

…

Expand

The tone from the first season is no longer present in the 2nd. You now know all the characters and the setup, so is there any reason to

The tone from the first season is no longer present in the 2nd. You now know all the characters and the setup, so is there any reason to elaborate on it? No. So this season focuses more on the cases, and less on the characters, which doesn't suit as well for the series. Amazing, but could be better.

…

Expand

While Season 2 of White Collar struggles with the usual trappings of a buddy cop show, the chemistry between Matt Bomer and Tim DeKay as well

While Season 2 of White Collar struggles with the usual trappings of a buddy cop show, the chemistry between Matt Bomer and Tim DeKay as well as the light hearted & fun tone propel this from similar shows.

…

Expand