Network:

HBO

Series Premiere Date:

Nov 18, 2013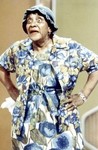 Summary:

With newly discovered archival footage, photographs, and interviews, the Whoopi Goldberg-directed documentary explores the history and impact of African American comedian Jackie "Moms" Mabley on current entertainers.

Genre(s):

Comedy

,

Movie/Mini-Series

,

Documentary
Show Type:

TV Movie

Season 1 premiere date:

Nov 18, 2013

Episode Length:

72
Whoopi Goldberg presents Moms Mabley is simple but perfect--one of those documentaries that's about what it seems to be about, but is also about something else.

The documentary cannily employs Goldberg's enthusiasm and some clever animations over Moms' audio routines to keep this lost legend's influence in the forefront.

Goldberg's documentary doesn't dwell on the what-ifs. It focuses on what a remarkable woman did accomplish, just by making us laugh.

The documentary goes beyond mere hazy tribute, offering parallel windows into the civil-rights era and the barriers women have faced in comedy.

It is an homage and a celebration, with something of a high-class homemade feel.

Interviews with Eddie Murphy, Joan Rivers, Sidney Poitier, Kathy Griffin, Harry Belafonte, Anne Meara, Bill Cosby and others provide ample evidence of Moms' enduring influence. Yet, even if you remember how great she was, you may find yourself wishing there were fewer testimonials and more footage of Moms performing.
Moms Mabley was an icon and the career that launched many others. She loved all people and Thanks to Whoopee Goldberg a new generation will

Moms Mabley was an icon and the career that launched many others. She loved all people and Thanks to Whoopee Goldberg a new generation will get to know this pioneer woman who broke all grounds. God bless her for everything she did especially her humor!

…

Expand