Network:

NBC

Series Premiere Date:

Sep 21, 1998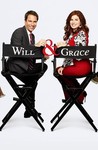 Starring:

Eric McCormack

,

Debra Messing

,

Megan Mullally

Summary:

Will & Grace is a hilarious series about two best friends. The twist is that Will is gay Grace is a straight interior designer. More than friends, but less than lovers, the two share a special bond and their personalities easily balance one another's. In addition to the stable Will and

Will & Grace is a hilarious series about two best friends. The twist is that Will is gay Grace is a straight interior designer. More than friends, but less than lovers, the two share a special bond and their personalities easily balance one another's. In addition to the stable Will and Grace, the show features Will's flamboyantly gay friend, Jack and Grace's sarcastic, spoiled, and boozy assistant, Karen.
Will & Grace is the only series of such length (8 years) to have all of its episodes directed by the same director, in this case the talented James Burrows. Will & Grace is also one of the three series in which all of the main cast memebers won Emmy awards, with the other two shows being The Golden Girls, and All in the Family.
Throughout its 8-year run, Will & Grace has been nominated for 83 Emmys, 24 Golden Globes, 14 SAG Awards and six People's Choice Awards. Among its 12 Emmy wins, the show won as Outstanding Comedy Series in 2000. In 2002, 2003, 2005, and 2006, it had more Emmy nominations than any other comedy series. Additionally, it's been nominated for an American Comedy Award, three GLAAD Media Awards and a Founders Award from the Viewers for Quality Television. NBC Broadcast History
September 1998-November 1998 – Monday 9:30
December 1998-March 1999–Tuesday 9:30 April 1999-May 1999 – Thursday 8:30
September 1999-May 2000 – Tuesday 9:00
October 2000-January 2004 – Thursday 9:00 January 2004-April 2004 – Thursday 8:32
April 2004-September 2004 – Thursday 9:00
September 2004-December 2005 – Thursday 8:30
January 2006-May 2006 – Thursday 8:00

…

Expand

Genre(s):

Comedy

,

Health & Lifestyle
Season 2 premiere date:

Sep 21, 1999

Episode Length:

30
Please enter your birth date to watch this video:
You are not allowed to view this material at this time.
THE MR. MEN SHOW: MR. TICKLE PRESENTS TICKLE TIME AROUND
Creators David Kohan and Max Mutchnick have overcome the dilemma of the show's debut season — how long could gay Will (Eric McCormack) and straight Grace (Debra Messing) go without romances in their lives? — with a couple of shrewdly funny solutions.
This is the funniest show ever! This season especially is HILARIOUS. Megan Mullally as Karen Walker is definitely a show-stopper/stealer and

This is the funniest show ever! This season especially is HILARIOUS. Megan Mullally as Karen Walker is definitely a show-stopper/stealer and she delivers her character in the most amazing fashion! Despite the fact that the rest of the 4-member cast is excellent, she dazzles with her wit and her **** yet classy attitude.
It's a hilarious season and much better than the first one was - if the show keeps this direction later on, it will be amazing.

Highly recommended! 10/10!!! :)

…

Expand