Network:

CBS

Series Premiere Date:

Oct 1, 2017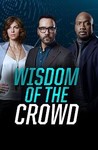 Summary:

Based on an Israeli series, Silicon Valley tech guru Jeffrey Tanner (Jeremy Piven) creates a crowd-sourcing app to solve his daughter's murder with the help of Det. Tommy Cavanaugh (Richard T. Jones), head programmer Josh Novak (Blake Lee), manager Sara Morton (Natalia Tena), techie Tariq

Based on an Israeli series, Silicon Valley tech guru Jeffrey Tanner (Jeremy Piven) creates a crowd-sourcing app to solve his daughter's murder with the help of Det. Tommy Cavanaugh (Richard T. Jones), head programmer Josh Novak (Blake Lee), manager Sara Morton (Natalia Tena), techie Tariq Bakari (Jake Matthews).

…

Expand

Genre(s):

Drama
Season 1 premiere date:

Oct 1, 2017

Episode Length:

60
Please enter your birth date to watch this video:
You are not allowed to view this material at this time.
To Wisdom's credit--so far anyway--this doesn't look like the typical gruesome network cop drama arrayed with female victims and their predatory killers (even though there are two such victims in the pilot). It does look like a good idea in search of genuine high-tech bona fides.

Mr. Piven has always been able to make insufferable characters sufferable--maybe even likable--and Mr. Jones's Cavanaugh is a down-to-earth antidote to his new colleague's entrepreneurial loftiness. The rest of the Sophe crew is rather cookie-cutter. ... Are all brilliant! naturally. Also, predictable.

Wisdom of the Crowd gets a pass for now. The first episode addresses a number of interesting issues, although never going too deeply into them. ... Piven and Jones offer a strong presence for this type of show, and Natalia Tena works nicely as Sara Morton, Tanner's head of the project, who gives him some balance and as something of a love interest.

Despite the ridiculous premise, the hollow performances, the shallow sketches that substitute for characters, and the incredibly thoughtless approach to the emotional lives of those characters, there are still moments when you might actually want to see what happens next. At times, it's because an actor crackles with energy, and at others, it's because it just doesn't seem possible that things could get even dumber.

[Jeremy Piven] skillfully employs the art of abrasion that he mastered on HBO's "Entourage." But he's less persuasive as a haunted, grieving father. And the supporting players--his ex-wife (Monica Potter), his project manager and lover (Natalia Tena) and a pair of quirky computer whizzes--are underdeveloped in the pilot. But these typical growing pains are nothing next to the creepiness of the premise. Despite the flashes of self-awareness, the hero of Wisdom is mob justice.

There is an attempt here to tap into what makes shows like Scorpion and Person of Interest lack, but neither the acting nor the writing delivers the minor narrative pleasures that those series serves up intermittently. Instead, Wisdom of the Crowd acts as an egregious, even embarrassing gesture toward understanding the age of social media, a husk of modern tropes made with minimal passion and even less care.
It's definitely a different kind of procedural, which I like, and it's got multiple storylines, which I really like - and which is rare for

It's definitely a different kind of procedural, which I like, and it's got multiple storylines, which I really like - and which is rare for CBS. And Richard T Jones is stellar. As for the crowdsourcing, I can already tell they're setting up the series now for some conflict with the app and the user base (at least I think they are). I liked the pilot a lot, and more than interested in episodes 2 and 3. I'll be watching. A more than solid start.

…

Expand

Really enjoyed the first episode. I think it has a lot to offer and cant wait to see where the season goes. Really love Natalia Tena and

Really enjoyed the first episode. I think it has a lot to offer and cant wait to see where the season goes. Really love Natalia Tena and Richard T. Jones.

…

Expand

Wow. A network show offers a new and contemporary take on the traditional crime series. New ideas and modern aspects applied to this format

Wow. A network show offers a new and contemporary take on the traditional crime series. New ideas and modern aspects applied to this format offer an enjoyable show that benefits from a strong cast. Looking forward to future episodes.

…

Expand

Concept just plausible enough to be intriguing. So far extremely well done, excellent plotlines. Casting in general is spot on, but the

Concept just plausible enough to be intriguing. So far extremely well done, excellent plotlines. Casting in general is spot on, but the actress playing Mia's mother, (the ex-wife) just doesn't work - other viewers I've talked to have the same reaction. Every time she appears in a scene it is jarring - hate to say this, but she seems too much older than the Tanner character, and not believable. Plan to keep watching.

…

Expand

I thought Jeremy Piven carried this show. I enjoyed the pilot. Will be interesting to see the next few episodes to see if it becomes a

I thought Jeremy Piven carried this show. I enjoyed the pilot. Will be interesting to see the next few episodes to see if it becomes a formulaic crime of the week to be solved or if there is something more.

…

Expand

Another show wanting to cash in on the success of TBBT and Scorpion with shades of APB. Interesting premise and some potential, but far too

Another show wanting to cash in on the success of TBBT and Scorpion with shades of APB. Interesting premise and some potential, but far too predictable.

The writers cannot let the daughter's murder get solved too quickly or they'd be lacking any motivation for the app and the show to continue. So, we're stuck with the main character's pain and anger throughout the run of the show - and the negative emotion will become tiresome to the audience quite quickly. Another story that might have made a good two hour TV movie, but not a continuing season drama. Will only work if they solve the daughter's murder fast, then they transition to become partners of the police force. They either need to get crowd source funding going or get a rich benefactor on board because the financial troubles subplot is not working. Basically irritating and can be wiped away as soon as the writers want it solved.

Addendum- So the partnership with the police thing is happening (predictable) and now the evil corporate types now want to steal the system based on a few hundred lines of code. Another irritating subplot that needs to go away quickly.

CBS has not extended their order for more episodes so S1 will end at 13. This is also a signal that a S2 is highly unlikely. Also likely a signal that CBS is running away from any association with actors who have been mentioned in this year's flood of sexual harassment accusations. If this is true, we could be losing a lot of shows based on the type of behavior I've seen as typical in acting companies. Guess they had to take responsibility for their actions at some point and the industry as a whole will be better for it. Sad to see this show go, as it had some potential as far as I was concerned. Wrong decision, CBS. This show could have been something.

Obviously the 13 episode season did not give enough time for the writers to wrap up the show properly. Since this show is not likely coming back, would like to see a special 2 hour episode to tie everything up - one can dream, right? Way to leave this show's fans hanging,CBS! It would have been better to recast the lead or write him out rather than dump a show that had potential.

…

Expand

I finally had to call it a day on this show. The left driven agenda is just getting to much. Hearing James Damores email at google being

I finally had to call it a day on this show. The left driven agenda is just getting to much. Hearing James Damores email at google being described as assine showing the writers biase has seen me pull the plug. The writers are pushing their left wing agenda as if it's given facts. No balance just PC clap trap. Gooodbye

…

Expand