Network:

Lifetime

Series Premiere Date:

Oct 6, 2013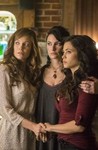 Starring:

Eric Winter

,

Mädchen Amick

,

Mädchen Amick

Summary:

Lifetime's original scripted drama series about a family of immortal witches living in a secluded seaside town is based on the novel by Melissa de la Cruz and stars Julia Ormond, Mädchen Amick, and Virginia Madsen.

Genre(s):

Drama

,

Fantasy

,

Horror
Season 1 premiere date:

Oct 6, 2013

Episode Length:

60
Please enter your birth date to watch this video:
You are not allowed to view this material at this time.
The starter hour picks up steam whenever loose-cannon Amick bops around--although Ormond does a nice job of grounding its shenanigans in a semblance of reality.

Witches of East End doesn't overdo the mythology (like Sleepy Hollow) or make it all about the sex (like True Blood). Instead, it set up a complicated interpersonal world, a plausible (for this kind of show) backstory, and then populated the town with really good-looking people.

Though the show is a drama, it is served up with a droll comic sensibility that is a refreshing change.

The show has a sincerity about its silliness and light spookiness; for a moment there, it's almost as if 'True Blood' tried to conceive a demon baby with 'Bunheads.'

Even if the series plays it right down the middle--it's not exactly good, but not terrible either--that might be all that's needed to succeed.

Witches Of East End has the curious distinction of feeling at once underpopulated and way, way too busy.

No amount of magic could elevate the amateurish acting and shoddy, choppy, derivative writing. Whatever the opposite of spellbinding is, that's this show.
I was completely impressed by the Pilot of Witches of East End. It had everything you needed to keep you hooked on the show. The characters

I was completely impressed by the Pilot of Witches of East End. It had everything you needed to keep you hooked on the show. The characters were each intriguing and well-casted as every storyline was juicy and I will definitely be watching it every week. Check out the show if you haven't already, it's seriously recommended.

…

Expand

The acting is top notch and the show always keeps you on the edge of your seat. I love it so much and the characters are all so unique and

The acting is top notch and the show always keeps you on the edge of your seat. I love it so much and the characters are all so unique and have a great story.

…

Expand

I absolutely love this series ! I am not that much into supernatural stuff, but this captured my attention. I love the plot, the actors and

I absolutely love this series ! I am not that much into supernatural stuff, but this captured my attention. I love the plot, the actors and the visual effects are stunning. I recommend this so much. It is great.

…

Expand

Just watched the first episode of the first season absolutely fantastic. Fabulous story can't wait to see the next episode and the rest of

Just watched the first episode of the first season absolutely fantastic. Fabulous story can't wait to see the next episode and the rest of the season.

…

Expand

This show is not perfect but at least it is very, very entertaining. It embodies many elements in a series in a good-hearted way. Just so

This show is not perfect but at least it is very, very entertaining. It embodies many elements in a series in a good-hearted way. Just so people know, this is based on novels. This is actually a good adaptation!

…

Expand

I'm finally impressed by a new witch show. All these other ones are so sensationalized and all about sex and action. I guess that is good

I'm finally impressed by a new witch show. All these other ones are so sensationalized and all about sex and action. I guess that is good for the 21st century but I always like some drama. This is my new charmed. I missed charmed so much. If this show can retain all of charmed viewers then it will be a hit overnight. They just need to keep remembering to develop the characters and story lines. Don't tell us about the curse right away. Then you will run out of interesting things and will have to make up crap and then its the beginning of the end. I love that they all have curses. Let them unfold slowly.

…

Expand

Sadly, like many of today's good scripted TV shows, this show is full of subtle political agendas. National Geographic stated that the next

Sadly, like many of today's good scripted TV shows, this show is full of subtle political agendas. National Geographic stated that the next race up for extinction are the white-Europeans due to dangerously low birthrates globally. Inter-racial couples make up 13% of America, and even less globally. So now those of us that are smart and caring are starting to ask why is it then necessary to constantly push this agenda in American TV shows? We don't have constant TV shows about Native Americans in interracial relationships. Probably because we know that would be cruel and insensitive. When a birthrate among any racial group is dying out, time to not be cruel and insensitive. We all come from ancient tribes, and we are all beautiful. Maybe 100 years from now, this kind of message won't matter if white-European birthrates start going up, but until then it's hateful and irresponsible media messages. I stop watching any show now when I see this message being pushed. Wake up world, not matter what race you are. Panda bears are worth saving, and any race can become the Panda bear.

…

Expand