Network:

NBC

Series Premiere Date:

Jul 10, 2014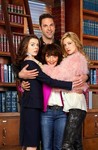 Summary:

The death of Ceil Engel's (Andrea Martin) husband left her with a law firm in debt and only her youngest child (Kacey Rohl) qualified to be an attorney in this comedy co-produced by NBC and Canada's Global network.

Genre(s):

Comedy
Season 1 premiere date:

Mar 12, 2014

Episode Length:

30
Please enter your birth date to watch this video:
You are not allowed to view this material at this time.
[The Canadian comedy all-stars] give it good vibes. But the scripts, despite mad moments of whimsy, can't keep pace with the cast's comic timing and tone.

On their own, Arthur's lunkheaded Jimmy and Skye's bubbly Sandy are sketched a little thin—but due to Working The Engels' compact ensemble, they usually wind up paired with Rohl or Martin, salvaging some potentially dire storylines like "Jimmy gives grandma's ring to a stripper" or "Sandy wants to win a mother-daughter dance contest."

The show moves along at a nice clip, the cast is pleasant, given the predictability of their sitcom-y characters, and they mesh nicely as an ensemble.

The fish-out-of-water aspect intrigues but it also frustrates.

The show never allows itself to stand down from ill-fated, continuous attempts at heightened hilarity.

Though the series may have some passing connection to Arrested Development in terms of setup, it isn't able to capture the depth or tone or charm that elevates a comedy out of just being mediocre to being something really great. That requires more work.

Nothing about Engels works: the tired premise, the strained performances, the empty abyss of silence into which the groaning jokes dissipate.
Love Andrea Martin and seeing her back on TV again. Kacey Rohl is totally different from her character on Hannibal - and really charming in a

Love Andrea Martin and seeing her back on TV again. Kacey Rohl is totally different from her character on Hannibal - and really charming in a lighter kind of role.

…

Expand

I was very disappointed with this polite...The B word is thrown around too, too much on sitcoms, Unnecessary-I was hoping for a Seinfeld show,

I was very disappointed with this polite...The B word is thrown around too, too much on sitcoms, Unnecessary-I was hoping for a Seinfeld show, clean, funny, with unpredictable humor...with out the constant bi+&*ch humor what a waste of 30 min. I rate this show Awful...I didn't laugh once. I was really waiting for the punch line and it never came.

…

Expand

I have always enjoyed Andrea Martins work. She is an excellent comedic actress. "Working the Engels" is an insult to the intelligence of the

I have always enjoyed Andrea Martins work. She is an excellent comedic actress. "Working the Engels" is an insult to the intelligence of the audience and an insult to Andrea Martins personally. There is only one good thing about this show -- Andrea Martins is working. I don't have to watch it though.

…

Expand

I can't believe I sat and watched the entire pilot. I can't believe how bad this show is. The actors, while capable, are dragged to the floor

I can't believe I sat and watched the entire pilot. I can't believe how bad this show is. The actors, while capable, are dragged to the floor by the script. If the pilot was used to sell this show, someone got a bad deal.

…

Expand