Network:

FX

Series Premiere Date:

Jul 17, 2014

Season #:

1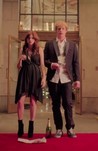 Summary:

Self-absorbed writer Jimmy Shive-Overly (Chris Geere) and cynical PR rep Gretchen Cutler (Aya Cash) meet at a wedding and try to be in a relationship with each other in this Stephen Falk comedy.

Genre(s):

Comedy
Show Type:

In Season

Season 1 premiere date:

Jul 17, 2014

Episode Length:

30

Air Time:

10:30 PM
Gretchen and Jimmy's story, which acquires surprising emotional weight as the season progresses, is highly addictive on its own merits.

One of the reasons that You're the Worst works so well is that we buy this relationship instantly. Geere and Cash have chemistry.

The show grows ever more confident each week. As Jimmy and Gretchen grapple with their relationship, their conflicts seem authentic and not contrived.

We know the end point for these two; they're made for each other. But the writing makes the bumpy journey nonetheless entertaining.

Cash and Geere make the most out of every cutting line and look. But too often, the show mistakes being unpleasant for being amusing.

The notion of two superficial, emotionally stunted human beings struggling with the realization that they still have feelings is by far the most interesting premise of these four shows. But Cash is significantly more appealing than Geere (in fairness, her character is a bit less horrible than his), and the overall execution falls short of the idea.... This one, at least, has the potential to be something more than it is at the moment.

Cash and Geere are two talented performers selling this mess as best they can, but mostly the show suffocates under its own feeling of brashness.
I watch watch alot of comedies and if you enjoy raunchy tv this is by far one of the best shows on tv atm. I enjoy it as it is very refreshing

from what is currently out there and its pretty funny. Im sure it will lean more towards a younger crowd or people with their minds in the gutter. I would def recommend giving this a watch as I think its funnier then two and a half men ever was and its pretty on par with big bang theory as enjoyable tv in my opinion.

…

Expand

This show definitely meets my sense of humour, and that doesn't happen very often. In my eyes it is the best discovery since "New Girl" and if

this show can not make it, both leads (with their characters) should join the cast of "New Girl". Chris Geere's character as a love interest for Zooey Deschanels Jess - that would be fun. Anyway, I hope "You're the Worst" gets more seasons.

…

Expand

Hey, this wasn't the worst. I wasn't expecting much, but there were a few good laughs in there. I could've done without the British accent,

but the actor had enough charisma and chemistry with the lead actress to keep me tuned in next week, so I'll definitely check out episode 2 to see if it's still as funny.

…

Expand

You're the worst tries really hard to be edgy and can be a bit hit and miss, especially through the first episode. By episode three however,

the show looks stronger and stronger, the characters grow on you and while it can still be "too much" at times, it seems the show has potential to become a good comedy.

…

Expand

Not sure about this one. Lots of gratuitous sex, more for shock value. The two lead characters are dislikeable. The interjection of a young

boy moving across the street from the male lead smacks of "About a Boy" (the movie, not the TV series. Will continue to give it a shot, but need something redeemable fairly quickly.

…

Expand

What if Jerry and Elaine were revolting sex addicts?

I couldn't make it through the first episode. Is this supposed to be a daring new

comedy because some misfit jack-ass wanks himself under the blankets every five minutes? That Aya Cash even allows this creep to get near her is disconcerting enough. By signing on to this stinker, she has instantly typecast herself as a vulgar, sorry slag. If the jokes and off-the-cuff commentary could match their crass behaviour it might be marginally worth watching. Sorry, the Ferris Bueller pop-culture reference was dim and out-dated. Is this the best anecdotal humour they can muster to sweeten the crude and callous stench of this irredeemable muck? This could start a cable race for the lewdest common denominator.

…

Expand
Published:

September 17, 2014

With the summer TV season winding down, it's time to re-evaluate the summer shows. Find out why critics now love shows like FX's You're the Worst and The Bridge, read what they thought of BoJack Horseman, The Leftovers and Halt and Catch Fire, and see if The Strain and Masters of Sex are heading downhill.