Everything you need to know about this year's key films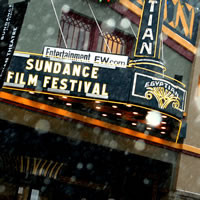 The 2012 Sundance Film Festival concluded its 11-day run in Park City, Utah on Sunday, a day after announcing award winners in nearly 30 categories. This year's festival included over two dozen world premieres and screenings of numerous other films looking to impress potential distributors or generate buzz with festival audiences.
While spending by those distributors was down approximately $10 million this year compared to 2011's record numbers, over a dozen films were acquired during the past two weeks, topped by Fox Searchlight's payment of $6 million for worldwide rights to drama The Surrogate starring John Hawkes, Helen Hunt, and William H. Macy.
Below, we sample the reactions from various professional critics and film writers to the three dozen or so films that generated the most buzz at this year's festival, starting with the winners of the top awards. Click on any hyperlinked publication name to read the full review.
The major award winners
Grand Jury Prize (Dramatic): Beasts of the Southern Wild

Drama | USA | Directed by Benh Zeitlin | Acquired by Fox Searchlight (undisclosed amount)

This multiple award winner received almost universal praise from critics, but defining exactly what the film is might be difficult. Variety calls it a "richly textured bayou pastoral, yielding an emotionally wrenching if somewhat meandering parable." Noel Murray of the A.V. Club finds the film "extraordinary: like a live-action Miyazaki film, with Days Of Heaven narration, set in a dirt-poor community at an unspecified time of crisis." The film follows Hushpuppy, a young girl living in an abstract water-world in Louisiana known as "The Bathtub." Director Ben Zeitlin uses a cast of non-actors to produce what THR calls "One of the most striking films ever to debut at the Sundance Film Festival... a poetic evocation of an endangered way of life and a surging paean to human resilience and self-reliance." Slant agrees, claiming it to be "a beautiful fairy tale about survivor's guilt that's about as good as the festival hype would have you believe."
The film's intro is drawing comparisons to Terence Malick from multiple reviewers, one of those being HitFix, which still has reservations about "the picture's weak overall storyline." That site isn't the only one to express doubts; while Indiewire's Eric Kohn finds the film "supremely ambitious and committed to profundity," he notes that it also suffers from "a muddled assortment of expressionistic concepts" resulting in a film with "plenty to marvel at, but far less to feel." And Karina Longworth of the LA Weekly seems to agree, writing, "The film is never less than a wonder to look at; it's also rarely anything more."
Audience Award (Dramatic): The Surrogate

Drama | USA | Directed by Ben Lewin | Acquired by Fox Searchlight for $6 million

Excellent performances are the hallmark of The Surrogate, which earned top honors from festival-goers. Praise was so consistent for John Hawkes as real-life poet and polio victim Mark O'Brien and Helen Hunt as sex surrogate Cheryl Cohen Green that the word Oscar was thrown around rather casually. Variety calls it an "exceptional, expertly acted crowd-pleaser," and THR posits that the drama is "surprisingly accessible and emotionally effective." Nathan Rabin of the A.V. Club gives the film an "A-" and one of the best closing lines of any review: "It might just be the most poignant, moving film ever made about one man's surprisingly noble efforts to get laid." Indiewire's Eric Kohn finds the film to be "undeniably sweet," succeeding "as a light romance with heavy material." Slant is a bit less forgiving, finding limited charms due to a "simplistic story," even if it is "told with great tact and humor featuring a number of fantastic singular images."
Grand Jury Prize (Documentary): The House I Live In

USA | Directed by Eugene Jarecki

The latest documentary by Eugene Jarecki (The Trials of Henry Kissinger 72, Why We Fight 68) is a multifaceted examination of the war on drugs, ranging from the personal story of his African American nanny to a tough look at the policies that shape our society. Slant calls it "a rousingly aching piece of social analysis and commentary that gets under one's skin not by means of Michael Moore-like rib-poking, but thanks to its sheer thoughtfulness and a clever autobiographical hook." Variety also praises the doc as "a ballsy mix of interviews and editorializing that's daring enough to question a costly crackdown that has long had the public's support," and THR finds it to be "a potent cry for a drastic rethinking of America's War on Drugs." While the A.V. Club points out that the director isn't the first to tackle the subject, the publication adds that "Jarecki's comprehensiveness and passion sell this story, scoop or no."
Audience Award (Documentary): The Invisible War

USA | Directed by Kirby Dick

Documentarian Kirby Dick (This Film is Not Yet Rated 75) directs what THR calls a "shocking investigation into widespread sexual assault in the U.S. military" that is a "gut punch of moral outrage" and "arguably his most urgently affecting work to date ... This hard-hitting advocacy film exposes the dirty secret not as an attack on the armed forces but as an indignant petition to protect the more vulnerable among their ranks." The LA Weekly's Karin Longworth has issues with War's "conventional structure" but can't deny that "Dick mounts a convincing polemic against the military's boys club bureaucracy."
Other key films
2 Days in New York
Comedy | France | Directed by Julie Delpy
Acquired by Magnolia Pictures (amount undisclosed)
This sequel to Julie Delpy's 2 Days in Paris 67 (she again writes, directs, and stars) finds Delpy's Marion broken up with Adam Goldberg's Jack, and now living in New York with their child and her new boyfriend (Chris Rock) and his daughter from a previous relationship. The culture clash comedy begins when Delpy's family visits from Paris, but perhaps something was lost in translation: the critics were disappointed. Variety finds the film "scattershot," with visiting relatives "calculated to annoy from frame one." Karina Longworth of the LA Weekly also finds the film's jokes "stale," believing a film with a third act cameo by a prominent indie star "should be a lot more fun." It isn't entirely bad news for Delpy fans, though. Eric Kohn over at Indiewire thinks the film remixes the original with a familiarity that is "mostly welcome" while THR's Todd McCarthy believes that New York "keeps many comic balls in the air for a good hour, before dropping some in the final stretch."
28 Hotel Rooms

Drama | USA | Directed by Matt Ross
Actor Matt Ross makes his feature writing and directing debut with this look at a series of one-night stands between a best-selling author (Chris Messina) and a married accountant (Marin Ireland). Noel Murray of the A.V. Club thinks Ireland and Messina are "remarkable, conveying the at-first-clumsy then later easy intimacy of two people learning about each other in bed." THR also praises the lead actors as well as the "robust, delicate story." But Variety disagrees, asserting that the film "flirts with erotic and cinematic possibilities" but lacks "much dramatic or intellectual stimulation" and is "ultimately a limp effort."
Arbitrage
Thriller | USA | Directed by Nicholas Jarecki
Acquired by Lionsgate and Roadside Attractions for $2 million
Think of it as the Margin Call of 2012. Richard Gere, Tim Roth, Susan Sarandon, and Brit Marling star in this story of a hedge fund billionaire trying to avoid financial ruin amidst personal scandal. THR praises Gere's "fine-tuned performance" and concludes that while "nothing about the plot is novel... the film easily maintains a low simmer that picks up in the final act." Variety believes Marling, as Gere's daughter, "reaffirms the singularity of her on-screen presence, conveying strength, sensitivity and smarts" even if director Nicholas Jarecki (whose brother, Eugene, won this year's Grand Jury Prize with his new documentary) seems "oddly nonjudgmental about the iffy morality in his high-toned narrative debut." The A.V. Club's Noel Murray finds Jarecki's direction too "conventional" while admitting that the film is "never dull" with "Gere matching wits with a police detective played by Tim Roth and him having to explain himself to the steely Sarandon."
Bachelorette

Comedy | USA | Directed by Leslye Headland
With its title (and strong cast), this dark comedy could not avoid comparisons to last year's hit Bridesmaids 75, though the association probably will be helpful if the film gets a theatrical release later this year. Justin Chang at Variety admits that Bachelorette tries to be a "nastier, even more foul-mouthed version" of that film but finds that "after a promisingly funny first half, this tale of three coke-snorting gal-pals trying not to screw up their friend's nuptials all but drowns in its own catty cynicism, turning as stingy with emotion and insight as it is with real laughs." The cast (Kirsten Dunst, Lizzy Caplan, Isla Fisher, Rebel Wilson, Adam Scott, and James Marsden) are receiving almost universal praise, and Salon's Andrew O'Hehir believes writer/director Leslye Headland "crafts scenes that go in surprising directions... and reveal unexpected dimensions in each member of her bitchy sisterhood." Nathan Rabin at the A.V. Club loves Caplan's "fearless performance," but thinks the film "succumbs to sentimentality late in the game," adding that Bachelorette is at its "funniest and most entertaining when channeling its raging inner bitch." Comparing the film to the play it is based on, THR wonders why Headland chose to introduce the bride (Wilson) earlier than in the play, raising questions the film fails to answer, and writes that while the movie's "establishing scenes have terrific energy and humor," Bachelorette is "tonally inconsistent" with an "unsatisfying" conclusion saved only "to some degree" by the cast.
Black Rock
Thriller | USA | Directed by Katie Aselton
Acquired by LD Distribution for $1 million
Katie Aselton's feature debut was 2010's The Freebie 54, a casual improv relationship movie, which makes her a somewhat unlikely choice to helm a thriller about three women fighting for survival on a remote island. Unsurprisingly, then, Black Rock is a film for which reviewers have only mild praise. Eric Kohn at Indiewire appears to be one of the thriller's few fans among the critic community, calling it a "guilty pleasure" that "diverges from a familiar scenario with impressively tense results," and THR agrees that it is a "satisfying genre item." Coming to the opposite conclusion is Variety, which claims the film contains "inauthentic chick-flick banter and survivalist action so ineptly staged as to appear laughable." Noel Murray and Nathan Rabin at the A.V. Club both grade the film a "C-." The former finds it to be a "blah buddy dramedy that transforms into a blah chase thriller," and Rabin concurs, calling it "lackluster and surprisingly generic."
Celeste and Jesse Forever
Comedy | USA | Directed by Lee Toland Krieger
Acquired by Sony Pictures Classics for $2 million
Written (with Will McCormack) by lead actress Rashida Jones and co-starring Andy Samberg, this romantic comedy tracks the ups and downs of a couple who divorce but continue to spend all their time together. THR finds Celeste and Jesse Forever "a likable and bittersweet relationship film that doesn't telegraph its intentions." Variety also enjoys it—with reservations—considering the film to be "glibly amusing and fitfully perceptive" with "an overly self-satisfied quality to the pic's attempts to mock romantic-comedy conventions." /Film thinks the film "has a bit of an identity crisis but it ends up being very pleasant, thanks in large part to Jones," and The Playlist also believes the Parks and Recreation star is "up to the task" of carrying the film which, while formulaic, is "served surprisingly well by both its cast and script, even if a balance isn't easily struck between the two leads." Noel Murray at the A.V. Club believes the film proves that Jones "should be a movie star," but doesn't like her script, which "is shapeless and witless, aiming for an offhandedness in the interactions that instead comes off as bland or contrived. In short: it's just not funny." Slant agrees, finding "the film's insights into the power dynamics between two temperamentally different lovers are mired in sloppy contrivances."
Compliance
Thriller | USA | Directed by Craig Zobel
Acquired by Magnolia Pictures (amount undisclosed)
One of the most controversial films at the festival, Craig Zobel's Compliance is a fictionalized account of the real-life events surrounding a prank call scam in which managers at various McDonalds locations would be coerced by a "policeman" into strip-searching an employee. Zobel sticks closely to the facts of one specific case—the Mount Washington, Kentucky incident—but even with that factual background, the film's post-screening Q&A erupted into claims of misogyny. Critics, however, found no issues with Zobel's handling of the difficult material. Justin Chang at Variety calls it a "stealth psychological horror film... at once tough to turn away from and, by design, extremely difficult to watch as it grimly assesses the human capacity for sheeplike naiveté under duress." The LA Weekly's Karina Longworth states, "As exploitative as it may be of an audience's goodwill, Compliance is not an exploitation film, exactly; it's more of a procedural, an anatomy of how systemic everyday exploitation is the perfect breeding ground for extraordinary exploitation." In giving Compliance a "B+" Nathan Rabin of the A.V. Club claims, "The subject matter is unrelentingly sordid yet the storytelling is so deadpan and understated that it's difficult, if not impossible, to dismiss it as exploitation or sexist provocation.... it's about the scared, intimidated and unquestioning follower in all of us." The A.V. Club's Noel Murray grades the film slightly lower as a "B," acknowledging that "the cast here is so terrific that they turn a movie that takes place almost entirely in one dingy room into rich theater, and Zobel wields the same feel for everyday interactions and power relationships that he showed in Great World of Sound." THR is also reacts positively to the "suspenseful psychological drama," as does The Playlist, which states, "Zobel's film is an almost endlessly fascinating study of human behavior, disturbingly unflattering as its conclusions may be."
The End of Love

Drama | USA | Directed by Mark Webber
Actor Mark Webber (Scott Pilgrim vs. The World 69) writes, directs, and stars in this semi-autobiographical story about a single dad trying to raise his two-year-old boy (played by Webber's real-life son). Karina Longworth of the LA Weekly has mixed feelings, writing, "The organic, fascinating story of father and son is bogged down by a lot of narrative contrivance... that scans as false, but the film occasionally drifts into truly dark, cringe-worthily true territory." THR also finds that, despite some flaws, "the film is fueled by poignancy and an emotional rawness that's mostly understated and only rarely forced." Indiewire's Eric Kohn believes the film "maintains an effectively bittersweet atmosphere that works its quiet spell throughout, although it aims too low to leave a particularly strong impression." Variety is less impressed with a film that "too often toddles over the fine line between cute and cloying before finding its footing in the final reel."
The First Time

Comedy/Romance | USA | Directed by Jonathan Kasdan
The Kasdan family has produced some good films over the years. Hoping to add to that tradition is Jon Kasdan (son of Lawrence), who previously directed In the Land of Women 47. The title of his latest film refers to the first time two high school kids (Britt Robertson and Dylan O'Brien) fall in love and ... well, you know. The teen rom-com won over the A.V. Club's Noel Murray, who writes, "The highest praise that I can give to this movie is that in the first fifteen minutes, I was rolling my eyes at these kids, and by the end, I was eager to re-watch that opening scene, to get to know them all over again." HitFix also embraces the film's simplicity, calling it "an effectively sweet, frequently clever offering buoyed by an attractive group of stars." Less forgiving are Variety's Dennis Harvey, who claims, "This teen romance proves perilously short on substance, insight and novelty, unless you count its characters being afflicted with a case of Juno mouth," and THR, which believes the film "feels slight and pretty ordinary by the end, with no edge or compelling insights, just a reasonable feel for teen attitudes and banter."
For a Good Time Call...
Comedy | USA | Directed by Jamie Travis
Acquired by Focus Features for $2 million
Two female roommates (Ari Graynor and Lauren Anne Miller) start up their own phone-sex business, and the result is a raunchy and pleasing comedy, at least for most reviewers. Variety admits it "doesn't rise much above sitcom level in material or execution, but provides enough laughs and goodwill to be disarmingly entertaining." Noel Murray at the A.V. Club was won over by a film "so focused and funny," featuring two actresses that are "so charming together." THR believes the comedy "does ably follow the Apatow ratio of sweet to salty, and keeps the audience laughing consistently," while Eric Kohn at Indiewire, in a "B+" review, calls it "a jubilant celebration of raunchiness.... bubbly and forgettable." Slant, on the other hand, complains, "The movie is a garish, bitchy, and mostly flat-out unfunny examination of how selling sex doesn't make one an expert in dealing with it in one's own life."
For Ellen

Drama | USA | Directed by So Yong Kim
Filmmaker So Yong Kim's previous efforts include In Between Days 75 and Treeless Mountain 75. Her latest stars Paul Dano as a struggling musician hoping to share custody of his daughter. Variety believes Dano "delivers a beautifully wrought performance in a different key from any of his previous roles." Indiewire agrees, claiming, "The actor portrays a perpetually lost young man with a combination of innocence and utter confusion as he wanders through his life in a total daze. It's a role he was born to play and the movie sustains it." Karina Longworth at LA Weekly has mixed feeling about Dano's performance and possibly the film, adding that "its final scenes take a turn that made me want to watch the film over again from the beginning as soon as it was finished." Slant also focuses on that ending and finds it (and the film as a whole) very disappointing. THR's Justin Lowe might like it the least, claiming, "The scant character development is not enhanced by the film's directorial style."
The Imposter

Documentary | UK | Directed by Bart Layton
A narrative-driven documentary that also earned praise at the festival was Bart Layton's look at the story of a 23-year-old French con artist who assumed the identity of the long-lost son of a Texas family. /Film describes it as "an engrossing, on the edge of your seat thriller with unbelievable twists and turns." The Playlist respects the film's seeming unwillingness to "advance too aggressive a hypothesis about either its initial heroes or their would-be antagonist," while Variety praises its mix of "atmospheric reenactments and stark, soul-baring interviews to explore a mind-boggling case of false identity." Noel Murray of the A.V. Club has his reservations but admits that "Layton controls the information so tightly that he's able to spring a few surprises on the audience," but Karina Longworth of the LA Weekly doesn't buy it, concluding, "It's a beautifully crafted nonfiction narrative, with nothing to say."
Keep the Lights On

Drama | USA | Directed by Ira Sachs
Ira Sachs's (Forty Shades of Blue 74) autobiographical story about the impact of drug addiction on a long-term relationship was loved by many. Karina Longworth of the LA Weekly states, "Sachs' intimate portrait of this relationship is full of lived-in detail.... and also speaks more generally to the day-to-day struggles of living openly." Salon's Andrew O'Hehir calls it "a loving but entirely fearless portrait of gay urban life at the turn of the millennium, seen through the prism of one dysfunctional love affair," and The Playlist calls it a "triumphant return to Sundance" for director Sachs, who "shows us that the most remarkable thing about any relationship is not the beginning or end but rather the maintenance of what could only unfairly be called a dysfunctional couple." Slant is also happy to see a "major achievement" from Sachs, saying, "The paradox at the heart of his style seems to be that lyricism doesn't make him foggy-eyed; the grainy haze he bathes his scenes in doesn't blur the edges of the masterfully rendered personalities of his characters."
Liberal Arts
Comedy | USA | Directed by Josh Radnor
Acquired by IFC (amount undisclosed)
How I Met Your Mother star Josh Radnor's follow-up to Sundance 2010's Happythankyoumoreplease 45 (which pleased festival audiences much more than it did critics) tells the story of the relationship that forms between a 35 year-old (Radnor) returning to his alma mater and the 19-year-old coed (Elizabeth Olsen) he meets there. /Film gives the dramedy the most praise declaring, "Radnor positions himself as a mini-Cameron Crowe, mixing joy, life lessons and a love of culture into a perfect, crowd pleasing film." FirstShowing.net thinks Liberal Arts is a "more mature package" than his previous effort, finding the new film "well-written" and "entertaining" if a bit "pedestrian." The strong supporting cast includes Richard Jenkins, Allison Janney, and (most surprisingly) Zac Efron, and The Playlist enjoys Efron's turn as a stoner in this "enjoyable diversion." On the other hand, Variety finds Efron to be "an annoyance" and the film to be "perilously close to widescreen sitcom." Somewhat less critical but also not wholly impressed, THR calls it "a lighthearted comedy that adds up to less than the sum if its parts."
Middle of Nowhere
Drama | USA | Directed by Ava DuVernay
Acquired by Participant Media/AAFRM (amount undisclosed)
THR calls Ava DuVernay's directing award-winner a "solidly crafted... deceptively slight film that strikes the right balance between realist family drama and earnestness." The story centers on Ruby, a nurse whose husband is in prison, and her struggle to support him. Variety finds Middle of Nowhere "solidly acted but aloof and slow as molasses" (a complaint voiced by multiple reviewers), but Shadow and Act believes the film is "a deliberate, matured tribute to adulthood."
Nobody Walks
Drama | USA | Directed by Ry Russo-Young
Acquired by Magnolia Pictures (amount undisclosed)
Co-written by Lena Dunham (Tiny Furniture 71), Ry Russo-Young's (You Won't Miss Me 41) latest tells the story of a young New Yorker (Olivia Thirlby) who comes to stay with a family friend in Los Angeles, only to disrupt any and all relationships she can; John Krasinski, Rosemarie DeWitt, Dylan McDermott and Justin Kirk also star. Noel Murray of the A.V. Club complains, "Though only 85 minutes long, Nobody Walks rambles, jumping from vignette to vignette with nothing in the way of narrative drive or sparkling dialogue to justify its existence." Variety likes the film a bit more, however, noting the moments of humor, but adds, "One of the film's limitations is that it fails to deliver the sort of squirm-inducing moments that make equivalent indies feel so unnervingly honest."
The Queen of Versailles
Documentary | USA | Directed by Lauren Greenfield
Acquired by Magnolia Pictures (amount undisclosed)
As Andrew O'Hehir of Salon succinctly puts it, this documentary is the true story of "the tycoon, the beauty queen and their massive dream house." Director Lauren Greenfield has picked the perfect subjects (billionaires David and Jackie Siegel) to examine American excess in a time of economic crisis, but O'Hehir doesn't believe she ever mocks them. Karina Longworth of the LA Weekly claims Greenfield might be a bit guilty of excess as well, since the material provided her is so abundant, but she still believes "her vision of a strain of nouveau riche both made and broken by imaginary economics stays with you." Justin Chang of Variety finds the doc both "hilarious" and "infuriating," and while Eric Kohn at Indiewire enjoys the entertainment value provided by the film (which he gives a "B+"), he latches onto the especially dramatic third act when David Siegel "confesses that 'this is almost like a riches to rags story'." However, THR's take is that the "unlikable (if always watchable) subjects keep it from making any convincing argument about wealth and the ambitions behind it."
Red Hook Summer

Drama | USA | Directed by Spike Lee
Spike Lee may have generated more headlines for his post-screening Q&A than for his actual film, which was his very first feature to debut at the festival. Much discussion also centered on Red Hook Summer's controversial ending (which won't be given away here). Nathan Rabin of the A.V. Club finds the story of a 13 year-old suburban boy sent to stay with his bishop grandfather (played by the excellent Clarke Peters of The Wire and Treme) in Brooklyn to be "borderline amateurish one moment and heartbreaking the next, a god-fearing and god-forsaken mess that could only have come from Lee, whose strengths have always been inextricable from his weaknesses." Salon's Andrew O'Hehir also sees a messy film, but exclaims, "I could list other things that aren't perfect about this movie, but the important thing to say is that I basically loved it, imperfections and all." Variety also embraces the film, concluding, "It's fiery, passionate stuff, at times inelegantly presented, but impossible to ignore." Slant is another decidedly positive voice, claiming that Summer is "a rousing drama and certainly Lee's most hopeful since 9/11," but Eric Kohn of Indiewire disagrees, giving the film a "C" and noting, "Each flaw stands out like a jagged edge; collectively, they accumulate into an assemblage of rough ideas for better Spike Lee movies that, like his career, maintain terrific potential in theory while falling into a hit-or-miss rhythm throughout the lively execution."
Red Lights
Thriller | USA/Spain | Directed by Rodrigo Cortés
Acquired by Millennium Entertainment for $4 million
Director Rodrigo Cortés thrilled Sundance in 2010 with Buried 65. This year he returned with a supernatural thriller that pits university professors and professional debunkers Cillian Murphy and Sigourney Weaver against a (possibly) gifted psychic played by Robert De Niro. Noel Murray of the A.V. Club gives it a "C+" but admits that "an ending that's unexpected and bizarre" might require him to "puzzle out exactly what Cortés means to say about faith versus self-determination." The Playlist likes the thriller a bit more, finding it "equal parts deft and daft ... coyly address[ing] the divide between seeing and believing – regardless of whether the illusion is being cast on a stage or on a screen." But Variety disagrees, claiming Cortés toys with the viewer so much that his "credibility vanishes, the whole house of cards collapses, and the experience goes from guilty pleasure to outright howler in the span of its final reel." THR also criticizes the film for growing "increasingly incoherent and infuriating" as it progresses.
Robot and Frank
Sci-Fi/Drama/Comedy | USA | Directed by Jake Schreier
Acquired by Sony and Samuel Goldwyn for $2 million
This story about a former thief (Frank Langella) and his robot caretaker-turned-partner warmed the hearts of many festival-goers, but do the critics agree? Variety praises the film as "emotionally genuine" with a "story that's half sci-fi and half shaggy dog," while THR also finds the film "thoroughly charming." Slant notes the film's strengths, calling it "funny and involving," but is bothered by "unconvincing details surrounding" Frank's interaction with his family. The Playlist, on the other hand, feels there are too many "missed opportunities" and laments that "a cute idea alone doesn't cut it."
Safety Not Guaranteed
Comedy | USA | Directed by Colin Trevorrow
Acquired by FilmDistrict for approximately $1 million
This time-travel comedy with a strong comedic cast including (Aubrey Plaza, Jake Johnson, Mark Duplass, Kristen Bell, and Jeff Garlin) was a hit with both critics and viewers. The Playlist calls it "an oddly effective charmer," and /Film labels it "the most ridiculous yet awesome misfit time travel relationship comedy ever made," while acknowledging the ridiculousness of that statement and embracing the film as a comedy with heart. Variety's Justin Chang loves the "endearingly scrappy and romantic romp that serves up some nice soul-searching moments alongside a steady stream of laughs," while THR praises the film and more specifically the lead performance of Plaza (one of several Parks and Rec stars at Sundance this year), "who proves she's good for more than snarky scene-stealing and can actually carry a film." In a "B+" review, Eric Kohn at Indiewire is happy that Safety Not Guaranteed represents "the rare case of endearing quirkiness" buoyed by "solid performances" and "good vibes."
Save the Date

Comedy/Romance | USA | Directed by Michael Mohan
Critics were split on this romantic comedy starring Lizzy Caplan, Alison Brie, Martin Starr, Geoffrey Arend, and Mark Webber. Count Nathan Rabin of the A.V. Club among the film's biggest fans. In his "A-" review he writes, "Save The Date is an exquisitely bittersweet examination of the joys and perils of commitment, a swooningly romantic yet clear-eyed comedy-drama with a bracingly tough yet fragile heroine who remains sympathetic no matter how unsympathetically she behaves or how many hearts she breaks." The Playlist also feels the film has something special to offer, claiming, "Light in tone without being insubstantial, this is what more romantic comedies should aspire to be." Dissenting, however, are Variety, which finds "calculated quirkiness and cartoonish characterizations," and THR which simply states, "You won't be missing much if you can't keep your calendar open for this lightweight comedy."
Searching for Sugar Man
Documentary | Sweden/UK | Directed by Malik Bendjelloul
Acquired by Sony Pictures Classics for $0.5 million
Malik Bendjelloul's documentary—an audience favorite that picked up several prizes in the World Cinema competition—is really a detective story. It is the search for the identity of the Detroit singer/songwriter known only as Rodriguez, who became a hit in South Africa in the 1970s after he couldn't even get airplay in his home country. Variety calls the film "intriguing" and "winning," and The Playlist concurs, praising the film as a "hugely entertaining, emotionally touching, and musically revelatory experience." Both Noel Murray and Nathan Rabin of the A.V. Club embrace the film as well. The former gives the film a "B+," writing, "I'll praise the quality of director Malik Bendjelloul's storytelling, which is gripping from the opening shot almost to the last," and Rabin wraps up his "A-" review with the following, "Though manipulative in its storytelling and structure, Searching For Sugar Man ultimately earns its happy ending by alchemizing pain into transcendent beauty." Bothered by the pacing, THR is the one detractor, concluding that "the unexpected twist late in the film struggles to overcome flagging narrative momentum."
Shadow Dancer

Thriller | UK | Directed by James Marsh
Director James Marsh has made a sting of interesting films (Man on Wire 89, the 1980 section of the Red Riding Trilogy 77 and Project Nim 83) and Shadow Dancer adds to that list. His new film revolves around the performance of Andrea Riseborough, who becomes an IRA informant for MI5 after receiving threats against her son. Clive Owen also stars as her MI5 handler. Tom Bradby adapts his own novel to great success according to Variety, which also praises Riseborough's performance as "the primary source of suspense." The actress also earns accolades from The Playlist: "Riseborough is haunting to watch, as her voice barely goes above a whisper and the guilt on her face feels like it'll come rushing out any moment." Noel Murray of the A.V. Club praises the quality of both leads' performances, but saves his final thumbs up for Marsh and Bradby, "who with minimal fuss get across the stakes of this game, in large part by staging the action on suburban lawns and in crowded business districts, showing how this war is dangerously personal."
Shut Up and Play the Hits

Documentary | UK | Directed by Dylan Southern & Will Lovelace
Lets be honest: a documentary about LCD Soundsystem's final show should go over pretty well at Sundance, and would have to be pretty poorly constructed not to earn praise given the band's standing with the majority of festival-goers. Still, it's worth noting that many reviewers are impressed. Karina Longworth of the LA Weekly writes that the film "offers more basic narrative satisfaction than many of the fiction films shown here using documentary aesthetics in the name of realism." The A.V. Club's Nathan Rabin gives it an "A-" and finds the film at its best to be "a profoundly spiritual and emotional experience." His colleague Noel Murray doesn't go that far, only giving it a "B," calling it an "at-times-untenable hodgepodge of humor, irony and sentiment, all redeemed by the power of its beat," and The Playlist believes the film to be "more like any great concert than any great concert flick." Slant, however, rains on the parade, claiming a big emotional scene in the film "feels cloying."
Simon Killer
Drama | USA/France | Directed by Antonio Campos
Acquired by IFC Films for under $1 million
Antonio Campos' follow-up to 2009's Afterschool 66 divided critics with its tale of an recent college graduate living abroad in Paris and making increasingly poor decisions. Noel Murray of the A.V. Club acknowledges that Campos played similar games in Afterschool, but he still finds that Simon Killer skillfully "takes the all-too-common feelings of loneliness and disorientation and shows in disturbing detail how that can shade into madness." The LA Weekly's Karina Longworth praises the film, writing, "As sensually rich as it is, full of eye-candy color and smartly chosen pop music... and flashily ambitious filmmaking, Simon Killer is an embodiment of, and comment on, cinema as a manipulation of the eye and the brain. Plus, it effectively deflates the mechanics of male sexual compulsion without any of the martyr bullshit of Shame." Eric Kohn at Indiewire is another fan, giving it an "A-" and describing it as "bleak and enigmatic about the motives of its psychotic protagonist." Also on board is Salon's Andrew O'Hehir, who finds the film "impressive" and a "brilliantly orchestrated work of cinema in a grimy, 1970s vein," but he does have an issue with an ending he calls "a muddled, indecisive, screw-the-audience conclusion." If "stunningly daring, refreshingly adventurous, and impossible to shake off... consciously hyper-crafted, dead-serious cine-angst" is your kind of thing, then Slant says Simon Killer is for you. On the negative end of the spectrum falls Variety, which finds the film "emotionally opaque," and THR which describes the film as "cold," "nasty" and "unpalatable."
Smashed

Comedy/Drama | USA | Directed by James Ponsoldt
Writer/director James Ponsoldt (Off the Black 62) gets great performances out of his lead actors (Mary Elizabeth Winstead and Breaking Bad's Aaron Paul) in this relationship drama about co-dependency and alcoholism. THR believes Winstead is the highlight of a solid film that asks her to "run the full gamut, from game good-time girl and stimulating teacher to shell-shocked morning-after casualty and adamant survivor." /Film agrees, claiming her performance is "powerful.... a must see." Nathan Rabin of the A.V. Club finds the "B+" film to be "a refreshingly complex look at how one partner's emotional development can play havoc with the other partner's security and sense of self," and Justin Chang of Variety adds that the film is "an affecting and immersive addiction drama about the unforeseen pitfalls along the road to recovery." Slant has praise for Winstead's performance ("She disappears into the role, never acting, simply reacting."), but calls the film's "lame narrative" a disappointment.
Tim and Eric's Billion Dollar Movie

Comedy | USA | Directed by Tim Heidecker & Eric Wareheim
Tim Heidecker and Eric Wareheim, the duo behind Adult Swim's Tim and Eric's Awesome Show, Great Job!, debuted their first feature at Sundance to positive-to-mixed reviews. The film's plot (while not important) revolves around Tim and Eric getting a billion dollars from Robert Loggia's company to make a movie. After spending all the money and producing a three minute short film, Loggia demands his money back, at which point Will Ferrell steps in offering them exactly a billion dollars if they revive his decrepit mall in Swallow Valley. The Playlist is the most enthusiastic supporter, giving the film an "A" and describing it as "a toss-off, a trifle, a doodle; but, with their bouillabaisse approach and emphasis on editorial gamesmanship, it might just be the next phase of American comedy." The A.V. Club assigns the film a "B+" and writes, "Freed from the restrictions of cable television, Tim & Eric are able to let their warped imaginations run wild, and they've never been the type to rein themselves in." In a "B-" review, Indiewire's Eric Kohn praises the first 15 minutes, but then grows weary, noting the film "rises and falls on the basis of its gags, but the overall experience is akin to a workout routine pushed far past its peak. When the comedy strains, the whole movie dissolves into mediocrity." Slant has much the same take, indicating that Tim & Eric's style of comedy "works better in short sketches" and noting, "The fact that so many of the film's more effective jokes... are tethered to a narrative story takes a lot of the fun out of Billion Dollar Movie." Agreeing is THR's John DeFore, who writes, "There are plenty of guffaws in the first half, but a plot this thin can't sustain comedy based on discomfort; the film is so much of a good thing one starts to wonder if the thing is good in the first place." Variety also believes the film proves "less is probably more" for Tim and Eric. One of the few Sundance films with a firm release date, Billion Dollar Movie debuts in theaters on March 2nd and is available on VOD now.
Wrong

Comedy | France | Directed by Quentin Dupieux
Quentin Dupieux made waves last year with his bizarre killer-tire romp Rubber 59. His follow-up is Wrong which, while even more bizarre and boasting several intriguing teaser-trailers, is rubbing critics the wrong way. Karina Longworth of the LA Weekly says it best and most succinctly: "Witless and gutless, it's thus far the biggest disappointment of the festival." Variety also dislikes this story (set in a made-up world with a missing dog at its center), writing, "It doesn't take long for the absurdist humor to pall among a pileup of nonsensical ideas that would be funnier if grounded in a less hazy concept." Agreeing is Slant's Simon Abrams, who finds the film "actively devolving into an interminable laundry list of strange things." The Playlist also doesn't get it, declaring, "Dupieux doesn't lack for inventiveness and panache; what he lacks is a point-of-view or point to make." The reaction wasn't uniformly negative, however. Praise comes from Eric Kohn at IndieWire, writing, "Wrong remains a beautifully crafted lark from start to finish," while /Film claims that if you can buy into the randomness, "the laughs don't stop, the surprises are incessant and you'd be hard pressed to enjoy a movie more.
Other Sundance films of note

Bones Brigade: An Autobiography is Stacy Peralta's (Dogtown and Z-Boys 76) second look at skateboarding culture. Variety thinks it "exemplifies Peralta's knack for serving up stylish images and documenting wildly entertaining characters who could simply not be invented" The A.V. Club and THR also like it.

Directed by Todd Louiso (The Marc Pease Experience 30), the rom-com Hello I Must Be Going has a great lead performance by Melanie Lynskey according to Salon, the LA Weekly, Variety, and THR, but she is unable to elevate a film that most reviewers also deem "slight."

Indie Game: The Movie, which won the World Documentary Prize for Editing, is a "compelling glimpse into artistic compulsion in video games," according to THR. The Kickstarter-funded film focuses on developers of acclaimed indie games like Super Meat Boy and Braid, and is "possibly the most mature look at video games yet," according to The Playlist (in an "A-" review). HBO has acquired the rights to the documentary and hopes to turn it into a comedy series, with Scott Rudin producing.

Lay The Favorite, Stephen Frears' true-life gambling comedy starring Bruce Willis and Rebecca Hall, was bought for VOD by The Weinstein Company despite disappointing reviewers with what Variety summed up as "frivolous fun at best, archly affected tedium at worst." THR and The Playlist also reacted negatively. Still, The Weinstein Company shelled out at least $2 million to acquire the film's distribution rights.
Fans of Don Coscarelli's previous work like Bubba Ho-Tep 57 will like John Dies at the End, according to HitFix, which feels the film "is eager to please, and even when things get really strange, the film is constantly finding ways to delight and startle."
The documentary Room 237 examines hidden meanings and conspiracy theories in Stanley Kubrick's The Shining. /Film and the LA Weekly call it "fantastic" and "brilliant," respectively.

A profile in Williamsburg hipsterdom starring Tim Heidecker, Eric Wareheim, and LCD Soundsystem's James Murphy (all in other Sundance films as well), The Comedy is, according to THR, "Either remarkably sustained or unrelenting, depending on your point of view." The Playlist is more bullish, giving the film an "A-" while praising Rick Alverson's direction and adding, "This is one that'll have people talking." Rough House Pictures acquired the film for an undisclosed amount.
Your Sister's Sister is Lynne Shelton's follow-up to Humpday 74, but most reviewers feel that it fails to reach the heights of that film; Noel Murray of the A.V. Club writes, "Shelton and her cast excel at the in-the-moment material, they fail to flesh out the background of the characters enough to justify their immaturity."

V/H/S is a found-footage horror anthology featuring work by Ti West, Joe Swanberg, and Glen McQuaid (amongst other directors). It hits more than it misses according to Indiewire (giving it an "A"), THR, and the A.V. Club, and the film was acquired by Magnolia Pictures at the festival for $1 million.

The Words stars Bradley Cooper, Dennis Quaid, Zoe Saldana, Olivia Wilde, and Jeremy Irons, but according to the A.V. Club (which gave it the lowest score of any film they reviewed in the festival) and The Playlist, the cast can't save a film with storytelling that is a narrative mess or, as Nathan Rabin puts it in his scathing review, "a veritable Russian nesting doll of utterly unredeemable crap." Those harsh words for The Words didn't stop CBS Films from acquiring the thriller (about a plagiarist whose literary theft has unexpected consequences) for a reported $3.5 million.