Updated 9/23 at 10:06a with additional reviews of the broadcast.
Upset special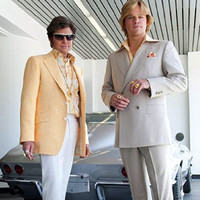 Shows with Most 2013 Emmy Wins

| | | |
| --- | --- | --- |
| 1 | Behind the Candelabra (HBO) | 11 |
| 2 | Boardwalk Empire (HBO) | 5 |
| 3 | Saturday Night Live (NBC) | 4 |
|   | 66th Annual Tony Awards (CBS) | 4 |
Winners of the 65th Primetime Emmy Awards were announced Sunday night in Los Angeles in a ceremony televised live on CBS. It was a night that at times appeared to be taking place in an alternate universe (although one where the Emmy ceremony was still overlong and under-entertaining), with a fairly even mixture of usual suspects and out-of-left-field surprises taking home trophies.
As it does most years, HBO led all networks with seven wins on the night and 27 on the year (including awards handed out last week during the Creative Arts ceremony). Including last week's techical awards, CBS was second on the year with 16 wins, followed by NBC with 11. Streaming service Netflix, hoping to earn validation for its move into original programming, earned just one award on the night.
Below, we'll find out what critics thought of the Emmy telecast, and we'll see which experts had the most correct predictions this year. First, here is a quick recap of the 2013 Emmy Award winners in each of the major categories (including some of the creative arts winners named in a separate ceremony last weekend). A complete list of winners in every category can be found at the official Emmy website.
Comedy Winners - 65th Primetime Emmy Awards

| Category | Winner |
| --- | --- |
| Outstanding Comedy Series | Modern Family (ABC) |
| Lead Actor | Jim Parsons, The Big Bang Theory (CBS) |
| Lead Actress | Julia Louis-Dreyfus, Veep (HBO) |
| Supporting Actor | Tony Hale, Veep (HBO) |
| Supporting Actress | Merritt Wever, Nurse Jackie (Showtime) |
| Guest Actor | Bob Newhart, The Big Bang Theory (CBS) |
| Guest Actress | Melissa Leo, Louie (FX) |
| Writing | Tina Fey and Tracey Wigfield, 30 Rock (NBC) |
| Directing | Gail Mancuso, Modern Family (ABC) |
The top three awards above were not exactly surprises; this was Modern Family's fourth consecutive win for best comedy, while Julia Louis-Drefyus also had three previous Emmys (including a win last year) and Jim Parsons had two. (Half of experts surveyed had predicted Louis C.K. to win out over Parsons, however). The supporting categories, on the other hand, produced the night's biggest surprises. Managing to defeat a group of Modern Family stars, Hale and Wever were both first-time winners, and had been predicted by virtually no one to win. Wever also gave perhaps the shortest acceptance speech in Emmy history, walking off the stage after saying, "Um, I gotta go, bye." Note that Bob Newhart's victory—announced last week during the Creative Arts ceremony—was somehow his first-ever Emmy win.
Drama Winners - 65th Primetime Emmy Awards

| Category | Winner |
| --- | --- |
| Outstanding Drama Series | Breaking Bad (AMC) |
| Lead Actor | Jeff Daniels, The Newsroom (HBO) |
| Lead Actress | Claire Danes, Homeland (Showtime) |
| Supporting Actor | Bobby Cannavale, Boardwalk Empire (HBO) |
| Supporting Actress | Anna Gunn, Breaking Bad (AMC) |
| Guest Actor | Dan Bucatinsky, Scandal (ABC) |
| Guest Actress | Carrie Preston, The Good Wife (CBS) |
| Writing | Henry Bromell, Homeland (Showtime) |
| Directing | David Fincher, House of Cards (Netflix) |
While Breaking Bad's first-ever win for best drama (for the eight episodes that aired in 2012; the show will be eligible again next year for the final episodes now airing) had been widely predicted, it still came as a bit of a surprise after the show lost out on writing and directing Emmys earlier in the evening and stars Bryan Cranston and Aaron Paul failed to return to the podium after winning in past years. The AMC series did pick up another win, however, for Anna Gunn's supporting performance; it was her first Emmy win, coming on her second nomination. The acting categories produced two major surprises, with Bobby Cannavale defeating co-favorites Aaron Paul and Mandy Patinkin (Homeland), and Jeff Daniels coming out of nowhere to somehow top not just Cranston but also last year's winner Damian Lewis (Homeland) and House of Cards star Kevin Spacey. Claire Danes' repeat victory, plus one for the late Henry Bromell, were the only two trophies collected by Showtime's hit drama Homeland; by comparison, the show earned six Emmys last year.
Movie/Miniseries Winners - 65th Primetime Emmy Awards

| Category | Winner |
| --- | --- |
| Outstanding Miniseries or Made-for-TV Movie | Behind the Candelabra (HBO) |
| Lead Actor | Michael Douglas, Behind the Candelabra (HBO) |
| Lead Actress | Laura Linney, The Big C: Hereafter (Showtime) |
| Supporting Actor | James Cromwell, American Horror Story: Asylum (FX) |
| Supporting Actress | Ellen Burstyn, Political Animals (USA) |
| Writing | Abi Morgan, The Hour (BBC America) |
| Directing | Steven Soderbergh, Behind the Candelabra (HBO) |
The three wins here for HBO's Liberace biopic
Behind the Candelabra
were sure things heading into the evening, but Laura Linney's win (for the truncated final season of
The Big C
) was a surprise; the trophy in her category was expected to go to either
American Horror Story
's Jessica Lange or
Top of the Lake
star Elisabeth Moss.
Other Winners - 65th Primetime Emmy Awards

| Category | Winner |
| --- | --- |
| Reality Program | Undercover Boss (CBS) |
| Reality Competition | The Voice (NBC) |
| Reality Host | Heidi Klum & Tim Gunn, Project Runway (Lifetime) |
| Variety Series | The Colbert Report (Comedy Central) |
| Variety Special | The Kennedy Center Honors (CBS) |
| Writing for a Variety Series | The Colbert Report (Comedy Central) |
| Writing for a Variety Special | Louis CK, Louis CK: Oh My God (HBO) |
| Animated Program | South Park (Comedy Central) |
| Childrens Program | Nick News With Linda Ellerbee - Forgotten But Not Gone: Kids, HIV & AIDS (Nickelodeon) |
| Nonfiction Series | American Masters (PBS) |
| Nonfiction Film | Mea Maxima Culpa: Silence In The House Of God (HBO) |
| Nonfiction Special | Manhunt: The Inside Story Of The Hunt For Bin Laden (HBO) |
| Special Class Program | 66th Annual Tony Awards (CBS) |
| Special Class Short-Format Live-Action Program | Childrens Hospital (Adult Swim) |
In a sign of just how unpredictable the awards were last night, the reality and variety categories produced two huge upsets. The Colbert Report won its first Emmy for best variety series, a category that had been won by fellow Comedy Central series The Daily Show for 10 consecutive years. And The Voice became just the second show not named The Amazing Race (a winner for nine of the past 10 years) ever to win the reality competition category, a feat that not even American Idol could ever pull off.
How accurate were the predictions?
Last week, we surveyed online picks from over 30 industry experts in our predictions roundup last week, and the most accurate experts made correct picks in just 12 out of 22 (55%) categories. Three experts hit that mark: IMDB's Melanie McFarland, Showbiz Tonight's AJ Hammer, and TV Guide's Matt Roush. At HitFix, Alan Sepinwall had a slightly better accuracy rate—60%—but predicted winners in just 15 categories. Nearly two-thirds of the experts we tracked were correct less than half the time.
This summer, we also asked Metacritic users to offer predictions in 22 Emmy categories, and a record 3,100 participated. As a whole, the user consensus picks were correct in just 7 of the 22 categories (32%) in which they voted, down from 2012's already low 36% accuracy level. However, the best-performing Metacritic user (who did not submit his or her name) scored higher than any of the "experts," with 14 correct picks (a 64% accuracy rate), including correctly forecasting the surprise Tony Hale and Colbert Report wins. A dozen other Metacritic users matched the top experts, with 12 of 22 picks correct; those users include John Delavin, Ted Frambles, Wes Huizar, Jason Nolette, Eric Peterson, and several more anonymous submitters.
How was the telecast?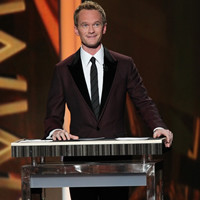 While second-time host Neil Patrick Harris largely escaped major criticism, the same cannot be said for the broadcast itself. Many critics felt the evening was weighed down by the lengthy, clip-free tributes to notable deceased actors (in addition to the usual "In Memoriam" segment) that were peppered throughout the evening, while even more reviewers simply found the show boring and inert, though occasionally odd. (It didn't help that many of the production numbers and pre-taped segments fell flat).
Below is a sampling of the critics' responses to the broadcast; click on any publication name to read the full review.
"What of Harris? The guy is usually winning, but his requisite song-and-dance bit in the middle of the show wasn't."

— Matthew Gilbert / Boston Globe
"Harris was exuberant and unflappable as usual, bringing his song-and-dance dazzle to a classy, if less-than-captivating ceremony."

— Chuck Barney / Contra Costa Times
"When Neil Patrick Harris signs on to host an awards show you expect kick lines and belting and bedazzled tuxedos and a chorus of tap dancers and showgirls and circus acts and razzle and dazzle and, like, fun. Yet the Emmy Awards began on Sunday night with nearly 10 minutes of Neil Patrick Harris sitting and watching TV."

— Kevin Fallon / The Daily Beast
"Twitter comments about the 2013 Emmy telecast were infinitely more entertaining than the show itself. ... For this we postponed watching 'Breaking Bad'?"

— Joanne Ostrow / Denver Post
"So with so many unexpected wins, why was the 65th Primetime Emmy Awards telecast such a bloated bore? Chalk it up to tonal inconsistency? Misconceived production numbers? Too many protracted pre-taped segments at the expense of spontaneity? An overload of solemnity?"

— David Rooney / The Hollywood Reporter
"Worst. Emmys. Ever. Every winner you wanted to hear talk got played off. They make this mistake every single year. Bloat the middle, mad-dash the end."

— Tim Goodman / The Hollywood Reporter
"This is what we get for saying that television has eclipsed film as an art form: an Emmys that was just as bad as most Oscars."

— Mary McNamara / Los Angeles Times
"It was the show itself that needed an intervention, shifting from awards to musical numbers better suited to the Tonys and the Grammys."

— Alessandra Stanley / The New York Times
"On balance, the 65th got this show mostly right."

— Verne Gay / Newsday
"Sunday night's Emmy Awards were not only merely bad but really most sincerely bad, or at best (particularly in the case of winners) a bag that's very much mixed."

— Linda Holmes / NPR
"Beyond the mixed bag telecast kickoff, Mr. Harris was his usual, affable, amusing self, helping to move the broadcast along."

— Rob Owen / Pittsburgh Post-Gazette
"Every time the show got moving, a tribute cast a pall over the proceedings."

— Curt Wagner / RedEye
"No one ever expects a TV awards show to be crisp, funny, smart and engaging, but the 65th annual prime-time Emmy Awards show was one of the worst in memory."

— David Wiegand / San Francisco Chronicle
"[Harris] was as dull and off-kilter as his oddly downbeat show — a talented man who seemed trapped between his desire not to repeat himself and our desire to be entertained."

— Robert Bianco / USA Today
"By the time the show was over, it was hard not to think we could have done with at least one less musical number, or one less memorial tribute, in order to let the winners — including high-profile ones in major categories — actually deliver an acceptance speech without hearing piano music kick in just as they started warming up."

— Brian Lowry / Variety
"Anemic and often awkward. ... The banter had no flair for comedy."

— Hank Stuever / Washington Post
"All in all, the Emmys were OK. A few minutes too long, boring in places, but not awful."

— Tim Molloy / The Wrap
What do you think?
Were you happy with the Academy's selections? What did you think of the broadcast, and NPH as host? Let us know in the comments section below.