Academy Award picks, from A(rgo) to Z(ero Dark Thirty)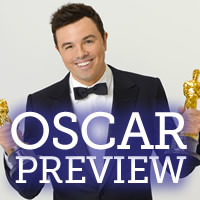 Will this year's Academy Awards be as anticlimactic as last year's, when experts were able to correctly predict 18 of the 24 Oscar categories (including every major award save for lead actress)? We'll know on Sunday night when Seth MacFarlane hosts the 85th Annual Academy Awards. The show will be broadcast live on ABC from Hollywood's Dolby Theatre at 8:30pm ET / 5:30pm PT, with the red carpet pre-show beginning at 7 ET / 4 PT.
Below, we've aggregated predictions from 40 entertainment writers and awards experts, and compared them to the votes cast by nearly 2,200 Metacritic visitors who voted in our 4th annual Oscar poll. Don't forget to check this site on Monday morning to see which users and experts were the most accurate; we'll also sample reviews of the broadcast itself from TV critics.
Best picture and director
Everyone knows that Argo will collect Sunday's best picture trophy, becoming the first film since Driving Miss Daisy to win that honor without its director also being nominated. Or will it? If any film has a chance of scoring an upset victory, it is Silver Linings Playbook, thanks in part to the Academy's preferential voting system, which could reward a film sure to be included in most voters' top two or three films in the event that Lincoln siphons off enough of Argo's first-place votes. That is the argument made this week by pundits ranging from Roger Ebert to Huffington Post's Christopher Rosen to Forbes.com contributor Mark Hughes. (As for Lincoln itself? No chance, according to most experts, citing an apparent lack of enthusiasm for the film among Academy voters.)
Still, the award is certainly Argo's to lose, riding a wave of recent successes including Golden Globe, BAFTA, and Producers Guild wins for best picture. (It also helps that it's a movie about Hollywood itself, which certainly didn't hurt The Artist at last year's Oscars.) While Vegas sportsbooks do not accept wagers on the Academy Awards, bookmakers in the UK do, and most of them now have Argo as an overwhelming 1:7 favorite to win (by comparison, Lincoln is the second favorite at 5:1). Even a few statistics experts—hoping to become the Nate Silver of the entertainment industry, perhaps—have gotten in on the prediction game, with Harvard's Ben Zauzmer giving Argo a 60% chance of winning, while Canadian Ph.D. Iain Pardoe assigns the best odds to Lincoln, though even that film has just a 37% of being named best picture under his model. Meanwhile, the best-reviewed films of the bunch—Zero Dark Thirty and Amour—seem to have zero chance at Oscar love in the best picture category.
Thank's to Ben Affleck's absence, the director category is more unpredictable than would typically be the case with such a clear best picture frontrunner. While Lincoln's Steven Spielberg looks like he could collect his third directing trophy, many experts (including some UK bookmakers) give Life of Pi director Ang Lee a fighting chance.
Best Director
 
Experts
 
Users
Michael Haneke
Amour

 
8%
 
7%
Ang Lee
Life of Pi

 
33%
 
15%
David O. Russell
Silver Linings Playbook
 
10%
 
10%
Steven Spielberg
Lincoln
 
50%
 
65%
Benh Zeitlin
Beasts of the Southern Wild
 
0%
 
 
4%
Acting
Two of the acting categories are 100% locks and have been for months; if anyone defeats either Lincoln's Daniel Day-Lewis or Les Mis co-star Anne Hathaway, they will be considered one of the biggest upsets in Oscar history. In the lead actress category, Jennifer Lawrence has been—and still is—the presumptive favorite, though over the past week some experts have suddenly started to line up behind soon-to-be 86-year-old Emmanuelle Riva (Oscar's oldest ever best actress nominee), who could find herself with one heck of a birthday present on Sunday.
Only one of the four acting categories, however, seems to be wide open: supporting actor. Our users gave the edge to Christoph Waltz, while a plurality of experts felt that Academy voters would be unable to resist Robert De Niro's charms. And many pundits (and users) also gave Lincoln's Tommy Lee Jones an almost equal chance of winning, making this a three horse race. (In fact, many oddsmakers have Jones as the favorite, though some have better odds for Waltz.) Note that every nominee in the category has already won an Oscar, so sentimentality shouldn't play into the voting.
Lead Actor
 
Experts
 
Users
Bradley Cooper
Silver Linings Playbook
 
0%
 
 
3%
Daniel Day-Lewis
Lincoln
 
100%
 
86%
Hugh Jackman
Les Miserables
 
0%
 
 
5%
Joaquin Phoenix
The Master
 
0%
 
 
5%
Denzel Washington
Flight
 
0%
 
 
2%
Lead Actress
 
Experts
 
Users
Jessica Chastain
Zero Dark Thirty
 
5%
 
32%
Jennifer Lawrence
Silver Linings Playbook
 
70%
 
52%
Emmanuelle Riva
Amour
 
25%
 
9%
Quvenzhané Wallis
Beasts of the Southern Wild
 
0%
 
 
4%
Naomi Watts
The Impossible
 
0%
 
 
3%
Supporting Actor
 
Experts
 
Users
Alan Arkin
Argo
 
3%
 
4%
Robert De Niro
Silver Linings Playbook
 
45%
 
11%
Philip Seymour Hoffman
The Master
 
3%
 
14%
Tommy Lee Jones
Lincoln
 
33%
 
34%
Christoph Waltz
Django Unchained
 
18%
 
38%
Supporting Actress
 
Experts
 
Users
Amy Adams
The Master
 
0%
 
 
6%
Sally Field
Lincoln
 
0%
 
 
7%
Anne Hathaway
Les Miserables
 
100%
 
81%
Helen Hunt
The Sessions
 
0%
 
 
2%
Jacki Weaver
Silver Linings Playbook
 
0%
 
 
3%
Writing
Here's where your best Oscar pool plans may start to go awry, as evidenced by the fact that our users and experts disagreed in both categories (nor could the experts even come to a consensus in one of them). The original screenplay category is shaping up to be a three-film race with no clear favorite, while the adapted screenplay field—much like best picture—has been reduced to a frontrunner (Argo) and a single secondary contender (Lincoln).
Original Screenplay
 
Experts
 
Users
Wes Anderson & Roman Coppola
Moonrise Kingdom
 
0%
 
 
9%
Mark Boal
Zero Dark Thirty
 
35%
 
26%
John Gatins
Flight
 
0%
 
 
2%
Michael Haneke
Amour
 
35%
 
8%
Quentin Tarantino
Django Unchained
 
30%
 
54%
Adapted Screenplay
 
Experts
 
Users
Lucy Alibar and Benh Zeitlin
Beasts of the Southern Wild
 
0%
 
 
3%
Tony Kushner
Lincoln
 
28%
 
34%
David Magee
Life of Pi
 
0%
 
 
10%
David O. Russell
Silver Linings Playbook
 
3%
 
20%
Chris Terrio
Argo
 
70%
 
32%
Animation
While a few experts are convinced that Pixar will triumph once again for Brave, it is fellow Disney release Wreck-It Ralph that has the most support from the pundits. In the animated short category, Paperman is the rare nominee to also receive an overwhelming majority of expert picks in what is usually a less predictable category. A clever black-and-white film set in 1940s New York, the latter is yet another Disney production, and it was the winner at this year's Annie Awards.
Animated Feature
 
Experts
 
Users

69

Brave
 
13%
 
35%

74

Frankenweenie
 
10%
 
16%

72

ParaNorman
 
0%
 
 
9%

73

The Pirates! Band of Misfits
 
0%
 
 
2%

73

Wreck-It Ralph
 
78%
 
38%
Animated Short
 
Experts
 
Users
Adam and Dog
 
12%
 
13%
Fresh Guacamole
 
0%
 
 
9%
Head over Heels
 
15%
 
11%
Maggie Simpson in "The Longest Daycare"
 
0%
 
 
22%
Paperman
 
74%
 
45%
Documentaries
The crowd-pleasing Searching for Sugar Man appears to be a lock in the documentary feature category, while experts were divided in the short category, eliminating just one of the five films (interestingly, the one our users preferred) from contention. Of the two receiving the most expert votes, Open Heart follows a group of Rwandan children who require life-saving medical procedures, while Inocente examines a homeless immigrant teenager with dreams of becoming an artist. For what it's worth, note that the experts predicted neither documentary category correctly last year.
Documentary Feature
 
Experts
 
Users

78

5 Broken Cameras
 
0%
 
 
6%

91

The Gatekeepers
 
5%
 
11%

87

How to Survive a Plague
 
3%
 
16%

75

The Invisible War
 
5%
 
23%

79

Searching for Sugar Man
 
87%
 
43%
Documentary Short Subject
 
Experts
 
Users
Inocente
 
38%
 
17%
Kings Point
 
6%
 
14%
Mondays at Racine
 
12%
 
11%
Open Heart
 
44%
 
25%
Redemption
 
0%
 
 
32%
Other films
Could such an acclaimed film as Amour, which is already nominated for four other nominations, fail to win in the foreign-langauge category? While that seems unlikely, the Academy does have a history of making odd selections here, and voters often fail to pick the best film of the bunch. Still, all of those other nominations suggest that Academy voters do indeed like Michael Haneke's love story.
Predicting the live action short category is always a dicey proposition. Three of this year's shorts feature young protagonists; one of them, Curfew, stands as the favorite with experts, but don't entirely rule out Buzkashi Boys, which features a pair of young friends in present-day Afghanistan and whose two teen stars will be walking the red carpet on Sunday thanks to a well publicized fundraising campaign to fly them out from Kabul. Metacritic users, meanwhile, gave the edge to the Belgian film Death of a Shadow, a fantasy about a dead soldier given a second chance at life if he can capture the shadows of 10,000 people.
Foreign-Language Film
 
Experts
 
Users

94

Amour Austria
 
98%
 
93%
Kon-Tiki Norway
 
3%
 
1%

81

No Chile
 
0%
 
 
2%

73

A Royal Affair Denmark
 
0%
 
 
2%
War Witch Canada
 
0%
 
 
1%
Live-Action Short Film
 
Experts
 
Users
Asad
 
0%
 
 
15%
Buzkashi Boys
 
15%
 
16%
Curfew
 
62%
 
25%
Death of a Shadow (Dood van een Schaduw)
 
21%
 
27%
Henry
 
3%
 
17%
Music
Adele's "Skyfall" (which she will perform during the ceremony) is a lock to become the first Bond theme in history to win an Oscar, while first-time nominee Mychael Danna, nominated in both music categories, is the favorite to win for his Life of Pi score.
Original Score
 
Experts
 
Users
Mychael Danna
Life of Pi
 
 
70%
 
38%
Alexandre Desplat
Argo
 
8%
 
10%
Dario Marianelli
Anna Karenina
 
3%
 
5%
Thomas Newman
Skyfall
 
0%
 
 
21%
John Williams
Lincoln
 
19%
 
25%
Original Song
 
Experts
 
Users
"Before My Time"
from Chasing Ice
 
0%
 
 
0%
 
"Everybody Needs a Best Friend"
from Ted
 
3%
 
2%
"Pi's Lullaby"
from Life of Pi
 
0%
 
 
3%
"Skyfall"
from Skyfall
 
 
91%
 
85%
"Suddenly"
from Les Miserables
 
6%
 
9%
Technical categories
The technical categories appear to be more settled than we are accustomed to, with clear favorites in many of the contests. Sound editing and makeup look to be the most problematic for your Oscar pool, though our users agreed with the experts in both instances.
Cinematography
 
Experts
 
Users
Roger Deakins
Skyfall
 
18%
 
17%
Janusz Kaminski
Lincoln
 
3%
 
13%
Seamus McGarvey
Anna Karenina
 
0%
 
 
3%
Claudio Miranda
Life of Pi
 
79%
 
54%
Robert Richardson
Django Unchained
 
0%
 
 
12%
Costume Design
 
Experts
 
Users
Anna Karenina
 
89%
 
32%
Les Miserables
 
8%
 
42%
Lincoln
 
0%
 
 
22%
Mirror Mirror
 
3%
 
1%
Snow White and the Huntsman
 
0%
 
 
3%
Film Editing
 
Experts
 
Users
Argo
 
86%
 
38%
Life of Pi
 
0%
 
 
16%
Lincoln
 
0%
 
 
9%
Silver Linings Playbook
 
0%
 
 
6%
Zero Dark Thirty
 
14%
 
31%
Makeup & Hairstyling
 
Experts
 
Users
Hitchcock
 
8%
 
6%
The Hobbit: An Unexpected Journey
 
51%
 
49%
Les Miserables
 
41%
 
45%
Production Design
 
Experts
 
Users
Anna Karenina
 
43%
 
14%
The Hobbit: An Unexpected Journey
 
0%
 
 
23%
Les Miserables
 
27%
 
25%
Life of Pi
 
16%
 
18%
Lincoln
 
14%
 
20%
Sound Editing
 
Experts
 
Users
Argo
 
17%
 
12%
Django Unchained
 
3%
 
17%
Life of Pi
 
19%
 
17%
Skyfall
 
22%
 
27%
Zero Dark Thirty
 
39%
 
28%
Sound Mixing
 
Experts
 
Users
Argo
 
0%
 
 
14%
Les Miserables
 
94%
 
31%
Life of Pi
 
0%
 
 
17%
Lincoln
 
0%
 
 
6%
Skyfall
 
6%
 
32%
Visual Effects
 
Experts
 
Users
The Avengers
 
0%
 
 
13%
The Hobbit: An Unexpected Journey
 
3%
 
18%
Life of Pi
 
97%
 
59%
Prometheus
 
0%
 
 
9%
Snow White and the Huntsman
 
0%
 
 
1%
List of experts
The expert predictions compiled above come from the following sources:
Thelma Adams, Yahoo**
Brad Brevet, Rope of Silicon
Anthony Breznican, Entertainment Weekly
Richard Brody, The New Yorker
Richard Corliss, Time
Edward Douglas, Coming Soon**
Roger Ebert, Chicago Sun-Times
Gregory Ellwood, HitFix/Awards Campaign*
Scott Feinberg, The Hollywood Reporter
Thom Geier, Entertainment Weekly**
Pete Hammond, Awardsline
Peter Hartlaub, San Francisco Chronicle
Michael Hogan, Huffington Post**
Peter Howell, Toronto Star*
Mark Hughes, Forbes.com
Tariq Khan, Fox News**
Peter Knegt, Indiewire
Guy Lodge, HitFix/In Contention**
Oliver Lyttelton, The Playlist
Michael Musto, Village Voice**
Tom O'Neil, Gold Derby
Mark Olsen, Los Angeles Times*
David Poland, Movie City News*
Kevin Polowy, NextMovie
Steve Pond, The Wrap
Christopher Rosen, Huffington Post**
Mike Scott, New Orleans Times-Picayune
Ramin Setoodeh, Newsweek/Daily Beast**
Paul Sheehan, Gold Derby
Keith Simanton, IMDb**
Sasha Stone, Awards Daily*
Alex Suskind, Moviefone**
Kris Tapley, HitFix/In Contention*
Anne Thompson, Thompson on Hollywood/Indiewire
Peter Travers, Rolling Stone**
Vulture (uncredited)
Chuck Walton, Fandango**
Jeff Wells, Hollywood Elsewhere**
Glenn Whipp, Los Angeles Times**
Susan Wloszczyna, USA Today**