This year's comedies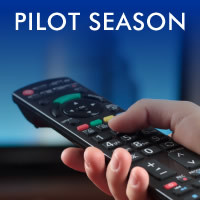 Last week, we brought you a guide to this year's drama pilots; today, we're back with a look at the comedies.
You'll notice a key new player below: Amazon. Yes, we're talking about the online shopping giant, which is following Netflix's footsteps by getting into the TV production game (with shows eventually streaming exclusively on Amazon), concentrating this first year on comedies and children's shows (the latter not included here). Amazon brings an intriguing new twist to the process: later this spring, Amazon users will be able to watch each of the pilots under consideration and vote on which ones they would like to see more of; the shows receiving the most support will go into production.
While your vote here doesn't quite have that same level of power, don't forget to indicate whether you'd keep or kill each show by using the thumbs up/thumbs down icons below.
About a Boy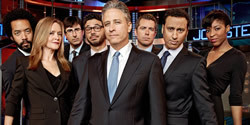 Pilots Featuring Current or Former Daily Show Correspondents
About a Boy - Al Madrigal
Bad Management - Rachael Harris
Divorce: A Love Story - Jason Jones
The Gabriels - Rob Riggle
Joe & Joe & Jane - Larry Wilmore
Mom - Nate Corddry
Pulling - Kristen Schaal
Spy - Rob Corddry
Key people: Stars Minnie Driver (The Riches), David Walton (Bent), Benjamin Stockham (1600 Penn), and Al Madrigal (The Daily Show); creator/producer Jason Katims (Friday Night Lights); director Jon Favreau (Iron Man).
The pitch: Based on the book by Nick Hornsby as well as the movie of the same name (that starred Hugh Grant), this single camera comedy would follow the relationship between an immature bachelor (Walton) and the young son (Stockham) of the eccentric single mother (Driver) who moves in next door. (Stockham will be replaced here in the unlikely event that 1600 Penn is renewed). Katims has some experience bringing movies to the small screen, having done so successfully with Parenthood, though it'll be his first time writing a 30-minute comedy.
Alpha House

Key people: Stars John Goodman (Treme, Argo), Clark Johnson (The Wire, Homicide: Life on the Street), Matt Malloy (In the Company of Men), and Mark Consuelos (American Horror Story: Asylum, All My Children); creator/producer Gary Trudeau (Doonesbury).
The pitch: The second political comedy series developed by Pulitzer Prize-winning cartoonist Trudeau (HBO's groundbreaking Tanner '88 being the other), this first of seven Amazon comedy pilots under consideration centers on four senators who share a rental house in Washington, D.C. (a situation that has in fact happened in real life, though probably less comically). Expect cameos from the likes of Bill Murray and Stephen Colbert.
Assistance

Key people: Stars Krysten Ritter (Don't Trust the B---- in Apt. 23) and Zach Cregger (The Whitest Kids U' Know); creator/producer Leslye Headland (writer/director of the film Bachelorette 52 and a writer on Terriers); producers Will Ferrell and Adam McKay (Eastbound & Down).
The pitch: Headland is adapting her own play for this story of an overworked personal assistant to a Hollywood producer who must balance the demands of her "work husband" with those of her real-life fiancé, all while trying to have a life of her own.
Back in the Game

Key people: Stars James Caan (Las Vegas, The Godfather) and Maggie Lawson (Psych); creators/producers Mark and Robb Cullen (FX's Lucky, NBC's Heist, Cop Out); directors Glenn Ficarra and John Requa (Crazy, Stupid, Love.).
The pitch: A recently divorced single mom (Lawson) reluctantly moves back in with her ex-baseball player father (Caan, making his TV sitcom debut) and coaches her son's little league team, finding herself "drawn back into the world of sports she vowed to leave behind." The series was once titled She's Got Balls, so at least that's changed.
Bad Management

Key people: Stars David Spade (Rules of Engagement), Sharon Horgan (The Increasingly Poor Decisions of Todd Margaret, Pulling), Alan Thicke (Growing Pains), and Rachael Harris (Notes from the Underbelly).
The pitch: Horgan (known to fans of Todd Margaret as cafe owner Alice) makes her American network TV debut as producer, writer (with fellow BBC vet Holly Walsh), and star of this single-camera comedy about a manager at a luxury department store who finds her authority challenged when the boss's son arrives and decides to make "youth and sex" the company's focus. Horgan's UK series Pulling is also being remade by ABC (see below).
Bad Teacher

Key people: Stars Ari Graynor (Fringe), Kristin Davis (Sex and the City), Ryan Hansen (Veronica Mars), Sara Gilbert (Roseanne, The Big Bang Theory), and David Alan Grier (In Living Color); writer/producer Hilary Winston (a writer on Community and Happy Endings); director Don Scardino (30 Rock).
The pitch: Based on the 2011 film of the same name (with the movie's screenwriters, Gene Stupnitsky and Lee Eisenberg, on board as producers), the series finds Graynor basically taking over the Cameron Diaz role (though with a different name) as a foul-mouthed divorcee who becomes a junior high school teacher in order to find her next husband. (Note that this year's "bad" show trend may pick up yet another project, with NBC considering ordering a pilot for Bad Judge.)
Brenda Forever

Key people: Stars Ellie Kemper (The Office), Stephnie Weir (MADtv), and Daija Owens (Shameless); producer Peter Tolan (Rescue Me); director David Wain (Childrens' Hospital).
The pitch: The subject of a bidding war between NBC and Fox, this single-camera comedy from actors-turned-writers David Lampson and Andrew Leeds looks at the life of Brenda as both an awkward but confident 13-year-old (actress tbd) and a 31-year-old woman (Kemper) who "marches to the beat of her own drum."
Browsers

Key people: Star Bebe Neuwirth (Cheers); creator/producer David Javerbaum (former head writer on The Daily Show with Jon Stewart); director Don Scardino (30 Rock).
The pitch: Tony- and Emmy-winner Neuwirth heads the cast of a musical workplace comedy that follows four young people as they start their first jobs at a Huffington Post-esque news website in Manhattan. Javerbaum (himself a multiple Emmy winner) has extensive experience in musical theater as well as television, and this will be the first TV series that he's created.
The Crazy Ones

Key people: Stars Robin Williams, Sarah Michelle Gellar (Ringer, Buffy the Vampire Slayer), James Wolk (Political Animals, Lone Star), and Hamish Linklater (The Good Wife, The New Adventures of Old Christine); creator/producer David E. Kelley (Ally McBeal, Boston Legal).
The pitch: In a single-camera workplace comedy that would be his first regular primetime gig since Mork & Mindy ended in 1982, Robin Williams stars as the brilliant (but crazy!) head of an advertising agency who employs his more practical daughter (Gellar) as creative director. Veteran TV writer/producer Kelley has worked almost exclusively in the hourlong format in the past; this will be his first attempt at a shorter sitcom since Doogie Howser, M.D.
Dark Minions

Key people: Creators/producers Kevin Sussman and John Ross Bowie.
The pitch: This animated workplace comedy from two of the stars of The Big Bang Theory (who have become an in-demand writing team, and presumably will also be starring here) centers on two opinionated slackers who take menial office jobs to eke out a living and stay current on their student loans and alimony payments. The catch: their "office" is an intergalactic warship.
Divorce: A Love Story

Key people: Stars Andrea Anders (Better Off Ted), Jason Jones (The Daily Show), and Adam Goldberg (NYC 22, Saving Private Ryan); creator/producer Mike Sikowitz (Rules of Engagement).
The pitch: One of several pilots based on an Israeli series (in this case, a show called Life Isn't Everything), this multi-camera comedy centers on a middle-aged couple who were bad at marriage but even worse at divorce; they can't seem to stay out of each other's lives. Jones will depart The Daily Show if this sitcom is ordered to series.
Enlisted

Key people: Stars Geoff Stults (The Finder), Chris Lowell (Veronica Mars, Private Practice), and Parker Young (Suburgatory); creator/producer Kevin Biegel (co-creator of Cougar Town); producer Mike Royce (Men of a Certain Age).
The pitch: Three very different brothers work together at a small Army base in Florida. Stults plays the natural leader, who is assigned to the base's "slacker-like Rear Detachment" as punishment after a fight with a superior officer. Lowell is the smart but cynical middle brother, while Young (who would depart Suburgatory) is the overenthusiastic youngest sibling.
Ex Men

Key people: Stars Tony Shalhoub (Monk), Kal Penn (House), Jerry O'Connell (The Defenders), and Christopher Nicholas Smith (Paranormal Activity 3); creator/producer/director Rob Greenberg (a producer on How I Met Your Mother).
The pitch: Relative newcomer Smith stars as a younger man who seeks advice from his older neighbors after ending a relationship and moving into a short-term rental complex.
Family Guide

Key people: Stars Parker Posey (Best in Show, to name just one), Harold Perrineau (Lost), and J.K. Simmons (The Closer, Oz); creator/producer DJ Nash (a writer and producer on 'Til Death and Bent); producer Jason Bateman.
The pitch: Veteran indie film star Posey makes her second attempt at TV stardom (the first being the short-lived The Return Of Jezebel James) as an immature single mom to two children who actually becomes closer to her blind ex-husband (Simmons) after their recent divorce. The single-camera comedy is told from the point of view of her youngest child, played by newcomer Eli Baker.
Friends & Family

Key people: Stars Jason Ritter (Parenthood), Alexis Bledel (Gilmore Girls), Jane Kaczmarek (Malcolm in the Middle), Kurt Fuller (Better with You), Dustin Ybarra, and Kerri Kenney-Silver (The State, Reno 911!).
The pitch: An Americanized remake of the hit British comedy Gavin & Stacey about a new couple who attempt to make a long-distance romance work after meeting online, while also overcoming their eccentric families' numerous differences. Ritter and Bledel play the Gavin and Stacey characters (yes, that means Ritter will now have starred with both Gilmore girls), and original series creators James Corden and Ruth Jones will have producer credits on the new show. This is the third attempt at bringing Gavin & Stacey to America, with adaptations in development at NBC (2008) and ABC (2009) never progressing to the pilot stage.
The Gabriels

Key people: Stars Rob Riggle (The Daily Show, NTSF:SD:SUV::), Angela Kinsey (The Office), and Tim Meadows (Saturday Night Live); creators/producers Andrew Gurland (screenwriter of The Last Exorcism) and Justin Hurwitz (a writer on The League).
The pitch: A clueless, neurotic, introverted family (Riggle is a childlike man who is husband to Kinsey's inept therapist) struggles to fit into their small Wisconsin town where politeness and oversharing reign.
Gates

Key people: Stars Greg Germann (Ally McBeal), Ken Marino (Childrens Hospital, Party Down), and Kathleen Rose Perkins (Episodes); creators/producers Cathy Yuspa and Josh Goldsmith (The King of Queens).
The pitch: Based on the UK series of the same name (all five episodes of it), this ensemble comedy looks at the parents navigating the "twice-daily social landmine" that is the pick-up/drop-off gate of the local elementary school.
Girlfriend in a Coma

Key people: Stars Daniel Stern (Home Alone), Ann Cusack, and Miranda Cosgrove (iCarly); creator/producer Liz Brixius (Nurse Jackie); producer Dick Wolf (Law & Order).
The pitch: Yes, it does sound serious (for a comedy). Allegedly based on the novel of the same name by Generation X author Douglas Coupland (we're guessing it's a very, very loose adaptation, unless NBC is attempting an incredibly ambitious sitcom), this single-camera comedy focuses on a woman who awakens from a 17-year coma to discover that she has a teenage daughter. Christina Ricci was originally tapped to play the lead, but she dropped out of the project last week after the table read, and a replacement is being sought.
Ground Floor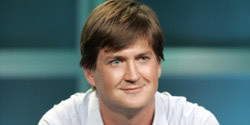 Key people: Stars Skylar Astin (Pitch Perfect), John C. McGinley (Scrubs), Briga Heelan (Cougar Town), and James Earl (Glee); creator/producer Bill Lawrence; creator Greg Malins (a producer on 2 Broke Girls).
The pitch: A workplace comedy centering on a 29-year-old "alpha male" trust manager (Astin) who thinks he's on top of the world until he encounters his company's ground floor support staff; their carefree ways make him realize that he isn't so happy, after all, though his Romeo-and-Juliet-style romance with a maintenance supervisor (Heelan) might change that. McGinley, who starred as Dr. Cox for producer Lawrence on Scrubs, will play the cranky boss here.
Happiness

Key people: Stars Sean Hayes (Will & Grace), Thomas Lennon (Reno 911!), Linda Lavin (Alice), Echo Kellum (Ben and Kate), and Lindsay Sloane (Weeds); creator/producer Victor Fresco (Better Off Ted, Andy Richter Controls the Universe).
The pitch: Known for low-rated but quirky and original gems like Better Off Ted, Victor Fresco switches to a more conventional multi-camera format for this comedy about a single man (Hayes) dealing with a temperamental new boss (Lennon) and the 14-year-old daughter who just moved in with him. Note that the title is very tentative.
How the Hell Am I Normal?

Key people: Stars Wendi McLendon-Covey (Bridesmaids, Rules of Engagement), Jeff Garlin (Curb Your Enthusiasm), and George Segal (Just Shoot Me!); creator/producer Adam F. Goldberg (Breaking In); director/producer Seth Gordon (Breaking In, The King of Kong).
The pitch: McLendon-Covey and Garlin star as an "in-your-face mother" and a "hot-tempered father" who try to raise their three kids during the 1980s. The semi-autobiographical tale of a dysfunctional but loving family is one of several upcoming projects for Community producer Goldberg (not to be confused with the similarly named actor).
I Suck at Girls

Key people: Stars Christopher Meloni (True Blood, Law & Order: SVU), Alex Kapp Horner (The New Adventures of Old Christine), and Kevin Hernandez (My Name Is Earl); creator/producer Justin Halpern ($#*! My Dad Says); producer Bill Lawrence (Scrubs)
The pitch: Shit My Dad Says Twitterer Halpern tries for the second time to adapt his own material (this time, his memoir I Suck at Girls) to television with a show about "a boy becoming a man and a man becoming a father, in a time before 'coming of age' was something you could Google."
Joe & Joe & Jane

Key people: Stars Dave Annable (666 Park Avenue), Will Greenberg, Sally Pressman (Army Wives), and Larry Wilmore (The Daily Show); creators/producers Joe Port & Joe Wiseman (writers on Perfect Couples, New Girl, and Just Shoot Me!).
The pitch: Comedian Greenberg stars as a conflict-avoidant children's book author caught in between two very needy people: his wife (Pressman), and his friend and writing partner (Annable). It's a semi-autobiographical tale; those Joes in the title belong to producers Port and Wiseman.
The John Mulaney Show

Key people: Creator/producer/star John Mulaney; stars Martin Short (Saturday Night Live) and Elliott Gould (Ocean's Eleven); producer Lorne Michaels (30 Rock, Saturday Night Live).
The pitch: Stand-up comedian and former SNL writer Mulaney will star as a fictionalized version of himself who lives with a pair of roommates whom he drives crazy, has a gay neighbor (Gould), and writes jokes for a game show host (Short). The remaining cast members (and probably a revised title) are still tbd, but a lot of people have high hopes for this one, given the talent involved.
Lorimer

Key people: Stars Jonathan Groff (Glee, Boss) and Frankie Alvarez; creator/producer Michael Lannan (Remember Me); producers Sarah Condon (Bored to Death) and David Marshall Grant (Brothers and Sisters, Smash); director Andrew Haigh (Weekend 81).
The pitch: Adapted from a short film by Lannan, the series will revolve around a group of gay friends in San Francisco, including a video game developer (we'll also presume he's a Metacritic user) played by Groff, and an artist's assistant (newcomer Alvarez). Casting appears to be ongoing.
The McCarthys

Key people: Stars Jacki Weaver (Silver Linings Playbook, Animal Kingdom), Jake Lacy (The Office), and Jack McGee (Rescue Me); creator/producer Brian Gallivan (a writer on Happy Endings and Are You There, Chelsea?); producer Will Gluck (director of Easy A); director Fred Savage (Party Down).
The pitch: Oscar nominee Weaver moves from a sports-crazed Philly family to a sports-crazed Boston family; she plays the matriarch of a dysfunctional Irish-Catholic clan whose gay son (Lacy) will do anything to avoid spending time with his (presumably) Red Sox/Celtics/Patriots/Bruins-obsessed parents. (And who could blame him?)
Mom

Key people: Stars Anna Faris (Scary Movie), Allison Janney (The West Wing), French Stewart (3rd Rock from the Sun), Matt Jones (Breaking Bad's Badger), and Nate Corddry (Harry's Law); creator/producer Chuck Lorre (Two and a Half Men, The Big Bang Theory).
The pitch: A newly sober single mother (Faris, in her first TV starring role) tries to rebuild her life as a waitress in Napa Valley. It's yet another CBS sitcom for the man whose created most of them: Chuck Lorre, here working with Two and a Half Men producer Eddie Gorodetsky and story editor Gemma Baker.
The Onion Presents: The News

Key people: Stars Jeffrey Tambor (Arrested Development) and Cheyenne Jackson (30 Rock).
The pitch: Also known as Onion News Empire, the latest TV spin-off from the satirical newspaper/website comes from the producers of the previous two shows (Onion News Network, Onion SportsDome). This time, the show will take a behind-the-scenes look at the Onion News Network and the lives of its journalists, including a veteran anchor (played by Tambor) who feels threatened by a young hotshot (Jackson).
People in New Jersey

Key people: Creator/producer Bruce Eric Kaplan (a cartoonist, writer on Six Feet Under and Seinfeld, and producer on Girls); director/producer Jason Reitman (Juno, Up in the Air); producer Lorne Michaels (Saturday Night Live, 30 Rock).
The pitch: Not yet cast but presumably still on track to shoot a pilot, the series would revolve around an adult brother and sister living in New Jersey who ponder life's big and small questions. (In other words, HBO hasn't revealed much about the show yet.)
Pulling

Key people: Stars Kristen Schaal (30 Rock, Bob's Burgers), Jenny Slate (Saturday Night Live, Kroll Show), and June Diane Raphael (NTSF:SD:SUV::, Burning Love); creators/producers Lee Eisenberg and Gene Stupnitsky (longtime writers for The Office; also, Bad Teacher).
The pitch: A remake of the British series of the same name (which basically took the original premise of Friends, ditched the male characters, and substituted uncomfortable humor for easy laughs; watch it for yourself on Hulu) that centers on three dysfunctional single women who live together after one breaks off her engagement on the eve of her wedding. Schaal is a last-minute replacement for Mandy Moore, who was originally cast in the role.
Silicon Valley

Key people: Stars Christopher Evan Welch (Rubicon), TJ Miller (Cloverfield), Kumail Nanjiani (Franklin & Bash, Portlandia), Zach Woods (The Office), Thomas Middleditch (The Campaign), and Lindsey Broad (The Office, 'Til Death); creator/producer/director Mike Judge (Beavis & Butt-head, King of the Hill).
The pitch: Office Space:The Series? Not quite, but also not entirely inaccurate. Judge, working with longtime collaborators Dave Krinsky and John Altschuler (King of the Hill), has fashioned a dark workplace comedy "set in the high tech gold rush of modern Silicon Valley, where the people most qualified to succeed are the least capable of handling success." Characters will range from an eccentric tech billionaire (Welch) to the low-level coders working at an incubator called Hacker House, run by a smug, self-unaware entrepreneur (Miller).
Spy

Key people: Stars Rob Corddry (The Daily Show, Childrens' Hospital), Paget Brewster (Criminal Minds, "Beyond Belief"), Ken Jeong (Community), Nat Faxon (Ben & Kate).
The pitch: Simeon Goulden adapts his own British comedy series (also called Spy, and is available in the U.S. via Hulu) about a clueless but well-intentioned single father (here, played by Corddry) who tries to impress his 10-year-old son by joining the Secret Service. Note that Jeong would stay with Community and be replaced here should that show get renewed; Faxon, meanwhile, will likely have only a recurring guest role.
Supanatural

Key people: Producers Jason Micallef (Butter) and Kristen Schaal (The Daily Show).
The pitch: An animated comedy about "two outspoken divas who are humanity's last line of defense against the supernatural, when they're not working at the mall." The project comes from relative newcomers Lily Sparks, Price Peterson, and Ryan Sandoval.
Super Clyde

Key people: Stars Rupert Grint (best known as Ron in the Harry Potter series), Stephen Fry (Jeeves and Wooster), and Tyler Labine (Animal Practice, Reaper); creator/producer Greg Garcia (Raising Hope, My Name Is Earl); director/producer Michael Fresco (Suburgatory, Better Off Ted).
The pitch: One of two pilots for Garcia this season, Super Clyde stars Grint (making his series TV debut) as a "meek, unassuming fast food worker" who decides to become a superhero. Hugh Laurie's longtime comedy partner Fry will make his American TV debut as Clyde's sidekick, while Labine plays Clyde's crass older brother, who is living off an inheritance. Note that several key roles have yet to be cast.
Those Who Can't

The pitch: It's the one Amazon comedy pilot with few recognizable names attached, having originated through Amazon's open submissions process through which anyone could submit ideas for a project. Writers Andrew Orvedahl, Adam Cayton-Holland, and Benjamin Roy—better known as the Denver-based comedy trio The Grawlix—penned a high school story about "three juvenile, misfit teachers who are just as immature, if not more so, than the students they teach." Those characters are drawn from the trio's ongoing Funny or Die series.
To My Future Assistant

Key people: Stars Brittany Snow (Harry's Law, Pitch Perfect), Catherine O'Hara (Best in Show, SCTV), and Stephen Root (NewsRadio, King of the Hill); creators/producers Sherry Bilsing-Graham (Friends) and Ellen Kreamer (The New Adventures of Old Christine).
The pitch: Based on Lydia Whitlock's blog (and upcoming book), the workplace comedy centers on a group of assistants (led by Snow) at a major New York law firm who band together to cope with the stresses inflicted by their overbearing bosses (including, in what seems to be excellent casting, O'Hara and Root). Note that the title may change.
Togetherness

Key people: Stars Amanda Peet (Studio 60 on the Sunset Strip), Melanie Lynskey (Two and a Half Men, Up in the Air), and Steve Zissis (Baghead); creators/producers/directors Mark and Jay Duplass (Cyrus, Jeff Who Lives at Home).
The pitch: The first TV series created by the Duplass brothers (though Mark also stars in one, The League) will revolve around the lives of two couples who share the same roof. Originally residing in the house is a struggling, unhappily married couple with two children, but they are soon joined by the wife's sister (who has just moved to town) and the husband's friend, a struggling actor who is suddenly homeless and has no other place to stay. One of the four leads has yet to be cast.
Trophy Wife

Key people: Stars Bradley Whitford (The West Wing, Studio 60), Malin Akerman (Childrens' Hospital, Burning Love), Marcia Gay Harden (Damages, Mystic River), Michaela Watkins (The New Adventures of Old Christine), and Natalie Morales (White Collar); creator/producer Emily Halpern (a writer on Private Practice and The Unit); producers Lee Eisenberg and Gene Stupnitsky (The Office, Bad Teacher).
The pitch: Akerman stars as said trophy wife, a "reformed party girl" who finds herself with an instant family after marrying a twice-divorced man (Whitford) with three manipulative children. Halpern wrote the pilot with her screenwriting collaborator Sarah Haskins (together, they've been an in-demand team recently, though their projects have yet to be produced).
Zombieland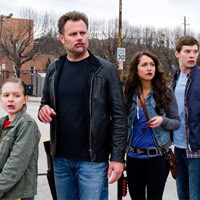 Key people: Stars Kirk Ward (The Island), Maiara Walsh (Desperate Housewives, Switched at Birth), Tyler Ross (Milkshake); producer Gavin Polone (Curb Your Enthusiasm, Gilmore Girls); director Eli Craig (Tucker & Dale vs. Evil 65).
The pitch: A half-hour action-comedy series based on the 2009 movie of the same name that comes from that film's writers, Rhett Reese and Paul Wernick (who had originally envisioned Zombieland as a TV series before going the film route instead). A cast of relatively unknown stars (pictured) will take over the roles played in the movie by Jesse Eisenberg, Woody Harrelson, and Emma Stone.
Untitled Craig Robinson/Greg Daniels comedy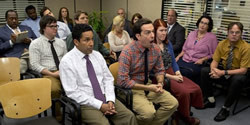 Other Pilots Featuring Cast Members from NBC's The Office
Backstrom - Rainn Wilson
Beverly Hills Cop - David Denman
The Blacklist - James Spader
Brenda Forever - Ellie Kemper
Do It Yourself - Melora Hardin
The Gabriels - Angela Kinsey
The McCarthys - Jake Lacy
Silicon Valley - Zach Woods
Key people: Stars Craig Robinson (The Office), Larenz Tate (Rescue Me), Jean Smart (Designing Women, 24), and Amandla Stenberg (The Hunger Games); creator/producer Owen Ellickson (a writer on The Office); producer Greg Daniels (The Office, King of the Hill).
The pitch: Well here's what some of the folks from The Office might be up to next season. Robinson (The Office's Darryl) produces and stars as "an impulsive, good-hearted musician" who takes a new job as a music teacher at a big city middle school, where he must learn how to handle "precocious kids, teacher politics, and the temptations of single moms." Casting for one role is still tbd, as Hung's Jane Adams has departed the project.
Daniels also has a second untitled pilot for NBC with yet another Office writer (Robert Padnick), this one starring newcomer Mike Castle (a last-minute replacement for Josh Rabinowitz) as a young man who relies on his three friends to help him navigate "the labyrinth of mind games and human suffering that is dating in your early 20s."
Untitled Greg Garcia comedy

Key people: Stars Will Arnett (Up All Night, Arrested Development), Margo Martindale (Justified, The Americans), Beau Bridges (Stargate SG-1, The Descendants), J.B. Smoove (Curb Your Enthusiasm), Mary Elizabeth Ellis (It's Always Sunny in Philadelphia), and Michael Rapaport (Boston Public, My Name Is Earl); creator/producer Greg Garcia (Raising Hope, My Name Is Earl).
The pitch: Arnett jumps from Up All Night (unless, for some reason, it comes back from the dead) to star as a recently divorced man whose feuding parents (Bridges and Martindale) decide to move in with him. Ellis plays the sister (married to Rapaport) that's always asking him for money, while Smoove co-stars as his friend.
Untitled Mike Schur cop comedy

Key people: Stars Andy Samberg (Saturday Night Live), Andre Braugher (Men of a Certain Age, Homicide: Life on the Street), Joe Lo Truglio (The State, Reno 911!), Terry Crews (The Newsroom, the NFL), and Chelsea Peretti (a stand-up and former Parks and Rec writer); creators/producers Michael Schur and Dan Goor (Parks and Recreation); directors Phil Lord and Chris Miller (21 Jump Street, Clone High).
The pitch: Parks & Rec co-creator Schur teams up with one of that show's writers (Goor) for a single-camera comedy about a group of detectives in New York's 191st Precinct. About the only thing it's missing is a Det. Munch cameo.
Untitled Mother's Day adaptation

Key people: Star Debra Messing (Smash); creators/producers Julie Rottenberg & Elisa Zuritsky (writers on Smash and Sex and the City)
The pitch: A mother of three struggles to balance parenting, work, and a personal life in this adaptation of the Israeli series Mother's Day. Only Messing has been cast so far, and she will be replaced in the extremely unlikely event that her current series Smash is renewed for a third season.
Untitled Parham/St. Clair comedy
Key people: Stars/creators/producers Lennon Parham and Jessica St. Clair (NBC's Best Friends Forever); stars Keegan Michael Key (Key & Peele), Brad Morris (Cougar Town), Zach Woods (The Office).
The pitch: This semi-autobiographical comedy stars St. Clair as a career-focused woman who decides to help her single best friend (Parham) raise her new baby. Key, whose own Key & Peele is returning this fall, may or may not continue with the show should it get picked up.
Already picked up
Comedies that have already been ordered to series—either bypassing the pilot stage or completing their pilots last year—include NBC's MJF (starring Michael J. Fox), Fox's Dads (a live-action comedy from Seth MacFarlane about two video game developers whose dads move in with them), Fox's animated comedy Murder Police (featuring the voices of Jane Lynch and Wilmer Valderrama), Comedy Central's Amy Poehler-produced Broad City (based on the web series of the same name), HBO's Getting On (an adaptation of the acclaimed BBC Four hospital comedy from the creators of Big Love) and Hello Ladies (from frequent Ricky Gervais collaborator Stephen Merchant), Adult Swim's Rick and Morty (an animated sitcom from Community creator Dan Harmon), and the Ben Stiller-produced IFC sketch series The Birthday Boys (starring the L.A.-based comedy troupe of the same name, plus Bob Odenkirk). IFC has also picked up Will Ferrell's miniseries spoof The Spoils of Babylon.
Already rejected
MTV has passed on Hot Mess, a new comedy from the creator of Awkward.
What we left out
Comedy pilots not listed above (mainly because they sounded even less exciting or plausible than the ones we did mention—and that's saying something) include TBS' Do It Yourself (about a laid-off math teacher who gets a job at a Home Depot-like big box store), CBS' Friends with Better Lives (starring James Van Der Beek and Kevin Connolly as friends who covet each other's lives), CBS' Gaffigan (starring comedian Jim Gaffigan and Mira Sorvino has New York parents of five), NBC's Holding Patterns (about a group of friends who survive a plane crash, always a great source of laughs), CBS' Jacked Up (starring Patrick Warburton as a recently retired baseball star trying to adjust to civilian life), ABC's tentatively (and terribly) titled Keep Calm and Karey On (starring Kelly Preston as a woman named Karey who decides to raise her incarcerated brother's two children along with her own adopted African-American son), ABC's Middle Age Rage (starring Bridesmaids' Annie Mumolo as a mom who experiences just that), ABC's Mixology (about singles looking for love at a Manhattan bar over the course of a single night), Fox's Two Wrongs (about star-crossed lovers whose parents disapprove of their relationship), NBC's Bill Lawrence-produced Undateable (about a group of male friends who bond over their inability to attract women), and NBC's Welcome to the Family (about two families brought together after two of their teenagers fall in love and have a baby).
ABC also has an untitled project from John Leguizamo in which he stars as a character based on himself. TBS has filmed a pilot for an American version of the long-running BBC panel show Have I Got News for You (basically, the TV equivalent of NPR's Wait Wait Don't Tell Me), to be hosted by Sam Seder; NBC and CNN have also expressed interest in the show should TBS pass on the project. And ABC is also considering a re-tooled version of the Rebel Wilson-starring Super Fun Night, a pilot that CBS passed on last year.
What do you think?
What new comedies are you looking forward to watching? Let us know which of these shows seem the most and least promising to you in the comments section below. And don't forget to check out our guide to this year's drama pilots as well.