Birdman, Grand Budapest lead a field with few surprises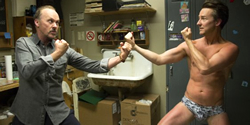 The Academy of Motion Picture Arts and Sciences announced the nominees for their 87th Academy Awards early Thursday morning, recognizing the best films, filmmakers, and on- and off-screen talent of 2014. Leading the way were the duo of Birdman and The Grand Budapest Hotel, which each picked up nine nominations overall, topping this year's field.
Both of those films were—as widely expected—among eight nominees for best picture this year, as were longtime Oscar favorite Boyhood and awards-friendly biopics like The Imitation Game, Selma, and The Theory of Everything. In fact, few of the Academy's choices in any categories this year provided much in the way of surprises.
Listed below are the 2015 Academy Award nominees in all 24 categories.
Best picture and director
Best picture
Metascore / Film / Producers
Watch It
American Sniper

Clint Eastwood, Robert Lorenz, Andrew Lazar, Bradley Cooper and Peter Morgan

 
Birdman or (The Unexpected Virtue of Ignorance)

AG Iñárritu, J. Lesher and J.W. Skotchdopole

 
Boyhood

Richard Linklater and Cathleen Sutherland

The Grand Budapest Hotel

Wes Anderson, Scott Rudin, Steven Rales and Jeremy Dawson

 
The Imitation Game

Nora Grossman, Ido Ostrowsky and Teddy Schwarzman

 
Selma

Christian Colson, Oprah Winfrey, Dede Gardner and Jeremy Kleiner

 
The Theory of Everything

Tim Bevan, Eric Fellner, Lisa Bruce and Anthony McCarten

 
Whiplash

Jason Blum, Helen Estabrook and David Lancaster

 
The Academy's eight best picture entries (down from nine in each of the previous three years) generally reflect the films receiving the most recognition elsewhere on the awards circuit—in other words, there were few surprises here. The films most heralded elsewhere but omitted here are Nightcrawler and David Fincher's Gone Girl. And the Academy didn't bite (here or in most categories) on seemingly Oscar-ready films like Mr. Turner and Unbroken.
Director
Morten Tyldum's surprise DGA nomination earlier this week turned out to foreshadow an only slightly less surprising Oscar nomination. Equally surprising was the inclusion of Bennett Miller, who has been ignored elsewhere on the awards circuit (though the Academy seemed to like Foxcatcher better than other organizations did, awarding it with five nominations in total, though not one for best picture). Their inclusions meant that Selma's Ava DuVernay (who would have been the first African American woman ever nominated for director), American Sniper's Clint Eastwood, and Whiplash's Damien Chazelle couldn't match their films' best picture nominations with best director nominations. Interestingly, none of the five nominated directors has ever won an Academy Award.
Writing
Original screenplay
There are no real surprises here. With three nominations today (including for directing and producing a best picture nominee), Richard Linklater more than doubled his previous career total. Wes Anderson and Alejandro Gonzalez Iñárritu also picked up three nominations apiece this morning.
Adapted screenplay
It looks like we'll have a first-time Oscar winner in this category—in fact, four of the five contenders are even first-time nominees. The Academy really didn't like Gone Girl much, as Gillian Flynn (who has been owning this category on the awards circuit) couldn't even get a screenplay nomination for adapting her own best-seller. Also omitted was Nick Hornby's script for Wild. Note that most other awards organizations treated Damien Chazelle's Whiplash script as an original screenplay, but the Academy considered it to be an adapted screenplay for reasons known only to the Academy (Chazelle has previously released a single Whiplash scene as a short film to raise funds to complete the full movie, which is apparently the source of the problem).
Acting
Lead actress
After all that recent speculation about Jennifer Aniston sneaking in for the middling new drama Cake, it didn't actually happen. Instead, the five most obvious candidates were indeed the five nominees—though that doesn't make predicting the winner any easier.
Lead actor
Here's another category where we'll have a first-time Oscar winner, though the field didn't shape up quite as planned. Steve Carell had not been getting much traction this awards season, so his inclusion (though not undeserved) is a bit of a surprise. And it probably comes at the expense of Ralph Fiennes, who has been getting plenty of love elsewhere for his turn in The Grand Budapest Hotel. The biggest snub, however, goes to Jake Gyllenhaal, whose performance in Nightcrawler has already earned him multiple awards over the past month. Right behind him in the snub department is Selma's David Oyelowo, who had received some recognition from other awards groups. Bradley Cooper, one of the relative (though not huge) surprises in their place, is now the first actor since Renée Zellweger in 2003 to score a nomination in three consecutive years.
Supporting actress
The Academy has a hard time resisting Meryl Streep, and she's by far the most veteran presence in a field of relative Oscar newcomers (though everyone is a relative Oscar newcomer compared to Streep, who is the most-nominated actor in history). Her inclusion means that there was no room for Rene Russo (Nightcrawler), Tilda Swinton (admittedly a bit of an underdog for Snowpiercer, which doesn't seem like an Academy-friendly film), and Jessica Chastain (A Most Violent Year) to crack the final five.
Supporting actor
Robert Duvall's inclusion for the less-than-stellar drama The Judge is, while not unexpected, the only choice that doesn't match up with awards given out by other groups this year. Missing from the field are the likes of Josh Brolin (Inherent Vice) and Academy favorite Christoph Waltz (Big Eyes).
Other best film nominations
Animated feature
The LEGO Movie (which did pick up a best original song nomination, though that's not much of a consolation) is the huge omission here, with the relatively unknown Song of the Sea the surprise nominee in its place. LEGO previously had 25 wins this awards season, while Song had just one other nomination.
Documentary feature
Citizenfour has been a favorite on the awards circuit, as has the Roger Ebert doc Life Itself, though the latter was a snub here with the Academy. Note that several acclaimed documentaries, including Glen Campbell … I'll Be Me and Red Army, were left off of the Academy's 15-film shortlist in December (and thus were already known to be out of the running).
Foreign-language feature
Sweden's excellent Force Majeure is the huge omission here, as that film has been cleaning up on the awards circuit (along with Ida, which did get nominated). As with the documentary category, the Academy previously released a foreign film shortlist in December, and at that time the omissions of films such as the widely praised Two Days, One Night, Winter Sleep (which won the Palme d'Or at Cannes last year), and Mommy were considered major snubs.
Short subjects
Animated Short
The Bigger Picture
Daisy Jacobs and Christopher Hees
The Dam Keeper
Robert Kondo and Dice Tsutsumi
Feast
Patrick Osborne and Kristina Reed
Me and My Moulton
Torill Kove
A Single Life
Joris Oprins
Documentary Short
Crisis Hotline: Veterans Press 1
Ellen Goosenberg Kent and Dana Perry
Joanna
Aneta Kopacz
Our Curse
Tomasz Śliwiński and Maciej Ślesicki
The Reaper (La Parka)
Gabriel Serra Arguello
White Earth
J. Christian Jensen
Live-Action Short
Aya
Oded Binnun and Mihal Brezis
Boogaloo and Graham
Michael Lennox and Ronan Blaney
Butter Lamp (La Lampe au Beurre de Yak)
Hu Wei and Julien Féret
Parvaneh
Talkhon Hamzavi and Stefan Eichenberger
The Phone Call
Mat Kirkby and James Lucas
Music
Original score
Previous Oscar winners Trent Reznor and Atticus Ross could not pick up another nomination for their Gone Girl score. They were probably the biggest snubs here, with Gary Yershon the most notable surprise among the field of four nominees.
Original song
Song/Composer
Performer
Film
"Everything Is Awesome"
by Shawn Patterson, Joshua Bartholomew,
Lisa Harriton, and The Lonely Island
Tegan and Sara and
The Lonely Island
The LEGO Movie
"Glory"
by John Legend and Common
John Legend and Common
Selma
"Grateful"
by Diane Warren
Rita Ora
Beyond the Lights
"I'm Not Gonna Miss You"
by Glen Campbell and Julian Raymond
Glen Campbell
Glen Campbell … I'll Be Me
"Lost Stars"
by Gregg Alexander, Danielle Brisebois,
Nick Lashley, and Nick Southwood
Adam Levine
Begin Again
Lana Del Rey's "Big Eyes" (from the film of the same name) and Boyhood's "Split the Difference" (written by that film's co-star, Ethan Hawke) are among the omissions, with "Grateful" perhaps the biggest surprise among the nominees.
Technical categories
Cinematography
The biggest snub here is probably
Interstellar
's Hoyte Van Hoytema, who has been doing well elsewhere on the awards circuit (though not as well as
Birdman
's Emmanuel Lubezki, who was nominated).
Film Editing
Costumes/Makeup
Sound
Visuals
More Oscar coverage to come
Neil Patrick Harris will host the Oscars for the first time when the 87th Annual Academy Awards ceremony airs live on ABC on Sunday, February 22, 2015 at 7:00p ET / 4:00p PT. Look for additional Oscars coverage on this site over the next month, including a chance for you to predict this year's winners as well as a roundup of Oscar predictions from dozens of critics and industry experts. You can also check out our 2014-15 Film Awards Scorecard for a compilation of this season's movie awards from over 50 different organizations.
What's your take?
What do you think of this year's Academy Award nominations? Let us know in the comments section below.