Singing the praises of La La Land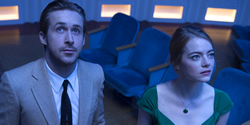 The Academy of Motion Picture Arts and Sciences announced the nominees for the 89th Academy Awards early Tuesday morning, recognizing the best films, filmmakers, and on- and off-screen talent of 2016.
Leading all films with 14 nominations—six more than any other movie—was Damien Chazelle's musical La La Land, fresh off of its record-setting seven wins at the Golden Globes earlier this month. La La Land's total of 14 Oscar nominations is also a record, tying it with All About Eve and Titanic, and it is the first original musical to get a best picture nomination since 1979's All That Jazz.
Other major best picture contenders Moonlight and Manchester by the Sea also placed among the top of the pack in total nominations, with eight and six, respectively.
Listed below are the 2017 Academy Award nominees in all 24 categories.
Best picture and director
Best picture
Metascore / Film / Producers
Arrival

Shawn Levy, Dan Levine, Aaron Ryder and David Linde

Fences

Scott Rudin, Denzel Washington and Todd Black

Hacksaw Ridge

Bill Mechanic and David Permut

Hell or High Water

Carla Hacken and Julie Yorn

Hidden Figures

Donna Gigliotti, Peter Chernin, Jenno Topping, Pharrell Williams and Theodore Melfi

La La Land

Fred Berger, Jordan Horowitz and Marc Platt

Lion

Emile Sherman, Iain Canning and Angie Fielder

Manchester by the Sea

Matt Damon, Kimberly Steward, Chris Moore, Lauren Beck and Kevin J. Walsh

Moonlight

Adele Romanski, Dede Gardner and Jeremy Kleiner
Nine films were nominated for best picture this year after eight received nominations in each of the previous two years. None of the nine can be considered surprises, and the film most likely just missing the cut was Jackie, which received three nominations in other categories. (Other potential titles in the just-missed-out pool include Nocturnal Animals and Loving, both of which, like Jackie, received a decent number of best picture nominations from other organizations.)
Director
This is probably a two-man race between Damien Chazelle and Barry Jenkins, either of whom would be a first-time Oscar winner. (Both are also nominated in the screenplay categories.) Mel Gibson is the biggest surprise here, having failed to gain much traction with many of the other awards organizations, though the Academy clearly liked his film, giving it six total nominations this year. (He also is the sole nominee here with a previous Oscar win as a director.) His inclusion likely comes at the expense of Hell or High Water's David Mackenzie or perhaps Fences director Denzel Washington.
Writing
Original screenplay
Adapted screenplay
Nominee
Film
Career Oscar Totals
Noms.
Wins
Eric Heisserer
Arrival
1
0
August Wilson
Fences
1
0
Allison Schroeder and Theodore Melfi
Hidden Figures
1/2
0
Luke Davies
Lion
1
0
Barry Jenkins, Tarell Alvin McCraney
Moonlight
2/1
0
The Academy's controversial decision to consider Moonlight an adapted, rather than original, screenplay—it is very loosley based on a never-produced play by Tarell Alvin McCraney—should mean a trophy for Moonlight in a category that Arrival had seemed a lock to win just over a month ago. The move also clears a major contender from a still very competitive original screenplay field that could see the win go to Chazelle, Sheridan, or Lonergan, with the latter possibly having a slight edge (unless La La Land begins to look like it will dominate this year's Oscars).
Acting
Lead actress
Perhaps the biggest snub among this year's nominees can be found here, where Arrival's Amy Adams was widely expected to secure a nomination. 20th Century Women's Annette Bening is another potential nominee missing from the list, though there isn't an obvious name among the five nominees that stands out as not belonging. (All five have collected multiple nominations from other awards groups.)
Lead actor
There are no surprises here, as the five favorites to be nominated had their names read Tuesday morning. If there are snubs to be found, Sully's Tom Hanks and Loving's Joel Edgerton are the names that come to mind. Casey Affleck is the favorite to win, while Denzel Washington is just the seventh person to receive best picture and acting nominations for the same film.
Supporting actress
While critic groups have been opting for the likes of indie stars Greta Gerwig (20th Century Women) and Lily Gladstone (Certain Women) in this category in addition to favorites like Viola Davis and Naomie Harris, the Academy's selections are again as predicted and unsurprising.
Supporting actor
Yet again, we have no obvious surprises or snubs here, with the closest to the latter probably being either Ben Foster (Hell or High Water) or Golden Globe winner Aaron Taylor-Johnson (whose Nocturnal Animals co-star Michael Shannon likely got the nod instead). Ali has been dominating the category throughout awards season, though Bridges should not be ruled out, given that the Academy has already honored him with a trophy.
Other best film nominations
Animated feature
Unusually, two foreign films made the cut. The oddly titled My Life As a Zucchini is actually a French-language Swiss production that has yet to open in the United States (it will do so next month), while the extremely well-reviewed The Red Turtle is a multi-nation affair that is co-produced by Japan's Studio Ghibli. Their inclusion likely came at the expense of Pixar's Finding Dory and, possibly, the R-rated Sausage Party.
Documentary feature
O.J.: Made in America is now the longest film to receive an Oscar nomination in any category. Its inclusion here is somewhat controversial, not because it is undeserving (in fact, it is one of 2016's best films), but because it is best known as a television miniseries. Producers opted to screen it in two theaters as a nearly eight-hour film the weekend before it debuted on TV in the hopes of securing an Oscar nomination, and it did just that. (It will also be eligible for Emmys next year.) The biggest snub, based on the number of awards and nominations it won elsewhere, is the political documentary Weiner, while other missing names include Gleason and the artsy Cameraperson.
Foreign-language feature
The biggest snub in the foreign film category is the widely heralded French drama Elle, though that was known coming into the morning, as the Academy failed to include it on their shortlist last month.
Short subjects
Animated Short
Blind Vaysha
Theodore Ushev
Borrowed Time
Andrew Coats and Lou Hamou-Lhadj
Pear Cider and Cigarettes
Robert Valley and Cara Speller
Pearl
Patrick Osborne
Piper
Alan Barillaro and Marc Sondheimer
Documentary Short
Extremis
Dan Krauss
4.1 Miles
Daphne Matziaraki
Joe's Violin
Kahane Cooperman and Raphaela Neihausen
Watani: My Homeland
Marcel Mettelsiefen and Stephen Ellis
The White Helmets
Orlando von Einsiedel and Joanna Natasegara
Live-Action Short
Ennemis Intérieurs
Sélim Azzazi
La Femme et le TGV
Timo von Gunten and Giacun Caduff
Silent Nights
Aske Bang and Kim Magnusson
Sing
Kristof Deák and Anna Udvardy
Timecode
Juanjo Giménez
Music
Original score
Composer
Film
Career Oscar Totals
Noms.
Wins
Mica Levi
Jackie
1
0
Justin Hurwitz
La La Land
3
0
Dustin O'Halloran and Hauschka
Lion
1
0
Nicholas Britell
Moonlight
1
0
Thomas Newman
Passengers
14
0
Original song
Song/Composer
Performer
Film
"Audition (The Fools Who Dream)"
by Justin Hurwitz, Benj Pasek and Justin Paul
Emma Stone
La La Land
"Can't Stop the Feeling"
by Justin Timberlake, Max Martin and Karl Johan Schuster
Justin Timberlake
Trolls
"City of Stars"
by Justin Hurwitz, Benj Pasek and Justin Paul
Ryan Gosling, Emma Stone
La La Land
"The Empty Chair"
by J. Ralph and Sting
Sting
Jim: The James Foley Story
"How Far I'll Go"
by Lin-Manuel Miranda
Alessia Cara
Moana
Technical categories
Cinematography
Film Editing
Costumes/Makeup
Sound
Visuals
More Oscar coverage to come
Jimmy Kimmel will host the Oscars for the first time when the 89th Annual Academy Awards ceremony airs live on ABC on Sunday, February 26, 2017 at 7:00p ET / 4:00p PT. Look for additional Oscars coverage on this site over the next month, including a chance for you to predict this year's winners as well as a roundup of Oscar predictions from dozens of critics and industry experts. You can also check out our 2016-17 Film Awards Scorecard for a compilation of this season's movie awards from 57 different organizations.
What's your take?
What do you think of the Academy's picks this year? Let us know in the comments section below.