The race shapes up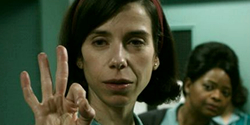 The Academy of Motion Picture Arts and Sciences revealed the nominees for the 90th Academy Awards early Tuesday morning, recognizing the best films, filmmakers, and on- and off-screen talent of 2017. It was a year when Kobe Bryant received an Oscar nomination, but expected nominee James Franco didn't.
Leading all movies with 13 nominations (and just the 10th film in history to receive that many) was Guillermo del Toro's The Shape of Water. Thanks to being one of the few major best picture contenders to heavily feature special effects, the film picked up numerous technical nominations to ultimately finish with five more nominations than any other film this year.
Three Billboards Outside Ebbing, Missouri, another potential best picture winner in an unpredictable year, also did well, placing third overall, just one behind Christopher Nolan's WWII epic Dunkirk.
Listed below are the 2018 Academy Award nominees in all 24 categories.
Best picture and director
Best picture
Metascore / Film / Producers
Call Me by Your Name

Peter Spears, Luca Guadagnino, Emilie Georges and Marco Morabito

Darkest Hour

Tim Bevan, Eric Fellner, Lisa Bruce, Anthony McCarten and Douglas Urbanski

Dunkirk

Emma Thomas and Christopher Nolan

Get Out

Sean McKittrick, Jason Blum, Edward H. Hamm Jr. and Jordan Peele

Lady Bird

Scott Rudin, Eli Bush and Evelyn O'Neill

Phantom Thread

JoAnne Sellar, Paul Thomas Anderson, Megan Ellison and Daniel Lupi

The Post

Amy Pascal, Steven Spielberg and Kristie Macosko Krieger

The Shape of Water

Guillermo del Toro and J. Miles Dale

Three Billboards Outside Ebbing, Missouri

Graham Broadbent, Pete Czernin and Martin McDonagh
There aren't many surprises here; the Academy's nine picks (more than some experts had predicted) actually match up pretty closely with the consensus best picture leaders based on other previously announced awards. (If there's a mild surprise, it's probably Darkest Hour, though it's hard to be shocked by the inclusion of a hisorical drama featuring a strong lead performance by an actor impersonating a well-known figure—that's what Oscars are made for.)
Omissions inlcude The Florida Project and The Big Sick, and, to a lesser extent, I, Tonya and Mudbound (though each of these four films was nominated elsewhere). No title on the list above stands out as a surprise nominee, though Get Out's inclusion (which was widely predicted, as well as deserved) would have been impossible to foresee a year ago, given the Academy's usual aversion to genre films.
Note that Steven Spielberg has now increased his record of best picture nominations (for any one individual producer) to 10, though his film, The Post, underperformed overall with just two total nominations—a bit of a disappointment for its backers given that the film seems to have been engineered to be an Oscar contender.
Director
This is actually Christopher Nolan's first nomination as a director; his previous three nominations came as producer or screenwriter. He had two nominations today, including for best picture. In fact, everyone here received multiple nominations today, including two triple nominees in Guillermo del Toro and Jordan Peele (each also nominated for original screenplay and best picture). Peele follows Warren Beatty (Heaven Can Wait) and James L. Brooks (Terms of Endearment) to receive directing, writing, and best picture nominees for his directorial debut. Greta Gerwig is also a first-time Oscar nominee today, and becomes just the fifth woman to be nominated for best director in Oscar history. (Only one of those women, Kathryn Bigelow, has won.)
Writing
Original screenplay
Nobody here has won a screenplay Oscar before; Martin McDonagh's previous win was for a short film. As a whole, the category pretty much played out as expected. If there's a major omission, it probably is Paul Thomas Anderson, for Phantom Thread.
Adapted screenplay
There are no surprises in this field, either. We will likely see a first-time screenplay winner here as well, as the only previous winner (Aaron Sorkin, who won for The Social Network in 2010) is not necessarily the favorite to take home another trophy given that his film didn't make much of a splash. Of the five nominations, only two (Call Me by Your Name, Mudbound) are for films that were also nominated in other categories.
Acting
Lead actress
Meryl Streep has once again broken her own record as the most-nominated performer in Oscar history, though she doesn't seem likely to pick up her fourth trophy, given that the Academy didn't seem to love her film. Frances McDormand, however, could be one of this year's rare repeat winners (she previously won for Fargo, the only other time she was nominated in the lead actress category), though it isn't guaranteed, given the level of competition—Sally Hawkins and Saoirse Ronan have picked up numerous wins elsewhere on the awards circuit. There are no major snubs here, with Jessica Chastain (Molly's Game) likely the next leading vote getter based on awards from other groups (though we'll never know).
Lead actor
The obvious surprise inclusion here is Denzel Washington, given that his film made little impression on moviegoers and received mediocre reviews (and wasn't nominated in any other category). His nomination seemingly comes at the expense of The Disaster Artist's James Franco, whose recent scandal may have cost him a chance at reprising his Golden Globes win (though much of the Oscar voting was conducted prior to the negative news).
Supporting actress
It's the rare Oscar category to feature mostly new faces. Only Octavia Spencer (an Oscar winner for The Help in 2011) has been nominated as an actress in the past; Mary J. Blige's other nomination (also this year) is for best original song. Omissions (based on awards given out by other groups) include The Big Sick's Holly Hunter and Girls Trip's Tiffany Haddish.
Supporting actor
Last-minute Kevin Spacey replacement Christopher Plummer, previously the oldest-ever Oscar acting winner (for Beginners in 2011), is now the oldest-ever Oscar acting nominee, at 88. Who was snubbed here? A pair of actors from Call Me by Your Name, who picked up numerous honors elsewhere: Michael Stuhlbarg and Armie Hammer. (Also, to a lesser degree, Logan's Patrick Stewart.) So the fact that Three Billboards received two nominations here could be a good sign for its best picture chances—the Academy clearly likes the film.
Other best film nominations
Animated feature
Barring any major surprises, Pixar's Coco should win here, as it has been dominating a weaker-than-usual field throughout awards season so far.
Documentary feature
Plenty of high-scoring documentaries were snubbed here, including Jane, EX LIBRIS – The New York Public Library and City of Ghosts. Also omitted was the crowd-pleasing Turskish cat doc Kedi, though that film, unlike the others mentioned above, didn't even make the 15-film shortlist announced last month. (However, even the Academy was unable to ignore Agnes Varda's Faces Places, 2017's highest-scoring film in any genre.)
Foreign-language feature
Traditionally, few Oscar categories have as many snubs as the foreign-language field, though that's partially due to the rules imposed by the Academy. (Among other considerations, each country may only submit one film.) So which films were snubbed this year? France's BPM (Beats Per Minute), for one. But that film, like Angelina Jolie's First They Killed My Father, didn't even make the nine-film shortlist despite being popular with other awards groups. Among the shortlisted films omitted from the final field, Israel's Foxtrot (one of the year's best-reviewed films) and Germany's In the Fade (which just won a Golden Globe) are the most notable.
Short subjects
Animated Short
Dear Basketball
Glen Keane and Kobe Bryant
Garden Party
Victor Caire and Gabriel Grapperon
Lou
Dave Mullins and Dana Murray
Negative Space
Max Porter and Ru Kuwahata
Revolting Rhymes
Jakob Schuh and Jan Lachauer
Documentary Short
Edith + Eddie
Laura Checkoway and Thomas Lee Wright
Heaven Is a Traffic Jam on the 405
Frank Stiefel
Heroin(e)
Elaine McMillion Sheldon and Kerrin Sheldon
Knife Skills
Thomas Lennon
Traffic Stop
Kate Davis and David Heilbroner
Live-Action Short
DeKalb Elementary
Reed Van Dyk
The Eleven O'Clock
Derin Seale and Josh Lawson
My Nephew Emmett
Kevin Wilson Jr.
The Silent Child
Chris Overton and Rachel Shenton
Watu Wote/All of Us
Katja Benrath and Tobias Rosen
Music
Original score
Radiohead's Jonny Greenwood, a frequent Paul Thomas Anderson collaborator, picked up his first-ever nomination, while legend John Williams collected his 51st—more than any other human not named Walt Disney.
Original song
Song/Composer
Film
"Mighty River"
by Mary J. Blige, Raphael Saadiq and Taura Stinson
Mudbound
"Mystery of Love"
by Sufjan Stevens
Call Me by Your Name
"Remember Me"
by Kristen Anderson-Lopez and Robert Lopez
Coco
"Stand Up for Something"
by Diane Warren and Lonnie R. Lynn
Marshall
"This Is Me"
by Benj Pasek and Justin Paul
The Greatest Showman
Technical categories
Cinematography
There will be a first-time winner in the cinematography field. Will the Oscar finally go to the legendary Roger Deakins? He leads all living cinematographers in career nominations, yet has never won an Oscar. Rachel Morrison, meanwhile, is the first woman ever to be nominated in this category.
Film Editing
Costumes/Makeup
Sound
Visuals
More Oscar coverage to come
Jimmy Kimmel will host the Oscars for the second time when the 90th Annual Academy Awards ceremony airs live on ABC on Sunday, March 4, 2018 at 8:00p ET / 5:00p PT. Look for additional Oscars coverage on this site over the coming weeks, including a chance for you to predict this year's winners as well as a roundup of Oscar predictions from dozens of critics and industry experts. You can also check out our 2017-18 Film Awards Scorecard for a compilation of this season's movie awards from 58 different organizations.
What's your take?
What do you think of the Academy's picks this year? Let us know in the comments section below.