History in the making, almost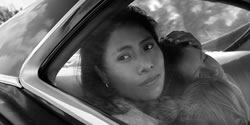 The Academy of Motion Picture Arts and Sciences revealed the nominees for the 91st Academy Awards early Tuesday morning, recognizing the best films, filmmakers, and on- and off-screen talent of 2018.
Among the highlights: Alfonso Cuarón received five nominations for his work on his period Mexican family drama Roma (including producing, directing, writing, and filming), falling one short of the record of six set by Walt Disney in 1954 after being omitted from the editing category, a bit of a surprise. But Disney's nominations came for multiple films rather than Cuarón's one, and the previous record for most nominations for one person for a single film was four (shared by several people including Warren Beatty, who did it twice, but not Bradley Cooper, who was a surprise snub in the director category this morning and collected just three nominations as a result).
That said, one of the nominations for Cuarón comes in the best foreign-language film category, which technically is a nomination for Mexico as a country (though Cuarón's name would be on the trophy should the film win).
The omission of Cuarón from the editing nominees means that his film wound up tying for the lead in total nominations this year with Yorgos Lanthimos' costume comedy The Favourite; both films collected 10 nominations. Another favorite (with no "u") in the best picture field, A Star Is Born, also did well, scoring eight total nominations. Green Book, meanwhile, collected five.
Listed below are the 2019 Academy Award nominees in all 24 categories.
Best picture and director
Best picture
Metascore / Film / Producers
Black Panther

Kevin Feige

BlacKkKlansman

Sean McKittrick, Jason Blum, Raymond Mansfield, Jordan Peele and Spike Lee

Bohemian Rhapsody

Graham King

The Favourite

Ceci Dempsey, Ed Guiney, Lee Magiday and Yorgos Lanthimos

Green Book

- Jim Burke, Charles B. Wessler, Brian Currie, Peter Farrelly and Nick Vallelonga

Roma

Gabriela Rodríguez and Alfonso Cuarón

A Star Is Born

Bill Gerber, Bradley Cooper and Lynette Howell Taylor

Vice

Dede Gardner, Jeremy Kleiner, Adam McKay and Kevin Messick
The nominated films are not surprising, but are still notable for several reasons. Black Panther, for instance, is the first superhero movie ever nominated for best picture. Bohemian Rhapsody is the worst-reviewed best picture nominee since 2012 (Extremely Loud & Incredibly Close), the last time a best picture contender had a yellow Metascore. A Star Is Born's inclusion means that all four versions of the film have now received Oscar nominations.
And Roma is just the 11th foreign-language film in Oscar history to receive a best picture nomination—and it's the very first Netflix film to do so, too. But none of those 10 previous foreign film best picture nominees ever took home the trophy, and Roma faces tough opposition, most notably from Green Book, which has plenty of momentum after winning best picture honors from the Golden Globes and Producers Guild in recent weeks. The PGA Award, in particular, often forecasts the eventual Oscar winner, including last year (when The Shape of Water won both).
Which films were left out of the best picture race? The most notable omissions are If Beale Street Could Talk, Mary Poppins Returns, and First Man, which had all been given a decent shot at a nomination by experts prior to this morning.
Director
The huge omission in this field is Bradley Cooper, who was widely expected to get a nod for directing A Star Is Born—so much so that he was considered a potential winner in the category. Also left out where If Beale Street Could Talk's Barry Jenkins, Green Book's Peter Farrelly, and First Reformed's Paul Schrader, though those are less of a surprise than the Cooper snub. Who got the nomination in Cooper's place? Cold War's Pawel Pawlikowski. His very surprising inclusion means that two foreign-language films are represented here for the first time in Oscar history.
Writing
Original screenplay
Nominee
Film
Career Oscar Totals
Noms.
Wins
Alfonso Cuarón
Roma
10
2
Deborah Davis and Tony McNamara
The Favourite
1
0
Adam McKay
Vice
5
0
Paul Schrader
First Reformed
1
0
Nick Vallelonga, Brian Currie, Peter Farrelly
Green Book
2
0
This field wound up mostly as predicted, though Bo Burnham had been given a decent chance at a nomination for his widely praised debut Eighth Grade.
Adapted screenplay
The Coen brothers' Netflix western anthology The Ballad of Buster Scruggs is the surprise here, probably coming at the expense of predicted nominee Black Panther (or possibly First Man).
Acting
Lead actress
Whoever wins here (and the race is a tight one) will be a first-time Oscar winner. None of the nominees is a big surprise, though missing from the field is Emily Blunt of Mary Poppins Returns. First-time acting nominee Lady Gaga is also nominated in the original song category, matching the accomplishment first achieved by Mary J. Blige last year. Note that if Glenn Close doesn't take home the trophy, she will set a record for an actress for most Oscar nominations without a win.
Lead actor
Willem Dafoe is the most surprising nominee in the actor field, mainly because his Vincent Van Gogh biopic At Eternity's Gate had so little awards buzz coming into the morning. His inclusion means that somebody was snubbed, at that somebody is Ethan Hawke, who has already earned numerous awards for his starring role in First Reformed. Also left out of the field is BlacKkKlansman's John David Washington.
Supporting actress
Roma's Marina de Tavira had no other awards or nominations from any other organization heading into the morning, which makes her out-of-the-blue inclusion a bit of a shock. Who was left out? First Man's Claire Foy is probably the biggest snub, though Nicole Kidman had also been given a chance at a nomination for Boy Erased.
Supporting actor
Beautiful Boy's Timothée Chalamet is the biggest snub here, though Black Panther's Michael B. Jordan is another omission. Of the five actors who did get nominated, the most surprising was Vice's Sam Rockwell. And, yes, that really is 74-year-old Sam Elliott's first-ever Oscar nomination. If he wins (and he could), he would be the sixth-oldest ever to do so in this category.
Other best film nominations
Animated feature
There are zero surprises here; these are the only five animated films that have been making any kind of noise on the awards circuit this year (and, of those five, most of the attention has gone to Spider-Man and Isle of Dogs).
Documentary feature
In one of the biggest snubs of the morning, the Academy failed to nominate Won't You Be My Neighbor?, the crowd-pleasing Mister Rogers documentary that has been a staple on the awards circuit over the past two months and was already being pencilled in for an Oscar statuette. Also snubbed were acclaimed docs Shirkers and Three Identical Strangers.
Foreign-language feature
The Korean drama Burning is the biggest snub among the previously shortlisted foreign-language nominees, with Never Look Away the most surprising inclusion. Roma would seem the obvious favorite given its simultaneous best picture nomination (and Golden Globe win in the foreign-language category), though the Academy also showered Cold War with multiple nominations, and Shoplifters won top honors at last year's Cannes.
Short subjects
Animated Short
Animal Behaviour
Alison Snowden and David Fine
Bao
Domee Shi and Becky Neiman-Cobb
Late Afternoon
Louise Bagnall and Nuria González Blanco
One Small Step
Andrew Chesworth and Bobby Pontillas
Weekends
Trevor Jimenez
Documentary Short
Black Sheep
Ed Perkins and Jonathan Chinn
End Game
Rob Epstein and Jeffrey Friedman
Lifeboat
Skye Fitzgerald and Bryn Mooser
A Night at the Garden
Marshall Curry
Period. End of Sentence.
Rayka Zehtabchi and Melissa Berton
Live-Action Short
Detainment
Vincent Lambe and Darren Mahon
Fauve
Jeremy Comte and Maria Gracia Turgeon
Marguerite
Marianne Farley and Marie-Hélène Panisset
Mother
Rodrigo Sorogoyen and María del Puy Alvarado
Skin
Guy Nattiv and Jaime Ray Newman
Music
Original score
Original song
Song/Composer
Film
"All the Stars"
by Mark Spears, Kendrick Lamar Duckworth, Anthony Tiffith, Solana Rowe
Black Panther
"I'll Fight"
by Diane Warren
RBG
"The Place Where Lost Things Go"
by Scott Wittman and Marc Shaiman
Mary Poppins Returns
"Shallow"
by Lady Gaga, Mark Ronson, Anthony Rossomando, Andrew Wyatt
A Star Is Born
"When a Cowboy Trades His Spurs for Wings"
by David Rawlings and Gillian Welch
The Ballad of Buster Scruggs
Technical categories
Cinematography
Caleb Deschanel's inclusion for the yet-to-be-released German drama Never Look Away is a surprise. Snubs include Beale Street's James Laxton, Black Panther's Rachel Morrison, and First Man's Linus Sandgren. It's the first time that two black-and-white films (Roma, Cold War) have been nominated in the same year since color and black-and-white cinematography were combined into a single category in 1967.
Film Editing
The field here is a bit of a surprise (and filled mostly with Oscar newcomers). Not only was Alfonso Cuarón (and editing partner Adam Gough) omitted for Roma, but so was A Star Is Born editor Jay Cassidy. (First Man's Tom Cross is another expected nominee who wasn't named, while John Ottman and Patrick J. Don Vito are the biggest surprises among the nominees.) These omissions are notable because the eventual best picture winner is almost always a nominee in the editing category. The only best picture winner since 1981 not to be nominated here was Birdman (and that film was intended to look like it had no edits).
Costumes/Makeup
Sound
Visuals
More Oscar coverage to come
The 91st Annual Academy Awards ceremony—which will go without a host for the first time since 1989—airs live on ABC on February 24 at 8p ET / 5p PT. Look for additional Oscars coverage on this site over the coming weeks, including a chance for you to predict this year's winners as well as a roundup of Oscar predictions from dozens of critics and industry experts. You can also check out our 2018-19 Film Awards Scorecard for a compilation of this season's movie awards from 58 different organizations.
What's your take?
What do you think of the Academy's picks this year? Let us know in the comments section below.