A diverse group of winners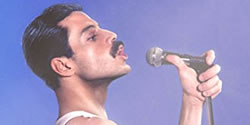 Whether or not the host-free format was a success (and we'll get to that in a moment), the 91st Annual Academy Awards seemed to offer a bit of something for everyone on Sunday night, spreading the Oscar wealth around to multiple films.
While Green Book was the surprise best picture winner, both that film and the one it upset, Roma, finished with three Oscars on the evening, one behind the overall leader Bohemian Rhapsody. Black Panther was another strong performer, also finishing with three trophies—the first ones ever awarded to a Marvel film. Two of those went to Ruth E. Carter and Hannah Beachler, who became the first black women in history to win their categories (costume design and production design, respectively). Marvel also collected a fourth Oscar on the evening in the animated feature category for Spider-Man: Into the Spider Verse.
The evening also saw Spike Lee collect his first career Oscar (for the BlacKkKlansman screenplay), though Glenn Close managed to go home empty handed yet again. The overwhelming favorite in the lead actress category, Close lost to The Favourite's Olivia Colman (whose surprise acceptance speech was one of the evening's highlights), and her 7 career Oscar nominations without a single win is now a record for an actress. And Roma's surprise best picture loss deprived Netflix (and foreign-language films in general) of their first best picture Oscar.
Below, find a complete list of this year's Oscar winners, followed by a look at how well experts and Metacritic users did with their Oscar predictions this year. You'll also find reviews of the broadcast from a variety of TV critics a bit further down the page.
The winners and losers
Listed below are the 2019 Academy Award winners in each of the 24 categories, compared to the consensus predictions of over 100 industry experts (more on that below).
Category
 
Predicted Winner
Actual Winner
Best Picture
Roma
Green Book
Director
Alfonso Cuarón
Roma
Alfonso Cuarón
Roma
Lead Actress
Glenn Close
The Wife
Olivia Colman
The Favourite
Lead Actor
Rami Malek
Bohemian Rhapsody
Rami Malek
Bohemian Rhapsody
Supporting Actress
Regina King
If Beale Street Could Talk
Regina King
If Beale Street Could Talk
Supporting Actor
Mahershala Ali
Green Book
Mahershala Ali
Green Book
Original Screenplay
Deborah Davis and Tony McNamara
The Favourite
Nick Vallelonga, Brian Currie and Peter Farrelly
Green Book
Adapted Screenplay
Charlie Wachtel & David Rabinowitz and Kevin Willmott & Spike Lee
BlacKkKlansman
Charlie Wachtel & David Rabinowitz and Kevin Willmott & Spike Lee
BlacKkKlansman
Animated Feature
Spider-Man: Into the Spider Verse
Spider-Man: Into the Spider Verse
Documentary Feature
Free Solo
Free Solo
Foreign-Language Feature
Roma
Roma
Animated Short
Bao
Bao
Documentary Short
Period. End of Sentence.
Period. End of Sentence.
Live-Action Short
Marguerite
Skin
Original Score
Nicholas Britell
If Beale Street Could Talk
Ludwig Göransson
Black Panther
Original Song
"Shallow"
from A Star Is Born
"Shallow"
from A Star Is Born
Cinematography
Alfonso Cuarón
Roma
Alfonso Cuarón
Roma
Costume Design
 
(50-50 tie between Black Panther and The Favourite)
Black Panther
Film Editing
Hank Corwin
Vice
John Ottman
Bohemian Rhapsody
Makeup & Hairstyling
Vice
Vice
Production Design
The Favourite
Black Panther
Sound Editing
First Man
Bohemian Rhapsody
Sound Mixing
Bohemian Rhapsody
Bohemian Rhapsody
Visual Effects
Avengers: Infinity War
First Man
How accurate were the predictions?
Experts
As you can see above, our panel of over 100 industry experts, as a group, correctly forecast just 15 of the 24 categories. That's a rather unimpressive 62.5% success rate, well down from last year's 79%. (And we are even giving the group the benefit of the doubt on the costume category, where they could not come to a consensus.) No individual expert had more than 19 correct picks, though three hit that mark: BlackFilm's Wilson Morales, Collider's Scott Mantz, and Awards Daily's Sasha Stone. The worst performing expert (among those making selections in all 24 categories) was ScreenRant's Kayleigh Donaldson, who had just 10 of 24 picks correct.
Metacritic users
As a group, Metacritic users had the same 62.5% success rate as the experts, with 15 correct picks. Our top users (of the nearly 5,500 who submitted entries) matched the most accurate experts with 19 of 24 correct picks. That group includes Joshua Nguyen, Ali Nolanson, and several anonymous users.
How was the telecast?
How did critics react to the first host-free broadcast in 30 years, which began with a brief performance by Queen—and then was anything but brief (though it was over 30 minutes shorter than last year's ceremony)? Below are selections from TV critics' assessments of this year's Oscars (in no particular order); click any link to read the full review.
The Atlantic David Sims
All of the hullabaloo [leading up to the ceremony] seriously dropped the bar for this year's show; Sunday night's proceedings just had to feel competent to clear it. By and large, they have. ... Still, it's also a ceremony that felt a little lacking in personality.
Deadline Dominic Patten
Sadly, the de facto opening monologue from non-hosts Amy Poehler, Tina Fey and Maya Rudolph that followed afterwards was a cruel glimpse of what could have and should have been, maybe. ... The show itself felt harried and disconnected like the scroll of a Twitter feed and not Tinseltown's biggest night.
The New York Times James Poniewozik
That the Oscars managed a watchable show, much less the brisk, entertaining one we got, was a surprise. ... This Oscars marched at double-time, hustling from one segment to the next. It was like eating off a conveyor belt: Some delicious moments went past quick, but if the next bite wasn't to your taste, another bite would be coming soon.
Arizona Republic Bill Goodykoontz
The format worked, resulting in a show that felt lighter, quicker, faster paced — and still took more than three hours to get through. ... No host, no problem. I'll bet they keep it this way.
Boston Globe Matthew Gilbert
In this age of text-sized attention spans, the annual Oscarcast remains stubbornly elongated, and nothing — not even the absence of a host — will change that. That said, the hostless Oscar ceremony Sunday night felt a little more streamlined and energetic than usual, as we were spared yet another predictable opening goof on the nominated movies, a monologue pretending to make fun of the stars, and short quips across the night that never quite land.
ScreenRant Alex Leadbeater
The lack of Oscar host was a resounding success. The ceremony was shorter (final runtime came in well under three-and-a-half hours), the presenters fresher, the pacing zippy, and the only things missing were the weak parts. In fact, this was the best Oscars in years, one that took the awards back to the films and celebrating a love of cinema. And it's all rooted in not having a host.
Variety Daniel D'Addario
The show felt paradoxically in better hands without a host than with one, guided as it was by a sort of higher intelligence of awards-season tradition than by an entertainer seeking to present as both in-the-know and above-it-all. ... The show had room to move, and allowed its winners to give meaningful and thought-through speeches.
The Hollywood Reporter Daniel Fienberg
Sunday's Oscars telecast definitely confirmed that under the right circumstances, a host isn't a necessity. I might have missed a good monologue and good transitions and a smooth show wrap-up on Sunday night, but most hosting performances aren't all that good. ... The show was not overwhelmed by montages or stunts or tributes and it also wasn't weighed down by elaborately prepared presenter schtick.
Time Judy Berman
Without a designated emcee to slow things down with groan-worthy sketches and stupid audience participation segments, the telecast even felt punchy enough to compensate for the Academy's hit-or-miss taste in movies. ... The lack of an emcee made every interaction less awkward; the atmosphere was more genuinely celebratory than it had been since Ellen DeGeneres' sweet, goofy, pre-Trump Oscars of 2014.
The Washington Post Hank Stuever
Here's what not new about Oscar night: Me being assigned to review what should be and someday still could be an entertaining live TV show, and not finding one. ... Critics wondered for years if the show might not be better without a host, or at least shorter. Now we have our answer and it is: Shorter, yes.
IndieWire Ben Travers
The 2019 Oscars ran smoother and were far more absorbing than many expected. ... The pared down version of the show brought all the attention back to the movies and the people who made them, and what do you know? It came alive! It was raw, surprising, and heartfelt!
NPR Linda Holmes
The ceremony had no host, proved not to need one, and wasn't wildly overlong. It had minimal filler and some pleasant musical performances, and even was legitimately funny now and then.
What do you think?
Were you happy with the Academy's choices? What did you think of the broadcast? Let us know in the comments section below. And be sure to check out our updated 2018-19 Film Awards Scorecard to get our final updated tally of the big winners from throughout the past awards season.