Damsels in Distress Read Reviews

In limited release beginning Friday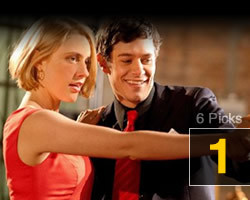 Talk about a rare event. With just four features to his name in a decades-long career, writer-director Whit Stillman (Metropolitan, Barcelona) makes Terrence Malick seem like Woody Allen in comparison. Damsels in Distress, Stillman's first film since 1998's The Last Days of Disco 76, managed to sneak onto a few critic top 10 lists at the end of 2011 despite screening only at festivals. Why? Because over a decade out of the game hasn't dulled Stillman's sharp writing, and the result is his funniest movie to date. In select theaters Friday, this college farce adds a little song and dance to the filmmaker's usual smart, stylized dialogue as it explores the romantic lives of a group of students led by a perfectly cast Greta Gerwig and also including Analeigh Tipton, Adam Brody, and Megalyn Echikunwoke.
Learn a few playboy (or operator) moves at the official site.
Titanic Read Reviews

3D version in theaters beginning Wednesday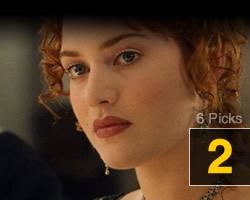 At last check, Titanic 74 had collected a mere $1.8 billion at the box office, so why not round that off to a nice $2 billion by hopping on the 3D conversion bandwagon? James Cameron's 1997 Oscar-winner returns to theaters on Wednesday in an extra dimension, which makes a little more sense in the action-filled back half of the movie than it does in the early going, where some of the characters remain two-dimensional, in a manner of speaking. This is only the tip of the proverbial iceberg, however; given that this April marks the 100th anniversary of the sinking of the Titanic, you can expect plenty of media attention focused on the disaster in the coming weeks, including a new 4-part ABC miniseries by Julian Fellowes (Downton Abbey).
It might not be A Site to Remember, but here is the official site.
Pink Friday: Roman Reloaded by Nicki Minaj

New album in stores Tuesday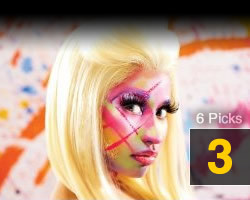 Billboard's 2011 Rising Star (and occasional Madonna collaborator) Nicki Minaj is set to follow the hit-generating machine that was her 2010 debut Pink Friday 69 with a relatively quick sequel out this week. The title makes it sound like a remix album, but the all-new Roman Reloaded simply focuses on Minaj's angry young man alter-ego, Roman Zolanski, who was introduced on the prior release. The new album clocks in at 19 tracks, and if early leaks "Starships," "Stupid Hoe," and "Beez in the Trap" are any indication, expect a wildly diverse (if not divisive) array of beats to back her mix of singing and rapping. Whether or not fans stick around after her oft-panned performance at the Grammys remains to be seen.
TGI(P)F at her official site, or watch the maybe-NSFW video below.
American Reunion Read Reviews

In theaters Friday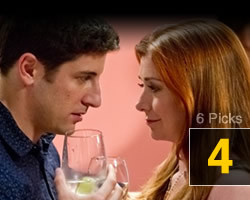 Remember them? The original American Pie 58 gang was last seen together in 2003's American Wedding 43, but it's time for their high school reunion, so Jim (Jason Biggs), Michelle (Alyson Hannigan), Stifler (Sean William Scott), Oz (Chris Klein), Heather (Mena Suvari), Vicky (Tara Reid), Finch (Eddie Kaye Thomas), and Kevin (Thomas Ian Nicholas) are all returning to East Great Falls, Michigan. Fans can expect more sexual shenanigans from original writer Adam Herz and directors Hayden Schlossberg and Jon Hurwitz, the guys behind the Harold and Kumar films, and it wouldn't be a reunion without Jim's dad and Stiffler's mom, so the brilliant Eugene Levy and Jennifer Coolidge will also reprise their roles.
Get reacquainted with the American Pie gang at the official site.
Kinect Star Wars Read Reviews

Xbox 360 game in stores Tuesday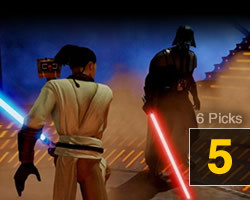 It's the game this guy has been dreaming about for years. Once set for release last year, Kinect Star Wars finally arrives for Xbox owners this week after a lengthy delay, possibly stemming from the need to re-tool the game after a poor showing at E3. Fans of the film franchise are hoping that the kinks have been worked out; playing as a new Jedi character, you'll finally get the chance to stand in front of your television and pilot X-wings, move objects with the force, and, yes, engage in lightsaber duels, all by moving your body. Familiar faces like Jabba the Hutt and Darth Vader will show up, in addition to new characters (though the action takes place during the prequel timeline).
Star Wars kids of all ages can visit the official site.
Comic-Con Episode IV: A Fan's Hope Read Reviews

In limited release beginning Thursday (and VOD beginning Friday)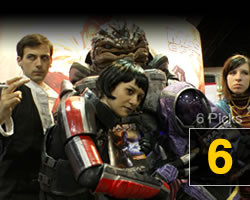 Morgan Spurlock's (Super-Size Me) latest documentary is a loving tribute to the die-hard comic, sci-fi, and fantasy fans who flock to San Diego's Comic-Con each summer. Filmed at the convention in 2010, the Joss Whedon- and Stan Lee-produced A Fan's Hope wisely minimizes Spurlock's screen time (unlike in his other films, you won't see or hear him at all) in favor of telling the stories of five attendees, interspersed with interviews of participants such as Kevin Smith, Eli Roth, Matt Groening, and Seth Rogen.
Geek out over the official site.
Closing the book on last week
#1 Album on Billboard 200 (Source: Billboard.com/Nielsen SoundScan)
Various Artists: The Hunger Games

75

1st week at #1
Top-Rated Primetime Broadcast Show (Source: Nielsen)
NCIS (CBS)
19.1 million viewers; week of 3/19-3/25