This is the final Six Picks of 2012, and it covers a two-week period. Look for weekly Six Picks updates to resume in early January.
Django Unchained Read reviews

In theaters Tuesday, December 25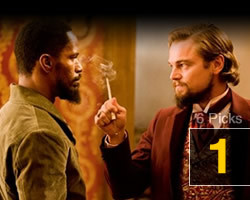 Only Quentin Tarantino could get a Christmas Day release for a film set in the slave-owning South that follows a freed slave named Django (Jamie Foxx) who, under the guidance of a German bounty hunter named Dr. King Schulz (Inglourious Basterds 69 star Christoph Waltz, joining Tarantino again), becomes a deadly assassin hellbent on rescuing his wife Broomhilda (Kerry Washington) from an evil plantation owner named Calvin Candie (Leonardo DiCaprio). It's part spaghetti western, part love story, and part buddy movie, or as the director calls it, a "southern," and it's Tarantino's imagination that brings all these elements together with a great soundtrack and a stellar cast including Samuel L. Jackson as Candie's terrifying house slave Stephen and Don Johnson as a Colonel Sanders-looking plantation owner. This will be Tarantino's first film without his friend and trusted editor Sally Menke, but early reviews indicate he's in top form, and so much material was filmed that the director is considering releasing a longer cut of the film at a later date.
Visit Candyland at the official website, but don't expect to find the Candy Cane Forest or Gumdrop Mountain.
Zero Dark Thirty Read reviews

In LA and NY beginning Friday (nationwide on January 11, 2013)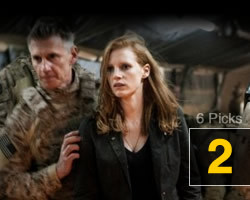 Director Kathryn Bigelow and writer Mark Boal each won Oscars for their work on best picture winner The Hurt Locker 94. A little over three years later, their latest film, Zero Dark Thirty, is one of the top contenders in this year's best picture race, having already received more awards and nominations than any other movie in 2012. The film, a chronicle of the decade-long search and eventual death of Osama bin Laden at the hands of SEAL Team 6, also currently owns this year's highest Metascore. Jessica Chastain leads a cast that includes Jason Clarke, Kyle Chandler, Joel Edgerton, Chris Pratt, Edgar Ramirez, and Mark Strong through what is billed as a tense, well-researched account of what happened leading up to and on May 2, 2011.
Test your covert operation skills at the official website.
Amour Read reviews

In limited release beginning Wednesday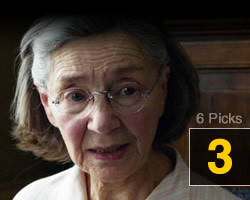 Director Michael Haneke is known for making films that challenge audiences (The Piano Teacher 79, Caché (Hidden) 83, previous Palme d'Or winner The White Ribbon 82), and his latest is no different. After its Palme d'Or-winning premiere at Cannes, this unflinching look at the love between Georges (Jean-Louis Trintignant) and his sickly wife Anne (Emmanuelle Riva) went on to dominate the European film awards, winning best actor, best actress, best director and best film, and most recently earned best picture from the Los Angeles Film Critics Association. An Oscar nomination for best foreign-language film is almost a lock at this point—while Riva is also in contention for her lead performance—but it remains to be seen if Amour can break into any other award categories.
Express your amour for the film by visiting the official website.
This Is 40 Read reviews

In theaters Friday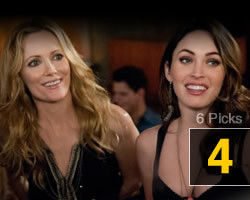 After the somewhat tepid response to his last film, Funny People 60, Judd Apatow has returned with this self-described "sort-of-sequel" to his 2007 hit comedy Knocked Up 85. Instead of revisiting the lives of Seth Rogen's Ben and Katherine Heigl's Alison, he turns his eye to Paul Rudd's Pete and Leslie Mann's Debbie as they approach middle age. Jason Segel and Charlyne Yi return as Jason and Jodi, as do Apatow's daughters, Maude and Iris, and they are joined by a strong comedic cast that includes Albert Brooks as Rudd's father, Robert Smigel (aka Triumph the Insult Comic Dog), Chris O'Dowd, Lena Dunham, Megan Fox, and John Lithgow. Make sure you stay for the end credits; Melissa McCarthy's outtakes as an angry mom are well worth it.
Catch up with Pete and Debbie at the official website.
Jack Reacher Read reviews

In theaters Friday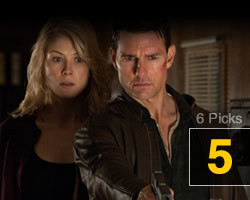 Christopher McQuarrie still might be best known for his script for The Usual Suspects 77, but he also directed The Way of the Gun 49 and wrote many other screenplays, including the Tom Cruise-starring Valkyrie 56. Now McQuarrie gets a chance to direct Cruise in this adaptation of Lee Child's One Shot, one of many novels featuring the character of Jack Reacher. Much has been made of Cruise's lack of height for a character described as 6'5" and "huge" in the books, but early reviews—and the author—have put to rest any concerns of Cruise's ability to rise to the occasion. With good word of mouth and an intriguing supporting cast of Werner Herzog (as the villain), Robert Duvall, Rosamund Pike, Richard Jenkins, David Oyelowo, and Jai Courtney, Jack Reacher should be able to make a dent in the holiday box office.
Take the law into your own hands at the official website.
Les Miserables Read reviews

In theaters Tuesday, December 25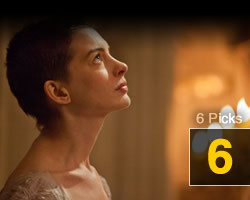 Good early buzz has faded into middling reviews for Tom Hooper's big-screen musical adaptation of Les Misérables, but plenty of Oscar nominations can still be expected for Hooper's follow up to The King's Speech 88. Victor Hugo's 1862 novel about an ex-convict's struggle for redemption has been adapted over fifty times, in multiple languages and in various forms (film, television, radio play, stage play, musical) but perhaps the most popular has been the English stage musical, which comes to movie theaters next week with a star-laden cast that includes Hugh Jackman as Jean Valjean, Russell Crowe as his nemesis, Inspector Javert, Anne Hathaway as Fantine, Amanda Seyfried as Cosette, Samantha Barks as Éponine, Eddie Redmayne as Marius, and Sacha Baron Cohen and Helena Bonham Carter as the Thénardiers. Each cast member sang their parts live during filming, an unusual process that the director hopes adds emotion and intimacy to the large scale production that runs nearly three hours.
If you dreamed a dream of endless Les Mis information, make it come true at the official website.
Closing the book on last week
Most Popular Title on Metacritic
The Hobbit: An Unexpected Journey

58

Week of 12/9-12/15
Weekend Box Office Champion (Estimated, U.S. only; source: Boxofficemojo.com)
The Hobbit: An Unexpected Journey

58

$84.8 million; 1st week at #1
#1 Album on Billboard 200 (Source: Billboard.com/Nielsen SoundScan)
Taylor Swift: Red

77

4th week at #1 (1st consecutive)
Top-Rated Primetime Broadcast Show (Source: Nielsen)
Sunday Night Football (NBC)
21.4 million viewers; week of 12/3-12/9