Smash Read Reviews

New series debuts Monday at 10p on NBC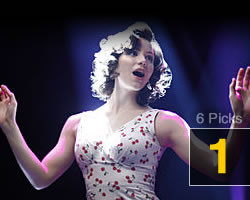 After a barrage of advertising, the long-gestating Smash finally debuts Monday night in NBC's latest attempt to salvage their faltering network. The dramatic but music-filled series, set behind the scenes of a Broadway musical based on the life of Marilyn Monroe, comes from prolific writer and playwright Theresa Rebeck, with a lot of help from current NBC chairman Robert Greenblatt and an idea originating with Steven Spielberg. American Idol's Katherine McPhee and Wicked's Megan Hilty play two actresses who are battling for the lead role; other stars include Debra Messing (Will & Grace) as one of the show's playwrights and Anjelica Huston as the show's producer. Big time composers Marc Shaiman (Hairspray) and Scott Wittman (Catch Me If You Can) are also contributing original material for the series. If you like Broadway musicals, this may be your style.
If you can't wait until Monday night to get smashed, watch the entire first episode now online at NBC.com.
54th Annual Grammy Awards

Ceremony broadcast Sunday at 8p on CBS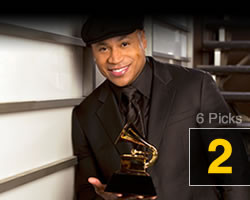 If you find yourself watching the 54th Annual Grammy Awards ceremony on CBS Sunday night, odds are that you'll see British singer-songwriter Adele pick up a bunch of trophies and possibly sweep the major categories for her album 21 and her huge song "Rolling in the Deep." The ceremony will also mark the artist's first public performance since undergoing vocal cord surgery in November of last year after canceling her U.S. tour. It's not all about Adele, though, as Paul McCartney, Bruce Springsteen, Foo Fighters, Katy Perry, Coldplay, Nicki Minaj, and more will be performing as well, though multiple nominee Bon Iver pulled out since they were allegedly told they had to perform with other artists. The telecast will also feature its first host (LL Cool J) in seven years.
Roll in the deep at the official Grammy website.
The River Read Reviews

2-hour series premiere Tuesday at 9p on ABC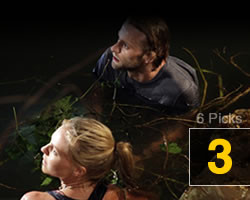 The River is an eight-episode series from Paranormal Activity director Oren Peli and executive producer (one of nine!) Steven Spielberg. Launching Tuesday night on ABC with a two-hour premiere, this latest paranormally flavored television event follows a group of people, including a documentary crew, who go searching the Amazon for missing scientist and television host Dr. Emmet Cole (Bruce Greenwood). Given Peli's involvement, the show has a found-footage element that may elevate it above otherwise campy Anaconda-like material.
Take me to the River at the official website.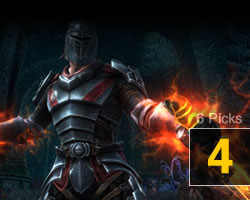 Still playing Skyrim? It may be time to hit pause and check out Tuesday's Kingdoms of Amalur: Reckoning instead. The Western RPG (translation: an action-based role playing game) comes from prolific fantasy author R.A. Salvatore, The Elder Scrolls IV: Oblivion lead designer Ken Rolston, former MLB pitcher and current 38 Studios boss Curt Schilling, and artist Todd McFarlane (Spawn). Players will enter an expansive world where they can play as the Ljosalfar, Varani, Dokkalfar, and Almain races in a title where the gameplay is as important as the massive setting you're playing in. Add in a running length of over 50 hours, and you've got a potential franchise in the making.
Clear your calendar at the official website.
Star Wars: Episode I – The Phantom Menace

New 3D version in theaters Friday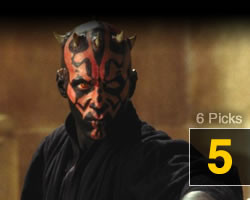 Those of you who are just now getting over the disappointment of Indiana Jones and the Kingdom of the Crystal Skull can get ready for another iteration of the biggest cinematic letdown of a generation. That's right, Star Wars: Episode 1 – The Phantom Menace is back in theaters this Friday in three dimensions, though presumably all of the characters will continue to be one-dimensional. Audiences now have an opportunity to pay higher ticket prices to see Jar Jar Binks' antics and the film's trade and taxation non-drama play out right in front of your face (glasses required). The biggest change to this version (outside of the 3D conversion) is the newly CGI'ed Yoda, who was already revealed on the Blu-ray release of the film back in September. With a planned conversion of one film per year, the first movie in the series worth seeing in 3D, Star Wars (Episode IV – A New Hope), won't hit theaters until 2015.
The midichlorians are with you at the official website.
A Different Kind of Truth by Van Halen

New album in stores Tuesday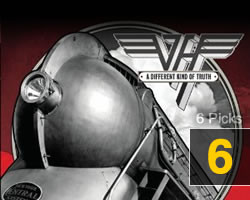 One of rock and roll's most infamous splits happened way back in 1984 when Van Halen's lead singer David Lee Roth was kicked to the curb after the tour for the band's most successful album, 1984. Replacement singers Sammy Hagar and Gary Cherone are distant memories at this point, and Roth returned to tour with the band in 2007. Now, he's doing more than just touring with them. Van Halen's 12th album, A Different Kind of Truth, comes out Tuesday, and a lot has changed since Diamond Dave was originally in the fold. Gone is original bassist Michael Anthony (he's been replaced by guitarist Eddie Van Halen's 20-year-old son Wolfgang), original label Warner Bros. has been replaced by Interscope, and taking the place of old-school producer legend Ted Templeman is Ashlee Simpson producer John Shanks. Lead single "Tattoo" wasn't strong; we'll see if the rest of the album fares better.
Get tattooed at the official website.
Closing the book on last week
Weekend Box Office Champion (Estimated, U.S. only; source: Boxofficemojo.com)
Chronicle

69

$22.0 million; 1st week at #1
#1 Album on Billboard 200 (Source: Billboard.com/Nielsen SoundScan)
Adele: 21

76

18th week at #1 (5th consecutive)
Top-Rated Primetime Broadcast Show (Source: Nielsen)
American Idol [Wed] (Fox)
19.7 million viewers; week of 1/23-1/29