2012 Academy Award Nominations

Announced Tuesday at 8:30a ET / 5:30a PT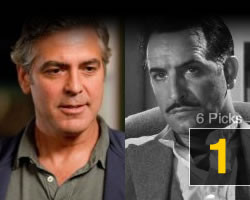 Award season is in full swing and the next stop on the path to gold is the announcement of the 84th annual Academy Award nominations. Early Tuesday morning on ABC (or online), you can watch last year's best actress nominee Jennifer Lawrence (Winter's Bone) read the nominations. Expect Golden Globe winners The Descendants and The Artist to lead the pack, while The Help, Moneyball, Hugo, The Girl with the Dragon Tattoo, and even Bridesmaids will likely receive several nominations as well. Would it be too much to ask that Drive get some attention outside of a supporting actor nod for Albert Brooks?
Start your office pool wagers at the official Oscar website, or familiarize yourself with all of the year's awards and nominees at our Film Awards Scorecard.
Luck Read Reviews

Series premiere Sunday at 9p on HBO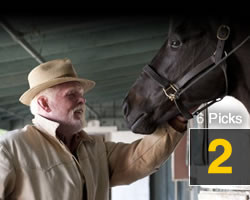 The new HBO drama Luck, created by David Milch (Deadwood), directed and co-produced by Michael Mann (Heat), and starring Dustin Hoffman, has its official premiere Sunday night after an early December sneak peek of the same first episode garnered little buzz (though, admittedly, it wasn't heavily promoted). The series revolves around various characters at a horse-racing track and the macho cast that illuminates this particular subculture also includes Nick Nolte, Dennis Farina, Kevin Dunn, and Jason Gedrick. Noted perfectionist Mann directed the pilot, and reviews for the sneak peak back in December were generally favorable, though newer comments from writers who have seen additional episodes indicate that the series begins to pay off only after four or five episodes in.
Place your bets at the official website.
Spartacus: Vengeance Read Reviews

Season premiere Friday at 10p on Starz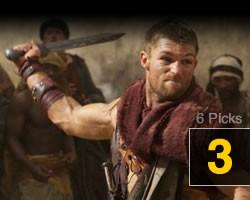 The new season of Spartacus follows last year's prequel series Gods of the Arena and recasts the sadly departed lead actor Andy Whitfield with Liam McIntyre as the titular badass warrior. The Friday premiere of Vengeance finally follows up the events of Blood and Sand and will feature the fallout from a gladiator exodus and bloody whorehouse slayings. The sex and violence that fans have come to expect from the skin and sandals series are back, as are co-stars Lucy Lawless (Lucretia), Manu Bennett (Crixus), and Dustin Clare (Gannicus).
Sharpen your sword at at the official website.
Touch Read Reviews

Special sneak preview Wednesday at 9p on Fox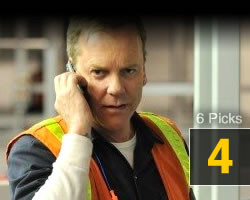 24 star Kiefer Sutherland returns to the FOX network Wednesday night with a sneak preview of his new series, Touch. Sutherland plays a 9/11 widower who finds out that his seemingly autistic/mute son can use numbers to predict the future. The series comes from Tim Kring (who created the ultimately disappointing Heroes) and also stars Danny Glover as a professor who specializes in gifted kids and Gugu Mbatha-Raw (Undercovers) as a social worker, both of whom help Sutherland explain the unexplainable. If you like the pilot, you're in for a bit of a wait; the next episode doesn't air until March 19th.
Get in touch at the official website.
Inside Comedy

Series premiere Thursday at 11p on Showtime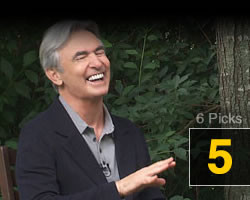 Premiering Thursday night on Showtime is a new series that delves into what makes comedy work. Appropriately titled Inside Comedy, the half-hour documentary series is hosted by comedian/director David Steinberg and is essentially a one-on-one interview between the host and a famous funny person (think Marc Maron's WTF podcast, just without Maron). The guest lineup is impressive, featuring hilarious folks both old and new(ish) such as Mel Brooks, Larry David, Jerry Seinfeld, Jane Lynch, Steve Carell, Carl Reiner, Steven Wright, Sarah Silverman, and many more.
Laugh it up at the official website.
Chuck

Two-hour series finale airs Friday at 8p on NBC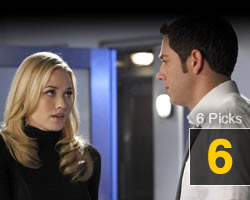 The low-rated yet long-running Subway-sandwich-loving series Chuck is coming to an end after five seasons. Friday night will see the end to the beloved series' sendup of both geek culture and spy action. The last two episodes will see the return of Chuck's mom, played by Sarah Connor herself, Linda Hamilton, as Chuck (Zachary Levi) tries to stop baddie Nicholas Quinn (Angus Macfadyen) with the help of his family and friends. Longtime fans will be delighted to find out revelations that will harken back to the very first season of the series.
Play games and eat fresh at the official website.
Closing the book on last week
Weekend Box Office Champion (Estimated, U.S. only; source: Boxofficemojo.com)
Underworld: Awakening

42

$25.4 million; 1st week at #1
#1 Album on Billboard 200 (Source: Billboard.com/Nielsen SoundScan)
Adele: 21

76

16th week at #1 (3rd consecutive)
Top-Rated Primetime Broadcast Show (Source: Nielsen)
NFL Playoffs [Broncos-Patriots] (CBS)
34.2 million viewers; week of 1/9-1/15