In honor of the 4th of July holiday, this week's inappropriately titled Six Picks includes just four items. We'll return with our usual six-item format next week.
The Amazing Spider-Man Read Reviews

In theaters Tuesday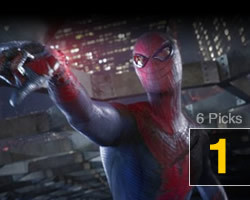 Only five years after Sam Raimi wrapped up his trilogy, Spider-Man is back with a new director in Marc Webb. His previous film, (500) Days of Summer 76, was a relationship drama with some new twists, not exactly a summer action blockbuster. But Webb's strengths in creating a real and dynamic romance might convince moviegoers to forget Tobey Maguire and Kirsten Dunst's upside-down kiss in the rain and embrace a new couple: Andrew Garfield, the new Peter Parker/Spider-Man, and Emma Stone, who plays Gwen Stacy (not Mary Jane Watson). There's also a new take on Spider-Man's origin story involving Peter's father and his work at Oscorp, and for the first time on the big screen Spider-Man will battle The Lizard (aka Dr. Curt Conners), who will be played by Rhys Ifans. One more change from the previous incarnation: look out for possible web-shooter failure— they're mechanical, not organic, this time. Early reviews are almost universally positive.
Swing into action at the official website.
Savages Read Reviews

In theaters Friday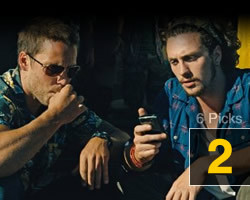 Oliver Stone's last feature was his first sequel, Wall Street: Money Never Sleeps 59, and it was a disappointment. His new film, adapted from Don Winslow's best-selling novel Savages, looks to be a return to form, or at least to the hyper-saturated craziness of 1994's Natural Born Killers 74. The story in Savages centers on two successful Laguna Beach marijuana growers, played by Taylor Kitsch and Aaron Johnson, who attract the attention of the Mexican drug cartel. After the cartel kidnaps their shared girlfriend, Ophelia (Blake Lively), they must devise a plan to rescue her. Salma Hayek plays the head of the Mexican cartel, and Benicio del Toro is her main enforcer. John Travolta also shows up as a double dealing DEA agent, and Oscar nominee Demián Bichir plays the cartel's crooked lawyer.
Learn about botany and butt-kickin' at the official website.
Web Therapy Read Reviews

Season 2 premiere Monday at 11p on Showtime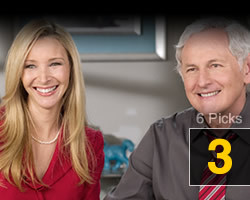 Lisa Kudrow returns as unqualified online therapist Fiona Wallice for a second season of the largely improvised Showtime comedy Web Therapy, adapted from Kudrow's online series of the same name. Upcoming episodes will feature an impressive array of guest stars, including Meryl Streep, Conan O'Brien, Minnie Driver, Rosie O'Donnell, and Kudrow's Friends co-star David Schwimmer, while season 1 co-stars Victor Garber (who plays Kudrow's politically ambitious but closeted husband), Dan Bucatinsky, and Lily Tomlin will also return.
Schedule your next session at the official show site.
The Secret World Read Reviews

Online PC game on sale Tuesday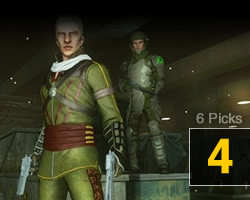 In 1999, Norwegian developers Funcom released a terrific PC adventure game called The Longest Journey 91, and that title can also apply to the company's subsequent efforts to build upon that early success (with 2008's decent but buggy Age of Conan its most high-profile disappointment). This week, after five years of development, Funcom releases its latest title, a MMORPG called The Secret World, which blends elements of fantasy and horror with a modern-day setting that combines real places (like New York, Seoul, and London) with mythical ones and is the rare MMORPG to lack experience levels or classes. Interest in the game is high—nearly a million gamers signed up for the beta—but the finished product will need to be more polished than Funcom's past releases to keep players coming back month after month.
All of the secrets are revealed at the official game site.
Closing the book on last week
Most Popular Title on Metacritic.com
The Amazing Spider-Man

73

Week of 6/24-6/30
Weekend Box Office Champion (Estimated, U.S. only; source: Boxofficemojo.com)
Ted

62

$54.1 million; 1st week at #1
#1 Album on Billboard 200 (Source: Billboard.com/Nielsen SoundScan)
Justin Bieber: Believe

68

1st week at #1
Top-Rated Primetime Broadcast Show (Source: Nielsen)
NBA Finals Game 5 (ABC)
18.5 million viewers; week of 6/18-6/24