Louie Read Reviews

Season 3 premiere Thursday at 10:30p on FX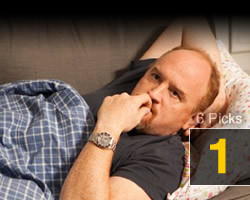 What will Louis C.K.—who has spent his hiatus period being named to Time's list of the 100 Most Influential People for 2012, winning a Webby award, and successfully selling his own stand-up specials online—be up to during the third season of his critically acclaimed comedy series? Not even the folks at FX know; the network continues to give the talented comedian unprecedented creative control over his eponymous series (the benefits of having a miniscule budget), and he shows up with a finished product. In the past, C.K. has used that freedom to kill off guest characters, visit Afghanistan (in one of the show's most daring and memorable episodes), and experiment with the format and tone of his show from week to week, making for one of TV's most original shows. One thing he won't be doing anymore in season 3 is editing the episodes; he's hired a professional after filling those duties himself (in addition to directing, writing, and starring) over the previous two years. Expect Marc Maron, Artie Lange, and Jerry Seinfeld to guest during the upcoming season.
Don't know what the fuss is about? You can still watch a few of last season's episodes at the official site.
Anger Management Read Reviews

Series premiere Thursday at 9:30p on FX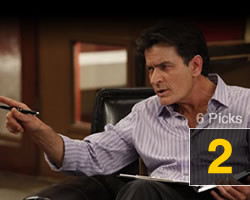 Charlie Sheen finally returns to series television on Thursday with the premiere of Anger Management, a new FX sitcom based loosely on the 2003 movie starring Adam Sandler and Jack Nicholson. Sheen takes on the Nicholson role of a former athlete who has allegedly overcome his anger management issues (we know that's a stretch for Sheen) and now works as a counselor for others. The cast also includes Brett Butler, Selma Blair, and Shawnee Smith, and you can expect Charlie's dad Martin Sheen to play his on-screen father in the season finale. If these first 10 episodes do well—and there's no reason to think they won't, even though the straightforward sitcom doesn't really match the network's edgier fare—FX has the option to renew the series ... for 90 additional episodes. (Now that would be winning.)
Drink the tiger blood at the official show site.
Magic Mike Read Reviews

In theaters Friday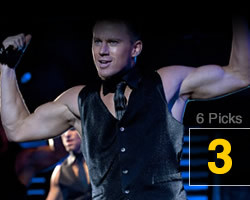 The always eclectic Steven Soderbergh looks to be returning to the light, comedic tone of the Ocean's movies with this peek inside the world of male strippers inspired by the youthful exploits of its star, Channing Tatum. Tatum plays the titular character, a stripper who forms a mentor relationship with Alex Pettyfer's The Kid and a romantic relationship with Pettyfer's sister, played by Cody Horn. Matthew McConaughey, in a role that takes full advantage of his tendency to go shirtless, is the proprietor of the strip club, and amongst those taking the stage are Matt Bomer, Joe Manganiello, and Adam Rodriguez. Tatum starred in Soderbergh's early 2012 film Haywire 67 and is working with him again on the psychological-thriller The Bitter Pill with Rooney Mara, so think of this film as the indulgent, yummy center of an Oreo cookie sandwiched between the pair's two more serious offerings.
Take it off at the official website
Beasts of the Southern Wild Read Reviews

In limited release beginning Friday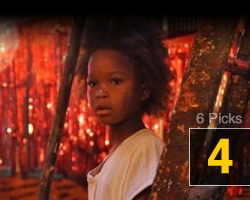 Beasts of the Southern Wild won both the Grand Jury Prize and Excellence in Cinematography at this year's Sundance Film Festival along with four more awards at the Cannes Film Festival, including the Camera d'Or for best first feature, all while garnering comparisons to fairy tales, parables and the works of Terence Malick and Hayao Miyazaki. This unique film follows a six-year-old girl named Hushpuppy (breakout star Quvenzhané Wallis) and her father Wink (Dwight Henry), who live in an abstract water-world in Louisiana known as "The Bathtub." They struggle to survive when their community is threatened by a devastating flood and an approaching herd of beasts known as aurochs. Writer/director Benh Zeitlin adapted co-writer Lucy Alibar's play Juicy and Delicious, cast non-actors, and collaborated with his Court 13 collective to create a unique vision that critics can't stop praising. To get a feel for what to expect, check out Zeitlin's award winning short film Glory at Sea.
Learn more about The Bathtub at the official website
Awkward. Read Reviews

Season 2 premiere Thursday at 10:30p on MTV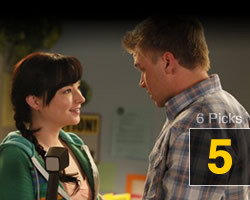 Don't know Awkward? Critics certainly do; last year, the debut season of MTV's high school dramedy earned an impressive 74 and appeared on multiple critic top 10 lists at the end of 2011. The show centers on sophomore social outcast Jenna Hamilton (Ashley Rickards, in a much-praised role), and it became a surprise hit for the network last summer even though it's not really like anything else on MTV. Debuting on Thursday (which is quickly becoming summer's busiest TV night), the second season will bring a dozen new episodes, picking up shortly after the first season, with Jenna continuing to navigate through her relationships with a pair of love interests.
Need a refresher? You can watch all of the first season's episodes at the official site.
Take This Waltz Read Reviews

In theaters Friday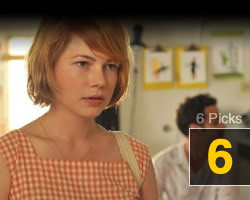 Sarah Polley's follow-up to her 2007 directorial debut Away from Her 88 stars Michelle Williams as Margo, a young married woman who finds herself attracted to her next door neighbor (Luke Kirby), whom she happens to meet while on a work trip. Seth Rogen plays her doting husband, and Sarah Silverman plays Rogen's sister, a recovering alcoholic. Praise for Williams was universal when the filmed premiered at the Toronto International Film Festival in 2011, but the film itself received a more mixed response from critics complaining about the film's preciousness and a number of cute/quirky/twee moments. The film takes its title from a song by Polley's fellow Canadian artist, Leonard Cohen, whose music is featured in the film.
Dance to the end of love at the official website.
Closing the book on last week
Most Popular Title on Metacritic
Brave

68

Week of 6/17-6/23
Weekend Box Office Champion (Estimated, U.S. only; source: Boxofficemojo.com)
Brave

68

$66.7 million; 1st week at #1
#1 Album on Billboard 200 (Source: Billboard.com/Nielsen SoundScan)
Usher: Looking 4 Myself

74

1st week at #1
Top-Rated Primetime Broadcast Show (Source: Nielsen)
NBA Finals Game 2 (ABC)
16.7 million viewers; week of 6/11-6/17