The Muppets Read Reviews

In theaters Wednesday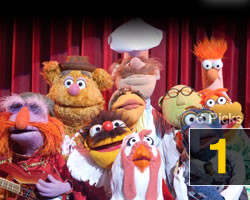 After months of fake trailers and creepy posters, the Muppets reboot is finally here. Opening Wednesday, The Muppets stars co-writer Jason Segel (Forgetting Sarah Marshall) and Amy Adams (The Fighter) as a couple of Muppets fans who team with a new Muppet, Walter, to save The Muppet Studio from dastardly oilman Tex Richman (Chris Cooper). Kermit, Miss Piggy, and the rest of the gang are back and will sing classic songs like "The Rainbow Connection" as well as new songs produced by Flight of the Conchords' Bret McKenzie (the movie is directed by Conchords co-creator James Bobin) that feature Joanna Newsom, Feist, and Mickey Rooney! The movie is preceded by a new Pixar short, Small Fry, featuring the Toy Story characters.
Make yourself felt at the official website.
Hugo Read Reviews

In theaters Wednesday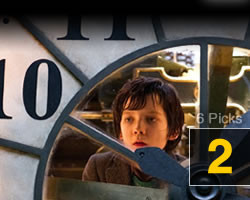 Opening Wednesday is Martin Scorsese's latest film, Hugo, which takes the famed director outside his comfort zone, working in 3D for the first time and garnering his first PG rating in ages (it's a family-friendly film). This adaptation of Brian Selznick's 2007 book The Invention of Hugo Cabret stars Asa Butterfield as the titular character, an orphaned boy who lives a secret life inside a Parisian train station in the 1930s. During his adventures, he runs into several colorful characters played by Chloë Grace Moretz, Ben Kingsley, Sacha Baron Cohen, Jude Law, Christopher Lee, and more.
Unlock the mystery at the official website.
The Artist Read Reviews

In limited release beginning Wednesday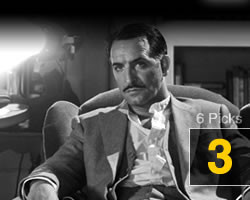 While 3D may be the Hollywood gimmick of the moment, The Artist goes much further back into Hollywood's roots. Opening Wednesday in limited release, this largely silent black-and-white film stars Cannes best actor winner Jean Dujardin as declining Hollywood star George Valentin and Bérénice Bejo as rising actress Peppy Miller. The film covers the 1927 through 1932 era in cinema, a period when silent films were quickly being replaced with talkies. Current Hollywood actors John Goodman, Penelope Ann Miller, and James Cromwell appear in the French-made (but English-intertitled) film, which has drawn raves during festival screenings and is a strong candidate to become the first silent film nominated for a best picture Oscar since 1928's The Patriot.
Silence is golden at the official website.
A Dangerous Method Read Reviews

In limited release beginning Wednesday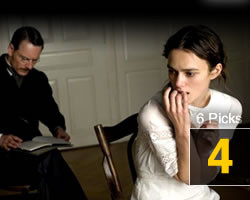 Canadian director David Cronenberg returns with a provocative adaptation of The Talking Cure, a play by award-winning writer Christopher Hampton (Dangerous Liaisons). A Dangerous Method, opening Wednesday in limited release, stars Viggo Mortensen as Sigmund Freud and Michael Fassbender as Carl Jung. The two psychoanalysts meet their match when they come across a troubled woman (Keira Knightley). Vincent Cassel plays Freud's prickly colleague Otto Gross, deepening the already impressive cast. Premiering at the Venice Film Festival, the film received positive if unenthusiastic reviews.
Sex is dangerous at the official website.
Talk That Talk by Rihanna Read Reviews

New album in stores Monday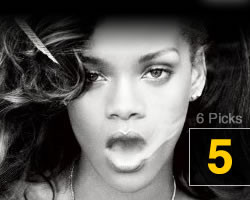 Keeping up her breakneck pace of releasing nearly an album a year since 2005 (2008 wasn't so lucky), Rihanna returns with her sixth album, Talk That Talk, on Monday. Love is clearly on her mind with lead single "We Found Love," and other album tracks "We All Want Love," "Drunk on Love," and "Cockiness (Love It)" also deal with matters of the heart. The apparently lighter than usual album features guests Calvin Harris and Jay-Z and, as is becoming a trend lately (see Drake's "Take Care," with Rihanna herself), includes a sample from a Jamie xx production: "Drunk on Love" features The xx's "Intro."  
Talk That Talk and walk that walk at the official website.
Chronology by Talking Heads

Live DVD in stores Monday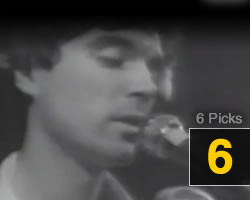 Talking Heads may have broken up years ago, but that won't stop them from putting out sweet "new" releases. Arriving Monday, Chronology is a DVD full of rarely seen live performances, from their early shows at CBGB's in the mid-'70s to sets at bigger venues during the early '80s, after which the band stopped touring. Also included is a performance of "Life During Wartime" at the band's 2002 reunion performance at the Rock and Roll Hall of Fame. Bonus features include band members David Byrne, Chris Frantz, Jerry Harrison, and Tina Weymouth contributing audio commentary to the performances; a Byrne interview from 1978; and a segment from a 1979 South Bank Show episode featuring the band. A deluxe version of the set includes a 48-page book and an unedited Lester Bangs review of the Fear of Music album.
Stay up late at the official website.
Closing the book on last week
Weekend Box Office Champion (Estimated, U.S. only; source: Boxofficemojo.com)
The Twilight Saga: Breaking Dawn - Pt. 1

46

$139.5 million; 1st week at #1
#1 Album on Billboard 200 (Source: Billboard.com/Nielsen SoundScan)
Mac Miller: Blue Slide Park

76

1st week at #1
Top-Rated Primetime Broadcast Show (Source: Nielsen)
Sunday Night Football (NBC)
20.9 million viewers; week of 11/7-11/13