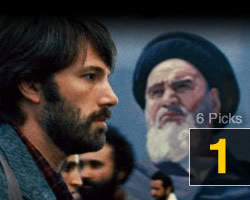 Ben Affleck's third feature as director following 2007's Gone Baby Gone 72 and 2010's The Town 74 tells the true story of the CIA's mission to rescue six American diplomats during the 1979 Iranian revolution by disguising them as a Canadian film crew working on a fake science fiction movie titled Argo. The film has been generating best picture buzz since a screening in Toronto, and look for a possible best screenplay nomination for Chris Terrio for his work adapting the 2007 Wired article on which the film is based. Affleck stars as Tony Mendez, the CIA officer who worked with make-up artist John Chambers (John Goodman) and a Hollywood producer (Alan Arkin) to create the illusion of a fully functioning Hollywood studio. Filling out the cast are Bryan Cranston, Victor Garber, Tate Donovan, Clea DuVall, and Kyle Chandler in what—judging from the positive critical reception so far—looks to be Affleck's third straight success as director.
Hear the score and see Affleck and cast in authentic period costume at the official website.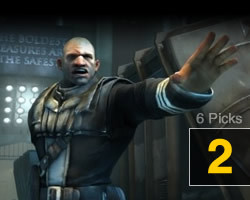 This sequel to—wait ... what do you know? Apparently, it is possible to release an original video game in the fall. Given a steampunk design by one of the artists behind Half-Life 2, Arkane Studios' new stealth action-adventure game takes place in the rat-infested industrial city of Dunwall, while gameplay combines elements of BioShock and Deus Ex and changes to adapt to how good or evil you behave (without preferring one or the other). Feel free to kill no one at all, or take the opposite approach and forget all about stealth and go on a shooting spree. Then again, shooting isn't your only option should you choose violence. In addition to a variety of conventional weapons at your disposal (daggers, pistols, swords), you'll get a chance to be a bit more creative by utilizing an array of supernatural powers and unique gadgets.
Explore the world of Dunwall at the official game site.
The Walking Dead Read reviews

Season 3 premiere Sunday at 9p on AMC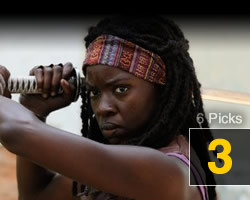 The days of standing around a farm are over. From the too-cheerful, survivor-filled town of Woodbury to a creepy abandoned prison, season 3 of The Walking Dead will feature several dynamic new locations, and one even more dynamic new figure: the lawyer-turned-sword-wielding-badass Michonne (played by Danai Gurira of Treme), first glimpsed in last year's finale and now a major recurring character. Also joining the cast this year will be David Morrissey, playing villain The Governor, who, like Michonne, is a fan favorite from the comics, though their stories will differ a bit in the TV version of the story. Another newcomer is Dallas Roberts (The Good Wife, Rubicon), who will play a brand-new character named Milton, a resident of Woodbury who likes to experiment on zombies. The new season—which will run for 16 episodes, though eight will be held back until February—will also feature the long-anticipated return of Merle Dixon (Michael Rooker), while Lauren Cohan (who plays Hershel's daughter Maggie) has been elevated to series regular. The talk show Talking Dead, hosted by Chris Hardwick, also returns on Sunday, with new episodes airing at 11p.
Get more information and watch four new webisodes at the official show site.
Seven Psychopaths Read reviews

In theaters Friday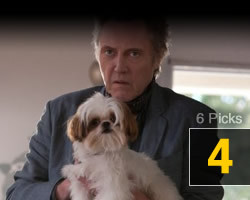 Martin McDonagh's success as a playwright led to his feature writing and directing debut, In Bruges 67, a film that, after a relatively quiet release, has built up a cult following and been credited with re-energizing Colin Farrell's career thanks to his Golden Globe-winning performance. Now the pair have re-teamed for a meta-narrative—and another black comedy—that has Farrell playing a struggling Hollywood writer who gets mixed up with a less-than-level-headed gangster played by Woody Harrelson after the dognapping duo of Sam Rockwell and Christopher Walken steal his beloved Shih Tzu. The other psychopaths of the title include Olga Kurylenko, Tom Waits, and Abbie Cornish. Early reviews are positive.
Play dognapper at the official website (seriously—it's actually kind of fun).
Arrow Read reviews

Series premiere Wednesday at 8p on The CW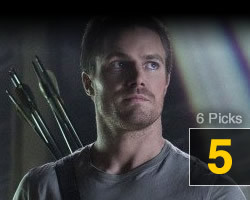 Preceding Supernatural in The CW's supernatural action-themed Wednesday lineup, Arrow stars Stephen Amell (Hung) as the DC Comics hero Green Arrow in a dark, "harder-edged" modern retelling of the billionaire-turned-crimefighter tale that will split its time between the present-day adventures of the vigilante and flashbacks to his island-based origin story. The series—which also stars John Barrowman (Torchwood), Katie Cassidy (Melrose Place), and Australian actress Jessica De Gouw as The Huntress—comes from Greg Berlanti (No Ordinary Family, Political Animals) and Marc Guggenheim (TV's Eli Stone, writer for DC and Marvel), with David Nutter (Supernatural, Game of Thrones) directing. Fans at Comic-Con seemed impressed with a screening of the action-filled pilot there, while critics have generally enjoyed the first episode, saying that both die-hard comic fans and novices alike should be able to enjoy the show. (The former group, however, should be prepared for some deviations from the established mythology.)
Aim for the official site to watch more clips from the upcoming season.
Smashed Read reviews

Opens in LA/NY Friday; additional theaters next week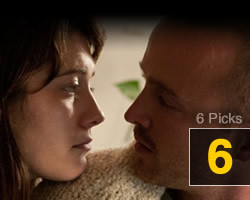 Sundance is a place of discovery, and one of the surprises uncovered at this year's festival was the performance of Mary Elizabeth Winstead in Smashed. Prior to the festival, she was probably best known as Michael Cera's object of affection, Ramona Flowers, in Scott Pilgrim vs. the World, or as the lead scientist in the recent remake of The Thing, but her performance here as an alcoholic struggling with recovery and her co-dependent bond with her husband (Breaking Bad's Aaron Paul, turning in another good performance), has garnered Winstead a bit of Oscar buzz. A nomination could depend on whether enough people see this second feature by Off the Black 62 writer/director James Ponsoldt, so check it out and spread the good word; the film has earned strong reviews so far and also offers turns by Oscar-winner Octavia Spencer and two of the best TV comedians going today, Nick Offerman and Megan Mullally.
Have a smashing good time at the official website.
Closing the book on last week
Most Popular Title on Metacritic
Resident Evil 6 (Xbox 360)

66

Week of 9/30-10/6
Weekend Box Office Champion (Estimated, U.S. only; source: Boxofficemojo.com)
Taken 2

45

$50.0 million; 1st week at #1
#1 Album on Billboard 200 (Source: Billboard.com/Nielsen SoundScan)
Mumford & Sons: Babel

64

1st week at #1
Top-Rated Primetime Broadcast Show (Source: Nielsen)
Sunday Night Football (NBC)
22.8 million viewers; week of 9/24-9/30