Hugo tops The Artist to lead all nominees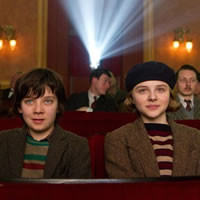 Early Tuesday morning, the Academy of Motion Picture Arts and Sciences announced the nominees for the 84th Academy Awards, recognizing the best films and filmmakers of 2011.
Each of the two top nominees this year is a film about films. Most experts predicted Hugo to wind up with numerous nominations, and it did that and more; Martin Scorsese's family film bested all other contenders with 11 total nominations. Meanwhile, frontrunner The Artist finished in second place with a total of 10 nominations. The black-and-white French film is hoping to become the first silent movie in 85 years to win best picture honors, and we can't begin to tell you how strange it was to type that sentence.
War Horse, one of two Steven Spielberg releases last year, finished tied for third with six nominations, though most of those were in technical categories; baseball drama Moneyball was also nominated six times. Another strong contender for best picture—Alexander Payne's The Descendants—underperformed in fifth place overall with five nominations, while The Girl with the Dragon Tattoo also earned five (but not a best picture nomination). There were also several people receiving multiple nominations this year, including George Clooney (writing and acting), Woody Allen (directing and writing), Brad Pitt (acting and producing), and Michel Hazanavicius (directing, editing, and writing).
Listed below are this year's Academy Award nominees in all 24 categories.
And the nominees are...
For the first time in Oscar history, the field for best picture includes nine nominees. (A change in the rules this year meant that the total would fall between 5 and 10, with any film receiving at least 5% of the first place votes getting in.) Interestingly, the ninth slot appears to have gone to the little-seen and relatively poorly reviewed Extremely Loud & Incredibly Close—a film ignored by most other awards and critic groups this year—rather than a more crowd-pleasing yet acclaimed film like Bridesmaids 75 (a film that received more overall nominations than Loud, though it lacked the latter's Tom Hanks, apparently a necessary ingredient). Of course, it is certainly not the only time the Academy has nominated a mediocre film for best picture, but it managed to avoid doing so last year, when no nominated film scored lower than 74 ... even with one extra nominee.
Otherwise, the best picture field matches most experts' predictions coming into the day, and includes films that have been nominated (and awarded) frequently by other organizations. It would have been nice to see the much-lauded Melancholia 81 or Drive 79 sneak into the group, but both films were longshots (and a bit too edgy for Academy voters), so their omission was expected, as was that of the Iranian drama A Separation 94, the year's best-reviewed film. (That latter film, however, did earn a few nominations, as we shall see in a moment.)
Best picture nominees like The Help and War Horse that were shut out of the directing and writing categories would seem to have little chance at winning, leaving The Artist and The Descendants as the frontrunners (as they were coming into today), with Hugo and Midnight in Paris in the second tier.
Hazanavicius is a first-time nominee (though still the likely frontrunner despite formidable competition), while Malick and Payne are nominated for the second time as directors and Scorsese and Allen were each nominated on six previous occasions. Even without Drive's Nicholas Winding Refn, Melancholia's Lars von Trier, or Dragon Tattoo's David Fincher, it's an excellent field and one of the more interesting Oscar races of the year.
Everyone in the original screenplay category is a first-time Oscar nominee, save for Woody Allen, who has 13 previous nominations for writing alone (and 23 nominations overall, second among all living persons). The most surprising name here is Asghar Farhadi, writer of the brilliant A Separation; foreign-language films rarely get nominated in the screenplay categories (and a film written in Farsi never has before), though a handful—most recently, Pedro Almodóvar's 2002 film Talk to Her—have won. Missing from the original screenplay category, among others, are Will Reiser's 50/50, Tom McCarthy's Win Win, and Mike Mills' Beginners, which all had been considered possibilities by experts prior to today.
The most notable snub in the adapted screenplay category was Tate Taylor for The Help (likely losing out to The Ides of March, a film otherwise unrecognized by the Academy today), though it likely doesn't matter; The Descendants and Moneyball were and still are the two leading contenders to win the Oscar. Steven Zaillian also missed out on a chance to be a double nominee when his adaptation of The Girl with the Dragon Tattoo failed to make the cut.
The first question that jumps out after hearing the acting nominees is: where's Albert Brooks? The veteran actor has been a runaway favorite in other awards contests this year for his supporting performance—an against-type role as a murderous criminal—in Drive, yet was neglected by the Academy today and stands out as probably the biggest snub of the morning. (At least he didn't lose out to a dog.) That would seem to make second-time nominee Christopher Plummer, another popular choice elsewhere, the favorite to take home the Oscar in the supporting actor category. Jonah Hill is a first-time Oscar nominee, while Max von Sydow (who, like Plummer, is 82) was last nominated in 1988, a decade before Nick Nolte's last nomination.
In the lead actor category, the inclusion of Demián Bichir for Chris Weitz's all but ignored drama A Better Life is the major surprise. Bichir, Oldman, and Dujardin are all first-time nominees, while pals Clooney and Pitt—probably the two favorites—have been nominated in the category before. Whose place did Bichir take? Michael Fassbender (Shame) and Michael Shannon (Take Shelter) are the lead actors most often nominated by other groups who are missing from the Academy's list, while Ryan Gosling somehow couldn't get nominated for any of his three excellent 2011 performances.
Missing from the supporting actress category is young Shailene Woodley from The Descendants, despite the fact that, like Brooks, she had been collecting honors at a rapid clip over the past few months. And the Academy didn't neglect her because she's a newcomer; every supporting actress nominee save Janet McTeer is a first-timer, and McTeer's only previous nomination was in 1999.
Rooney Mara's first Oscar nomination (though well deserved) is the least unsurprising of what was a relatively predictable (and strong) field of best actress nominees. The other four nominees have 24 previous nominations between them, though Meryl Streep is mostly to blame for that; this is her record 17th nomination (and 14th as lead actress). While Streep rarely wins when she's nominated, she does have a pair of Oscar statuettes at home, which is two more than any of her competitors. Streep's most recent Academy Awards win, by the way, was in 1982, for Sophie's Choice, so it's fair to say she's due for another, though The Help's Viola Davis is also an early frontrunner. Who didn't get a nomination in the category? We Need to Talk About Kevin's Tilda Swinton was probably the biggest omission, while Melancholia's Kirsten Dunst or Young Adult's Charlize Theron could have also snuck in.
And if you haven't been following the year's film awards prior to today, you may be puzzled by the twin nominations for Albert Nobbs; the reason you haven't heard of the Glenn Close drama is that it hasn't opened yet, aside from a brief Oscar-qualifying run in December, when it earned middling reviews. Expect it in theaters this weekend. (Coincidence? We think not.)
Steven Spielberg's The Adventures of Tintin 68 is the glaring omission from the animated feature category, especially given that the field includes a full five nominees this year, up from three a year ago. It's also a rare year that a Pixar film gets released but not nominated, but then again Cars 2 57 is the rare Pixar film that wasn't very good. DreamWorks, however, had a pair of nominees in Puss in Boots and Kung Fu Panda 2, while the Johnny Depp-starring Rango has been the favorite with other awards-issuing organizations. The (fairly major) surprises in the category are the imports A Cat in Paris and Chico & Rita, which hail from France and Spain, respectively; neither has screened in the U.S.
Among the foreign films, the heralded A Separation would seem to be the frontrunner, though three of the films have yet to open in the U.S. and are thus wildcards. And Wim Wenders' daring Pina is the most notable of the shortlisted entries that failed to make the final cut, though it did earn a nomination in the documentary feature category. Missing from the latter category is the shortlisted Project Nim 83, which is the most awarded documentary feature of the year, at least by other organizations. Other lauded docs like Cave of Forgotten Dreams, Into the Abyss, Senna, and Tabloid failed even to qualify for the 15-film shortlist, so their omissions were known in advance.
Sorry, Nine Inch Nails fans. There's no nomination for Trent Reznor and Atticus Ross this year; the pair won last year for The Social Network but failed to get recognized this time for The Girl with the Dragon Tattoo. In fact, none of the nominees in the original score category are repeats from 2011, though five-time winner John Williams added two more nominations to his collection; his all-time total of 47 is second only to Walt Disney's 59. Ludovic Bource, on the other hand, is the sole first-time nominee in the group.
The song category, meanwhile, featured a record-low two nominees (one of which was written by Flight of the Conchords member Bret McKenzie), which, at the very least, should make for a shorter awards show. (Though we'll allow some time for a Muppet performance.)
Well, you can't say the Academy completely ignored Drive; there's that sound editing nomination. In the cinematography category, Emmanuel Lubezki's stunning imagery in The Tree of Life has earned him nearly a clean sweep in awards from other organizations and critic groups; perhaps that domination will extend to Oscar voting as well. The Artist, by the way, is just the 10th black-and-white film to earn a cinematography Oscar since the separate black-and-white category was eliminated in 1967.
More coverage to come
The 84th Annual Academy Awards ceremony, hosted by Billy Crystal, will air live on ABC on Sunday, February 26th at 7:00p ET / 4:00p PT. In the weeks leading up to the ceremony, we'll give you a chance to predict this year's winners, and then we'll compare your guesses to those of the experts.
What do you think of this year's nominations? What did the Academy get right, and what films and performances did they overlook? Let us know in the comments section below, or check out our 2011 Film Awards Scorecard to see how the Academy's choices compare to other awards handed out this year.