Plenty of love, zero Bigelow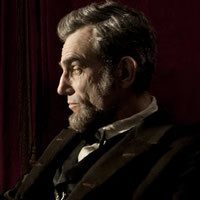 Thursday morning, the Academy of Motion Picture Arts and Sciences announced the nominees for the 85th Academy Awards, recognizing 2012's best films, performances, and filmmakers. While the best picture and acting nominations mostly stuck to advance predictions, it was the director field that provided the morning's biggest surprises.
Leading all films with a dozen nominations, however, was Lincoln, the Steven Spielberg-directed historical drama that was one of the major Oscar frontrunners heading into the announcement. Also performing well were a pair of novel adaptations—Ang Lee's Life of Pi (11 nominations) and David O. Russell's Silver Linings Playbook (8). Just behind those films was Ben Affleck's Argo (with 7 nominations, though none for Affleck himself), while the foreign film Amour (Love) scored an impressive five nominations. Another frontrunner, Zero Dark Thirty, received a much more disappointing five nominations, though it is included among the best picture nominees.
Listed below are this year's Academy Award nominees in all 24 categories.
And the nominees are...
For the second straight year, the best picture field includes nine nominees, though the field looks pretty much as expected. The French-language drama Amour and indie Beasts of the Southern Wild are the most surprising entries on the list, with Paul Thomas Anderson's The Master 86 and Wes Anderson's Moonrise Kingdom 84 being the most notable omissions. (And anyone hoping that Skyfall would sneak onto the Oscar list after it earned numerous BAFTA nominations had their hopes dashed.) All but one (Beasts) of these nine nominees are also contending for Golden Globe best picture trophies on Sunday night.
Unlike last year, however, every one of the best picture nominees has a green Metascore indicating positive reviews from critics. In fact, the combined average score of 83.3 for this year's group is a sizeable improvement over last year's 76.6, though it still falls just behind the impressive 84.5 average for the 2011 slate.
As they were heading into the morning, Lincoln, Les Miserables, Zero Dark Thirty, and Argo are the favorites to win this year's trophy among oddsmakers, with the latter three films trailing slightly behind Steven Spielberg's historical drama.
Now this is where things get interesting. Zero Dark Thirty director Kathryn Bigelow, the runaway leader in the best director race this year with 10 wins (and even more nominations) to date from various critic groups and industry organizations, failed to secure an Academy Award nomination despite winning the directing Oscar for her previous film, The Hurt Locker. Also notably absent is another frequent winner this year, Argo's Ben Affleck. And, as in the best picture race, Andersons Wes and Paul Thomas were shut out here. Quentin Tarantino, whose Django Unchained did receive a best picture nomination, continued his trend over the past month of getting ignored for major directing awards, making his absence (unfortunately) rather expected.
As someone once said, the Chinese word for "Oscar snub" also means "opportunity," and stepping into the void are Austrian director Michael Haneke (a first-time nominee) and newcomer Benh Zeitlin, whose Beasts of the Southern Wild represents not only his first Oscar nominations, but his first feature film. David O. Russell's Oscar hopes were somewhat in doubt earlier in the week when the director was omitted from the Directors Guild's list of DGA Award nominees, but he was nevertheless recognized by the Academy (and his inclusion here puts his film back in contention in the best picture race). In fact, three of the DGA nominees—Bigelow, Affleck, and Tom Hooper (Les Miserables)—failed to receive Oscar nominations, with only Steven Spielberg and Ang Lee receiving both honors.
With Bigelow out of the race, Spielberg becomes the favorite to win the award. The veteran filmmaker has two previous directing wins, for Schindler's List and Saving Private Ryan.
While the adapted screenplay field matches most predictions, there were a few surprises among the original screenplay nominees. Perhaps the biggest surprise was the presence of John Gatins for Flight, a film that had not been receiving much buzz in this category over the past month of awards season. Michael Haneke's nomination here is also a bit of a surprise, given that the Academy rarely awards foreign-language films in the screenplay categories (though it did just last year, for A Separation). Rian Johnson's Looper script, as well as Paul Thomas Anderson's The Master, are among the omissions in the original screenplay category, as both had been collecting numerous honors elsewhere.
It's hard to pick a favorite in either writing category; the Anderson/Coppola duo and Boal have been alternating victories over the past month in the original screenplay category, while Terrio, Kushner, and Russell also have multiple wins from other organizations under their belts this year. A victory for anyone outside of those names, however, would be an upset.
While the writing categories deviated a bit from the expected script, the surprise here is that there are few major surprises in any of the acting categories. Jessica Chastain and Jennifer Lawrence are the twin favorites in a lead actress field that features the oldest (Emmanuelle Riva, who turns 86 on Oscar night) and youngest (Quvenzhané Wallis, 9) best actress nominees in Oscar history. (If there's an omission here, it is Marion Cotillard of Rust and Bone.) Meanwhile, despite a strong group of nominees, two-time winner Daniel Day-Lewis is the runaway favorite to win this year's best actor Oscar. Missing from the field is John Hawkes of The Sessions, whose co-star, Helen Hunt, did manage to get a supporting actress nomination.
The biggest surprise in that supporting actress field is the inclusion of Jacki Weaver, who has not been recognized by any other awards groups yet this year. Her presence means that Compliance star Ann Dowd's self-funded Oscar campaign did not pay off, while The Paperboy's Nicole Kidman could not reproduce her SAG Award and Golden Globe nominations. Regardless, the category is Anne Hathaway's to lose; the Les Mis co-star has been dominating the awards season so far. In the supporting actor category, while some experts suggested that Javier Bardem (Skyfall) could get the nod instead of De Niro, the slate doesn't really include any surprises. Nor does it really have an overwhelming favorite; each of the five nominees already has at least one Oscar at home.
It wasn't the strongest year for animated films, which means that the same few titles have been coming up again and again in the various award announcements over the past month. Aardman Animations' The Pirates! Band of Misfits, however, has not been one of those names, which makes its nomination the most surprising in its category.
The foreign-language field, as is common, includes multiple films that have yet to open in the United States and thus are largely unfamiliar to American moviegoers. One film that has opened, of course, is Amour, which is the rare foreign-language nominee doing double duty as a best picture nominee. While that might seem to make it a favorite here, the foreign-language category is not one that can be easily predicted, and the Academy has a made a habit of not awarding the best-reviewed film in the group (though last year's winner, A Separation, does set a strong precedent for an Amour victory this year).
In the documentary field, the crowd-pleasing Searching for Sugar Man has been a big winner with other critic groups, while Bully is probably the most recognizable name among the films failing to secure a nomination.
Composer John Williams is now up to 48 total career Academy Award nominations, though he hasn't won since 1993 (for Schindler's List). Contrast him with Mychael Danna, who is a first-time nominee. Desplat, Marianelli, and Newman have prior nominations, though only Marianelli has ever won an Oscar.
Actually, Danna is now a second-time nominee, too; he is also nominated as a co-writer for "Pi's Lullaby." Oscar host Seth MacFarlane is also among the nominees in the original song field, as a co-writer of "Everybody Needs a Best Friend" from his summer comedy Ted. Also in that field are Billboard chart-topper Adele (for her Skyfall theme), and a new Les Mis tune written specifically for the film (i.e., specifically to get an Oscar nomination).
In the cinematography field, Anna Karenina's Seamus McGarvey is a somewhat surprising (though deserving) inclusion, probably taking the place of The Master's Mihai Malaimare Jr., who was probably the most notable omission (along, perhaps, with Zero Dark Thirty's Greig Fraser). And if the production design award stands out as unusual, note that the Academy labeled the field "art direction" prior to this year.
More coverage to come
Family Guy's Seth MacFarlane will host the 85th Annual Academy Awards ceremony, which will be broadcast live on ABC on Sunday, February 24th at 7:00p ET / 4:00p PT. In the weeks prior to the ceremony, we'll give you a chance to predict this year's winners, and then we'll compare your picks to those of dozens of critics and industry experts.
In the meantime, what do you think of this year's nominations? What did the Academy get right, and what films and performances did they overlook? Let us know in the comments section below, or check out our 2012 Film Awards Scorecard to see how the Academy's choices compare to numerous other awards handed out this year.