It's all about Power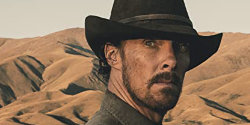 Shaking up what has been a relatively sleepy awards season (with yet another round of pandemic-related delays), The Academy of Motion Picture Arts and Sciences finally revealed the nominees for the 94th Academy Awards early Tuesday morning, recognizing the best films, filmmakers, and on- and off-screen talent of 2021.
Leading all films with 12 nominations this year is Jane Campion's period drama The Power of the Dog, which managed to live up to advance expectations and secure nominations in nearly every major category including Best Picture. Just behind is Denis Villeneuve's Dune remake (even if Villeneuve himself was snubbed in the directing category) with 10 nominations. Other films performing well include Kenneth Branagh's semiautobiographical black-and-white drama Belfast and Steven Spielberg's remake of West Side Story. Both of those films secured seven nominations, though that number could be considered a disappointment for the latter film given that the original 1961 version of West Side Story is one of the biggest Oscar winners of all time, winning 10 of the 11 categories for which it was nominated.
This year's most notable rule change is to the Best Picture category, which is now fixed at 10 nominees rather than fluctuating between 5-10 depending on voting results. (Note that the Academy's recently announced diversity requirements for best picture nominees won't kick in until 2024.) The loosened elgibility requirements introduced a year ago to help compensate for the lack of theatrical screenings during the pandemic remained intact this year (including the new tolerance for straight-to-VOD releases), though one key change from last year is a shorter eligibility period: Films must have been released between March 1, 2021 and December 31, 2021 to qualify for these nominations.
Listed below are the 2022 Academy Award nominees in all 23 categories.
Best picture and director
Best picture
Metascore / Film / Producers
Belfast

Laura Berwick, Kenneth Branagh, Becca Kovacik, Tamar Thomas

CODA

Philippe Rousselet, Fabrice Gianfermi and Patrick Wachsberger

Don't Look Up

Adam McKay, Kevin Messick

Drive My Car

Teruhisa Yamamoto

Dune

Mary Parent, Denis Villeneuve and Cale Boyter

King Richard

Tim White, Trevor White and Will Smith

Licorice Pizza

Sara Murphy, Adam Somner and Paul Thomas Anderson

Nightmare Alley

Guillermo del Toro, J. Miles Dale and Bradley Cooper

The Power of the Dog

Jane Campion, Tanya Seghatchian, Emile Sherman, Iain Canning and Roger Frappier

West Side Story

Steven Spielberg and Kristie Macosko Krieger
A year after receiving its first Oscar nominations of any kind, Apple has landed a feature in the best picture field for the first time with CODA, the big winner at last year's Sundance Film Festival which Apple then acquired for a festival-record $25 million. Of course, CODA is not the only streaming nominee on the list. The Power of the Dog, one of three or four films with a real chance at taking home the best picture trophy, is a Netflix original, as is Don't Look Up (which, as the worst-reviewed best picture nominee, has little chance of winning).
The best picture category actually lined up mostly as predicted in advance by experts. If there are any snubs, they are Aaron Sorkin's Being the Ricardos (which wasn't well-reviewed but was given a chance based on its star power), Joel Coen's The Tragedy of Macbeth, and Lin-Manuel Miranda's debut tick, tick...BOOM!. The most surprising inclusion is for the Japanese-language drama Drive My Car. That film—Japan's first-ever Best Picture nominee—has been dominant on the awards circuit in addition to receiving stellar reviews from critics, but was given less of a chance at an Oscar best picture nod because of the Academy's aversion to foreign-language films. Of course, Academy voters selected the Korean film Parasite as its best picture winner a few years ago, which suggests that Drive My Car shouldn't be ruled out of contention.
Spielberg's inclusion here as one of the producers of West Side Story gives him the record for most Best Picture nominations for a single producer (with 11). And Kenneth Branagh's first nomination in this category gives him nominations in seven different Oscar categories over the course of his career (including directing, both writing categories, actor, supporting actor, and live-action short film), a new record.
Director
Both of Jane Campion's prior nominations came nearly 30 years ago for The Piano—when she was just the second woman ever nominated for best director. (In the three decades since, only five additional women directors have been nominated, so don't start thinking the Academy has made any progress.) Campion, who also received additional nominations today as a producer and screenwriter, is now the only two-time female director nominee and a strong favorite to win this category, which would make her the third woman to do so (following Kathryn Bieglow and last year's winner Chloe Zhao, who, like Campion this year, was also nominated as a producer and writer).
Snubs include a few directors of this year's best picture nominees including Dune's Denis Villeneuve (by far the most unexpected snub) and Nightmare Alley's Guillermo del Toro. Some experts had also given Pedro Almodovar (Parallel Mothers), first-timers Maggie Gyllenhaal (The Lost Daughter) and Lin-Manuel Miranda (tick, tick...BOOM!), Julia Ducournau (director of the Cannes winner Titane, which went empty handed today), and the aforementioed Joel Coen a chance here.
First-time Oscar nominee Ryusuke Hamaguchi is the biggest surprise, but the Japanese director joined all four of his fellow nominees in collecting nominations in multiple categories today. It's also the fourth straight year that an International Feature nominee has also received a directing nomination.
Writing
Original screenplay
Snubs include Aaron Sorkin's Being the Ricardos, Almodovar's Parallel Mothers (again), Wes Anderson's The French Dispatch, and Fran Kranz's highly praised debut Mass, while the biggest surprise inclusion is that of the Norwegian-language film The Worst Person in the World. It is just the seventh foreign-language film in Oscar history to receive a screenplay nomination.
Adapted screenplay
The biggest omission here is probably Tony Kushner's West Side Story script, though Rebecca Hall's excellent Passing was also expected to get a nomination. Other candidates that had been on the bubble include Joel Coen (The Tragedy of Macbeth) and the Nightmare Alley duo of Guillermo del Toro and Kim Morgan. Note that Campion's previous Oscar win came for writing, and she is a strong favorite to win again this year.
Acting
Lead actress
One-time shoo-in Kristen Stewart had stumbled in recent weeks, missing out on SAG and BAFTA nominations, but she was able to pick up her first career Oscar nomination nevertheless. Meanwhile, the biggest snubs that did happen include House of Gucci's Lady Gaga (whose film was ignored almost entirely by the Academy, save for a hair/makeup nomination) and Licorice Pizza newcomer Alana Haim (who has been winning awards elsewhere over the past few months). Others who also had a chance at a nomination included Respect star Jennifer Hudson and Renate Reinsve of The Worst Person in the World. Olivia Colman, meanwhile, is the only repeat acting nominee (in any of the four categories) from last year's Oscars.
Lead actor
The field is probably a two-horse race between Benedict Cumberbatch and Will Smith, though Denzel Washington probably isn't too far behind, even if his film failed to land other key nominations today. The notable snubs here include Nicolas Cage (who delivered a widely praised performance in the indie Pig), Don't Look Up's Leonardo DiCaprio, and Cyrano star Peter Dinklage
Supporting actress
Welcome to the first-timers club. Four of supporting actress nominees have never received an Oscar nomination prior to today. And the one who isn't is the field's biggest surprise: Judi Dench, whose eighth career nomination was not expected by many experts to come this year.
Dench's inclusion likely came at the expense of her Belfast co-star Caitriona Balfe, who was widely expected to get a nomination. Other snubs include Passing co-star Ruth Negga (a big winner elsewhere on the awards circuit), The Tragedy of Macbeth's widely praised Kathryn Hunter, CODA's Marlee Matlin (a previous Oscar winner), Mass co-star Ann Dowd, and West Side Story's Rita Moreno (whose sole career Oscar win came for the previous version of that film).
Supporting actor
While the five-name field isn't all that surprising (and is topped by Kodi Smit-McPhee, who is the favorite to win after dominating the category on the awards circuit), snubs are led by The Tender Bar standout Ben Affleck and Licorice Pizza's Bradley Cooper, with the next tier down including Belfast's Jamie Dornan and West Side Story's Mike Faist). J.K. Simmons, meanwhile, is back for the first time since his breakthrough role in Whiplash earned him his only prior Oscar nomination (and win). That makes him the sole Oscar veteran in what otherwise is another collection of rookie nominees.
Other best film nominations
Animated feature
The Danish film Flee, a rare animated documentary about a refugee from Afghanistan, is the first film in Academy Awards history to be nominated in the animated feature, documentary feature, and international feature categories simultaneously—a trifecta that probably won't be matched anytime soon. It's also the only documentary ever nominated in this category.
Based on the awards handed out by other groups prior to today's Oscar nominations, there were very few films actually in play in this category, so it's hard to call any omission a snub. But if we had to choose one, it would probably be the recently released anime feature Belle.
Documentary feature
Snubs include the Thai cave rescue doc The Rescue and Todd Haynes' experimental rockumentary The Velvet Underground, as well as pandemic films In the Same Breath and The First Wave plus Julia Child profile Julia. In addition, several documentaries picking up recogniton elsewhere didn't even make the 15-film shortlist announced in December, including the Val Kilmer doc Val and Edgar Wright's The Sparks Brothers.
In addition to its other records, Flee is the first animated film to be nominated in the documentary feature category in Oscar history.
International feature
The biggest snub here is probably last year's divisive Cannes Palme d'Or winner Titane, which many critics also included on their year-end top 10 lists—but that snub actually happened in December when Titane, France's official Oscar entry, failed to even land on the 15-film shortlist. Also omitted from the shortlist was Berlinale winner Bad Luck Banging or Loony Porn (Romania's official entry). And another high-profile international film from 2021, Pedro Almodovar's Parallel Mothers, was snubbed by its own country: Spain submitted the less-acclaimed comedy The Good Boss in its place. The Academy's one-film-per-country rule also prevented Celine Sciamma's well-regarded Petite Maman from getting shortlisted (since France selected Titane instead).
Of the international features that did make the shortlist but ultimately failed to get a nomination, the most notable snubs include Iran's A Hero and Finland's Compartment No. 6. The most surprising inclusion is that for Lunana, which is Bhutan's first Oscar nomination.
Short subjects
Animated Short
Affairs of the Art
Joanna Quinn, Les Mills
Bestia
Hugo Covarrubias, Tevo Diaz
Boxballet
Anton Dyakov
Robin Robin
Dan Ojari, Mikey Please
The Windshield Wiper
Alberto Mielgo, Leo Sanchez
Documentary Short
Audible
Matt Ogens, Geoff McLean
Lead Me Home
Pedro Kos, Jon Shenk
The Queen of Basketball
Ben Proudfoot
Three Songs for Benazir
Elizabeth Mirzaei, Gulistan Mirzaei
When We Were Bullies
Jay Rosenblatt
Live-Action Short
Ala Kachuu – Take and Run
Maria Brendle, Nadine Lüchinger
The Dress
Tadeusz Łysiak, Maciej Ślesicki
The Long Goodbye
Aniel Karia, Riz Ahmed
On My Mind
Martin Strange-Hansen, Kim Magnusson
Please Hold
K.D. Dávila, Levin Menekse
Music
Original score
Original song
Do we need to talk about the omission of "We Don't Talk About Bruno"? That recent chart-topper from Encanto wasn't nominated because Disney didn't even submit it for Oscar consideration, opting instead to try its luck with "Dos Oruguitas" (not knowing back in October that "Bruno" would become the film's breakout hit).
Technical categories
Cinematography
Ari Wegner's nomination (which was widely expected, and she is one of the favorites to win) is just the second in Oscar history for a female cinematographer. (The first came in 2017 for Mudbound's Rachel Morrison.)
Film Editing
One notable omission here is for Belfast's Úna Ní Dhonghaíle. You may not give a lot of thought to the Oscars editing race, but there are few better predictors of the Best Picture category. Over the past four decades, an editing nomination (though not necessarily a win) has been a prerequisite for a Best Picture win, and Belfast's snub here (where fellow Best Picture frontrunner The Power of the Dog is nominated) suggests that Dog definitely has the edge in the Best Picture race. Another Best Picture favorite, West Side Story, is also absent from the editing field. (The only film to win Best Picture without receiving an editing nomination since 1980 is Birdman, a film that is presented as a single continuous take with no edits.)
Costumes/Makeup
Sound
Visuals
More Oscar coverage to come
Barring any last-minute delays, the 94th Annual Academy Awards ceremony will air live on ABC on Sunday, March 27 at 8p ET/5p PT, but further details about the ceremony (including the identity of the host) have yet to be revealed. Look for additional Oscars coverage on our site over the coming weeks, including a chance for you to predict this year's winners as well as a roundup of Oscar predictions from dozens of critics and industry experts. You can also check out our 2021-22 Film Awards Scorecard for an ongoing compilation of all of this season's movie awards from 66 different organizations.
What's your take?
What do you think of the Academy's nominations this year? Let us know in the comments section below.