Tom Waits has the best-reviewed major album of 2011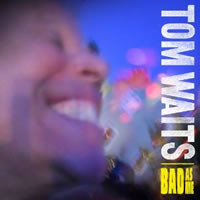 Throughout the past month, we've been compiling year-end top 10 lists from dozens of music critics and publications in the U.S. and U.K., and the result is a clear, consensus pick for the #1 album of the year: Let England Shake by P.J. Harvey. Yet Harvey's album was not the best-reviewed LP of 2011; instead, that title goes to 62-year-old iconoclast Tom Waits and his latest release, Bad As Me.
However good Bad As Me might be, it is actually our lowest-scoring album of the year, ever (going back to 2000). And, overall in 2011, a total of 95 out of 863 albums—or about 11%—received universal acclaim from critics (with a Metascore of 81 or greater). That's down from 12.5% the year before, though still better than the 9% mark in 2009. And only one new album met or exceeded the 90 mark this year, compared to four in 2010. So if you feel that 2011 wasn't a great year for music, it might not just be you.
What follows is a rundown of the best albums of the past year (in Metacritic's database) as determined by their Metascores -- an average of all reviews given by professional critics at the time of each album's original release. Note that live albums, reissues, compilations, and the like are excluded from this chart.
The 25 best-reviewed albums of 2011
(min. 15 reviews)


1.

Bad As Me

88

(Anti-)


by Tom Waits
"A work of pure, true genius."

—Clash Music More reviews...
The legendary Tom Waits' first album of new material since 2004's Real Gone was co-produced as usual with his wife Kathleen Brennan. Many critics deemed it his best album in years, finding it a vital, energetic, balanced, filler-free mix of ballads and "wild, rattling bawlers," suitable for newcomers and longtime fans alike.
"If an album can be both chilling and beautiful at once, Undun is it."

—Chicago Tribune More reviews...
Though not released until December, The Roots' 13th album emerged as one of the year's best, trailing the Waits album by just a fraction of a point. A concept album that chronicles the life of a fictitious street hustler named Redford Stephens, undun (which includes a contribution from Sufjan Stevens) was praised for its storytelling and beauty.
"He commands the mood better than artists who have been in the game for years and yet this his first release."

—No Ripcord More reviews...
Recording under the name The Weeknd, Toronto-based R&B artist Abel Tesfaye released a trio of free mixtapes in 2011, but it was this first one—his debut longplayer—that received the bulk of the critical attention, even earning a nomination for the 2011 Polaris Music Prize (Canada's top music honor).
"A richly inventive album that's unlike anything else in Harvey's back catalogue."

—The Guardian More reviews...
The English rocker's best album in a decade finds her exploring new territory with a much more musically varied affair than her piano-driven 2007 album White Chalk, and its dozen songs are loosely united by lyrics dealing with England at war.
"Catchy yet abrasive, noisy yet intimate, kind of funny yet also kind of scary, this is post-pop at its most vertiginously original."

—The Independent on Sunday More reviews...
New England's Merrill Garbus, who makes challenging but engaging music under the name tUnE-yArDs, returned earlier this year with a second album that was more polished and accessible than her debut, but no less playful, original, or exciting.
"Fully realised in its ambition, Bon Iver possesses all the austere beauty and understated emotiveness of its predecessor."

—Uncut More reviews...
How do you follow up a debut album that was hailed as one of the best releases of 2008? For Justin Vernon, it was easy: With an album that ranked among the best of 2011. Each of the 10 songs here is named after—and inspired by—a specific place, from "Perth" to "Lisbon, OH," and they feature a much fuller and more varied sound than before.
"Space Is Only Noise might be one of the most ear-opening techno records in recent memory."

—XLR8R More reviews...
The 21-year-old producer—and current Brown University student—made his debut with this ambitious album of experimental electronica, which drew comparisons to James Blake upon its release in early 2011.
"A warm, sometimes reckless, but always deeply moving and wildly creative effort that is absolutely dizzying in the best, most indelible sense."

—A.V. Club More reviews...
Few albums contain guest appearances by members of Earth, Wind, and Fire and Little Dragon, but Raphael Saadiq's fifth solo album is one of them. Stone Rollin' continues the veteran producer and artist's obsession with vintage soul, but is by no means stuck in the past, or even confined to a single genre.
"What unites all six fantastically constructed pieces on this album is the sound of a band delivering on their potential, and then some."

—Kerrang! More reviews...
There are only six tracks on this dynamic fourth album by instrumental band Russian Circles, but they are heavy. While previous albums could almost be classified as post-rock, that's not the case here; Empros is closer to true metal than the band has ventured before.
"The album has almost Wagnerian scope and immersive power, and at just over 50 minutes it's well organised as a start-to-finish listen."

—The Wire More reviews...
The Canadian's sixth set of abstract, dark, ambient electronica consists of three multi-part compositions supplemented by several stand-alone tracks. The semi-improvised album was recorded in an abandoned Icelandic church.
"Fucked Up's grand ambition may one day be their downfall, but right now it has produced an intricate, rewarding beast of an album, their magnum opus."

—NOW Magazine More reviews...
The decade-old Toronto hardcore punk band won Canada's top music prize for their previous LP, 2008's Chemistry of Common Life. But David Comes to Life, their inventive third studio album, might be even better. David is a concept album—a punk rock opera, if you will—unfolding its dense narrative across 18 tracks arranged in four acts.
"It's absorbing and enchanting without having to resort to formulaic song structures, pop thrills or radio-friendly catchiness."

—musicOMH More reviews...
It's only the singer-songwriter's second album of new material in 17 years, but she seems to have used the extra time wisely. 50 Words for Snow is an ambitious and mature album that contains seven lengthy (and, indeed, wintry) songs that blend elements of jazz, electronics, and orchestral arrangements with Bush's truly unique writing style and vocals that showcase her range. (Oh, and it also includes cameos by Elton John and actor Stephen Fry.)
"A record that's easily as good as any punk release you'll hear in 2011."

—BBC Music More reviews...
A group of four Danish teenagers, Iceage made their debut in June with this set of a dozen very brief tunes, clocking in at just under 25 minutes. You'll hear bits of no wave, goth, punk, and post-punk on the intense New Brigade, with echoes of Joy Division, among other influences.
"So Beautiful or So What is vintage Simon, but it's also all over the map stylistically, touching on blues, African, folk, Indian and more. The music is unmistakably his, but finds the artist challenging himself melodically and with his phrasing."

—Billboard More reviews...
From the youngest artist on our list to the oldest: 70-year-old Paul Simon. The singer-songwriter's 12th solo studio LP and first in five years, the bluegrass-influenced So Beautiful or So What, which he produced with Phil Ramone, is Simon's best effort in decades.
"Helplessness Blues succeeds because Fleet Foxes find a way to consistently balance the added level of nuance with their natural inclinations toward epic songcraft."

—Slant More reviews...
Two years in the making, this Phil Ek-produced second album for the Seattle-based harmonic folk group -- a favorite of the blogosphere -- features a bigger dose of British folk influences, a greater diversity of instrumentation, a slightly less polished sound, and more "existential" subject matter than on the band's equally excellent debut.
"After you let it seep its way into your daily life, Smother reveals itself as the type of masterwork so fragile and unobtrusive as to leave itself vulnerable to being brushed away by those listeners without patience. Don't let yourself be among them."

—PopMatters More reviews...
The third album for the eccentric and distinctive English indie rock band is a bit more restrained than previous efforts, sacrificing some of the group's usual wildness for a mature, complex, and subtle approach with an emphasis on synths instead of guitars.
"This is Willner's finest record yet, a composition of effortlessly gorgeous, technically fantastic, genuinely awe-inspiring music."

—Drowned in Sound More reviews...
Swedish minimal techno artist Axel Willner, who records as The Field, hasn't shown any progression in album cover design since 2007's From Here We Go Sublime. Fortunately, his quality level has remained almost as consistent, with critics admiring his considerable composition skills on this third album (which should re-convert any fans who were disappointed in Willner's second LP).
"The Harrow & the Harvest is stunning for its intimacy, its lack of studio artifice, its warmth and its timeless, if hard won, songcraft."

—All Music Guide More reviews...
Until this summer, the oft-praised bluegrass singer-songwriter hadn't released an album in eight years, the result of a case of writer's block and a few false starts. But the 10-song Harvest found Welch teaming once again with longtime collaborator David Rawlings, and critics responded enthusiastically.
"Virtuosity and accessibility have never been easy bedfellows, but Strange Mercy is one of those rare albums that makes you think and makes you fall in love."

—NME More reviews...
Former Polyphonic Spree and Sufjan Stevens guitarist Annie Clark returned this fall with her second 4AD album (and third overall) as St. Vincent, following 2009's lauded Actor and an appearance on the Twilight Saga: New Moon soundtrack. As on that previous album, John Congleton lends a hand with production, while Grammy winner Bobby Sparks and Midlake's MacKenzie Smith are among the guest performers.
"Kaputt nods to Steely Dan and late Roxy Music, and its shimmering synths and moody soft rock would be the perfect soundtrack to a romantic urban noir."

—Entertainment Weekly More reviews...
Daniel Bejar's ninth Destroyer album is a jazzy, soft-rock affair that wouldn't sound out of place coming out of an AM radio in the early 1980s. (But don't hold that against it.)


21.

El Camino

84

(Nonesuch)


by The Black Keys
"Sometimes, a CD scratches an itch you didn't even know you had, and El Camino is that record."

—Los Angeles Times More reviews...
Another very late 2011 release, El Camino is the latest acclaimed LP from the Grammy-winning Ohio duo of Dan Auerbach and Patrick Carney. Like last year's Brothers 82, the new album is produced by Danger Mouse, and exhibits a loose, fun approach to blues rock on tracks like the lead single "Lonely Boy."
"Thirty-some years in, the Beasties are as sharp, hilarious, funky, and escapist as they've ever been."

—The Boston Phoenix More reviews...
Though Part One was shelved when MCA (Adam Yauch) was diagnosed with cancer (he is healthy again now), most of its tracks were moved to this album, the group's first non-instrumental set in seven years and their best album since 1998's Hello Nasty. Included are collaborations with Nas and Santigold.
"While Skying is not as large a leap forward as Strange House to Primary Colours was, it's still the work of a band firing on all cylinders, and an exceptional offering from a group that, out of nowhere, is quickly becoming one of the most exciting young acts around."

—One Thirty BPM More reviews...
After a relatively unimpressive 2007 debut, the English band made a mark with their sophomore set Primary Colours two years later. This year's self-produced set Skying proved that second album was no fluke; this is a very good band.
"Gang Gang Dance's finest, weirdest, and most uplifting statement yet."

—Pitchfork More reviews...
After a drummer switch, the decade-old experimental music outfit from New York returned in May with their first album for new label 4AD and their most accessible release to date.


25.

Sepalcure

83

(Hotflush)


by Sepalcure
"A rich, luxurious take on bass music that could probably have only been made by outsiders."

—Uncut More reviews...
It's only available digitally (so far, at least; a CD release should happen in January) from the dubstep label Hotflush, but this self-titled debut album by New York duo Sepalcure has collected a handful of enthusiastic reviews, earning praise for expanding beyond the dubstep genre and rewarding repeat listens.
What about albums with fewer reviews?
Here is a look at the albums that received extremely positive reviews, but not enough of them to qualify for our list above. (In other words, consider them the year's best under-the-radar releases.) Albums on this list received 7-14 critic reviews. (Titles with fewer than 7 reviews are excluded from all year-end charts.)
 
Album
Label
Metascore
Listen
1
Pull Up Some Dust and Sit Down
by Ry Cooder
Nonesuch
92
Spotify
The Grammy-winning musician's concept album about corruption in America earned unanimous acclaim from critics, and another Grammy nomination for Cooder.
2
The Greatest Story Never Told
by Saigon
Suburban Noize
89
Spotify
The Brooklyn rapper's long-delayed album was Metacritic's best debut album of 2011 and the highest-scoring hip hop LP released this year.
3
No Devolucion
by Thursday
Epitaph
88
Spotify
Dave Fridmann produced this sixth album for the New Jersey post-hardcore band, resulting in an album more atmospheric and diverse than their usual output.
4
The Wonder Years
by 9th Wonder
IWW/Koch
87
Spotify
The talented hip-hop producer was joined by

such guests as Erykah Badu, Khrysis, Talib Kweli, Kendrick Lamar, Murs, Phonte, Raekwon, and Warren G. on his 4th LP.

5
Celestial Lineage
by Wolves in the Throne Room
Southern Lord
87
Spotify
The fourth album from the Washington state black metal band completes a trilogy that began with 2007's Two Hunters.
6
Floreat
by Mara Carlyle
Ancient & Modern
86
The British singer-songwriter's second album was produced by Dan Carey.
7
When the Heart Emerges Glistening
by Ambrose Akinmusire
Blue Note
85
Spotify
28-year-old jazz trumpeter Akinmusire makes his Blue Note debut with a set of 10 originals and two covers performed by his quintet and co-produced by Jason Moran.
8
Back to Love
by Anthony Hamilton
RCA
84
Spotify
Released just a few weeks ago, the soul singer's fourth LP features

production from Babyface, James Poyser, Kelvin Wooten, and Salaam Remi.

9
Indestructible Machine
by Lydia Loveless
Bloodshot
84
Spotify
The 20-year-old's short second solo album (and Bloodshot debut) barely qualifies as an LP, but its nine alt-country-meets-punk tunes resonated with critics.
10
True Loves
by Hooray for Earth
Dovecote
84
Spotify
The first true full-length release for the New York indie rockers made an impression with its hook-filled synth-rock tunes.
More bests and worsts
So now that we know what the critics liked this year, what about what Metacritic users liked? Below are the 2011 releases receiving the highest average user scores.
If you read the small print under our list of high-scoring albums above, you noticed that reissues and other album types were excluded from our best-reviewed albums charts (which are intended to include only new albums with new material). Here are the highest-scoring "disqualified" albums of 2011:
Finally, though thousands of truly terrible albums each year never find their way onto Metacritic (because they aren't reviewed in the publications we track), there are always a handful of major releases that leave critics unimpressed. Here are the worst-reviewed 2011 albums in our database.
What do you think?
Are you fans of any of the albums listed above? What were your favorite albums of 2011? Let us know in the comments section below, and don't forget to vote for your favorite albums, songs, and more in our Best of 2011 User Poll.