Frank Ocean has the best-reviewed major album of 2012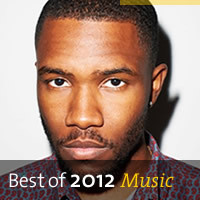 It's not exactly a surprise, is it. An album that has been dominating music critic top-10 lists like no other release in recent years, Channel Orange 92 is officially Metacritic's top-ranked album of the year. The masterful R&B record comes from Southern California-based Frank Ocean, who was a go-to songwriter for artists ranging from John Legend to Brandy before joining L.A.'s Odd Future collective and launching a career as a solo artist.
Only Kanye West's My Beautiful Dark Twisted Fantasy 94 stands in the way of Channel Orange being the highest-scoring album since 2006. But Ocean's LP is actually one of five albums to meet or exceed the score of 2011's best-reviewed album (Tom Waits' Bad As Me 88), making 2012 a very good year for music, indeed. A total of 104 out of 875 new studio albums in our database—or nearly 12%—received universal acclaim from critics (with a Metascore of 81 or greater), an improvement over the previous year's 11%.
Below is our annual ranking of the best albums of the past year (in Metacritic's database) as determined by their Metascores—an average of all reviews by professional critics at the time of each album's original release. Note that live albums, reissues, compilations, and the like are excluded from this chart.
The 25 best-reviewed albums of 2012
(min. 15 reviews)
"It stands tall as the best R&B album in a long while, if not the best album in a long while."

—Under the Radar More reviews...
One of the best-reviewed albums of the past decade, Frank Ocean's official studio album debut (following last year's mixtape Nostalgia, Ultra 83) earned the singer several Grammy nominations, including album of the year.
"Good Kid, m.A.A.d City impresses with its diversity and scope, but it's not just a record to admire: put simply, there's an embarrassment of killer material here."

—FACT More reviews...
The Dre. Dre-signed L.A. rapper's atmospheric second album chronicles his childhood in Compton. While his debut LP, last year's Section.80 80, was released independently on iTunes, Lamar's major-label follow-up turned him into one of hip hop's brightest up-and-coming stars, and has sold over half a million copies.
"It's essential 2012 listening for anyone interested in popular music as art."

—Los Angeles Times More reviews...
Its title doesn't exactly roll off the tongue, but Wheel, the 34-year-old singer-songwriter's first album in seven years, may just be Apple's best album to date. The sparse production (courtesy of Apple and her touring drummer Charley Drayton) still manages to embrace a variety of musical styles, all tied together with her usual intelligent and confessional lyrics.
"Tame Impala saves itself from mere revivalism with 21st-century self-consciousness and, tucked amid the swirl and buzz, touching confessions of insecurity."

—The New York Times More reviews...
Tame Impala's debut Innerspeaker was one of 2010's most pleasant surprises, its swirling, reimagined '60s psychedelia filled with sticky hooks. On their Dave Fridmann-produced second album, the Australian band managed to outdo themselves with a poppier, more synth-based approach and strong songwriting.
"As daring as it is confident and poignant in its execution, this album captures both the Converge we know and love and a Converge we're not quite accustomed to--leaving us with an album arguably as striking and challenging as anything the band has done before."

—Absolute Punk More reviews...
The eighth studio album from the Massachusetts hardcore band features a rawer, more live feel than its more heavily produced predecessors—while also embracing some stylistic diversity, relatively speaking—and finds the group working without collaborators for the first time in several albums.
"The Seer might not be the album you spend most time with this year—it's too emotionally demanding for heavy rotation—but it's one you'll be listening to for years to come."

—BBC More reviews...
Funded with proceeds from a double live album released earlier in 2012, double studio album The Seer might be the most intense two-hour listening experience you'll have all year. Swans leader Michael Gira is joined on the album by Karen O. of the Yeah Yeah Yeahs as well as members of Low, Akron/Family, and Mercury Rev.
"An awe-inspiring experience."
If you've never heard of Bill Fay, you're not alone; the obscure but talented English singer-songwriter last recorded a new solo album in 1971, after which he was dropped by his label. In recent years, his music has been championed by the likes of Wilco's Jeff Tweedy, whose "Jesus, Etc." is covered on Fay's impressive comeback album.
"Koi No Yokan is not only the year's best metal-rock-space-pop album--it's also the finest Deftones album, front to back, to date."

—The Phoenix More reviews...
Possibly the alt-metal band's best-reviewed album to date (at least since Metacritic started covering music in 2000), the Nick Raskulinecz-produced Koi No Yokan is huge-sounding and both accessible and adventurous.
"Shields is full of both genuine surprises and moments of transcendent beauty."

—musicOMH More reviews...
After a multi-year hiatus following their 2009 breakthrough hit Veckatimest, the Brooklynites returned to the studio and produced a worthy successor, once again showcasing the band's sonic mastery, experimental leanings, and vocal harmonies.
"The closest he has come to making a masterpiece in a very long time."

—Boston Globe More reviews...
A collaboration between the legendary New Orleans musician and The Black Keys' Dan Auerbach (who produces, plays guitar, and sings on the album), the funky and trippy Locked Down is Dr. John's best-reviewed release in years, and it earned a Grammy nomination for best blues album of the year.


11.

Luxury Problems

85

(Modern Love)


by Andy Stott
"Though he's had plenty of strong releases in the past, this one has the inspired feeling of an artist truly finding his footing--a breakthrough, in other words."

—Resident Advisor More reviews...
The third album (and first in four years) from the Manchester, England-based techno artist is a minimalist affair that is enhanced by ethereal vocals from Alison Skidmore.
"Miguel has impeccable songwriting chops and a deceptively supple voice, not to mention total command of both."

—Spin More reviews...
R&B singer-songwriter Miguel, who made his debut in 2010 with All I Want Is You, became even more musically adventurous on this RCA debut. The only thing holding back Kaleidoscope Dream is that it repeats material found on several recent EPs.
"They've found a way to be ambitious while also elemental, a difficult trick that Sleep pulled off on Holy Mountain and Dopesmoker, and one that High on Fire have nailed here."

—Pitchfork More reviews...
The sixth release for the Bay Area metal band has a loose concept based on time travel and H. P. Lovecraft's Cthulhu Mythos. You may not notice, though, since you'll be too busy paying attention to the killer riffs.
"It is, in short, and as we might have expected, a work of genius."

—The Telegraph More reviews...
He might be 77, but Leonard Cohen emphatically proved that he isn't out of good ideas yet. The singer-songwriter's 12th studio album finds him working again with longtime collaborators Sharon Robinson, Anjani Thomas, and Jennifer Warnes, but it is his lyrics and still-incomparable voice that are once again the stars of the show.


15.

Devotion

85

(Island)


by Jessie Ware
"Sensual, artful and accessible, it is easily one of the best pop albums of the year."

—Exclaim More reviews...
The highest-scoring debut album of the year, the Mercury Prize-nominated Devotion marked the 28-year-old English singer-songwriter as a major star in the UK. Look for her to make her American debut in 2013.
"Not only is it essential listening for hip-hop in 2012, but also one of the few records that pushes musical and cultural boundaries in general."

—Sputnikmusic More reviews...
Easily one of the year's best hip-hop albums, R.A.P. Music (that's short for Rebellious African People, by the way) is the sixth release from Atlanta-based rapper Michael Render, and his first for the Adult Swim-affiliated Williams Street label after previously recording for T.I.'s Grand Hustle. Production is handled throughout by El-P, whose own 2012 album is next on our list.
"Cancer For Cure is a triumph of imagination and intelligence in service of a pervasive sense of personal and political unease."

—A.V. Club More reviews...
Already an alternative hip-hop legend before the year even started, Def Jux co-founder El-P had one hell of a 2012 both behind the boards and as a performer—the latter, as evidenced by C4C, his first solo album in five years.
"Metz [have] easily made one of the finest and most ferocious punk albums in years on this sledgehammer of a debut."

—The Quietus More reviews...
The Canadian trio's self-titled debut is a noisy burst of post-punk (or maybe just punk) that serves as a reminder of Sub Pop's grungier past.
"Truly electrifying."

—No Ripcord More reviews...
We lost count of how many albums the Bay Area's ridiculously prolific Ty Segall released this year, but Slaughterhouse, which features a retro psych-gararage-punk sound, was his first studio album recorded with his touring band.
"A work of transcendent pop beauty."

—Mojo More reviews...
The second album from the Los Angeles-based artist still finds her firmly in avant-pop territory (those Laurie Anderson comparisons aren't there for nothing), but the beauty of the music provides a bit of accessibility.
"Celebration Rock is in perpetual motion, driven by a visceral sense of urgency that most modern guitar music is so sorely lacking."

—BPM More reviews...
A concise, eight-song set, this second studio album (following 2009's Post-Nothing 82) from the Canadian guitar-drums duo of Brian King and David Prowse impressed critics as one of the best pure rock records released this year, which certainly sounds like a reason to celebrate.
"Harmonicraft isn't just the best Torche release: It's a contender for one of the best loud rock releases of the year."

—CMJ More reviews...
Despite losing guitarist Juan Montoya after an acrimonious split, the Florida-based heavy rock outfit Torche managed to follow their critically acclaimed 2008 sophomore set Meanderthal with another well-received collection of guitar-driven songs.

Listen on Spotify
23.

Ugly

83

(Don Giovanni)


by Screaming Females
"Indie rock albums with this uniquely developed a voice don't come around often, especially not when it's this much fun."

—Consequence of Sound More reviews...
Album number five from the New Jersey indie-punk trio was recorded with Steve Albini, and he seems to bring out the best in the band.
"Thirty-five albums in, Dylan remains as magical and mysterious as ever."

—Entertainment Weekly More reviews...
Dylan's 35th album arrived a mere 50 years after his first, and is notable for its title track, a 14-minute, chorus-free, epic retelling of the sinking of the Titanic.
"Familiar yet thrilling, Blunderbuss is a masterful introduction to a man we've known all along."

—Filter More reviews...
Who needs a band? The White Stripes frontman and Dead Weather and Raconteurs member had no problem captivating critics on his solo debut, which also proved to be a hit upon its release.
What about albums with fewer reviews?
Here is a look at the albums that received extremely positive reviews, but not enough of them to qualify for our list above. (In other words, consider them the year's best under-the-radar releases.) Albums on this list received 7-14 critic reviews. (Titles with fewer than 7 reviews are excluded from all year-end charts.)
 
Album
Label
Metascore
Listen
1
Ten Freedom Summers
by Wadada Leo Smith
Cuneiform
99
 
Written over 35 years but recorded in just three days, this 4-disc, 5-hour album examines the Civil Rights Movement through a blend of jazz and classical styles.
2
On the Impossible Past
by The Menzingers
Epitaph
93
Spotify
The Scranton, Penn. punk band move to Epitaph for their third album, and the results are as accomplished as ever.
3
Accelerando
by Vijay Iyer Trio
Act Music + Vision
88
 
The jazz piano trio blends originals with a handful of unlikely covers, including takes on Flying Lotus' "MmmHmm" and Michael Jackson's "Human Nature."
4
Crown and Treaty
by Sweet Billy Pilgrim
EMI
88
 
The English art-rockers add actress/folk rocker Jana Carpenter to their lineup for the follow-up to the 2009 Mercury Prize-shortlisted Twice Born Men.
5
Fetch
by Moritz von Oswald Trio
Honest Jon's
87
Spotify
The fourth album from the electronic music trio features just four (lengthy) tracks that incorporate elements of jazz and dub.
6
Bouger le Monde!
by Staff Benda Bilili
Crammed Discs
87
Spotify
Fronted by four paraplegic vocalist/guitarists, the Kinshasa-based group of Congolese street musicians return with a second international release.
7
Book Burner
by Pig Destroyer
Relapse
86
Spotify
The D.C.-area grindcore band plays "skull-crushing, no-frills metal" (AMG) on its fifth studio album.
8
Young Man In America
by Anais Mitchell
Wilderland
86
Spotify
The New England singer-songwriter returns with another critically acclaimed set of modern folk tunes.
9
3 Pears
by Dwight Yoakam
Warner Bros.
86
Spotify
The country music superstar's first album of originals in seven years (and his first major-label release in over a decade) includes collaborations with Kid Rock and Beck.
10
L'Enfant Sauvage
by Gojira
Roadrunner
86
Spotify
The French heavy metal outfit makes its debut for Roadrunner with its fifth album overall.
More bests and worsts
Now that we've heard from the critics, what about Metacritic users? Here are the 2012 releases receiving the highest average user scores:
2012 Releases Most Liked by Metacritic Users (Min. 15 User Reviews)
Album/Artist
Label
Metascore
User Score
1
True [EP] by Solange
Terrible
77
9.1
2
Kaleidoscope Dream by Miguel
RCA
85
9.0
3
Bloom by Beach House
Sub Pop
78
8.9
 
Visions by Grimes
4AD
80
8.9
 
Celebration Rock by Japandroids
Polyvinyl
83
8.9
 
Gossamer by Passion Pit
Columbia
76
8.9
 
Shrines by Purity Ring
4AD
76
8.9
 
TNGHT [EP] by TNGHT
Warp
83
8.9
 
Confess by Twin Shadow
4AD
76
8.9
10
10 more tied with
 
 
8.8
If you read the tiny print under our list of high-scoring albums above, you noticed that reissues, compilations, and other album types were excluded from our best-reviewed albums charts (which are intended to include only new full-length studio albums). Here are the highest-scoring "disqualified" albums of the year:
Best-Reviewed Reissues, Box Sets, and Compilations of 2012 (Min. 7 Reviews)
Album
Label
Metascore
1
Blue Lines [2012 Mix/Master] by Massive Attack
Virgin
98
2
Graceland [25th Anniversary Edition] by Paul Simon
Sony
98
3
Copper Blue [Deluxe Edition] by Sugar
Merge
95
4
Dopesmoker [Reissue] by Sleep
Southern Lord
94
5
Loveless [Reissue] by My Bloody Valentine
Sony
93
6
L.A. Woman [40th Anniversary Edition] by The Doors
Elektra
93
7
Biokinetics [Reissue] by Porter Ricks
Type
93
8
Blur 21 [Box Set] by Blur
Parlophone
92
9
Woody at 100: The Woody Guthrie Centennial by Woody Guthrie
Smithsonian Folkways
92
10
The Complete Beat [Box Set] by The [English] Beat
Shout! Factory
90
Thousands of albums are released each year, and most of those don't even make their way to reviewers; as a result, the vast majority of the awful albums recorded each year do not show up on Metacritic. However, there are always some major releases this year that fail to impress critics, and we now share with you the 10 albums receiving the worst reviews in 2012:
What do you think?
What were your favorite and least favorite albums of 2012? Let us know in the comments section below, and don't forget to vote for your favorite albums, songs, and more in our Best of 2012 User Poll.