Deafheaven has the best-reviewed major album of 2013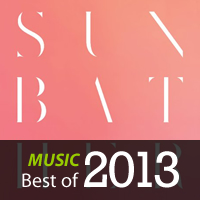 While Kanye West's Yeezus 84 has been dominating critics' year-end top 10 lists, a slightly more under the radar release has quietly maintained its lead as 2013's highest-scoring album, where it has stood since midyear. And with that stellar 92 score, Sunbather—the second LP from San Francisco's Deafheaven—is now officially our best-reviewed album of the year.
It's the first time a metal album has occupied the #1 slot in our year-end rankings. In fact, out of albums with 15 more more reviews (excluding EPs and reissues), Sunbather is now the 7th-highest scoring album in our database, which includes releases dating back to 1999.
Of the 919 new studio albums released this year that received at least 7 reviews from professional critics, 117—or nearly 13%—received universal acclaim (with a Metascore of 81 or greater). That is an improvement of a percentage point compared to 2012's releases, suggesting that 2013 was another good year for music (or that critics are getting more generous).
Below is our annual ranking of the best albums released during the past year (in Metacritic's database) as determined by their Metascores—an average of all reviews by professional critics at the time of each album's original release. Note that live albums, reissues, compilations, and the like are excluded from this chart, though they are listed in a separate chart later in this report.
The 25 best-reviewed albums of 2013
(min. 15 reviews)
"Sunbather is a future classic, no matter where you pigeonhole it, and that's the mark of a true sonic masterpiece. Black metal, not black metal, just call it what it is: perfect."

—BPM More reviews...
It doesn't matter whether you call it post-rock, black metal, heavy shoegaze (yeah, we made that one up ourselves), or something else. We'll just call it the highest-scoring album of 2013.
"It's certainly Holter's most accomplished and imaginative album--indeed, there hasn't been an album this packed with ideas since tUnE-yArDs' w h o k i l l a couple of years ago."

—musicOMH More reviews...
The Los Angeles-based experimental artist was frequently compared to Laurie Anderson after her early work, and had one of 2012's best-reviewed releases in Ekstasis. Her third album—influenced by the film Gigi (no, not this film), and recorded for the first time with a group of musicians—is even better.

Listen on YouTube
3.

m b v

87

(self-released)


by My Bloody Valentine
"It sounds amazing, and represents an astounding return."

—BBC Music More reviews...
A year ago at this time, legendary shoegaze outfit My Bloody Valentine were hinting about finally releasing their first album in over 20 years. When the album dropped online this February, it became the first major music event of the year—and Kevin Shields & co. didn't disappoint.
"This album is harrowing and not for the timid, but those who stick with it will be treated to a truthful, moving journey and a master class in songwriting to boot."

—American Songwriter More reviews...
The former Drive-By Truckers member and leader of the 400 Unit received sole billing on this more personal fourth solo release, which departs a bit from his southern rock sound for a singer-songwriter-type approach.
"In the end, Virgins only adds to the artist's growing legacy; it's another triumph for Hecker that once again strikes a resounding chord that not many ambient records can."

—XLR8R More reviews...
Definitely not the type of ambient music one would file under the heading "easy listening," the challenging Virgins is the Canadian producer's best-reviewed release to date, topping even his exceptionally strong prior LP Ravedeath, 1972.
"It is the boldest, smartest, most colourful and purely pleasurable dance album of this decade."

—The Telegraph More reviews...
The helmeted French duo may not have produced their most consistently strong album, but teaming with the likes of Julian Casablancas, Giorgio Moroder, Paul Williams, Panda Bear, Todd Edwards, and Chilly Gonzales resulted in many strong tracks, four Grammy nominations, and Daft Punk's first #1 album. And if the Pharrell Williams-fronted "Get Lucky" isn't the year's best song, it's certainly near the top.
"While some bands might try to ignore the pressure that comes with a raised profile, Touche seem to have embraced it, producing their most frantic, panicked, passionate and best album of their career."

—Alternative Press More reviews...
One of two top-10 albums released on indie label Deathwish Inc., Is Survived By is the third album from L.A.-based screamo/post-hardcore band Touché Amoré. The band's Nick Steinhardt also happened to design the album cover for our #1 album of the year, Sunbather.
"Once I Was an Eagle is a bold work that, in theory, shouldn't work--a lengthy, near-concept album about emotional availability--but Marling makes it into one of the year's essential releases."

—PopMatters More reviews...
At just 23, British singer-songwriter Marling received her third consecutive Mercury Prize nomination for this 16-track third album, produced by Ethan Johns.
"What he's accomplished with Acid Rap is nothing short of remarkable: Just two years removed from high school, and with no label support, he's crafted the most assured breakthrough Chicago rap release since The College Dropout."

—A.V. Club More reviews...
The 20-year-old rising hip-hop star released his second mixtape this year, and it's simply the best-reviewed rap record of 2013. (Yes, it's bigger than Yeezus ... well, at least its Metascore is.) And Chance remains a free agent, recently passing on a record deal offered by Kendrick Lamar's TDE label.
"They massage the album's plentiful organic charges into a sonic puzzle with an almost symphonic reach, one that's as challenging, bounteous, and ultimately unknowable as anything you'll hear this year."

—Resident Advisor More reviews...
The Swedish brother-sister duo of Olof Dreijer and Karin Dreijer Andersson returned from a seven-year break with a double album that's easily the most challenging, least-accessible work of their careers, but one that rewards through its ambition and invention.


11.

Beyoncé

85

(Columbia)


by Beyoncé
"Once the initial novelty and shock wears off of Beyoncé's impressive stealth-release feat, the brilliance and creative audacity of the album itself can sink in."

—Billboard More reviews...
Even though Target refuses to sell it, Beyoncé became the first female artist in history to have her first five studio albums debut at #1 with her latest hit, a surprise release that landed on iTunes without warning a week ago. (The only male artist to accomplish the same feat? DMX.) It's also Ms. Knowles' best-reviewed album to date, by a wide margin.
"Impossible Truth says more with six strings than most records manage with a thousand words."

—Uncut More reviews...
Nashville-based musician Tyler worked with producer Mark Nevers (both, not coincidentally, are members of the band Lambchop) on his second solo album, a record of instrumental guitar tunes reminiscent of 1970s singer/songwriter classics.
"Simply a wonderful, balanced gem of an album from a masterful songwriter."

—Allmusic More reviews...
Now in his early 70s, Texas-based country artist Guy Clark released his first new studio album in four years, earning raves for his still-potent songwriting talent.
"This album is two veteran MCs going hard and loose, feeding off one another's energy and pushing one another to step their game up. It's definitely the start to a beautiful friendship."

—RapReviews More reviews...
The first official pairing of indie hip hop stars El-P and Killer Mike as Run the Jewels (after the two artists appeared on each other's solo albums last year) scored with critics, making it the best-reviewed debut album of the year. Expect a sequel in the near future.
"If it can be said that Griffin has been toiling in the shadow of Emmylou Harris, then American Kid is the long-overdue moment that puts the full range of her talent on display."

—Exclaim More reviews...
The seventh studio album from the Grammy-winning singer-songwriter is intended as a tribute to her late father; the result is stripped-down, cohesive, and moving.
"Phosphorescent's Muchacho is the kind of album that will take two listens to decide you hate it and then another three to realize how much you actually love it."

—Boston Globe More reviews...
Singer-songwriter Matthew Houck's sixth album as Phosphorescent finds him expanding sonically on his usual Americana template, with lyrics more devastating than ever.
"It's the duo's most sinister and fascinating collection of songs, enrapturing the listener with dystopian soundscapes and frustrating arrangements."

—Pretty Much Amazing More reviews...
Like the soundtrack to a long-forgotten 1970s sci-fi film, the first album from the reclusive Scottish electronica duo in eight years (and just their fourth LP overall) is a menacing, complete work, and their best release in quite some time.
"Parquet Courts have produced a debut that's both instantly addictive and lastingly rewarding: a smart, snappy concoction of worldly wisdom and garage-rock gratification."

—The Guardian More reviews...
Originally issued in 2012, Parquet Courts' official debut (following a cassette-only 2011 album, American Specialties) earned the Brooklyn punk outfit some major critical acclaim when it was properly released by What's Your Rupture? this year.
"Not much on this album is immediate, and that's a little disappointing, but more than any other National work, Trouble Will Find Me hints at depths upon depths hidden beneath the surface of thirteen very pretty songs."

—Sputnik More reviews...
While it might not be their best album—nor does it break any new ground—business as usual for The National means something pretty great. Trouble Will Find Me is simply another strong release for a band that has been operating at a high level for nearly a decade. St. Vincent, Sufjan Stevens, and Sharon Van Etten guest.
"Excavation is a brilliant piece of work, one best enjoyed actively with a premium set of headphones, in solitude."

—Exclaim More reviews...
With baselines at frequencies so low that they cannot be heard with ordinary stereo equipment, Bobby Krlic's bleak second album as The Haxan Cloak is minimal electronica at its most extreme.
"Yeezus--like Yeezy--is jarring, uncomfortable, uncompromising and courageous--all the things that initially made Hip Hop great."

—HipHopDX More reviews...
Kanye West the concept may not have had a strong 2013, but Kanye West the recording artist did. A bit polarizing at the time of its release in June, Yeezus doesn't quite hit the heights of My Beautiful Dark Twisted Fantasy, but West's first solo album in three years seems to be a grower, with many critics now deeming it the year's top album.
"Challenging, enigmatic, and melodic don't always go together, but coupled with Case's sleek vocals, they make The Worse Things Get ... a marvel."

—Austin Chronicle More reviews...
Apparently taking a page from the Fiona Apple manual of album titling, Case's Grammy-nominated sixth solo album finds the singer-songwriter joined by her New Pornographers bandmates as well as M. Ward, Howe Gelb, and members of Calexico and Los Lobos.
"Cronin delvers timeless, classic pop that evades cliches."

—Mojo More reviews...
A member of Ty Segall's touring band, San Francisco-based indie pop artist Mikal Cronin jumped to Merge Records for this second solo album, which firmly established Cronin as a rising star.
"Two young dudes couldn't make a synth-pop record so polished and seamless, one with a maturity matched only by the constant quest for surprise. Only the Pet Shop Boys can do that, as evidenced by Electric."

—Los Angeles Times More reviews...
That's no typo; it is indeed those Pet Shop Boys who have recorded one of 2013's most vital dance-pop albums. Over 30 years since they first formed—and just a year since hitting a relative nadir with the subdued Elysium—the duo returned with the pulsing, dancefloor-oriented Electric, which might be their best work in decades.
"[Modern Vampires] stands to become the group's Paul's Boutique, raising the bar from being a fun but safe band to breaking ground ahead of their peers."

—CMJ More reviews...
Already Vampire Weekend's best-reviewed album to date, Modern Vampires has only grown in stature since its release in May; only Yeezus has turned up on more year-end top 10 lists.
What about albums with fewer reviews?
Here is a look at the albums that received extremely positive reviews, but not enough of them to qualify for our list above. (In other words, consider them the year's best under-the-radar releases.) Albums on this list received 7-14 critic reviews. (Titles with fewer than 7 reviews are excluded from all year-end charts.)
 
Album
Label
Metascore
Listen
1
Spaces
by Nils Frahm
Erased Tapes
90
 
The German minimalist composer's latest release finds him breaking new ground again, reinventing the live album as a sort of field recording.
2
Jama Ko
by Bassekou Kouyate & Ngoni Ba
Out Here
90
Spotify
Malian musician Bassekou Kouyate enlists several family members on this truly angry, politically charged album co-produced by Howard Bilerman (Arcade Fire).
3
Like a Rose
by Ashley Monroe
Warner Bros.
89
Spotify
A member of the group Pistol Annies (see below), country singer Monroe also found time this year for a second solo album. Blake Shelton guests on one track.
4
Memorial
by Russian Circles
Sargent House
88
Spotify
Chelsea Wolfe guests on this fifth album from the Chicago post-rock outfit, which was described by critics as "thought-provoking" and "vital".
5
Same Trailer Different Park
by Kacey Musgraves
Mercury
88
Spotify
Nominated for a Grammy for best country album, Same Trailer also earned the Texan a nomination for best new artist, even though it is her fourth studio album.
6
The Graceless Age
by John Murry
Evangeline
88
Spotify
Released last year in the UK and this spring in his native America, Graceless is the debut LP for singer-songwriter Murry.
7
Annie Up
by Pistol Annies
RCA
87
Spotify
The second album from the country music trio of Miranda Lambert, Ashley Monroe, and Angaleena Presley was another hit with critics.
8
Innocence is Kinky
by Jenny Hval
Rune Grammofon
87
Spotify
The Norwegian singer-songwriter (who also records under the name Rockettothesky) worked with producer John Parish on this fourth album.
9
Beautiful Africa
by Rokia Traoré
Nonesuch
87
 
The accessible fifth album for the Malian singer and guitarist includes some English lyrics and was also produced by occasional PJ Harvey collaborator John Parish.
10
The Blackest Beautiful
by letlive.
Epitaph
86
Spotify
Album number three for the L.A. post-hardcore band suffered from a lengthy production process and poor sales, but critics loved it.
More bests and worsts
Now that we've heard from the critics, what about Metacritic users? Here are the 2013 releases receiving the highest average user scores:
If you read the fine print under our list of high-scoring albums above, you noticed that reissues, compilations, live sets, and other album types were excluded from our best-reviewed albums charts (which are intended to include only new full-length studio albums). Here are the highest-scoring "disqualified" albums of the year:
Thousands of albums are released each year, and most of those don't even make their way to reviewers; as a result, the vast majority of the awful albums recorded each year do not show up on Metacritic. However, there are always some major releases this year that fail to impress critics, and we now share with you the 10 albums receiving the worst reviews in 2013:
What do you think?
What were your favorite and least favorite albums of 2013? Let us know in the comments section below, and don't forget to vote for your favorite albums, songs, and more in our Best of 2013 User Poll.