New kids on the block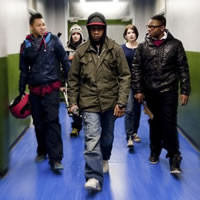 With Hollywood seemingly turning out one formulaic remake, reboot, and retread after another, it's always nice when fresh talent arrives on the scene to shake things up. And while we're not arguing that every film by a first-time director is original and compelling, many such movies do indeed offer a brief departure from the norm, in style, subject matter, or both.
In fact, two such films have appeared in the past few weeks. Like Neill Blomkamp's debut film District 9 81 before it, Attack the Block 75 (now in select cities) demonstrates that you don't need a big budget to make a thoroughly entertaining and unique alien invasion film. The first feature directed by British comedian Joe Cornish, the comedy/horror/sci-fi/action mashup follows a group of London street thugs who attempt to thwart an alien attack. And opening this weekend is the no-budget Bellflower, the debut from young filmmaker Evan Glodell, who also wrote the screenplay and constructed his own camera to use during the shooting (he stars, too). The Sundance hit about two Mad Max-obsessed friends who build their own flamethrower offers a truly unique style, even if the story gets a bit messy.
While both Bellflower and Attack the Block are earning strong reviews, they aren't quite among the highest scoring debut films in recent years. (Surprisingly, not even District 9 made the cut.) Below, we look at the best- and worst-reviewed debut films released in the past two decades, ranked by Metascore prior to rounding. Note that documentaries and animated films are excluded, and that some directorial debuts from the early-to-mid 1990s may not have more than seven reviews in our database (meaning that they, too, are excluded).
10 best-reviewed directorial debuts since 1990

"This is the most impressive directorial debut since 'Reservoir Dogs.'"

—Rene Rodriguez, Miami Herald
Even in the last great year for movies, the debut film from music video director Spike Jonze stood out for its one-of-a-kind premise and sheer inventiveness throughout, and the director was able to elicit strong, against-type performances by leads John Cusack and Cameron Diaz. The director would re-team with Malkovich's writer Charlie Kaufman three years later for Adaptation 83, another acclaimed, unconventional comedy, but Jonze has directed just one other feature film (Where the Wild Things Are 71) in the ensuing years.

"It's so full-blooded, smart, sexy, tense and absorbing, so cleverly written and shot and cut, so filled with superb acting and music, so perfect in its closing moment, that it surely ranks with the most impressive debuts in world cinema."

—Shawn Levy, Portland Oregonian
This 1980s-set drama about the East German secret police won the 2006 Academy Award for Best Foreign Language Film and was among the best-reviewed movies released that year, with critics praising von Donnersmarck's restraint and subtlety. The film also proved to be a hit, grossing an unexpected $77 million worldwide, which led to von Donnersmarck's second gig, a chance to direct Angelina Jolie and Johnny Depp in the mainstream thriller The Tourist 37. Few critics liked that film, though it did earn a bizarre nomination for Best Comedy at the Golden Globes.

"Far from being the look-at-me calling card so many first-time filmmakers feel obliged to turn out, it's a precociously assured and mature work, at once humble and bold."

—Ella Taylor, Village Voice
After spending two decades as an actress, Canadian Sarah Polley (The Sweet Hereafter) made her directorial debut at the age of 28 with this tale of aging and love based on an Alice Munro short story. The film appeared on numerous critic top ten lists and earned a pair of Oscar nominations, establishing Polley as a rising star. Her second film, Take This Waltz, starring Seth Rogen, Michelle Williams, and Sarah Silverman, will premiere at the Toronto festival this fall.

"A remarkable—and harrowing—debut feature that makes you think there's hope after all for the future of independent films."

—Joe Morgenstern, Wall Street Journal
After working in TV (both in news and in scripted drama), Joshua Marston made his feature film debut as a writer and director with an examination of the drug trade in rural Colombia, told mainly from the viewpoint of a young drug mule named Maria. Maria Full of Grace was named one of the year's ten best films by the AFI, and Marston earned a best director nomination at the Independent Spirit Awards. It took him seven years, but Marston's second film, The Forgiveness of Blood, finally premiered at this year's Berlin International Film Festival, where it earned strong reviews.

"This exceptional film features some of the most beautiful cinematography ever seen on film, in service of some of the most horrible images imaginable."

—Ken Fox, TV Guide
Heralded as one of the best Holocaust films of all time, Fateless was the directorial debut for Lajos Koltai, who had worked since 1980 as one of Hungary's top cinematographers (and earned an Oscar nomination for his work on 2000's Malèna). Though Koltai is now exclusively working as a director, he has had just one other film released so far: the mediocre 2007 tearjerker Evening 45, starring Clare Danes.

"Unflinching, uncompromising, made with complete conviction and rare skill."

—Kenneth Turan, Los Angeles Times
The one-time photographer's first feature tells the heartbreaking true story of Nebraska transgender man Brandon Teena. While Kimberly Peirce (and the film itself) earned numerous awards, it was lead Hilary Swank who was launched to stardom by Boys Don't Cry. Peirce wouldn't return with a second film until 2008, when she directed the decent but not great Iraq War drama Stop-Loss 61, a box office dud.

"Field ... builds his movie with such confident vision that it's hard to believe this is his feature directorial debut."

—Lisa Schwarzbaum, Entertainment Weekly
You'd have to be a lousy director to mess up a crime drama with a cast headed by Tom Wilkinson and Sissy Spacek, and, though it was his first time directing (after years working as an actor in films like Radio Days and Eyes Wide Shut), Todd Field proved to be as far from lousy as you can get. Critics loved his work, and In the Bedroom received five Oscar nominations and dozens of other awards. Field has been relatively quiet since, returning only to direct the 2006 domestic drama Little Children 75, another critical success.

"An unusually clever and shrewdly corrupt first feature."

—Jonathan Rosenbaum, Chicago Reader
Though some movie fans (including Metacritic contributor Nick Hyman) consider Best Picture winner American Beauty to be overrated, the hit dramedy wowed most critics at the time of its release, and made stars of both screenwriter Alan Ball and first-time director Sam Mendes, a veteran of the London theater scene. Mendes has subsequently directed four additional films (with the best being 2002's Road to Perdition 72), but none has matched the critical or commercial success of his debut. That could change next year, when a Mendes-directed James Bond film arrives in the fall.

"Lonergan doesn't yet know how to make the camera show us things that his dialogue doesn't, but when you write dialogue like he does, you can take your time to learn. Hell, he can take another 20 movies to learn."

—David Edelstein, Slate
Playwright Kenneth Lonergan wowed critics with his 2000 debut You Can Count on Me, a character-oriented relationship drama starring Laura Linney, Mark Ruffalo, and Matthew Broderick. While Lonergan has yet to release another movie, the drama he filmed in 2005—Margaret, starring Matt Damon, Anna Paquin, Mark Ruffalo, and Matthew Broderick—has finally emerged from a well-chronicled post-production hell and has been picked up for a September 30 release.

"Fleck has fashioned a riveting character study and an engrossing, if dark, tale."

—Claudia Puig, USA Today
Ryan Gosling earned raves for his performance as a drug-addicted inner-city teacher who forms an unlikely bond with one of his students (Shareeka Epps) in a drama told with admirable restraint by collaborators Ryan Fleck (director, writer) and Anna Boden (producer, writer). The filmmakers followed with two additional movies: the acclaimed 2008 sports drama Sugar 82, and last year's indie dramedy It's Kind of a Funny Story 63.
On the next page ...
Continue reading for our list of the ten worst debut films from the past two decades.