Hollywood embraces recycling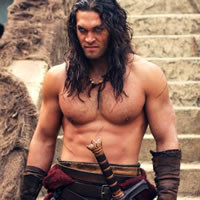 It is not a new story to report that Hollywood lacks for original ideas or at least fears spending money on original ideas. This year alone features a record 27 sequels, but another source for new movies has been prevalent this year as well: old movies. This week, remakes of Conan the Barbarian and Fright Night will hit theaters just months after The Mechanic 49, Arthur 36, and Just Go with It 33 already came and went. By year's end, even more remakes will be coming to theaters, ranging from Don't Be Afraid of the Dark and Footloose to Straw Dogs and The Thing (purported to be a prequel though looking very much like John Carpenter's 1982 classic, which itself was a remake). And the list is only going to grow in the coming years with new versions of Total Recall, Red Dawn, The Crow, Fletch, Heavy Metal, and many more either in the works or already completed.
Below we look at the best- and worst-reviewed remakes released since 2000. A few of these remakes actually improve upon the original (either technically or narratively). Some take great departures from the original work, while others stick closely to their inspiration (but not quite as closely as Gus Van Sant's "shot-by-shot" remake of Hitchcock's Psycho). Compiling the list involved a bit of hair splitting in trying to decide if a film is a re-interpretation of a source text or takes its main inspiration from the previous movie, but we did our best. For example, the high scoring Hairspray is out, since it is an adaptation of the stage musical and is not really a remake of John Waters' original film; however, True Grit, arguably more a new interpretation of the book rather than a remake of the first film, qualifies for the list because so many critics have deemed it a "remake" when writing about the film. Feel free to remake our list based on your own criteria.
We start with the ten highest-scoring remakes of the past decade.
10 best-reviewed movie remakes since 2000
"A classically structured rampage that bears serious comparison to the definitive greats of Akira Kurosawa, 13 Assassins will floor connoisseurs of action, mood and the dignity of a pissed-off scowl."

—Joshua Rothkopf, Time Out New York
Takashi Miike's remake of Eiichi Kudo's 1963 original stands out amongst the prolific director's many films. 13 Assassins is violent, strange, and witty, but what is most surprising is its adherence to the conventions of the samurai film. Following the structure of the original, the first half of the film takes its time introducing each character and assembling the team of a dozen samurai in a very classic fashion, while the last 45 minutes are reserved for an impressively constructed battle. Miike adds his own twists to the proceedings, especially in explicitly showing the sadistic side of Lord Naritsugu, a uniquely sick and philosophical villain, and in the clever character of the thirteenth assassin. Overall it is a film that honors the traditions of the original, and samurai films in general, while adding enough new twists to excite critics and moviegoers. Miike's subsequent film, Hara-Kiri: Death of a Samurai, a 3D remake of Masaki Kobayashi's 1962 film Harakiri, seems to have needed a few more of these unique touches; critics at Cannes 2011 found it to be a bit disappointing.

"Scorsese didn't need to remake 'Infernal Affairs,' but what he has done with it is a compliment rather than an affront to the original: The Departed reimagines its source material rather than just leeching off it, preserving the bone structure of the first movie while finding new curves in it."

—Stephanie Zacharek, Salon
It might not be Scorsese's best film or his only remake (don't forget Cape Fear 73), but it's the one that won him his Best Directing Oscar as well as being his only film to win Best Picture. Debates will rage about which film is better—Andy Lau and Alan Mak's Infernal Affairs (and the prequel and sequel that followed) or The Departed, but what can't be denied is that each one is uniquely of its place. Infernal Affairs is a slick, modern, fast and clean version of a Hong Kong crime drama. The Departed is 50 minutes longer, overstuffed (it borrows from the full trilogy) and operatic. Scorsese employs big performances and well observed local flavor to tell a story of a mob mole in the Boston Police Department and an undercover cop in the Irish mob. Many movie fans still prefer the original, but critics say you can't go wrong with either.

"Peter Jackson's remake of the 1933 classic is gripping. The film rethinks the characters, turning the original's stark Jungian fantasy into a soulless but skillful set of kinetic and emotional effects. "

—Jonathan Rosenbaum, Chicago Reader
A full 72 years separate the original King Kong from Peter Jackson's remake (which itself arrived long after a 1976 take on the story starring Jeff Bridges, Charles Grodin, and Jessica Lange), allowing the director to take full advantage of advances in film technology. Instead of stop-motion models, Jackson employs what he learned about performance capture in creating Gollum for The Lord of the Rings trilogy. Andy Serkis, currently earning rave reviews as the ape Caesar in Rise of the Planet of the Apes, plays Kong, while Naomi Watts plays his object of affection, Ann Darrow (played by Fay Wray in the 1933 original). Both films represent the peak of visual effects for the time of their release, and by sticking with the original's time period and story, Jackson honors Kong while adding a few new thrills.

"The original 'True Grit' might have been eclipsed by John Wayne's larger-than-life persona, but the Coen brothers' remake is an ensemble piece that feels freshly their own."

—Claudia Puig, USA Today
The Coen brothers are known for their original stories, so it came as a bit of a surprise when it was discovered that they planned to remake 1969's True Grit, a classic western that earned John Wayne a Best Actor Oscar. True Grit is not their first remake, of course; that honor goes to one of their least favorably reviewed films, The Lady Killers 56, but that film was based on a much less well known original than True Grit. To differentiate their Grit from the first film, the Coen brothers decided to stick closer to Charles Portis' novel by keeping Mattie, the 14-year-old protagonist, at the center of the story, retaining as much of the original language from the novel as possible, and restoring the original ending (which Henry Hathaway's previous adaptation excised). The changes seemed to please audiences; True Grit is the highest grossing Coen brothers film to date, as well as one of the best reviewed. Too bad the same good will wasn't expressed toward A Woman, a Gun, and a Noodle Shop 57, Zhang Yimou's remake of the Coen brothers' Blood Simple.

"Reeves hasn't ruined the elegant Swedish vampire story by remaking it. If anything, he's made some improvements, including the addition of a tense action-horror sequence in the middle of the film."

—Peter Debruge, Variety
When it was announced that Matt Reeves, who had only made Cloverfield at the time, was going to remake the Swedish vampire thriller Let the Right One In, fans were expecting another horrible Hollywood remake of a beloved foreign film. But it seems that John Ajvide Lindqvist's original story was universal enough to cross the Atlantic and be placed in New Mexico in the early 80s. That's not to imply that Let Me In isn't a remake of Tomas Alfredson's 2008 film; it definitely is, right down to how Owen and Abby's first meeting is staged. Reeves actually used Lindqvist's screenplay for the original film, which narrowed the book's sprawling story to focus on the relationship between the two kids, as his main source material. While critics embraced the remake, audiences didn't. The film grossed just $24 million worldwide and only half that domestically.

"Unlike most remakes, the Nolan 'Insomnia' is not a pale retread, but a re-examination of the material, like a new production of a good play."

—Roger Ebert, Chicago Sun-Times
2002's Insomnia is the forgotten film in Christopher Nolan's oeuvre, coming after his breakthrough success Memento and before he entered blockbuster territory with Batman Begins. It's not even his best known single-word film title that starts with "In." But it is sixth on our list of top remakes. Both versions of Insomnia are about a flawed detective's investigation of a girl's murder in a place of perpetual summer daylight. Nolan moves Erik Skjoldbjaerg's 1997 thriller from Norway to Alaska, replaces Stellan Skarsgard with Al Pacino, and adds Robin Williams, Hilary Swank, and an internal affairs investigation of Pacino's detective that further complicates his guilt over shooting his partner. The ending of each film is unique, however. Let's just say that Hollywood prefers a clear, case closed, black and white ending, where a foreign film has more room for moral ambiguity.
"James Mangold directs it with such energy and passion that it's as if he didn't know it's all been done before."

—Kenneth Turan, Los Angeles Times
The second classic western tale to grace the top ten is another straightforward re-imagining of the original but with a different ending. The story of Yuma follows Dan Evans (Christian Bale in 2007, Van Helfin in 1957) as he takes gang leader Ben Wade (Russell Crowe and Glen Ford) to catch the 3:10 train to Yuma, where the criminal will be tried in court. James Mangold's 2007 remake makes the bond between father and son a central theme, an element completely missing from the original. He also increases the action for modern audiences, staging a long gun battle which results in one of the more polarizing endings to any recent western.

"If Demme's version lacks the wallop of its predecessor, it is more likely to be popular with contemporary audiences, who will enjoy not only its labyrinthine twists but its stars' burnished professionalism."

—John Powers, L.A. Weekly
Jonathan Demme updates John Frankenheimer's darkly comedic thriller from the Cold War to the Gulf War and has solid if not spectacular results. Denzel Washington replaces Frank Sinatra in the role of Ben Marco, the suspicious soldier plagued by nightmares, while Meryl Streep tries to match Angela Lansbury's menace and Liev Schreiber plays Raymond Shaw, the pawn in everyone's game. The film complicates the conspiracy plot at the heart of the original and is not as cold blooded in its ending, but still possess the paranoia that made Frankenheimer's original a cinema classic.

"An all-star remake of the all-star original, Ocean's Eleven is a lark for everybody concerned, including the audience. Breezy, nonchalant and without a thing on its mind except having a little fun."

—Todd McCarthy, Variety
George Clooney and Brad Pitt never break out into song, but Steven Soderbergh's remake of the Rat Pack's 1960 Las Vegas heist film still swings with the same light touch that the original has. Soderbergh infuses the same basic premise with a quick pace, a multi-cultural cast both young and old (instead of a group of war buddies), some new character motivations, and acknowledges that it's all just a bit of fun. Again, this is another remake that drastically changes the ending from the original, but hey, it's Hollywood in the 21st century, and there's got to be a possibility of a sequel. (Or, in this case, two.)

"A family-friendly remake funnier, fresher and more affecting than the flavorless original."

—Sean Axmaker, Seattle Post-Intelligencer
Given her recent personal problems and permanent place in the tabloids, it's difficult to remember that Lindsay Lohan was once a talented young actress. After making her feature debut playing twins in another Disney remake (1998's The Parent Trap), Lohan introduced her teenage self to the moviegoing public in this classic mother and daughter body-switching comedy that originally starred a young Jodi Foster in 1976. In that original, Friday the 13th is the vehicle for mother and daughter to switch bodies, but in the 2003 film, it's special fortune cookies that do the trick. In the end, both films resolve the differences between mother and daughter by putting each in the other's shoes, literally.
On the next page ...
Continue reading for our list of the ten worst remakes from the past decade.