12 Years a Slave is the best-reviewed movie of 2013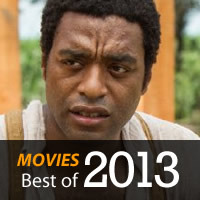 For the third time in four years, the year's best-reviewed movie was a wide release, rather than the arthouse fare that previously had a near lock on that top slot. (In fact, the top three 2013 films were released on over 600 screens nationwide). Based on the true story of Solomon Northup, a free man captured and sold into slavery in the 1840s, 12 Years a Slave surpassed all other films released theatrically during 2013 with a 97 Metascore. The film is also cleaning up on the awards circuit, and looks like the clear best picture frontrunner heading into next week's Academy Award nominations.
Director Steve McQueen's third feature (following two other well-reviewed films, Hunger and Shame), 12 Years a Slave actually has the second-highest Metascore for any new film released since 2000, behind only 2006's Pan's Labyrinth 98. It's a mark of just how good 2013's film slate was that Alfonso Cuaron's technical marvel Gravity 96 finished with a higher score than any film released in the previous six years, but could muster only second place in last year's rankings.
At the high end of the quality scale, 2013 was a good year, indeed. Out of the 561 releases with seven or more reviews from professional critics, 41 received a Metascore of 81 or higher, the cutoff we use to indicate "universal acclaim" from critics. That's up considerably from 2012's total of 34 great films.
However, only 42.6% of films released in 2013 were reviewed positively by critics (scoring 61 or higher), down from the previous year's 44.7% success rate. (And that 2012 mark was already the lowest percentage since 2008). The average Metascore for all releases also fell in 2013, from 57.2 in 2012 to just 56.5 last year. The number of terrible movies also increased slightly, with eight films scoring below 20 last year (after just seven and five such films in 2012 and 2011, respectively).
Below, we rank 2013's highest-scoring films in a variety of genres. On the following two pages, you can find more complete lists of the year's best and worst wide and limited releases, respectively. If you are looking for even more of 2013's best movies, be sure to check out our annual compilation of film critic top-ten lists as well as our 2013 Film Awards Scorecard elsewhere on our site.
On the next page ...
Continue reading for a look at the best and worst wide releases of 2013.