Boyhood is the best-reviewed movie of 2014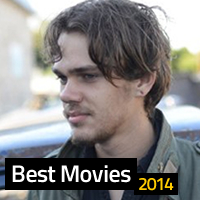 Well, that wasn't exactly suspenseful. Boyhood, writer-director Richard Linklater's astounding 12-years-in-the-making chronicle of one boy's experiences as he reaches adolescence and beyond, has had the title of 2014's highest-scoring film locked up since its release in July, after first wowing critics at Sundance in January.
Boyhood is the only new movie to achieve a "perfect" 100 score since we first began gathering movie reviews for Metacritic back in 1999. It is also easily the most honored film of the year on critic top 10 lists, and is also cleaning up on the awards circuit, making it a virtual lock for a best picture Oscar nomination next week.
But Boyhood wasn't 2014's only great movie. Out of the 655 films released last year to receive at least 7 reviews from professional critics, 53 received a Metascore of 81 or higher, the cutoff we use to indicate "universal acclaim" from reviewers. That is both a higher total and a higher percentage (8% vs. 7%) than in 2013, when only 41 films scored 81 or above.
Overall, 44.4% of films released in 2014 were reviewed positively by critics (scoring 61 or higher). That figure is also an improvement over 2013, when just 42.6% of releases received positive reviews. However, the average Metascore for all films dipped slightly last year, to 56.3 (a drop of 0.2 compared to 2013). One reason for that might be the increase in terrible films. A total of 14 releases in 2014 scored below 20. That's the highest total of truly awful films in any calendar year since 2002.
Below are 2014's highest-scoring films in a variety of categories. On the following two pages are more complete rankings of all of the year's best and worst films.
2014's Best-Reviewed Dramas (English-Language, Live Action)
#1
#2
#3
#4
#5

100

95

91

87

86

Boyhood
IFC Films

Mr. Turner
Sony Pictures Classics
Selma
Paramount
Whiplash
Sony Pictures Classics
Stand Clear of the Closing Doors
Oscilloscope

2014's Best-Reviewed "Dramedies" (English-Language, Live Action)
#1
#2
#3
#4
#5

89

88

81

79

79

Birdman or (The Unexpected Virtue of Ignorance)
Fox Searchlight

The Grand Budapest Hotel
Fox Searchlight

Inherent Vice
Warner Bros.
Pride
CBS Films

Dear White People
Roadside Attractions

2014's Best-Reviewed Comedies (English-Language, Live Action)
#1
#2
#3
#4
#5

81

76

75

71

68

Top Five
Paramount
Obvious Child
A24

The Trip to Italy
IFC Films

22 Jump Street
Columbia

Neighbors
Universal

2014's Best-Reviewed Foreign-Language Films (Narrative Films Only)
#1
#2
#3
#4
#5

91

91

90

87

87

Leviathan
Sony Pictures Classics
Two Days, One Night
Sundance Selects
Ida
Music Box Films

Force Majeure
Magnolia Pictures

We Are the Best!
Magnolia Pictures

2014's Best-Reviewed Sci-Fi, Fantasy, and Superhero Films
#1
#2
#3
#4
#5

84

79

78

76

74

Snowpiercer
The Weinstein Company

Dawn of the Planet of the Apes
20th Century Fox

Under the Skin
A24

Guardians of the Galaxy
Disney

X-Men: Days of Future Past
20th Century Fox

2014's Best-Reviewed Horror Films and Supernatural Thrillers
#1
#2
#3
#4
#5

87

79

79

76

73

The Babadook
IFC Films

A Girl Walks Home Alone at Night
Kino Lorber
Only Lovers Left Alive
Sony Pictures Classics

Housebound
XLrator Media

Witching & Bitching
IFC Midnight

2014's Best-Reviewed Mysteries and Thrillers (Non-Supernatural)
#1
#2
#3
#4
#5

82

81

80

79

77

Stranger by the Lake
Strand Releasing


Locke
A24


A Most Violent Year
A24

Gone Girl
20th Century Fox


Blue Ruin
RADiUS-TWC


2014's Best-Reviewed Animated Films
#1
#2
#3
#4
#5

89

86

83

81

78

The Tale of the Princess Kaguya
Gkids

Ernest & Célestine
Gkids

The LEGO Movie
Warner Bros.

Wrinkles
Gkids

Rocks in My Pockets
Zeitgeist Films
On the next page ...
Continue reading for a look at the best and worst wide releases of 2014.