Updated 5pm: An astute reader pointed out the omission of Jeunet/Caro, who have been added to the rankings at #4.
Two minds, one body (of work)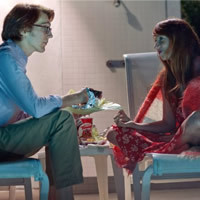 Sometimes siblings, sometimes husband and wife, and sometimes just professional partners, film director duos seem to be increasingly common in Hollywood in recent years. Married filmmakers Jonathan Dayton and Valerie Faris are just one such example; after an early career directing videos and commercials, the couple made their feature debut in 2006 with the surprise hit Little Miss Sunshine 80, and they return today with a second film, Ruby Sparks, starring Paul Dano and Zoe Kazan.
Of course, there are plenty of long-standing filmmaking partnerships where the director duties are not shared (and are not included in our rankings); think Trey Parker & Matt Stone, or brothers Christopher and Jonathan Nolan or the Polish brothers, where both partners may contribute to writing and producing their films but only one directs. And not every pair of filmmaking brothers will work together creatively; Ridley and Tony Scott, for example, have had lengthy but mainly separate careers in film, though the two have co-produced some movies (and TV) together.
Below are the pairings who have directed at least two films together, ranked in order by average Metascore (documentaries excluded). Though we're not including documentaries in these rankings, partnerships are not uncommon in nonfiction filmmaking; for example, D. A. Pennebaker frequently co-directs with his wife, Chris Hegedus (most notably on 1993's The War Room), while the Maysles brothers—Albert and David—are two of the genre's legends, thanks to classics like Grey Gardens and Gimme Shelter. Note that directing tandems who work exclusively in animation are also excluded.
Though Dayton and Faris aren't included below, if the 68 currently held by Ruby Sparks at press time holds up, their two-movie average of 74 would put the directors in second place.
1. Jean-Pierre & Luc Dardenne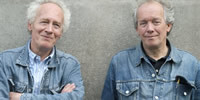 Avg. Metascore
(5 films)*
83
Belgium's Dardenne brothers have been making films together since the late 1970s, though it wasn't until 1996's The Promise—their third narrative feature following a string of documentaries—that they began to achieve international fame. The pair would go on to win the Palme d'Or at Cannes in 1999 for Rosetta 76, and again in 2005 for L'enfant (The Child) 87; only six other filmmakers have received that award twice, and no director has collected more total awards at Cannes than the Dardennes.
Best movie:
The Kid with a Bike (2011) 87+ Netflix Queue
Though it "only" won the Grand Prix—Cannes' second-place honor—at last year's festival, Bike earned the directors some of their best reviews to date for its emotional tale of a 12-year-old boy who escapes his foster home and seeks guidance from a local hairdresser. Release belatedly in the U.S. this past spring, the film is not yet available here on DVD.
Next movie:
Unknown
2. Ryan Fleck & Anna Boden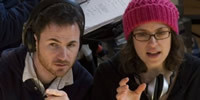 Avg. Metascore
(2 films)
73
Filmmakers Fleck and Boden began their professional and romantic relationship on the set of a student film in New York while Fleck was studying film at NYU. While their earliest collaborations were documentaries (including 2005's Young Rebels 60), the pair earned raves for their first narrative feature, 2006's Ryan Gosling vehicle Half Nelson 85, though directing duties on that film fell exclusively to Fleck (with whom Boden co-wrote the script). But the duo shared the director credit on their next two films, which have remained decidedly indie, though their most recent (2010's It's Kind of a Funny Story 63) does co-star Zach Galifianakis.
Best movie:
Sugar (2009) 82+ Netflix Queue
This character study about an aspiring professional baseball pitcher from the Dominican Republic struggling in the minor leagues played only in New York and L.A. but was named one of the best films of 2009 by some critics.
Next movie:
Hate Mail (tbd 2013): A drama possibly starring Scarlett Johansson, Phillip Seymour Hoffman, and Robert Pattinson.
3. Joel & Ethan Coen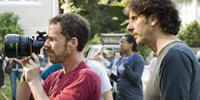 Avg. Metascore
(14 films)*
70
Probably the first pair that comes to mind when you think of brothers who work on movies together, the iconoclastic and versatile Coen brothers have co-directed 15 films over the past 28 years, representing an impressive diversity of styles including noir, western, gangster drama, musical, and various types of comedy. While some critics find their films a bit too chilly, all but three have received generally positive reviews, several—like 1998's The Big Lebowski 68 and 1987's Raising Arizona 55—have developed huge cult followings, and four have been nominated for best picture (including their most recent, True Grit 80). Note that Ethan was not credited as a director on their earlier films (much like Joel was not listed as a producer), but it is widely assumed that both Coens have in fact co-directed (and co-written, co-edited, and co-produced) all of their films.
Best movie:
No Country for Old Men (2007) 91+ Netflix Queue
The brothers' thrilling adaptation of Cormac McCarthy's novel earned the pair their only best picture Oscar while also allowing them to become the only siblings in Academy Awards history to share a best director trophy.
Next movie:
Inside Llewyn Davis (tbd late 2012 or 2013): A drama about the Greenwich Village folk music scene in the 1960s starring Carey Mulligan, Justin Timberlake, and John Goodman. Also expected this fall is Gambit, which the Coens wrote but did not direct.
4. Jean-Pierre Jeunet & Marc Caro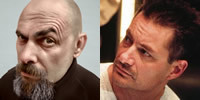 Avg. Metascore
(2 films)
70
Coming in at a half point behind the Coens are a pair of French directors who gave the 1990s two of the decade's most whimsical and visually inventive films, largely inspired by the work of Terry Gilliam. Their debut feature, Delicatessen 66, is a fun and funny arthouse classic, and though they would only make one more film together, and Caro would remain relatively silent in the ensuing years (save for the French release Dante 01), Jeunet would continue as a solo director (most memorably with 2001's Amélie 69), without a single blemish on his record... though we're still wondering how Alien: Resurrection 63 got such good reviews.
Best movie:
The City of Lost Children (1995) 73+ Netflix Queue
Darker than its predecessor, this beautiful, imaginative, and haunting fantasy stars Ron Perlman and features a score by frequent David Lynch composer Angelo Badalamenti.
Next movie:
None together. Jeunet is currently filming The Young and Prodigious Spivet, a 3D adaptation of a Reif Larsen book starring Helena Bonham Carter and Kathy Bates, for a 2013 release.
5. Phil Lord & Chris Miller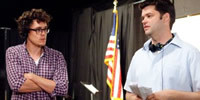 Avg. Metascore
(2 films)
68
Friends from college (Dartmouth), Phil Lord & Chris Miller had their first breakthrough a decade ago when they created (along with Bill Lawrence of Scrubs fame) the short-lived but much-loved MTV animated series Clone High. The pair continued to work in television for a few years before their big-screen break came in the form of another animated work, Cloudy with a Chance of Meatballs 66, which they wrote in addition to directing.
Best movie:
21 Jump Street (2012) 69+ Netflix Queue
Starring Jonah Hill and Channing Tatum, this surprisingly winning action-comedy adaptation of the early Fox Network drama grossed nearly $200 million worldwide. A sequel will go before cameras next year, though it is unclear if Lord and Miller will return.
Next movie:
Lego: The Piece of Resistance (2014): Lord and Miller are set to write and (with Robot Chicken's Chris McKay) co-direct this first theatrical feature based on the toy blocks; Channing Tatum and Will Arnett are among the first voice actors on board for this largely animated film.
6. Shari Springer Berman & Robert Pulcini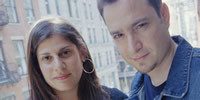 Avg. Metascore
(4 films)
67
The husband-and-wife filmmakers have divided their careers fairly evenly between nonfiction and narrative works, while also working a bit in television. That average Metascore includes last year's made-for-HBO movie Cinema Verite 74 (itself a fictionalized look at documentary filmmaking), which was an improvement over recent efforts like The Extra Man 56 and The Nanny Diaries 46.
Best movie:
American Splendor (2003) 90+ Netflix Queue
The couple's first narrative feature is by far their best; Splendor's fictionalized look at the life of comic book author Harvey Pekar (played by Paul Giamatti in his breakthrough starring role) was named the best release of 2003 by numerous critic organizations.
Next movie:
Imogene (tbd late 2012): A dark comedy starring Kristen Wiig as a playwright who fakes her own suicide to try to win back her ex-boyfriend; Annette Bening co-stars as her gambling-addicted mother.
(tie) 6. Glenn Ficarra & John Requa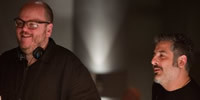 Avg. Metascore
(2 films)
67
Writing partners best known for 2003's raunchy holiday classic Bad Santa 70, Ficarra and Requa first made the jump into directing with the troubled project I Love You Phillip Morris 65, which proved mostly worth the wait for the few people who actually saw the quirky comedy that featured one of Jim Carrey's better performances.
Best movie:
Crazy, Stupid, Love. (2011) 68+ Netflix Queue
The pair's second film, a rom-com (which, unlike their previous outing, they did not write) starring Ryan Gosling, Emma Stone, and Steve Carell, proved that they could succeed at the box office, grossing over $140 million worldwide.
Next movie:
Focus (tbd): The directors hope to re-team with stars Gosling and Stone for a con-man comedy for which they will also draft the screenplay.
8. Jay & Mark Duplass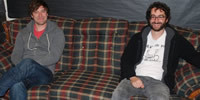 Avg. Metascore
(5 films)
66
Mark Duplass may just be the hardest working man in show business this year. In addition to starring in FX's The League, the actor had roles in Safety Not Guaranteed, Your Sister's Sister, People Like Us, and Darling Companion, and will also be in Kathryn Bigelow's Zero Dark Thirty in December. Oh, and he and his brother also managed to write and direct a pair of films: Jeff, Who Lives at Home 60, and the just-released The Do-Deca-Pentathlon 61. Those two films, like others written and directed by the Duplass brothers going back to 2005's The Puffy Chair 73, are semi-improvised, low-budget comedies that deal with family relationships; some critics find their films too slight, though most have received mainly positive reviews.
Best movie:
Cyrus (2010) 74+ Netflix Queue
Approachable might be too misleading a word, but this somewhat uncomfortable 2010 comedy (boasting a then unprecedented for them $7 million budget) does boast an inviting cast in John C. Reilly, Jonah Hill, Marisa Tomei, and Catherine Keener.
Next movie:
Unknown. Some time off might be in order.
9. Albert & Allen Hughes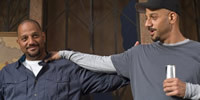 Avg. Metascore
(3 films)*
61
Though the twin brothers have been directing for two decades, they have just four features (and one documentary) in the books; in fact, 2010's The Book of Eli 53 was their first release in nine years.
Best movie:
Menace II Society (1993) 76+ Netflix Queue
The Hughes brothers have yet to duplicate the success of their critically acclaimed debut, a violent depiction of gang life in South Central Los Angeles that came out a year after the L.A. riots and was filmed when the brothers were just 20 years old.
Next movie:
Though the brothers don't have another joint project in production, Allen has Broken City, a crime drama starring Mark Wahlberg and Russell Crowe, slated for a January release, while Albert is set to begin filming the Gerard Butler vehicle Motor City this fall.
10. Scott McGehee & David Siegel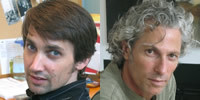 Avg. Metascore
(3 films)
59
The partners have written and directed four films together over the past two decades, beginning with the 1994 thriller Suture (not in our database) and including, most recently, 2009's Uncertainty 45.
Best movie:
The Deep End (2001) 78+ Netflix Queue
The duo's best film is this beautifully photographed thriller starring the always excellent Tilda Swinton as a mother who scrambles to cover up for a crime that she believes her teenage son has committed.
Next movie:
What Maisie Knew (tbd 2012/2013): Alexander Skarsgård, Julianne Moore, and Steve Coogan star in a present-day adaptation of the Henry James novel about a young girl and her divorcing parents.
11. Josh Gordon & Will Speck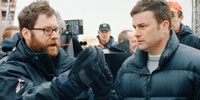 Avg. Metascore
(2 films)
58
Directors of a series of Geico commercials—and the resulting ABC sitcom disaster Cavemen 19—the duo of Gordon and Speck are batting .500 on the big screen, with one modest success (see below) and one failure (the 2010 Jason Bateman/Jennifer Aniston comedy The Switch 52).
Best movie:
Blades of Glory (2007) 64+ Netflix Queue
You'd think Will Ferrell, Jon Heder, Will Arnett, and Amy Poehler on ice would be funny, and you'd be right, almost, though Ferrell has made this movie too many times to count.
Next movie:
The pair have two films in the planning stages; a country club comedy called The Pool, and an untitled holiday comedy originally from The Hangover screenwriters Jon Lucas and Scott Moore (but now being rewritten, and possibly no longer a holiday comedy).
12. Lana & Andy Wachowski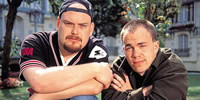 Avg. Metascore
(5 films)
56
The good news is that the Wachowski brothers will always have one of science fiction's iconic films (see below) listed on their IMDb pages; otherwise, perhaps they can take solace in the fact that not everyone thinks Speed Racer 37 is as terrible as the critics said (though that film's disastrous box office showing would say otherwise). The pair have actually directed three films to general critical praise: their 1996 debut Bound 61 and the middle Matrix film The Matrix Reloaded 62 are the others that were at least somewhat well received upon their releases. The brothers have also written and/or produced several additional films that they did not direct, most notably V for Vendetta 62.
Best movie:
The Matrix (1999) 73+ Netflix Queue
Forget that it's part of a trilogy, and you have one of the best sci-fi action films of all time, combining a clever premise with kick-ass fighting sequences and groundbreaking effects (think "bullet time"), which left their mark on pop culture and countless movies and videogames to follow. Unfortunately, two more Matrix films followed four years later.
Next movie:
Cloud Atlas (October 26, 2012): The Wachowskis have a chance to redeem themselves with one of the more intriguing films on the fall schedule, an adaptation of David Mitchell's award-winning (but presumably difficult to adapt) episodic novel that they are co-directing with Tom Tykwer (Run Lola Run). The film will premiere at the Toronto festival in September.
13. Chris & Paul Weitz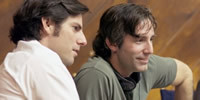 Avg. Metascore
(3 films)
55
The brothers and New York natives co-directed a trio of films—beginning with 1999's original American Pie 58—before embarking on separate career paths. In the past decade, Paul has helmed such films as Little Fockers 27 and American Dreamz 45, while Chris has directed The Golden Compass 51 and The Twilight Saga: New Moon 44.
Best movie:
About a Boy (2002) 75+ Netflix Queue
As co-directors, the brothers received good reviews for just one of their three films: this 2002 adaptation of the Nick Hornby novel starring Hugh Grant, Toni Collette, and Rachel Weisz. The Weitzes also co-wrote the screenplay (with Peter Hedges), receiving an Oscar nomination in the process.
Next movie:
None together; Paul has the Paul Rudd/Tina Fey comedy Admission due in 2013.
14. Anthony & Joe Russo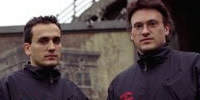 Avg. Metascore
(2 films)
54
While the Russos have become the go-to directors for cutting-edge TV comedy—think Arrested Development and Community—the brothers have also dabbled a bit in film over the past decade. While their second effort, the Owen Wilson-starring You, Me and Dupree 46, was disappointing, their Hollywood debut (after a student film in the 1990s) ...
Best movie:
Welcome to Collinwood (2002) 61+ Netflix Queue
... was a bit better, an ensemble crime comedy (which the brothers also wrote for producers Steven Soderbergh and George Clooney) that was a remake of an old Italian film. But despite decent reviews, the movie was a box office disaster.
Next movie:
Captain America: The Winter Soldier (April 4, 2014): With no prior action experience, the Russos are an adventurous choice to helm the first sequel to Captain America: The First Avenger 66.
15. Jon Hurwitz & Hayden Schlossberg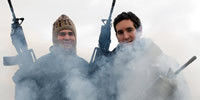 Avg. Metascore
(2 films)
53
New Jersey high school friends Hurwitz and Schlossberg have written the screenplays for all three Harold & Kumar films, adding the title of director for the middle film in the trilogy. The pair recently directed their second film: American Reunion 49, the mediocre fourth installment in the American Pie series.
Best movie:
Harold & Kumar Escape from Guantanamo Bay (2008) 57+ Netflix Queue
The worst-reviewed of the three stoner films—and also the lowest-rated among Metacritic users—Guantanamo Bay is silly and crude (not always a bad thing), and not as fresh as the original.
Next movie:
Unknown, though the duo recently inked a two-year deal with Universal.
16. Peter & Bobby Farrelly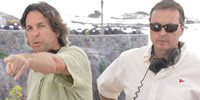 Avg. Metascore
(11 films)
52
Though the Farrelly brothers, as a brand, may be as well known as the Coens, they certainly haven't had the same long-lasting success. Known mainly for their crude, gross-out comedy, the Farrellys struck box office gold with their first film, 1994's Dumb and Dumber 39, but matched that financial success only one other time (see below) across the ten movies that followed. Only two of their films (including 2003's Stuck on You 62) have received decent reviews from critics, though a few others, such as 1996's Kingpin 43, do have cult followings. But attempts to branch out into more mature moviemaking (Fever Pitch 56) didn't pan out, and recent efforts like this year's Three Stooges 56 have been utterly forgettable.
Best movie:
There's Something About Mary (1998) 69+ Netflix Queue
The Farrelly's biggest commercial (nearly $300 million, adjusted for inflation) and critical success is this 1998 comedy classic starring Ben Stiller, Cameron Diaz, and ... Brett Favre.
Next movie:
Unknown. A planned Dumb and Dumber sequel (Dumb and Dumber To) seems to be dead after Jim Carrey dropped out last month.
17. Huck Botko & Andrew Gurland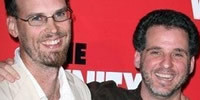 Avg. Metascore
(2 films)
51
Though the pair were students together at NYU, it wasn't until after Gurland directed a movie on his own (2002's Cheats) and another with Todd Phillips (the controversial documentary Frat House) and Botko made a name for himself with gross-out short films that the filmmakers began to collaborate. In addition to writing the script for The Last Exorcism 63, Gurland and Botko have directed two features, with the most recent being the Will Ferrell-produced teen sex comedy The Virginity Hit 40, which failed to capitalize on its pseudo-documentary structure.
Best movie:
Mail Order Wife (2005) 61+ Netflix Queue
The pair's first film, another broad comedy, also toys with form, but in a more satisfying way. Gurland himself stars as a documentary filmmaker making a movie about a mail-order bride, and things spiral out of control from there.
Next movie:
Unknown, but we're guessing it will be some sort of faux documentary.
18. Deborah Kaplan & Harry Elfont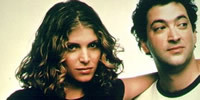 Avg. Metascore
(2 films)
50
Elfont and Kaplan also met as students while at NYU, and have penned screenplays for seven films, directing two of them (though they haven't directed since 2001's Josie and the Pussycats 47). Critics tend to dislike their films even when they aren't directing (see, e.g., The Flintstones in Viva Rock Vegas 27 and Surviving Christmas 19).
Best movie:
Can't Hardly Wait (1998) 52+ Netflix Queue
The duo's directorial debut, a high school rom-com starring Jennifer Love Hewitt, Lauren Ambrose, and Peter Facinelli, is their greatest contribution to cinema to date.
Next movie:
Unknown. The duo recently co-created a sitcom starring Judy Greer (American Judy) that didn't progress past the pilot stage, and are writing but not directing an adaptation of best-seller Men Are from Mars, Women Are from Venus.
19. David Moreau & Xavier Palud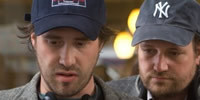 Avg. Metascore
(2 films)
48
The French directors have collaborated on a pair of horror films so far, with their most recent—an inferior 2008 remake of the Pang brothers' The Eye 66, also called The Eye 36—doubling as their first American-made film. (For more on the Pangs, scroll down the page a bit.)
Best movie:
Them (2007) 60+ Netflix Queue
Their debut is a minimalist, suspense-filled, French-language horror film (which they also wrote), and, no, it's not a remake of the 1954 camp classic; think of it more like The Blair Witch Project in the French countryside. It's not great, but it earned them their Hollywood gig.
Next movie:
Unknown. Both directors have resumed working in France, though separately: Palud has directed the thriller Blind Man for producer Luc Besson, while Moreau is completing work on a comedy, Détournement mineur.
20. Michael & Peter Spierig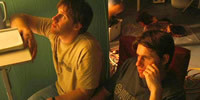 Avg. Metascore
(2 films)
46
The German-born, Australian-raised Spierig brothers got their start as commercial directors in the latter country before taking the plunge into feature work by self-financing their debut, the 2003 zombie comedy Undead 34. Six years later, they were given their first major gig ...
Best movie:
Daybreakers (2009) 57+ Netflix Queue
A sci-fi take on vampire horror, the future-set Daybreakers stars Ethan Hawke; reviews and box office performance were both middling, though the film certainly has its haters (The Playlist, for one, called it "overly complicated and brutally dull").
Next movie:
Predestination (tbd 2013/2014): A sci-fi actioner starring Hawke, based on Robert A. Heinlein's time-travel short story "All You Zombies." (Despite that title, and the brothers' background, it is not a zombie movie.) There is also an upcoming thriller, Jungle, which they wrote and are producing but are not directing. The brothers were also attached to direct a sequel to 1982's The Dark Crystal titled The Power of the Dark Crystal, but that troubled project is on hold or possibly dead, while the status of another potential project, a remake of the Errol Flynn-starring Captain Blood set in outer space, is also unclear.
21. Danny Pang Phat & Oxide Pang Chun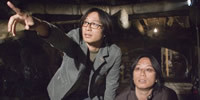 Avg. Metascore
(4 films)*
42
Horror and crime movie specialists, the Hong Kong-born twins (known professionally as the Pang brothers) have spent much of their careers working in Thailand in addition to their native city, though they have also directed a few American-produced films, including 2007's The Messengers 34 and 2008's Bangkok Dangerous 24, a remake of their own debut film (also Bangkok Dangerous 54). Note that the Pangs' average score is a bit misleading, as only movies released theatrically in the U.S. are included; they have directed other films (including, among others, a pair of sequels to The Eye) never officially released in the States. Each brother has also directed additional movies as solo projects, and Danny is also a prolific film editor.
Best movie:
The Eye (2002) 66+ Netflix Queue
Not to be confused with the far inferior American remake starring Jessica Alba, this creepy horror film centers on a blind girl who gains the ability to see ghosts after an operation to restore her sight.
Next movie:
Inferno (tbd 2013): The brothers are returning to Hong Kong to shoot this 3D disaster film.
22. Mark Neveldine & Brian Taylor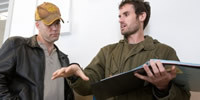 Avg. Metascore
(4 films)
39
Known for lacing up rollerblades to shoot their frenetic, over-the-top action films—which borrow heavily from videogame tropes—on handheld video cameras, the Neveldine/Taylor partnership (as they bill themselves) has directed four films so far, while writing two additional movies (including box office dud Jonah Hex 33). Unfortunately, the duo seem to be headed in the wrong direction; their last two films, Gamer 27 and Ghost Rider: Spirit of Vengeance 32, were despised by reviewers.
Best movie:
Crank (2006) 57+ Netflix Queue
Neveldine/Taylor's debut is the best expression to date of their unique style, and, while not loved by critics, the adrenaline-fueled (literally) Crank does have a devoted following for its unabashed, relentless insanity. A sequel followed three years later.
Next movie:
Uncertain; possibly Crank 3: The partners have been hinting at a third Crank film—perhaps as soon as 2013—but production has not yet begun. Another Ghost Rider film is also a possibility. Taylor, meanwhile, has been linked to a possible movie adaptation of the game Twisted Metal, which would be his first solo project.
23. Greg & Colin Strause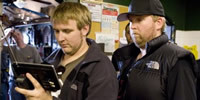 Avg. Metascore
(2 films)
28
The Strause brothers (or "The Brothers Strause" as they prefer) are proof that talented visual effects artists do not necessarily make talented film directors. After working on effects for films ranging from Titanic to The Day After Tomorrow, and directing numerous music videos, the brothers were given the keys to the AVP franchise (admittedly, not much of a gift), which they proceeded to kill. More recently, they directed Skyline 26, the alien invasion film that looked like Battle: Los Angeles but couldn't quite achieve that film's sky-high Metascore of 37. The brothers continue to work on effects for other films, including, recently, The Avengers.
"Best" movie:
Aliens vs. Predator: Requiem (2007) 29+ Netflix Queue
Certainly not a box office disaster—it grossed nearly $130 million worldwide on a relatively small $40 million budget—AVP:R was only a failure critically and creatively. Even the videogame tie-in had a higher Metascore.
Next movie:
Uncertain.
24. Jason Friedberg & Aaron Seltzer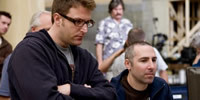 Avg. Metascore
(5 films)
14
Like a two-headed Uwe Boll (which, come to think of it, would be an excellent concept for an Uwe Boll movie), Friedberg and Seltzer strike fear into the hearts of movie critics everywhere with their relentless parade of spoof movies. Though they only wrote and didn't direct Spy Hard 25 and Scary Movie 48, beginning with 2006's Date Movie 11 and continuing with such anti-classics as Epic Movie 17 and Meet the Spartans 9, the team could be found behind the camera as well, turning in work that would make Alan Smithee proud. Wrote critic Josh Levin of Slate, "They are not filmmakers. They are evildoers, charlatans, symbols of Western civilization's decline under the weight of too many pop culture references."
"Best" movie:
Vampires Suck (2010) 18+ Netflix Queue
If your best-reviewed movie scored an 18 and was the worst-reviewed nationwide release of 2010, you must be doing something right.
Next movie:
The Starving Games (tbd): Yes, it's another of their patented subtle and clever parodies. Another planned project, The Biggest Movie of All Time 3D, seems to have disappeared, perhaps because it was designed to spoof a movie that was released three years ago (Avatar).
A few more
Several other director tandems have just a single film in our database so far, including brothers Joshua & Ben Safdie, directors of 2010's Daddy Longlegs 74 ... Just one of the two feature-length films directed by the Brothers Quay, The Piano Tuner of Earthquakes 66, has a Metascore ... Twins Alex Smith and Andrew J. Smith have yet to complete a full-length follow-up to their 2002 debut The Slaughter Rule 65 (starring an up-and-coming Ryan Gosling). ... Graphic novelist Marjane Satrapi co-directed an animated adaptation of her book Persepolis 90 with Vincent Paronnaud, and the duo will follow that acclaimed film with a live-action take on Satrapi's Chicken with Plums next month ... Former TV writers Alex Gregory and Peter Huyck made an inauspicious feature directing debut last year with A Good Old-Fashioned Orgy 44. ... Director Kurt Voss occasionally works with Allison Anders, though only one collaboration—1999's Sugar Town 62—has a Metascore (their next, Strutter, should have one soon). ... Last and definitely least, we must once again mention the pair of Trevor Moore and Zach Cregger, whose Miss March 7 stands as one of the worst-reviewed films of the century; at least, right now, it's a one-off.
What do you think?
Do you have a favorite directing duo? Are there any pairings we missed? Let us know in the discussion section below.