It's the economy, stupid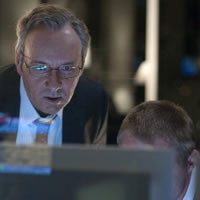 It is clear, judging from the subject matter depicted in so many films and TV shows of the past five years, that the world is currently gripped by some sort of zombie or vampire infestation. Oh, and an ongoing recession.
Yes, filmmakers from Hollywood and beyond have indeed noticed the financial crisis, using the downturn as the subject matter for at least 20 documentaries and narrative films over the past five years. The latest example arrives this week in the form of Margin Call, an ensemble thriller that focuses on a 24-hour period in a Lehman-esque investment bank during the height of the crisis.
While that film, which stars Kevin Spacey, Paul Bettany, Jeremy Irons, Zachary Quinto, and Penn Badgley, is receiving solid reviews so far, it will need to start collecting raves in a hurry if it is going to match the best films dealing with the crisis. Then again, it looks likely to avoid landing among the worst recession films, as you can see below, where we rank all of the recent financial crisis films in order from best-reviewed to worst-reviewed.

"It might well be the most important film you see this year, and the most important documentary of this young century."

—Andrew O'Hehir, Salon
Charles Ferguson's documentary about the origins of the current financial crisis is the best film on the subject made so far, winning an Oscar in addition to plaudits from critics. The director's only previous film, No End in Sight 89, was a similarly acclaimed look at the Iraq War; here, through a mixture of talking heads, well-conceived charts, and Matt Damon's narration, he makes what could have been complex and dry subject matter into something both understandable and compelling, placing the blame for the downturn on the finance industry's greed, long reach, and unchecked influence over government and education.

"Up in the Air takes the trust people once had in their jobs and pulls out the rug. It is a film for this time."

—Roger Ebert, Chicago Sun-Times
Though the Walter Kirn novel on which the film was loosely based was published in 2001, Up in the Air's story of corporate downsizing tapped into the zeitgeist of 2009, when such events were happening with regularity at the height of the crisis. (And, though the film deals more with the personal life of the person doing the firing, played by George Clooney, its opening minutes feature interviews with some real-life casualties of the current downturn.) Jason Reitman's dramedy was picked by many critics as one of the top films of the year, and it went on to earn six Oscar nominations and gross over $160 million worldwide.

"Ruppert makes a compelling argument that the world is approaching a paradigm shift unlike anything in human history."

—J.R. Jones, Chicago Reader
While few "experts" predicted the global economic meltdown, police officer-turned-author Michael Ruppert claims to have done just that. A riveting portrait of obsession directed by Chris Smith (American Movie 84)—with an obvious stylistic debt to Errol Morris—the documentary Collapse is an 82-minute monologue by Ruppert culled from a week of interviews. Though dismissed as a conspiracy theorist by some, Ruppert confidently ties together the financial crisis, peak oil, and societal trends to paint a terrifying picture of the impending collapse of human civilization, whether you agree with him or not. (And director Smith does an admirable job withholding his own judgment on Ruppert's claims.)

"This smartly assembled wake-up call concerning the nation's lousy spending habits proves to be as unexpectedly spirited as it is dispiriting."

—Michael Rechtshaffen, The Hollywood Reporter
A textbook example of the right way to present charts, graphs, and complex information on screen, the well reviewed and mostly non-partisan documentary I.O.U.S.A. focuses on a financial issue only tangentially related to the recession: the federal government's growing debt burden. Though the national debt has become more of a hot-button issue (and even more of a problem) over the past year, fewer people were talking about it in 2008, when former U.S. Comptroller-General David Walker toured the U.S. to alert the nation to the growing danger. Though many of the figures are now out of date (the debt has increased by over $5 trillion since the documentary was made), a 30-minute version of the film is available on YouTube.

"When it comes to the emotional state of those being laid off, of their families and even of those doing the laying off, it gets things right enough to make audiences squirm."

—Bob Mondello, NPR
The best-reviewed drama about the personal impact of unemployment to emerge from the financial crisis so far, The Company Men is the first film directed by TV veteran John Wells (ER, The West Wing). Unlike Up in the Air, Company Men focuses on both sides of the equation: the executives doing the firing, and the employees who are downsized and suffer through long periods of joblessness. Despite (or because of) the timely subject matter—not to mention a strong cast that includes Ben Affleck, Chris Cooper, Kevin Costner, and Tommy Lee Jones—the film was a box office flop when it was released in early 2011.

"Say what you will about Eliot Spitzer, he's a marvelous subject for a documentary, and Alex Gibney has made a film worthy of him."

—Joe Morgenstern, Wall Street Journal
Documentarian Alex Gibney is no stranger to financial issues; his resume also includes the Oscar-nominated Enron: The Smartest Guys in the Room 82. Here, he turns his attention to former New York attorney general and governor Eliot Spitzer, who resigned after a prostitution scandal in 2008. While the focus is solidly on Spitzer and the undeniable lack of personal judgment that cost him his job, Client 9 makes the case that the regulation-minded governor was also brought down by the same forces in New York's financial services industry who were at least partially responsible for the current crisis (including failed insurer AIG, which was being targeted by Spitzer).

"HBO's Too Big to Fail is mesmerizing and, if you can call watching an economics lesson from hell entertaining, then yes, it's entertaining."

—Tim Goodman, The Hollywood Reporter
Based on Andrew Ross Sorkin's nonfiction book, Curtis Hanson's made-for-HBO movie about the early days of the financial crisis plays almost like a dramatized version of Inside Job, with the roles of prominent politicians and executives like Henry Paulson, Ben Bernanke, Dick Fuld, and Timothy Geithner played by William Hurt, Paul Giamatti, James Woods, and Billy Crudup, respectively. Too Big to Fail earned 11 Emmy nominations, though some critics noted that, even as the film sacrificed some details for entertainment, the subject matter didn't necessarily make for a compelling drama.

"While the documentary does a credible job of pointing out the magnitude of the problem, it skirts the issue of what can be done about it and by whom."

—Ruthe Stein, San Francisco Chronicle
The only movie on our list to pre-date the current crisis (it was first screened in 2006), Maxed Out takes an early look at the consequences of over-abundant credit, the result of predatory lending practices by banks and the willingness of consumers to overextend themselves (though the film largely places the blame on the former). Though the documentary concentrates on credit card debt, we now know that such dubious (and possibly illegal) practices by lenders were a major cause of the real estate boom and bust, and thus the globe's current economic situation and the personal crises faced by so many people. While the subject matter may be important, not every critic was a fan of director James Scurlock's filmmaking.
"Moore's scattershot is a lot more interesting than some filmmakers' focus, and many of those individual parts are classic."

—Kenneth Turan, Los Angeles Times
Even die-hard liberals will admit that Capitalism is not provocateur Michael Moore's best film, the result, as some critics suggest, of a lack of focus. Indeed, the film touches upon a myriad of topics relating to the current downturn, with some (the foreclosure crisis, the 2008 bailout, the role of the Federal Reserve) seemingly more relevant than others (religion, prisons, life insurance). Fortunately, Moore's trademark humor is also present, making what could be dire proceedings a bit more fun. However, Capitalism was unsuccessful as a capitalist endeavor; it was a money loser and Moore's lowest-grossing film in over a decade.

"The movie's lack of Michael Moore-style dynamism has a dulling effect. What saves it is the human face it puts on the crisis, and its indictment of corporate greed."

—Joe Neumaier, New York Daily News
A documentary that can't transcend the dryness of its subject matter, Leslie Cockburn's American Casino focuses on the subprime mortgage crisis, offering an indictment of the greed-driven predatory lending practices of major mortgage banks. While the devastating impact on families and neighborhoods depicted in the film is undeniable, the material might have worked better as a book; critics found the movie "visually uninspired" and "workmanlike."

"In its empty-headed hubris, it's not much more admirable than the conniving, moneygrubbing elite it's trying to take down."

—Stephanie Zacharek, Movieline
Oliver Stone's belated sequel to 1987's Wall Street, his iconic look at the financial world in the Reagan era, may have arrived about 20 years too late for anyone to care, but at least it was timely in its subject matter, with a storyline set amid the backdrop of the 2008 financial crisis. But not even Michael Douglas reprising his role as Gordon Gekko (now reformed and out of prison) could satisfy critics, who found the film tedious. Audiences in the U.S. mainly stayed away, though Money Never Sleeps took in enough money worldwide (over $130 million in total) to justify its existence from a financial standpoint.

"Edgeless, it takes a wistful, hopeful approach to heartbreak and job loss. That's sweet, but when it comes to unemployment-themed cinema, I'll take the greater realism of last year's 'The Company Men' or this year's 'Everything Must Go' over Hanks's too rosy vision of life after the pink slip."

—Mary Pols, Time
Give Tom Hanks credit: He's the only filmmaker so far who sees the economic crisis as perfect fodder for a feel-good romantic comedy. In just his second directorial effort (after the much better That Thing You Do! 71), Hanks stars as a middle-aged man who is laid off from his longtime job at a Wal-Mart-like retailer. No worries, though; much like any regular person who has recently lost a job, he enrolls at a community college, where he makes new friends, falls in love with Julia Roberts, lives happily ever after, and runs into Nia Vardalos' predictable, sitcom-y script. (Actually, calling it sitcom-y is an insult to NBC's Community, which handles a somewhat similar storyline with humor, smarts, and originality.)
Additional films
A few more recession-themed films not in our database are:
Cleveland vs. Wall Street (Documentary, 2010)
The Flaw (Documentary,2011) Add to Queue
Frontline: The Warning (PBS Documentary, 2009) Add to Queue
Generation Zero (Documentary, 2010)
In Debt We Trust (Documentary, 2006) Add to Queue
Overdose: A Film about the Next Financial Crisis (Documentary, 2010)
Plunder: The Crime of Our Time (Documentary, 2009) Add to Queue
We All Fall Down: The American Mortgage Crisis (Documentary, 2009)
What do you think?
Do any of these movies resonate with you? Has Hollywood done a good job of depicting the current crisis? Are there too many, or too few, movies dealing with the recession? Let us know in the comments section below.