From stage to screen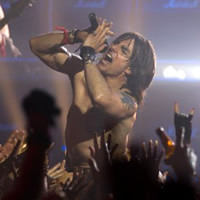 Opening Friday, the 1980s-set Rock of Ages brings Chris D'Arienzo's rock musical to the big screen with a cast that includes Tom Cruise, Alec Baldwin, Paul Giamatti, Russell Brand, and Catherine Zeta-Jones. There's plenty of bad hair and cheesy rock hits, which may explain why reviewers have not been kind to the film, though anyone dreaming of seeing Cruise sing "Pour Some Sugar on Me" or Brand and Baldwin duet on "Can't Fight This Feeling" may still have reason to visit their local cineplex.
How bad would Rock of Ages need to be to qualify among the worst stage-to-screen adaptations, and how good would this December's Les Miserables need to be to rank with the best? Find out below as we look at the highlights and lowlights of the past two decades of big-screen adaptations of plays and musicals, starting with the best of the bunch.
10 best films adapted from the stage (past 20 years)

"On the screen, the rip-roaring rock musical Hedwig and the Angry Inch retains all the excitement and energy it had on stage while adding depth, clarity and emotional texture."

—Kevin Thomas, Los Angeles Times
John Cameron Mitchell's rock opera about a transgender East German rocker made a surprisingly strong transition to the big screen—thanks, in no small part, to retaining Stephen Trask's great songs and retaining Mitchell in the lead role—in an adaptation that took advantage of the switch in medium by enlivening some of the musical numbers with quirky animations by Emily Hubley. In addition to a conventional soundtrack album, Hedwig also spawned a tribute album (Wig in a Box 80) featuring covers of songs from the musical performed by the likes of Spoon, Frank Black, Robyn Hitchcock, and Yo La Tengo.

"Elegant but never overstated, sinister but never coldhearted, this is a note-perfect masterwork on a modest, human scale."

—Andrew O'Hehir, Salon
One of 2001's best-reviewed dramas, this methodical Australian thriller about a missing persons investigation that ultimately impacts the lives of four couples was based on Andrew Bovell's play Speaking In Tongues (and adapted for the screen by the playwright himself). The film drew widespread praise for its performances, and featured a cast topped by Anthony LaPaglia, Geoffrey Rush, and Barbara Hershey.

"It's an exquisite, humanistic and subtly topical work of cinema art that manages to keep the intimate, revelatory sensibility of a one-man play intact while fleshing out the characters and creating a very realistic and richly detailed school community."

—Jennie Punter, The Globe and Mail
It's not often that a one-character play makes the jump to film, but that was the route taken by Bashir Lazhar, by playwright Évelyne de la Chenelière. Both play and film center on an Algerian immigrant schoolteacher in Montreal who takes over a sixth-grade classroom traumatized by the suicide of their previous instructor and uses unorthodox methods to help the kids cope with their grief. Like fellow French-Canadian drama Incendies (see below) the previous year, Monsieur Lazhar earned an Oscar nomination for best foreign-language film.

"Admirers of Stephen Sondheim who have wondered whether a riveting movie would ever be made from one of his stage musicals can put aside their doubts and worries: Tim Burton has finally accomplished it."

—Peter Marks, Washington Post
Tim Burton's adaptation of the Tony-winning 1979 musical by Stephen Sondheim and Hugh Wheeler was something the filmmaker had hoped to attempt for decades, though he only got the chance once Sam Mendes (American Beauty) dropped out. The dark material proved to be a good fit for the director's fantasy-horror sensibilities. While star Johnny Depp's singing earned mixed reviews—and the movie dropped or shortened some of Sondheim's songs—the film as a whole received plenty of critical acclaim as well as a Golden Globe for best picture (with Depp himself earning an Oscar nomination for his performance).

"An exuberant, appropriately cynical reinvention of the stalwart Broadway hit that deftly straddles the line between old-fashioned Hollywood musicals and experimental concoctions like last year's 'Moulin Rouge.'"

—Rene Rodriguez, Miami Herald
The first musical to take home a best picture Oscar in over three decades, Chicago is a bold big-screen take on the 1970s-era Broadway musical about prohibition-era Chicago by Bob Fosse and Kander and Ebb. Working from a script by Bill Condon, first-time film director Rob Marshall (who subsequently has been unable to achieve any critical success, though he did helm last year's hit Pirates of the Caribbean: On Stranger Tides 45) manages to retain the stage show's excitement while coaxing strong performances out of Richard Gere and Renee Zellweger.

"The movie is a museum of emotions, brought to contemporary life through the director's artistry and his leading lady's fire."

—Richard Corliss, Time
A few reviewers found the material a bit too dated, but this adaptation of Terence Rattigan's 1952 play of the same name by Terence Davies (Distant Voices, Still Lives) drew mostly raves, especially for Rachel Weisz's powerful performance as a woman whose life is torn apart when she cheats on her older husband (Simon Russell Beale) with a young war veteran (Tom Hiddleston). If you missed this under-the-radar gem (the 10th-highest-scoring film of 2012 at the moment) when it screened in a few dozen theaters this spring, you can catch it on DVD and Blu-ray beginning July 24.

"The storytelling in Incendies strikes me as primal the way Greek tragedy is primal. Shattering. Cathartic. It is a breathtaking film."

—Bob Mondello, NPR
Compared to a Greek tragedy—especially for its shocking ending—by many reviewers, Incendies is actually sourced from something a bit more contemporary: the 2003 drama Scorched by Lebanese-Canadian playwright Wajdi Mouawad. Though it lost the foreign-language Oscar to In a Better World 65, this drama about two grown twins who piece together their mother's past after her death landed on several critic top ten lists at the end of last year.

"The best and most entertaining movie adaptation of a stage musical so far this century - and yes, I'm including the Oscar-winning 'Chicago.'"

—Lou Lumenick, New York Post
About as good as a movie starring John Travolta in drag could possibly be, Hairspray is an adaptation of the 2002 Broadway musical that was itself an adaptation of the 1988 film by John Waters, and it succeeded where fellow movie-turned-musical-turned-movie-musical The Producers 52 failed, both critically and at the box office. While retaining many of the Broadway show's musical numbers, the film enlisted the stage production's Tony-winning composers Marc Shaiman and Scott Wittman to write additional material for the film, though their new songs failed to earn any Oscar nominations. The film is also director Adam Shankman's only critical success; this week's Rock of Ages is only the latest in a string of disappointing movies.

"As disturbing as it is well-made, this low-budget indie is a thoroughly original piece of work."

—Marjorie Baumgarten, Austin Chronicle
Neil LaBute's debut film was an adaptation of his own darkly comedic 1992 play, and its provocative, Mamet-esque dialogue marked the writer-director as a rising star in indie film world in the late 1990s, while also launching the career of star Aaron Eckhart, here playing one of a pair of coworkers seeking cruel revenge against women. LaBute's follow-up, Your Friends & Neighbors 70, was also a critical success, but his subsequent films (including The Shape of Things 59, also based on one of his plays) mostly failed to impress.

"A 'GoodFellas' with heart, A Bronx Tale represents a wonderfully vivid snapshot of a colorful place and time."

—Todd McCarthy, Variety
The first of just two films directed by actor Robert De Niro over the course of his lengthy Hollywood career, A Bronx Tale is taken from the semi-autobiographical, one-man play by Chazz Palminteri, who stars here alongside De Niro himself. Set in New York in 1960, the often funny and sentimental film centers around a teen boy who is torn between two role models: his hard-working dad (De Niro) and a local gangster (Palminteri).

"Surges with an energy and visual verve that improve the play and enhance the themes of dramatist Peter Morgan's script."

—Lisa Schwarzbaum, Entertainment Weekly
While a series of televised conversations between British newsman David Frost and disgraced American president Richard Nixon would seem an unlikely source of popular entertainment, those 1977 interviews have now served as the inspiration for Peter Morgan's (The Queen 91) award-winning 2006 play and Ron Howard's Oscar-nominated film version of same. Howard's engrossing adaptation retained stage stars Frank Langella (as Nixon) and Michael Sheen (Frost), while adding Kevin Bacon, Oliver Platt, and Sam Rockwell in key supporting roles.

"The pleasure of this unique film comes in watching superb actors dine on Mamet's pungent language like the feast it is."

—Peter Travers, Rolling Stone
Speaking of Mamet-esque, few writers merit that adjective as much as David Mamet himself, and, despite failing at the box office, this 1992 classic still stands as the best realization of Mamet's work on the big screen. One reason, of course, is the talent on display; it's hard to go wrong with a group of actors that includes Al Pacino, Jack Lemmon, Alec Baldwin, Alan Arkin, Ed Harris, and Kevin Spacey. Another is the source material: Mamet's profanity-laced, Pulitzer Prize-winning 1984 play about the ABC's of real estate sales. The stage version could return to Broadway next year, with Pacino in the cast.
A few more
Two of the better stage-to-screen adaptations of the 1990s are not available in Metacritic's database, but are worth a mention here. British historical drama The Madness of King George (based on Alan Bennett's play The Madness of George III) earned four Academy Award nominations after its release in late 1994. And John Guare's 1990 play Six Degrees of Separation became a memorable 1993 film directed by Fred Schepisi, in the process helping Will Smith shed his Fresh Prince identity and become a bankable film star.
The worst stage to screen adaptations ...
Turn the page to see the worst-reviewed stage-to-screen adaptations from the past two decades.