When actors direct themselves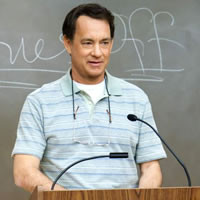 Yesterday, we examined 20 established actors who made the jump to the other side of the camera and directed at least one film. Today, we expand that group a bit to also include directors who also act in films (but weren't necessarily known as actors prior to directing), and take a look at their best and worst films. More specifically, we examine the films they've directed in which they also starred.
Actors have a long history of directing themselves on screen, from the legendary Charlie Chaplin (who directed nearly all of his own films) to Orson Welles in the great Citizen Kane (his directorial debut, no less) to Tom Hanks, who directs himself in this week's new comedy Larry Crowne. While their results may never match Modern Times or Citizen Kane, many actors have performed splendidly in the dual roles of actor and director, such as John Cassavetes (Husbands), Rob Reiner (This Is Spinal Tap), Warren Beatty (Reds), and Marlon Brando (One-Eyed Jacks, his sole directorial effort).
Then again, anyone who has seen Star Trek V: The Final Frontier (directed by William Shatner), Young Einstein (directed, in all seriousness, by Yahoo Serious), or—god forbid—The Room (directed by its writer, producer, and star, Tommy Wiseau) knows that some actors just don't have a good handle on directing themselves (or anyone else). Or, in the case of, say, Vincent Gallo (The Brown Bunny), the director may overindulge his star actor (himself), resulting in something that few other people have any interest in watching.
Below, we look at the best and worst movies in Metacritic's database (which mostly restricts us to films released in the past 25 years, as well as to movies with a Metascore—which sadly disqualifies The Room) that were directed by actors who also had a major role in the film.
10 best-reviewed films directed by their stars

"A movie made by filmmaker working in sync with his times—an exciting, disturbing, provocative film."

—Hal Hinson, Washington Post
Do the Right Thing isn't Spike Lee's first feature (that would be 1986's She's Gotta Have It), but this early (and, at the time, controversial) film, about race relations in Brooklyn's Bed-Stuy neighborhood, remains probably his greatest accomplishment as a director, with Lee himself taking on the role of Mookie, who sparks a riot. Despite widespread acclaim for the film and for Lee's directing, the movie only received two Oscar nominations, for Lee's screenplay and Danny Aiello's supporting performance.

"Mellow, beautiful, rich and brimming with love, 'Hannah' is the best Woody Allen yet and, quite simply, a great film."

—Sheila Benson, Los Angeles Times
Woody Allen is probably the person that first comes to mind when you think about directors who star in their own films, and given that he has directed one movie a year since the late 1960s—and appeared in many, though not all, of those films—there certainly is no shortage of material to consider. But since 1979's Manhattan, no Woody Allen film has been better than 1986's Hannah and Her Sisters. Still the director's highest-grossing film to date, Hannah earned Allen Oscar nominations for directing, screenplay, and best picture, though not for his co-starring performance as hypochondriac Mickey Sachs, who provides most of the comedy in an otherwise serious film.

"More than 'Unforgiven,' more than 'Mystic River,' it is Clint Eastwood's autumnal masterpiece."

—Ty Burr, Boston Globe
One of Clint Eastwood's best-reviewed films as a director (though Letters from Iwo Jima 89, which he did not star in, has a higher Metascore), this Paul Haggis-scripted melodrama stars Eastwood as an aging boxing trainer who takes on a young waitress (Hilary Swank) and prepares her for a major fight. Though he didn't win an Oscar for his performance (he was nominated), Eastwood did become the oldest person (at 74) ever to win the Academy Award for best director, and the film also took home the best picture trophy.

"Thornton ... has created an unforgettable character and situation, a film that's sure to become an American classic. "

—Marjorie Baumgarten, Austin Chronicle
Though made for just a million dollars and released as an independent film with little fanfare, Sling Blade proved to be a surprise hit, and launched the film's writer, director, and lead—Billy Bob Thornton—to stardom. Thornton had previously appeared in supporting roles in several films and starred in the cult hit One False Move, but it was his Oscar-winning performance in Sling Blade as mentally impaired criminal Karl Childers that remains Thornton's standout role. Subsequent directorial efforts, including All the Pretty Horses, proved disappointing.

"The fact that Duvall gives such a glorious performance in The Apostle is likely to distract people from the fact that he has also written and directed a glorious movie—the most vivid and radiantly made of 1997."

—David Edelstein, Slate
Despite Robert Duvall's credentials as an Academy Award-winning actor, no studio would take a chance on what would ultimately become his first commercially-released directorial effort. So Duvall financed The Apostle, which he also wrote, himself. The film proved to be a commercial and critical success, and Duvall was nominated for an Oscar for his lead performance as charismatic preacher on the run Euliss "Sonny" Dewey.

"What works best in the film is the overall vision. Branagh is able to see himself as a king, and so we can see him as one."

—Roger Ebert, Chicago Sun-Times
Classically trained Irish stage actor Kenneth Branagh had appeared in a few films in the mid-1980s before arriving big time with his directorial debut, Henry V. The first of many Shakespeare adaptations he would direct (though he would later move to more populist fare like this year's Thor), Branagh's gritty take on Henry V earned him Oscar nominations for his directing and for his lead performance in the title role.

"Eastwood has crafted a tense, hard-edged, superbly dramatic yarn that is also an exceedingly intelligent meditation on the West, its myths and its heroes."

—Todd McCarthy, Variety
Clint Eastwood's final western, in which he stars as an aging outlaw who takes on one last job, is one of the best-reviewed examples of that genre in the last three decades. Eastwood became one of an elite group of people nominated for directing and acting Oscars for the same film (which he would do again with Million Dollar Baby), but like the seven others who accomplished such a feat, he could not win both categories, settling "only" for the director trophy and a best picture award, with Unforgiven becoming just the third western to be so honored.

"Guest has cultivated a stock company of players whose work together is so intuitively sharp that it seems to redefine the boundaries of acting."

—Peter Rainer, New York
One-time Saturday Night Live regular Christopher Guest has made a name for himself directing a series of improvised, mockumentary-style comedies modeled after This Is Spinal Tap, which he co-wrote and starred in (but did not direct). While Waiting for Guffman or Best in Show may have a bigger cult following, it was A Mighty Wind, basically a folk music version of Spinal Tap in which Guest played a member of reunited trio The Folksmen, that earned the highest score, with critics praising the film's heart as much as its comedy.
"It's a passionate, serious, impeccably crafted movie tackling a subject Clooney cares about deeply: the duty of journalism to speak truth to power. It also happens to be the most compelling American movie of the year so far."

—David Ansen, Newsweek
George Clooney's black and white recounting of newsman Edward R. Murrow's storied battle with Communism-obsessed Senator Joseph McCarthy is easily the best film of Clooney's still developing directorial career. Clooney co-starred as Murrow's producer Fred Friendly, and while he didn't receive an Oscar nomination for his acting (though he did for directing), he did get an Oscar-nominated performance out of David Strathairn as the CBS anchor.

"He lacks Scorsese's raw inventiveness, but there's no denying De Niro's skill in keeping this pungent street epic brimming over with action and laughs without sacrificing intimacy. He is a supreme director of actors."

—Peter Travers, Rolling Stone
Legendary actor Robert De Niro has directed two films in his lengthy career; this, his first, is also his best. An actor friendly crime drama set in New York in 1960, the film centers around a teen boy who is torn between two role models: his hard-working dad (De Niro) and a local gangster (Chazz Palminteri). A Bronx Tale is not only directed by one of its stars, but is written by one too; it's adapted by Palminteri from his own play.
(tie) 9. Big Night
80

(1996) Add to Netflix Queue


Directed by Stanley Tucci and Campbell Scott




"In addition to their deft skill with light drama, the directors understand well-placed humor, and throw just the right amount of comedy into the mix to make Big Night fun without turning it into an outright farce."

—James Berardinelli, ReelViews
A pair of actors—Stanley Tucci, who co-wrote the film and stars alongside Tony Shalhoub, and Campbell Scott, who has a small role —directed this modest but well regarded 1996 dramedy about two Italian-American brothers who attempt to save their failing restaurant by preparing a memorable feast for bandleader Louis Prima. It remains one of the best food-themed films in movie history.
5 worst-reviewed films directed by their stars

"It's time to start recognizing that not all escapist entertainment is created equal. And that some of it isn't even entertainment. Miss March is, to use the vernacular of the escapist moviegoer, the biggest pile of crap I've seen in ages."

—Stephanie Zacharek, Salon
Two members of comedy troupe The Whitest Kids U' Know took a break from their eponymous IFC series to write, direct, and star in this juvenile 2009 sex comedy about a man who attempts to win back his high school sweetheart after she becomes a Playboy model. Though it earned only one Razzie nomination—for Hugh Hefner's appearance as himself—the truly abysmal Miss March was Metacritic's lowest-scoring film of 2009 and was a box office failure to boot.

"An unintended gift to midnight-movie programmers and students of the bizarre, Roberto Benigni's Pinocchio could have become a 'Howard The Duck'—or 'Battlefield Earth'-like synonym for cinematic miscalculation, were its title not already so familiar."

—Keith Phipps, A.V. Club
You don't need a nose like that to realize this movie stinks. While Italian actor-director Roberto Benigni may have impressed some (though definitely not all) critics with his Oscar-winning 1998 Holocaust comedy Life Is Beautiful, he wowed absolutely no one with this live-action adaptation of The Adventures of Pinocchio. Though the English-language dubbing was a major culprit in the film's terrible American reviews, Benigni's "deranged" performance (to quote Entertainment Weekly's Owen Gleiberman) was a failure in any language.

"Green, who looks like a chinless, hollow-eyed pederast at the best of times, is simply out of his league here, and the fact that the film drags interminably when it's actually a very average 90 minutes long betrays its essential emptiness."

—Marc Savlov, Austin Chronicle
Yes, it's a minor cult favorite, but don't count too many critics as members of that cult. Indeed, some reviewers (including Roger Ebert) consider this gross-out comedy to be among the worst films ever released. Freddy Got Fingered was the first film directed by Tom Green, who had been at the peak of his popularity thanks to his MTV talk show and a co-starring role in the movie Road Trip. But the disastrous reaction to this film, coupled with confirmation of Green's lack of acting talent or box office starpower in 2002's Stealing Harvard, marked the end of the comedian's short career as a Hollywood leading man.

"Murphy's directorial work is amateurish at best. And as a performer he looks as if he is in agony, as if his mother made him stand in front of the camera for punishment."

—Hal Hinson, Washington Post
At the peak of his fame and success in the late 1980s, superstar actor-comedian Eddie Murphy decided to direct his first (and, as it turns out, last) film. Harlem Nights, which Murphy also wrote, was actually a minor box office success, and boasted a top-notch cast that featured Richard Pryor and Redd Foxx in addition to Murphy. But the 1930s-era crime dramedy was panned by critics as misogynistic, immature, amateurish, and boring. And Murphy's career has been on a mostly downward trajectory ever since.
"Unfortunately, Vardalos has no one else to blame for a shockingly amateurish effort that goes from bad (her oddly insincere performance) to worse (consistently sloppy camera work) to make-it-stop (it would be an insult to television to call the script sitcomish)."

—Elizabeth Weitzman, New York Daily News
In 2009, Nia Vardalos decided to re-team herself with her My Big Fat Greek Wedding co-star John Corbett for her directorial debut, a romantic comedy that she also wrote and starred in. The resulting film, I Hate Valentine's Day, grossed all of $11,004 during its mercifully brief theatrical run; critics had few kind words to describe a film they almost universally found cliched and wholly unfunny. Coincidentally, Vardalos also co-wrote this week's Tom Hanks-directed Larry Crowne with Hanks; let's hope she's upped her game in the interim.
Bonus: One underappreciated gem

"Delightfully inventive, consistently funny, clever but not slick, brisk yet never antic, Quick Change is the perfect cinematic date - a summer film for all seasons, the kind of sharp-edged picture that gives lightweight a good name."

—Rick Groen, The Globe and Mail
The sole film directed by Bill Murray (who actually co-directed with the film's screenwriter, Howard Franklin), this clever 1990 bank heist caper wasn't a hit with audiences or critics. But comedy fans who have seen it know a little secret: it's funny ... very funny. Murray gives one of his best performances as the jaded leader of a group of bank robbers (with Geena Davis and Randy Quaid being the others) whose escape is hampered at every turn by the very city they are trying to flee: New York. The film unfolds like a fast-paced, small scale version of Planes, Trains and Automobiles that's both sweet and sour at once.
What do you think?
Are any of the above films among your favorites or least favorites? What about all the actor-directed films not in Metacritic's database ... are there any you would like to recommend? Let us know in the discussion section below.