Zero Dark Thirty is the best-reviewed movie of 2012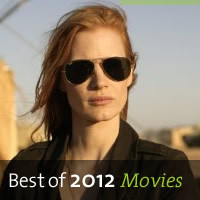 The critical buzz has been deafening for Zero Dark Thirty 95 since it first premiered in early December, which makes it a bit anticlimactic now to crown Kathryn Bigelow's follow-up to The Hurt Locker 94 as our highest-scoring film of 2012. Like its best picture-winning predecessor, ZDT returns to the American military and the war on terror, this time focusing on the hunt for Osama bin Laden. Bigelow once again finds herself and her film an Oscar frontrunner; we'll know on Thursday how many nominations it receives (while on Sunday it will contend for four Golden Globe trophies).
Although it is only playing on 60 screens at the moment, Zero Dark Thirty opens nationwide on Friday, making Bigelow's thriller just the second wide-release film to earn Metacritic movie of the year honors in the last five years (with The Social Network 95 being the other). Note that this slow theatrical rollout means that the film's Metascore may change by Friday when it expands to additional cities, but since it has a considerable lead over the #2 film (Michael Haneke's French-language drama Amour 92), and since the majority of reviews have already been included in the score, we are confident the score won't change enough to affect our final standings.
Overall, the Metascore numbers in 2012 were about on par with 2011's figures. Out of the 561 releases with seven or more reviews from professional critics, 34 received a Metascore of 81 or higher, the cutoff we use to indicate "universal acclaim" from critics. That nearly matches 2011's total of 35 such films, while the average Metascore of all releases actually ticked up in 2012 to 57.2 (from 57.0). On the other hand, only 44.7% of all releases in 2012 received green Metascores (of 61 or higher, indicating generally positive reviews), representing the lowest success rate since 2008. And there were seven films last year to score below 20, up from five equally awful films in 2011 and just three in 2010.
Below, we rank the highest-scoring films of 2012 in a variety of genres, while on the following pages we offer more complete lists of the year's best and worst wide and limited releases. If you are looking for even more of 2012's best movies, be sure to check out our Film Awards Scorecard and our collection of film critic top-ten lists elsewhere on our site.
On the next page ...
Continue reading for a look at the best and worst wide releases of 2012.