The best gaming apps for your iOS device this month
Below, we run through the ten best new iPhone, iPad, and iPod Touch games released within the past month. All titles are playable on all iOS devices unless otherwise indicated.
Buy from Apple1. Threes!
93
Puzzle, $1.99, ages 4+, from Sirvo LLC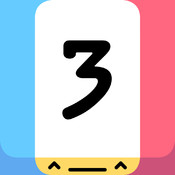 "The game rewards strategy and patience time and time again, and you'd be doing yourself a disservice by not having it on your iOS devices."
Far more charming than a game about matching numbered tiles should be, this addictive puzzler comes from the team behind Puzzlejuice.
From the Publisher: Threes is tiny puzzle that grows on you. Explore our little game's deep challenge and grow your mind beyond imagination. Optimized for iOS7 and human brains. Universal app for iPhone and iPads. Honorably mentioned for Excellence in Design by the Independent Games Festival.
Endless challenge from one simple game mode
An endearing cast of characters
A heart-warming soundtrack
No IAP - Threes is a complete experience the moment you download it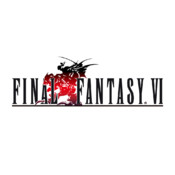 "Despite the strangeness of some of its surface-level changes, Final Fantasy VI has aged surprisingly well, and holds up beautifully on iOS."
One of the better entries in the Final Fantasy franchise (or any franchise, for that matter) comes to iOS for its 20th anniversary. Gameplay and story haven't changed, but some longtime fans are unhappy about a graphical makeover.
From the Publisher: FINAL FANTASY VI first debuted in 1994 as the sixth installment in the iconic FINAL FANTASY series. Innovations included the ability to play all the main characters as the game's protagonist, and to this day, its epic story intertwining each of their fates is still highly rated and wildly popular. The characters' dramatic performances are also highly rated, including the catastrophe occurring midway through, which delivers a particular emotional jolt to players. With plenty of abilities available and the magicite system for controlling spells/summoning, players can develop their characters any way they want. This was also the first FINAL FANTASY game to include the Ultima Weapon, the most powerful sword of all and a recurring item in subsequent titles within the series.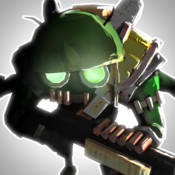 "Bug Heroes 2 doesn't simply succeed in reaching the rather high bar Foursaken Media has already set for itself; it breezes past it almost effortlessly."
This sequel to Bug Heroes offers more third-person combat, with both competitive & cooperative multiplayer available.
From the Publisher: Every day while you're gone, an epic battle of swords, guns, and armor rages on your counters, on your floors, and in your yard... Enter the world of the Bug Heroes! From the creators of Block Fortress and Heroes & Castles comes a new adventure, blending fast paced action, strategy, and defensive gameplay! Master 25 unique heroes - from a hook wielding Waterbug pirate, to an old and wise Aphid sensei, a champion Bumblebee boxer, a grenade launching Worm, a poison obsessed Stinkbug, and tons more! Choose and customize your squad of two, then seamlessly switch between them while unleashing a variety of powerful abilities on your enemies. Scavenge for food and junk, fortify your base, build turrets, level up your heroes, equip weapons and armor, and survive! Or, put your skills to the test in up to 2v2 competitive multiplayer battles!
Buy from Apple4. Bardbarian
86
Action/Strategy, $0.99, ages 9+, from Bulkypix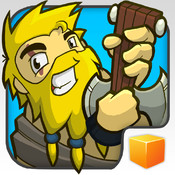 "An intriguing mix of genres that gel together brilliantly, Bardbarian is a breath of fresh air."

—Pocket Gamer UK
This hybrid of RPG, tower defense and shoot-em-up action features hand-drawn artwork.
From the Publisher: It is a mixture of Tower Defense, RPG & Strategy, with some shmup and Snake elements. You play as Brad the barbarian, who is awoken to the sounds of his town under siege. Today is different though; Brad has grown tired of fighting all the time. The usual grind for XP has grown dull, and he has decided to pursue his dreams of making music instead of shedding blood. Fashioning a lute out of an old axe, he steps out to save his town through musical inspiration. Use your magical Axe-Lute to summon followers to fight for you. Navigate your party through the hordes of enemies, dodging and attacking, preventing them from destroying your town's prized decorative crystal. Survive waves to progress, collect loot, and unlock new units. Upon death you are able to visit the town shop in order to upgrade Brad, the town and your followers, in hopes to make it further next time. Finished story mode? Play Endless and Survival modes for some fun, fast and competitive gameplay variety, set your best scores, collect achievements and challenge your friends via GameCenter integration.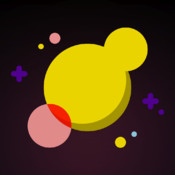 "Eliss Infinity is a fun and challenging action management game that offers greater rewards the more time you invest."
This update to the innovative indie puzzler Eliss includes an improved version of the original game and adds a brand-new game mode.
From the Publisher: The "Most Innovative Game" award-winning multitouch puzzler is back! Use your fingers to control all the planets, fuse planets together until they become giant, or split them into halves until they become tiny, you're in charge of this reactive universe. Just don't let different colors touch! Eliss is an award winning and critically praised game, with innovative multitouch gameplay, a stylish and fluid procedural design, dynamic sounds, and a superb soundtrack. It's a fast-paced puzzle/action game that will push your limits as a player.
Buy from Apple6. Rocket Robo
85
Puzzle, $0.99, ages 4+, from Aaron McElligott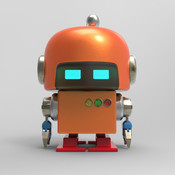 "Rocket Robo is worth picking up for its presentation alone. The design is stellar, to the point where I could easily see figures of Robo selling at a local store. But it's more than just a pretty picture, as it's complimented by tight controls and engaging gameplay."
This fun, side-scrolling 2.5D puzzler features slick graphics.
From the Publisher: In the middle of space stands a solitary lighthouse. A beacon of light for travellers lost. Inhabited by a little robot and his friend, an elderly tinker who built him. They would often play games for fun but their very favourite thing was sitting together, watching the stars glisten. One unusual day however there were no stars to be seen, they had just gone!… Guide Rocket ROBO around 3 wonderful worlds; Material World, Space Station and the 3rd, Sugar Cube(coming very soon); across 57 levels in an attempt to retrieve the lost stars, find out why they were stolen and restore power to the lighthouse where Rocket ROBO was created.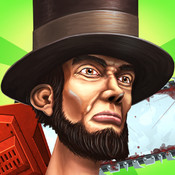 "A mixture of imaginative design and traditional twin-stick shooting, Second Chance Heroes is an enjoyable romp indeed."
How do you fight off an infestation of zombies and evil, sentient cheeseburgers? Why, with clones of Abraham Lincoln and Joan of Arc, of course.
From the Publisher: Join your friends in this epic cooperative action adventure where you collect an army of historical clones and fight to save the world! Overrun by werewolves, zombies, and sentient cheeseburgers, fight your way through a mall, a long-lost kingdom of Hobos, and a secret government bunker. Collect characters like Abraham Lincoln, Nikola Tesla, Joan of Arc and many more to help you in your quest. Your goal in Second Chance Heroes is to collect and train a small army of historical clones. Each one you add gives you new options as you approach a new level or battle. And remember, with character tag teaming you can always have two clones on hand in any given situation.
Buy from Apple8. Toast Time
81
Action, $2.99, ages 4+, from Force Of Habit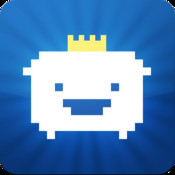 "If you're looking for a fun time waster and you're a fan of Super Crate Box, Toast Time is for you."
This blend of shoot-em-up, tower defense, and breakfast foods features retro graphics.
From the Publisher: An appetising arena shoot-em-up garnished with tower-defence elements and served warm with awesome-sauce (probably syrup). A throwback to the golden age of video games where old-school homebrew titles fused arcade action with a distinctly British sense of humour. Inter-dimensional time-blob beasties have sailed the cosmos in pursuit of spare time, and now they've found it, tasted it, on an idyllic Monday morning. Assume the role of TERRY (toast-ejecting recoil & reload system), a humble and solitary toaster with an uncontrollable love for English breakfasts, hats and scheduling. Tap to launch toast, crumpets and magnitudes of other breakfast paraphernalia at the beasties. Bounce around and crush them with your hot metallic mass. Tip over bins, and use the environments to your advantage. Drink a little coffee and go a little crazy. Do everything it takes to defend toast time – you are Monday morning's final hope. Have your toast and eat it.
Buy from Apple9. Shadow Blade
81
Platform, $0.99, ages 9+, from Crescent Moon Games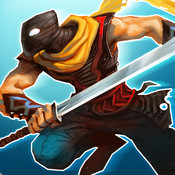 "Shadow Blade could be the start of a great franchise on mobile, thanks to great controls and exciting action. Let's hope we see the student become the master again soon."
This ninja-themed platformer features simple controls but plenty of challenges.
From the Publisher: Kuro is a young man on his quest to become the Shadow Blade. He must seek the teachings of the last remaining ninja master. You will guide him through challenging levels, around countless traps, sneaking past enemies or right over their dead bodies. You have to be fast, be stealthy, be aware of your environment. You have to be a ninja. Shadow Blade is a fast paced action platformer game for iOS with intuitive touch controls. It features intuitive touch controls and an array of weapons and challenging levels. Becoming a ninja is at your fingertips!
Buy from Apple10. Only One
78
Action, free, ages 9+, from Ernest Szoka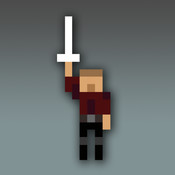 "A brilliantly paced, sharp-edged brawler that isn't afraid of a bit of silliness. Only One is well worth a play."
This arena sword-fighting game features retro pixel art and 70 levels of challenges.
From the Publisher: Pick up a magic sword on the ancient pillar of sacrifice and fight to become the 'Only One' left standing. Only One is an arena style sword fighting game where you grab a magic sword declaring yourself the 'Only One' and then proceed to push and destroy waves of enemies off a pillar in the sky Defeat your enemies in gruelling combat or take the easy way out and push them off the pillar to their deaths down below Gain powers and strength with a wide variety of abilities and upgrades. Fight over 70 waves and 7 bosses to ultimately become the only one left standing!
A few to avoid
Namco Bandai's Tales of Phantasia 35, EA's Dungeon Keeper 42, and Square Enix's Deadman's Cross 53 are the lowest-scoring iOS games released in recent weeks.
What are you playing?
Have you tried any of the games above? If so, what did you think of them? Are there any other new iPhone or iPad games that deserve a download? Let us know in the comments section below.