The 25 best-reviewed iPhone games of the year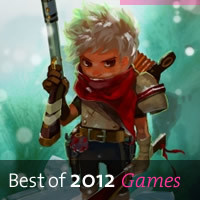 Below, we rank the best-reviewed iOS games released during 2012. All of the games below are playable on all types of Apple portable devices (iPod Touch, iPhone, and iPad); any restrictions are noted. (iPad-only titles are listed separately at the end of this article.)
Only those games with a minimum of 7 reviews were considered for inclusion, and games are ranked by Metascore prior to rounding.

Get This Game
1.
Bastion
94
Action-RPG, Warner Bros., $4.99
iPhone 4S/5
iPad 2/3
iPod Touch 5
"It proves that quality titles can make it on Apple's mobile devices without compromising gameplay, graphics, audio, or any other aspect that makes them fit for consoles or the PC/Mac."

—TouchGen More reviews...
Metacritic's iOS Game of the Year!
After earning strong reviews for its Xbox 360 and PC releases last year (especially for its strong storyline and hand-painted artwork), this award-winning action-RPG title from Supergiant Games made its debut on iPads in August, and is now available for newer-model iPhones and iPod Touch devices as well.
"What is better than punching everything in the face, Chuck Norris style? Nothing, that's what."

—AppAdvice More reviews...
If you like punching things, you'll like this arcade-style endless runner from the creators of Hook Champ. (Just don't punch your iPhone.)
"A true work of art, in so many ways. It's smart. It's challenging. It's gorgeous. But most importantly, it's fun - dizzying, dreamy, and delightful fun."

—Gamezebo More reviews...
You and your pall Herbie must recover all of the world's clocks that have been stolen by Duke Clockface—but you can only move in time to the music—in this fun rhythm/puzzle hybrid that also drew praise early this year for its sound and graphic design.
"Mikey Shorts manages to stand tall amongst the best the platform genre has to offer, and you should make a point to download it in the very near future."

—Modojo More reviews...
This fast-paced, retro-styled platformer offers gameplay in two different modes (story and challenge) and six different playing environments.
"Fast and furious, Reckless Racing 2 raises the bar for iOS racing games through a combination of deft handling, gorgeous looks, and addictive gameplay."

—Pocket Gamer UK More reviews...
The year's best-reviewed iOS driving game is a much-improved sequel to 2010's top-down arcade-style racer Reckless Racing that ditches the country theme and adds new career and challenge modes.
"A love-letter to Japanese youth culture and a staggeringly deep RPG with style in abundance. It's an iOS must have. The high price might give you pause, but do your best to let it slide and enjoy this one; it's unique & very special."

—IGN More reviews...
This iOS port of the 2008 RPG classic for the Nintendo DS retains the Shibuya, Tokyo setting but adds a new soundtrack, control scheme, and improved graphics. Note that the iPhone version will not run on iPads.
"FIFA 13 continues the tradition of 'fixing' previous iterations by only a small degree, thankfully the sum-weight of these changes turns out to be quite a lot, making it a worthy pick up for fans of Football games."

—AppSpy More reviews...
EA Sports' annual licensed soccer title offers modest improvements over previous versions, but that's good enough to make it the year's best-reviewed iOS sports game.
"The Last Express is just one of those games that adventure fans, or just fans of a good story, need to play. This iOS port isn't perfect, but it's still a pretty faithful translation of one the best tales ever told in a videogame."

—Slide to Play More reviews...
An iOS remake of the 1997 PC game that asks you to solve a mystery aboard the Orient Express.
"Pizza vs. Skeletons is what I love about reviewing. In an endless queue of redundant concepts out pops a game that is utterly unexpected, irreverent and loads of fun to play. Expect this one to be a long-time hit and to spawn many cheesy copycats; it's just that tasty."

—148Apps More reviews...
How do you stop a group of marauding skeletons? With pizza, of course. But the precise way you do so changes in each of 100 short, quirky levels. A free version (available as a separate download) includes just the first 10 levels.
"A white-knuckled, well designed thrill-ride, this game is some of the most fun you'll get from the App store."

—Slide to Play More reviews...
The 2009 indie computer game and its humorous take on base jumping comes to iOS (without misplacing a single vowel in the process!) in a port from the creator of Snuggle Truck.
"Despite its inspiration lying in classic games, Organ Trail can really stand on its own with a tricky resource management, mini-games well suited to touch control and a bitingly witty sense of humor."

—Digital Spy More reviews...
Definitely not to be confused with Oregon Trail—though it does utilize '80s-style computer graphics in tribute to that classic game—this Kickstarter-funded project is a zombie survival adventure.
"For a ridiculous price, Squids Wild West features an interesting story, great amounts of content and a brilliant strategic-action-rpg hybrid gameplay. Definitely one to pick up."

—Multiplayer.it More reviews...
This sequel to the tactical RPG SQUIDS improves everything about the original while retaining its casual and accessible approach to turn-based strategy. It's easily the best (though, quite possibly, the only) undersea-based, Wild West-themed game this year.
"Girls Like Robots is as charming as the title suggests. There's depth to the intricacies of the puzzles and creativity in the various gameplay types."

—IGN More reviews...
Adult Swim somehow managed to churn out a well-reviewed game every few months this year, but this, their best-reviewed overall, is a clever logic puzzler with a distinctive hand-drawn visual style.

Get This Game
14.
Fieldrunners 2
88
Action/strategy, Subatomic Studios, $0.99
An HD version for iPads sells for $2.99
"Fieldrunners 2 keeps the best aspects of the original title while borrowing from its brethren to come up with a fantastically fine-tuned challenge that remains rewarding whether you take the easy route or bash your head against its harder challenges."

—AppSpy More reviews...
Currently discounted for the holidays, this sequel to the acclaimed 2008 tower defense game Fieldrunners offers a ton of content and hours of gameplay.
"It is with no hesitation that I say Rayman Jungle Run is a must-own title for every iOS user. Its bite-sized structure fits perfectly on iOS, and Ubisoft has done a fantastic job crafting a complex experience that works perfectly with a touch screen interface."

—Gamezebo More reviews...
Named the best iPhone game of the year by Apple's editors, this auto-runner utilizes the visual style of last year's console hit Rayman Origins. Ten new levels were added to the title earlier this month.
"It is a great addition to the Angry Birds universe, giving you more of what you had before whilst feeling fresh enough to warrant the small expenditure. And the best part is this: There's not a bloody Jar Jar Binks in sight. Splendid."

—AppGamer More reviews...
What do you get when you cross the most popular mobile casual game series with a legendary film franchise? Quite unsurprisingly, another hit—and one that is one of the better entries in either series in some time.
"Alien Breed is a throwback to simpler times that works just as well today as it did back on the Amiga-- possibly even better."

—Slide to Play More reviews...
The classic, top-down, sci-fi shooter—first released for the Amiga over two decades ago—is reinvented as an iOS title that adds a few new levels and allows you to choose between the original graphics or new, more modern, styling.

Get This Game
18.
ARC Squadron
87
Action, Psyonix, free
iPhone 4 or newer
iPod Touch 4/5
iPad 2 or newer
"ARC Squadron is easily one of the best shooters on the AppStore right now."

—TouchGen More reviews...
This on-rails space shooter comes across as a more streamlined take on the Star Fox formula. Normally $0.99, the game is now on sale at the welcome price of $0 (at press time).
"A word game that's as addictive as it is entertaining, Letterpress is a brilliant addition to anyone's app collection."

—Pocket Gamer UK More reviews...
This free, head-to-head word game has proven to be just as addictive as Words With Friends, while adding a strategic new twist—and a modern, minimalist design—to the genre.

Get This Game
(tie) 19.
WarGames: WOPR
87
Puzzle/strategy, Be-Rad Entertainment, free
"Simply put, WarGames is awesome. Head-to-head multiplayer would sweeten the deal, but as it stands, this is one of the finest match-three puzzlers on the App Store, as well as a shockingly good movie-based game; there aren't many of those available."

—Modojo More reviews...
While it is officially licensed, this strategic puzzle game actually bears little resemblance to the 1980s movie War Game in terms of gameplay, though it does use the characters' voices, and fans will notice references throughout. (At any rate, it beats global thermonuclear war.)

Get This Game
21.
Outwitters
87
Turn-based strategy, One Man Left, free
"If you're looking for a competitive turn based strategy game, Outwitters delivers with an easy to grasp play system and the ability to have numerous games playing at the same time."

—AppSpy More reviews...
The makers of iOS classic Tilt to Live return with something completely different: a free-to-play strategy board game with online multiplayer.
"While Illusion Labs doesn't particularly offer anything innovative, Blast-a-Way proves that there is still room in the overcrowded puzzle arena for games that excel in pure execution."

—TouchArcade More reviews...
Blast-A-Way is an approachable 3D adventure game filled with physics-based puzzles from the creators of Touchgrind.
"Ghost Trick: Phantom Detective was a real jewel on the Nintendo DS and it's more so on the iOS platform, thanks to the high-resolution graphics and sounds. Don't miss it."

—Multiplayer.it More reviews...
Based on the Nintendo DS title, this adventure game from the creator of Ace Attorney features a storyline reminiscent of the film Source Code. Note that while the first two chapters are free, it will run you $9.99 to play through to the end.
"Blending together equal parts simplicity and self-induced complexity, the game is an ideal fit on the platform. Don't even bother to debate this ninety nine cent purchase. It should become a mandatory staple of your collection as soon as possible."

—148Apps More reviews...
Relaxing and frustrating? Simple and complex? Those are the contradictions that arise when you play against the toughest possible opponent: yourself.
"Swordigo treads the line between slavish homage and love-letter to a genre and style of action-adventure that remains exciting thanks to its almost unstoppable pace that keeps you hooked the entire way."

—AppSpy More reviews...
Swordigo's gameplay blends platformer-style action with a basic RPG system, and Zelda fans should find elements of this retro-styled adventure game not unfamiliar.
Bonus: The best iPad games
While iPad owners can play most of the 25 games above, these next few titles were the best 2012 HD releases designed specifically for the iPad. (Minimum 5 reviews.)
"Yes, the price tag is rather astronomical when compared to bargain-bin, $0.99 titles but there's a reason for that. The World Ends With You: Solo Remix is not a game built for five-minute diversions; it's a solid game, one meant to leave a permanent impression."

—TouchArcade More reviews...
iPad version of the iPhone game listed at #6 above.
"It's remarkable that this revised edition of one of mobile gaming's brightest gems not only preserves the simplistic elegance of the original, but introduces new gameplay elements that shine just as brightly."

—Modojo More reviews...
Last year's acclaimed iPhone game finally came to the iPad this summer in an HD version that added some new gameplay modes (including multiplayer) in addition to the larger resolution.

Get This Game
3.
Magic 2013
91
Card battle, Wizards of the Coast, free-$9.99
"Wizards of the Coast has done a phenomenal job of bringing the tabletop game to the iPad. The gameplay, despite a few small problems, is incredibly well done and we honestly can't think of a better way to do it."

—Slide to Play More reviews...
The popular collectible card game comes to the iPad for the first time with both single- and multi-player modes. After playing the free version for a while, though, expect to shell out $9.99 to get the premium version, which brings many more decks, cards, and levels.
"An iPad game that combines the foresight of chess with quick, agile gesture control in a constantly changing tunnelscape."

—AppSafari More reviews...
Filled with nifty sci-fi-themed pixel art, this arcade-style actioner asks you to "spin" various levels of a quickly-changing game board to guide your player to safety.

Get This Game
5.
The Room
88
Puzzle, Fireproof Games, $1.99
iPad 2/3
"The Room is a must have for the iPad 2/New iPad with the best puzzles, and puzzle mechanics of 2012. Everything about the game is polished, and highly compelling."

—TouchGen More reviews...
No, it's not a spin-off of the worst movie ever made; instead, this Room is a mystery-filled 3D puzzler that was recently picked by Apple editors as the year's top iPad game.
What do you think?
What were your favorite iOS games of the past year? Let us know in the comments section below.