The 25 best-reviewed iPhone games of the year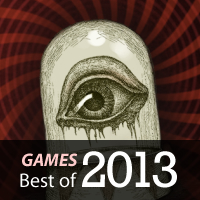 Below, we rank the best-reviewed iOS games released during 2013. All of the games below are playable on all types of Apple portable devices (iPod Touch, iPhone, and iPad) unless otherwise indicated.
Only those games with a minimum of 7 reviews were considered for inclusion, and games are ranked by Metascore prior to rounding.
"It's hard to really express through words or through visuals what Papa Sangre II does with the manipulation of sound, but believe me when I say that it is unbelievably unique, and just all sorts of incredible."

—Gamezebo More reviews...
Metacritic's iOS Game of the Year!
There's not much like it in the App Store. Sean Bean (Game of Thrones) is your guide for this unique audio-only survival horror game, an even better sequel to 2010's Papa Sangre.
"The text adventure is reborn as one of the smartest and most engrossing interactive stories of the year, and with one of the best touchscreen interfaces ever seen."

—Metro GameCentral More reviews...
Another unconventional gaming experience, this surreal interactive mystery story comes from the creators of Year Walk.
"Fast, slick, and startlingly affordable, Asphalt 8: Airborne redefines iOS arcade racing."

—MacLife More reviews...
By far the highest-scoring game in the Asphalt arcade-style racing series, Airborne earned raves for its depth, graphics, and multiplayer functionality. A recent switch to a free-to-play model doesn't hurt, either.
"Ingeniously designed, continuously compelling, painstakingly crafted, dripping with personality, packed with content -- I like everything about Ridiculous Fishing."

—Destructoid More reviews...
It's like shooting fish in a barrel, except for the "in a barrel" part. This fishing game—in which rod and reel are just step one in catching fish—benefits from a sense of humor and a great design, and this week Apple named Ridiculous Fishing the iPhone Game of the Year.
"Quite possibly the best game on the App Store. Its twenty dollar price tag may seem a bit high, but the amount of detail and polish makes it easily worth the price."

—Gamezebo More reviews...
One of the more expensive games you'll find in the App Store, this iOS port of the critically acclaimed turn-based tactical game is also one of the best.
"Lords of Waterdeep provides an intense, strategic experience that's best played with friends."

—Arcade Sushi More reviews...
This multiplayer turn-based strategy game is a port of a Wizards of the Coast board game set in the Dungeons & Dragons universe.
"Very few games are as original, atmospheric, and consistently brilliant."

—IGN More reviews...
Finally reaching iOS three years after it hit other platforms, the indie side-scroller Limbo has wowed critics and gamers with its stunning (and surprisingly dark) design.

Get This Game
8.
The Room Two
89
iPAD ONLY
Puzzle, $4.99, from Fireproof Games
"The Room Two builds on the original game in smart ways without losing the thrill or depth of its finely tuned puzzle play."

—MacLife More reviews...
Released just last week, this sequel to Apple's top iPad game of 2012 is another winner with critics, who love its beautifully designed 3D puzzles.
"The game just has everything you could ever want in a mobile sidescrolling game: beautiful visuals, great gameplay, and tons of diverse environments and enemies that never seem to get old."

—Gamezebo More reviews...
Now available for both iPhones and iPads, Magicka reinvents the Windows action-adventure fantasy game as a side-scrolling brawler.
"Absurdly funny, perfectly challenging, and massively rewarding."

—Pocket Gamer UK More reviews...
Also known as Joe Danger Touch, this January release features the daredevil hero from the console games in motorcycle-racing/platforming action tailored to portable devices.
"While Grand Theft Auto: San Andreas is certainly showing its age, everything that made it great still shows through brilliantly. "

—148Apps More reviews...
Another late-year release, this new iOS port of the fifth major title in the Grand Theft Auto series (originally out in 2004) features enhanced graphics and over 70 hours of gameplay.
"You'll play every level over and over again to get those three stars, and after your friends manage to beat your scores, you'll play the levels again. It's just that much fun."

—Slide to Play More reviews...
This sequel to Mikey Shorts—already one of the better platformers on iOS—adds grappling hooks to its speed-running formula.
"Sorcery! 2 certainly isn't for everyone, but, as a text adventure for the digital age, it's an experience that's second-to-none."

—Arcade Sushi More reviews...
Playing part 1 is not a prerequisite to enjoying this second adaptation of Steve Jackson's fantasy gamebook series.
"An excellent conversion of a sublime game. This is the port you're looking for."

—AppSpy More reviews...
The all-time classic 2003 RPG set in the Star Wars universe made the jump to iPad for the first time this summer, and (as of this week) now works on iPhones/iPods as well. (At the moment, it's also on sale from its usual $9.99 price.)
"Year Walk is a small but perfectly formed piece of digital entertainment that shows there's much more to iOS than endless runners and free-to-play timewasters. A game this distinctive, this different, this thrillingly new is the best possible demonstration of the format's versatility; indeed, of the narrative power of the interactive medium."

—Telegraph More reviews...
This short, supernatural-themed adventure title features absolutely beautiful illustrations and is certainly one of the most distinctive games released for the iOS platform this year. Its puzzles can be challenging, though, and it's not a game for the impatient. A separate (free) companion app explains the Swedish folklore behind the game.
"Like all great puzzle games, you're beholden to the whims of fortune, forcing you into leaps of faith that often prove frustratingly fatal. But like all great puzzle games, Stickets' surface simplicity is merely a cover for mechanics of astonishing depth and longevity."

—Edge More reviews...
One of the better titles in the recent wave of minimalist puzzle games, Stickets is the first iOS release from indie studio Wanderlands.
"If you are ready for a grand space strategy epic, this an amazing specimen on iOS."

—TouchArcade More reviews...
A complex, 4X-style space strategy game for iPads based on the award-winning board game of the same name, Eclipse features both solo play (against AIs with varying difficulties) and asynchronous multiplayer.
"A huge sequel, polished to near perfection."

—IGN More reviews...
This sequel to the 2011 arcade-style 2D golf game brings new challenges and multiplayer modes.
"The most capable and original physics puzzle game since Angry Birds and Cut the Rope."

—Games Master UK More reviews...
This physics-based puzzler is adapted from the flash game Icebreaker.

Get This Game
20.
Gemini Rue
86
Adventure, $4.99, from Wadjet Eye Games
"Those with any love for the genre should play Gemini Rue for the story and to delight in the nostalgia of a simpler time before eye-popping HD graphics, light bloom and the Unreal Engine."

—DarkStation More reviews...
Sci-fi noir meets point-and-click adventure in this port of the indie PC game.
"Anomaly 2 is a tour de force of impressive visuals and exciting gameplay that raises the bar for mobile strategy games."

—God Is a Geek More reviews...
This sequel to the acclaimed Anomaly: Warzone Earth is a visually rich, "tower offense"-style tactical challenge with a sci-fi storyline. (A current sale brings the price down significantly from its usual $4.99.)
"Like a high-resolution, hyperactive cartoon, Rayman Fiesta Run barrels ahead with unbound enthusiasm."

—Slide to Play More reviews...
This auto-runner and latest Rayman mobile title is a sequel to Rayman Jungle Run.
"Where's My Mickey? manages to add both new puzzles and a much-needed dose of classic Disney charm, turning it into a game that can stand on its own instead of simply being another Where's My Water? expansion pack."

—Digital Spy More reviews...
The answer is "on my iPhone," if you're a fan of Mickey Mouse and/or the puzzle game series that began with Where's My Water?
"What you're getting is basically more of that classic Plants vs. Zombie experience, with just enough tweaks to keep it interesting -- and that's more than enough for me."

—Destructoid More reviews...
The long-awaited sequel to one of the most successful iOS games of all time is a similar tower defense game, though with plenty of updates throughout.
"There's a lot to love in this clever and adorable point-and-click puzzler."

—148Apps More reviews...
What this cute point-and-click adventure game for all ages lacks in difficulty, it makes up for with charm.
What do you think?
What were your favorite iOS games of the past year? Let us know in the comments section below.