Carol is the best-reviewed movie of 2015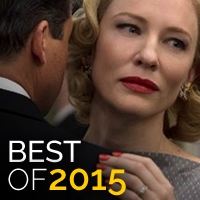 It's official. Carol, a 1950s-set lesbian melodrama starring Cate Blanchett and Rooney Mara—and the first theatrical feature from director Todd Haynes (Far From Heaven) in eight years—is 2015's highest-scoring movie, edging out a number of strong contenders including best picture favorite Spotlight, Charlie Kaufman's animated Anomalisa (which had the Metascore lead until very recently), and British drama 45 Years.
In fact, 2015 appears to have no shortage of good films. Out of the 634 films released during the last calendar year to receive at least 7 reviews from professional critics, 61 received a Metascore of 81 or higher, the cutoff we use to indicate "universal acclaim" from reviewers. That's both the highest total and highest percentage (over 9.6%) of great films in years.
In fact, the numbers get even more impressive when you focus only on those elite films that scored 90 or higher. There were 11 such films in 2015, and if that sounds like a high number, it is. As you can see from the chart below, we have never before recorded a double-digit total of 90+ releases in a single calendar year; the previous high was 8 in 2013.
Just over 50% of films released in 2015 were reviewed positively by critics (scoring 61 or higher). That is a huge increase over 2014's success rate of 44.4%. The average Metascore for all films released last year also edged up to 58.7 (from 56.3 in 2014), and the number of horrendously awful films scoring below 20 was cut in half, from 14 in 2014 to just 7 last year. (One of them, though, may just be the worst film of the century.)
The year's best films
Below are 2015's highest-scoring overall films, followed by separate lists of the year's best movies in a variety of categories.
Highest-Scoring Movies Released in 2015
Best 2015 Films by Genre







2015's Best Horror Films and Supernatural Thrillers

| | | | |
| --- | --- | --- | --- |
| 1 | It Follows | 83 |    |
| 2 | Goodnight Mommy | 81 |    |
| 3 | Spring | 69 |    |
| 4 | The Harvest | 68 |    |
| 5 | Crimson Peak | 66 |    |



What about the year's worst movies?
Oh, we haven't forgotten about those. The lowest-scoring films released in 2015 can be viewed in the gallery below:
What are your favorites?
What are your selections for the best and worst movies of last year? Let us know in the comments section below. If you are looking for even more of 2015's best movies, be sure to check out our compilation of over 200 film critic top 10 lists as well as our 2015 Film Awards Scorecard.