Moonlight is the best-reviewed movie of 2016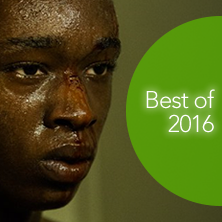 Was 2016 a good year for movies? We've seen a variety of opinions on both sides of the argument, but one thing is clear: it was indeed a great year for great films.
And by "great" films we mean high-scoring films. There were 12 movies released during 2016 that scored 90 or higher, more than in any other year this century. (See chart below.)
No 2016 film was greater than Barry Jenkins' coming-of-age drama Moonlight, a three-part look at the life of a gay black man growing up in a broken household in Florida. It's the highest-scoring release since Boyhood in 2014 and one of just four films in our entire database to score 99 or higher.
But the strength of 2016's very best films is such that Moonlight isn't even necessarily a favorite to win the best picture Oscar (though a nomination appears to be a certainty). It will have to contend with other films showered with praise by critics, including Kenneth Lonergan's drama Manchester by the Sea and the throwback musical La La Land.
Then again, there was plenty of love from reviewers to go around. There were 610 films released during 2016 to receive at least seven reviews from top professional critics. Of those, 328 received positive reviews (scoring 61 or higher)—that's an impressive 53%, and up from the 2015 figure (which was around 50%). And 58 of those films received a Metascore of 81 or higher, the cutoff we use to indicate "universal acclaim" from reviewers. That pretty much matches the percentage for the prior year.
More good news: the average Metascore for all 2016 films was 60.3, up from 2015's mark of 58.7. And the number of truly awful films scoring below 20 remained at just 7 for the year, tying 2015's total (and still down considerably from the 14 terrible films released in 2014).
The year's best films
Below are 2016's highest-scoring overall films, followed by separate lists of the year's best movies in a variety of categories.
Highest-Scoring Movies Released in 2016
Best 2016 Films in Selected Genres
What about the year's worst movies?
It would be a shame to forget about those. You can find the 15 lowest-scoring films released in 2016 in the gallery below:
What are your favorites?
What are your selections for the best and worst movies of the past year? Let us know in the comments section below. If you are looking for even more of 2016's best films, be sure to check out our compilation of over 200 film critic top 10 lists as well as our 2016 Film Awards Scorecard.