Roma is the best-reviewed movie of 2018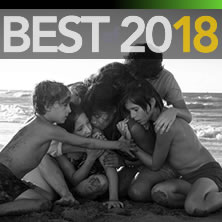 In 2017, when we ranked the best directors of the current century so far, Alfonso Cuarón placed first with a 87.5 average Metascore. So it's hard to call his latest film his "masterpiece" given that he's already made so many acclaimed films. And, yet, it appears that Cuarón has made his masterpiece.
The director's black-and-white, Spanish-language Netflix drama Roma is 2018's highest-scoring film. (Unsurprisingly, it's also dominating critics' year-end top 10 lists.) It's the first time since 2011 that a foreign-language narrative film has taken the top spot in our year-end chart. All that's left to determine is whether Roma will become the second #1 film in three years (following 2016's Moonlight) to win best picture at the Oscars—though, it should be noted, no foreign-language film has ever done so.
Multiple critics recently noted that 2018 was a good year for film, and the numbers bear that out. It was the fourth consecutive year in which the number of truly outstanding films—marked by Metascores of 90 or higher—was in the double digits. In fact, there were 15 such films in 2018, setting an all-time record. (See the chart below.)
A total of 604 films released during 2018 received at least seven reviews from top professional critics. Of those, 351 received positive reviews from critics (scoring 61 or higher). That's an impressive 58% approval rate, though it's down slightly from 2017's percentage of 59%.
For the second consecutive year, a total of 69 of those films received a Metascore of 81 or higher, the cutoff we use to indicate "universal acclaim" from reviewers. The average Metascore for all films released in 2018 was 62.1, which is a few tenths of a point shy of the average in 2017. At the other end of the scale, just four films scored lower than 20, again matching 2017's figure. Are we in the beginning of a new golden age of cinema, or is this just a two-year fluke? Ask us again a year from now.
The year's best films
Below are 2018's highest-scoring overall films regardless of genre, followed by separate lists of the year's best movies in a variety of categories.
Highest-Scoring Movies Released in 2018
Best 2018 Films in Selected Genres
What about the year's worst movies?
For one thing, the year's worst movie was historically bad. Find the 15 most awful titles released in 2018 in the gallery below:
What are your favorites?
What are your selections for the best and worst movies of the past year? Let us know in the comments section below.
If you are looking for even more of 2018's best films, be sure to check out our compilation of nearly 300 film critic top 10 lists as well as our 2018 Film Awards Scorecard.