This year's best-reviewed new series, ranked by Metascore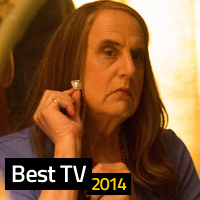 Below, we list the 10 highest-scoring new TV shows to debut in the U.S. during the 2014 calendar year. Shows must have at least 15 reviews from professional critics to qualify for the list. Specials, TV movies, and one-time miniseries are excluded from this list (though they are ranked in a separate list further below).
Note that Metascores are based on reviews at the time of each show's debut, which generally reflect just the pilot and perhaps a few subsequent episodes (though cable networks generally provide more episodes in advance to critics). Shows are ranked by Metascore prior to rounding.
Honorable mentions
High-scoring shows without enough reviews to qualify for the above list include UK crime drama Happy Valley (airing in the U.S. on Netflix), Starz basketball comedy Survivor's Remorse, Showtime environmental documentary series Years of Living Dangerously, BBC America's period spy drama The Game, and Disney XD's animated Star Wars Rebels. Additionally, at the time of this article's publication, new Amazon dramedy Mozart in the Jungle (which is available to stream beginning today) was on the cusp of qualifying for the above list. That show's score could change as more reviews come in over the next few weeks, however.
Several other newcomers did not receive exceptionally positive reviews at the time of their debuts, but nevertheless went on to impress critics (and wind up on many year-end top 10 lists) as their seasons progressed. Such shows include the aforementioned Broad City, HBO's Last Week Tonight With John Oliver, FX comedy You're the Worst, and (to a lesser extent) the Steven Soderbergh-directed medical drama The Knick on Cinemax. All grew stronger as their first seasons progressed and now come highly recommended by numerous critics.
New shows by network
Here are how the new series of the five major broadcast networks compared this year:
| Network | # of New Series * | % Good ** | % Awful ** | Avg. Metascore |
| --- | --- | --- | --- | --- |
| | 13 | 23% | 0% | 55 |
| | 8 | 25% | 13% | 50 |
| | 18 | 28% | 11% | 53 |
| | 12 | 58% | 25% | 56 |
| | 5 | 60% | 20% | 61 |
2014's best miniseries, specials, and TV movies
Here are the year's best one-off programs (including miniseries that will not return), based on a minimum of 7 reviews from TV critics.
2014's worst new shows
Finally, here are this year's lowest-scoring new programs (among regular series, specials, movies, and miniseries) among those that received at least 7 reviews from critics.
What are your favorites?
What TV shows did you like this year? Let us know in the comments section below, and don't forget to submit your picks in our Best of 2014 User Poll. And visit our roundup of TV critic top 10 lists for a look at which shows (including returning series) were the favorites this year among the professionals.