The results of our fifth annual user poll are in ...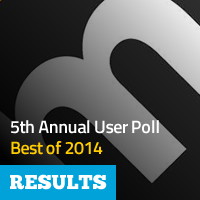 For the fifth straight year, we invited our users to list their favorite movies, games, TV shows, albums, and songs of the past calendar year. Nearly 1,600 people participated in the survey, and the results are tabulated below.
Note that participants ranked their five favorite titles of 2014 in each category, and we assigned a value of 5 points to each first-place vote, 4 points for second place, and so on down to 1 point for each fifth-place vote. We also asked our users to name the single most "overrated" release of the year in each category, and those "winners"—determined solely by the number of votes received, rather than points—are also listed below in each section.
Movies
Even our users couldn't resist the charms of Boyhood. The highest-scoring new film in Metacritic's history has been cleaning up on the awards circuit and dominating professional film critics' year-end top 10 lists, so it comes as little surprise that it was also included on more users' best-of-2014 lists than any other movie.
That doesn't mean that our users completely agreed with the critics. Films that cracked the top 20 with our users but not with the professionals included Christopher Nolan's space epic Interstellar (Metacritic users' second-favorite film of 2014), action-filled event films Dawn of the Planet of the Apes, Captain America: The Winter Soldier, X-Men: Days of Future Past, Edge of Tomorrow, and The Hunger Games: Mockingjay - Part 1, plus Australian horror hit The Babadook.
On the other hand, our users were less fond of some of the critics' favorite films of 2014, including arthouse fare Only Lovers Left Alive, Force Majeure, Mr. Turner, Two Days, One Night, Goodbye to Language and The Immigrant. And the new drama Selma is currently slotted 6th overall with critics but failed to crack the users top-20, though that is likely because the film has only screened in a few Los Angeles and New York theaters so far. (It opens nationwide this Friday.)
Games
Metacritic's official game of the year for 2014 was Nintendo's Super Smash Bros. for Wii U, and that game (combined with its 3DS cousin, since user voting was not platform-specific) also topped our users' lists as 2014's best game. The Wii U console actually accounted for three of our users' top five games, which speaks to both the improving quality of Nintendo's offerings and a lack of significant releases for the PS4 and Xbox One in 2014.
This was also the second year in a row that the annual Call of Duty entry failed to crack our users' top 10 (after doing so in each of the first three years of our survey). That franchise at least fared better than Assassin's Creed. Despite two releases in 2014, the highest it landed with users is 30th overall (for Assassin's Creed Unity). The previous year's AC title, by comparison, placed 5th in our user poll in 2013.
Sadly, Kim Kardashian: Hollywood received just one lousy fifth-place vote.
Best Video Game of 2014 as Voted by Metacritic Users
Game
Points
1
Super Smash Bros. (for Wii U/Nintendo 3DS)
Wii U:

92

/ 3DS:

85

791
2
Dragon Age: Inquisition
PC:

85

/ PS4:

89

/ XB1:

85

593
3
Middle-earth: Shadow of Mordor
PC:

84

/ PS4:

84

/ XB1:

87

488
4
Mario Kart 8
Wii U:

88

401
5
Bayonetta 2
Wii U:

91

380
6
Far Cry 4
PC:

80

/ PS4:

84

/ XB1:

82

361
7
Grand Theft Auto V [next-gen]
PS4:

97

/ XB1:

97



332
8
Dark Souls II
PC:

91

/ PS3:

91

/ X360:

91

315
9
The Last Of Us Remastered
PS4:

95

287
10
The Wolf Among Us
(episodic; multiple platforms)
206
11
South Park: The Stick of Truth
PC:

85

/ PS3:

85

/ X360:

82

203
12
The Walking Dead - Season Two
(episodic; multiple platforms)
199
13
Destiny
PS4:

76

/ XB1:

75

185
14
Call of Duty: Advanced Warfare
PC:

78

/ PS4:

83

/ XB1:

81

172
15
Alien: Isolation
PC:

81

/ PS4:

79

/ XB1:

78

158
16
Shovel Knight
PC:

85

/ Wii U:

88

/ 3DS:

90

142
17
FIFA 15
PC:

82

/ PS4:

82

/ XB1:

82

134
18
Wolfenstein: The New Order
PC:

81

/ PS4:

79

/ XB1:

79

128
19
inFamous: Second Son
PS4:

80

117
20
Pokemon Alpha Sapphire/Omega Ruby
3DS:

83

113
TV shows
With Breaking Bad departed from the airwaves, the field was wide open for 2014's best TV show. While professional critics seem to have settled on Fargo as the year's top title, our users preferred the fourth season of HBO hit Game of Thrones, though just by a hair: fellow HBO series True Detective was just behind it in voting. The latter show also placed second with the professionals, though critics' next three favorites—FX's The Americans, Amazon's Transparent, and CBS drama The Good Wife—scored lower with our users.
Instead, our users' voted more frequently for NBC's second-year drama Hannibal (#9 with critics), Netflix's Orange Is the New Black (#8 with critics), and AMC hit The Walking Dead #14 with critics). In all, seven of our users' top 10 shows were also in the critics' top 10.
Music
In an incredibly tight race for 2014's best album, our users gave Annie Clark's eponymous St. Vincent album a slight edge over Run the Jewels' second LP and The War on Drugs' Lost in the Dream. These same three albums appear at the top of our music critic top 10 list compilation, though with a slightly different order (the professionals rate Lost in the Dream ahead of the other two albums).
In fact, our users' top 20 list is remarkably similar to the critics' list. Albums in the professionals' top 20 that don't appear below include Transgender Dysphoria Blues by Against Me!, Miranda Lambert's Platinum, and Sturgill Simpson's Metamodern Sounds in Country Music. Another album in the critics' top 20 but not the users' is Future Islands' Singles, though that album did include our users' pick for #1 song of 2014: "Seasons (Waiting on You)."
Best Album of 2014 as Voted by Metacritic Users
Album/Artist
Listen
Points
1

89

St. Vincent
by St. Vincent
969
2

89

Run the Jewels 2
by Run the Jewels
901
3

86

Lost in the Dream
by The War on Drugs
863
4

86

LP1
by FKA twigs
553
5

85

Benji
by Sun Kil Moon
397
6

76

1989
by Taylor Swift
 
395
7

88

To Be Kind
by Swans
379
8

74

Ultraviolence
by Lana Del Rey
378
9

96

Black Messiah
by D'Angelo and the Vanguard
299
10

88

You're Dead!
by Flying Lotus
269
11

81

They Want My Soul
by Spoon
229
12

81

Morning Phase
by Beck
203
13

87

Too Bright
by Perfume Genius
199
14

86

Are We There
by Sharon Van Etten
185
15

86

Syro
by Aphex Twin
172
16

84

Burn Your Fire for No Witness
by Angel Olsen
153
17

80

Lazaretto
by Jack White
146
18

84

Our Love
by Caribou
142
19

82

Salad Days
by Mac DeMarco
130
20

67

X
by Ed Sheeran
129
Most Overrated Album of 2014 as Voted by Metacritic Users
Album/Artist
Mentions
1

76

1989 by Taylor Swift
153
2

86

Lost in the Dream by The War on Drugs
53
3

86

LP1 by FKA twigs
27
4

89

St. Vincent by St. Vincent
25
5

85

Beyoncé By Beyoncé
22
Best Song of 2014 as Voted by Metacritic Users
Song/Artist
Listen
Points
1
"Seasons (Waiting on You)" by Future Islands
from the album Singles
313
2
"Two Weeks" by FKA twigs
from the album LP1
217
3
"Chandelier" by Sia
from the album 1000 Forms of Fear
212
4
"Red Eyes" by The War on Drugs
from the album Lost in the Dream
201
5
"Digital Witness" by St. Vincent
from the album St. Vincent
193
6
"Blank Space" by Taylor Swift
from the album 1989
 
164
7
"Close Your Eyes (And Count to Fuck)" by Run The Jewels
from the album Run the Jewels 2
136
8
"Never Catch Me" by Flying Lotus feat. Kendrick Lamar
from the album You're Dead!
131
9
"Take Me To Church" by Hozier
from the album Hozier
118
10
"Shake It Off" by Taylor Swift
from the album 1989
 
116
How did you do?
What do you think of the picks made by your fellow users? Let us know in the comments section below, and don't forget to check out our Best of 2014 section for all of our end-of-the-year coverage.