The results of our 6th annual user poll are in ...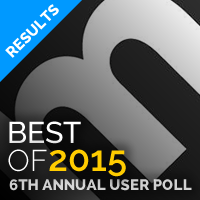 For the sixth straight year, we invited our users to list their favorite movies, games, TV shows, albums, and songs of the past calendar year. Nearly 1,000 people participated in the survey, and the results are tabulated below.
Note that participants ranked their five favorite titles of 2015 in each category, and we assigned a value of 5 points to each first-place vote, 4 points for second place, and so on down to 1 point for each fifth-place vote.
Movies
Metacritic users included many of the same films on the year-end lists as the critics did, with both groups agreeing on their consensus #1 pick, George Miller's Mad Max: Fury Road. Several films rated significantly higher with users than critics, especially genre films like Star Wars: The Force Awakens, The Martian, The Hateful Eight, and Avengers: Age of Ultron. Films included in the critics' overall top 10 but not in the users' include Brooklyn, Anomalisa, 45 Years, and Son of Saul, though all but Brooklyn were hampered by the fact that much of the country has not yet had a chance to see those films.
Games
Many of 2015's highest-scoring games wound up highly rated by Metacritic users on their year-end lists as well, with the exception of expansion packs and games that had previously been released on other consoles (like the PC version of GTA V).
TV shows
Users again agreed with professional critics on their consensus #1 pick for 2015: FX's second-year drama Fargo. Both groups also agreed on the year's best first-year series: Mr. Robot. Of the numerous titles below that also appeared in our users' picks last year, HBO's The Leftovers received the biggest boost, jumping from #20 to #4. And our users again seemed to like Amazon's acclaimed Transparent much less than critics did; that show ranked #5 overall with the professionals but failed to crack our users' overall top 15.
Music
There is again considerable overlap between critics' lists and those of our users. Not only did both groups settle on Kendrick Lamar as the runaway #1 pick, but nine of each group's top 10 picks are identical (just in a slightly different order). The exceptions are Sleater-Kinney's No Cities to Love, which (perhaps hampered by its long-ago January release date) ranked 13th with users and 8th with critics, and Carly Rae Jepsen's E-MO-TION, which users slotted two places higher than the professionals did.
How did you do?
What do you think of the picks made by your fellow users? Let us know in the comments section below, and don't forget to check out our Best of 2015 section for all of our end-of-the-year coverage.