Great show, weak year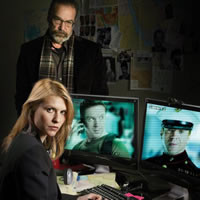 For the first time in three years, TV's best first-year series was not on HBO, though it was on pay cable. Showtime's addictive thriller Homeland 91, starring Claire Danes and Mandy Patinkin as CIA agents who suspect that a rescued American soldier (Damian Lewis) may be working with terrorists, is not just the best-reviewed newcomer in the 2011-12 TV season, it's the highest-scoring first-year series in Metacritic history (dating back to 2005, when we launched our TV coverage). HBO, which took the #1 spot in each of the past two seasons (with Boardwalk Empire 88 and Treme 87), had to settle for second place this year with its divisive new comedy Girls 87.
Why all this talk about cable series? It's simple: 2011-12 was not a great year for new series on broadcast television. Just two of the 10 highest-scoring newcomers this season aired on broadcast networks, though the highest-scoring broadcast show (NBC's rapidly declining Smash 79) did earn a higher score than last year's best network show (Fox's The Chicago Code 75). Actually, it wasn't even a great year for cable series; Homeland and Girls were the only two new series to score above 79, while the previous season saw five new shows exceed that mark.
But just how bad were things on the broadcast networks? Despite launching 22 new series to generally positive reviews from critics (a nearly 45% percent success rate, up from the previous season's 39%), four of the five networks saw their season average Metascores decline versus the previous year, with only NBC's showing an improvement. The reason for those declines was a marked increase in the number of stinkers; this season saw the introduction of nine new shows with terrible reviews from professional critics, compared to just three for the 2010-11 season.
Despite the fact that only 40% of its new shows received positive reviews from critics (the second-lowest success rate among the five broadcast networks), low-rated NBC actually edged out its competitors to place first in average Metascore (for first-year shows only) for the season, knocking Fox out of the top spot for the first time since 2008-09. Here's how the new shows launched by the broadcast networks compared in 2011-12:
Broadcast Network Quality Comparison (New Shows Only), 2011-12 Season
Network
2011-12 New Shows
% Good
Average Metascore
Score Change vs.
2010-11 Season
Score Rank in
2012 / 11 / 10 / 09
40%
57.0
↑6.0
56%
56.1
↓6.9
43%
53.8
↓1.2
54%
53.6
↓2.4
20%
51.6
↓2.4
The 2011-12 season's best and worst new shows
Before Homeland, the previous record high Metascore for a first-year series was 88, a mark most recently achieved by Boardwalk Empire. Metacritic users also liked Homeland enough to place it among their five highest-rated new shows of the season, though the Kelsey Grammer-starring Boss 78 was the only other program to score highly with both critics and users. While all five of our users' highest-scoring shows did receive positive reviews from critics, one of the critics' favorites—Girls—did not go over well with our users, who gave that show an average score of just 5.7. The only program on either list not to earn renewal for a second season was our users' second-favorite new series of the year, Awake 75.
Metacritic users and professional critics had no trouble agreeing on the season's worst new show: the abysmal ABC comedy Work It 19, which centered on two men who dressed in drag to secure employment. That show—the lowest-scoring network series since we initiated TV coverage in 2005—was axed after just two episodes, though that still seems like two too many. (ABC's 2007 sitcom Cavemen 19 is just a fraction of a point "better" than Work It.) The broadcast networks actually accounted for all of the lowest-scoring shows of the season, though keep in mind that many of those reality shows that pop up like weeds on cable do not receive enough reviews to qualify for the lists below.
The season's best new network and cable shows
Last season saw a slight improvement for the broadcast networks at the top end of the scale; six new series received a Metascore of 70 or higher, besting last year's total of four, while NBC's not-quite-a-smash-hit Smash achieved a score higher than any network series in the previous season. And CBS was the only network not to land a show among the ten highest-scoring first-year series—that's right, even The CW managed to do so, though their entry, Canadian import The L.A. Complex, was the lowest-rated drama pilot in broadcast network history. Several other shows on the list below failed to win over viewers despite scoring with critics; NBC's Awake and Bent were canceled at the end of the season, as was ABC's Pan Am.
Cable, meanwhile didn't produce as many critical hits as it normally does, with just two new shows receiving widespread acclaim this season:
Best Reviewed New Cable Television Series, 2011-12 Season

|   | Show (Network) | Genre | Metascore | Users |
| --- | --- | --- | --- | --- |
| 1 | Homeland (Showtime) | Drama | 91 | 7.9 |
| 2 | Girls (HBO) | Comedy | 87 | 5.7 |
| 3 | Boss (Starz) | Drama | 78 | 7.9 |
| 4 | Whitechapel (BBC America) | Drama | 75 | 6.1 |
| 5 | Enlightened (HBO) | Comedy | 75 | 6.3 |
| 6 | Luck (HBO) | Drama | 75 | 7.1 |
| 7 | Key & Peele (Comedy Central) | Comedy | 74 | 6.3 |
| 8 | Veep (HBO) | Comedy | 72 | 7.2 |
| 9 | The Fades (BBC America) | Drama/Sci-fi | 69 | 7.4 |
| 10 | All-American Muslim (TLC) | Reality | 69 | 6.2 |
With Downton Abbey 84 officially switching out of the miniseries category into the regular drama category for this year's Emmy consideration, it leaves fellow British import Sherlock 91 (also in its second "season") to take top honors in the miniseries, movies, and specials category for the 2011-12 season, after the latter title placed second to Downtown Abbey in the previous season.
Network performance
On the next page, we examine the performance of each broadcast network in greater detail.