A far cry from 2011's heights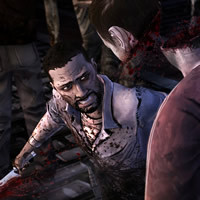 It's a good thing that 2013 looks likely to be loaded with great games, because, as we look over this year's numbers, it seems 2012 wasn't. Not even the late arrival of a great new installment in Ubisoft's Far Cry series could make up for the fact that the past 12 months paled in comparison to recent years, at least at the high end of the scale.
Just 14 console games—and 18 products overall, including PC and handheld (non-iOS) titles—scored 90 or higher in 2012. Those figures represent a huge drop from the previous year, when 23 console titles (and 32 games overall) met or exceeded the 90 mark. In fact, since we started publishing these year-end reports in 2009, we have never encountered such a low total number of great games in a single year.
We also expect some grumbling about our Game of the Year award, given annually to the year's overall highest-scoring (i.e., best-reviewed) game for any platform. This year's honoree, Telltale's The Walking Dead 95 (Xbox 360), is a terrific adaptation of Robert Kirkman's comic books. But it is also a retail repackaging (with a mere 9 reviews, at press time) of a game that was previously released online in five episodic installments throughout the year—installments which, though well-reviewed, never achieved an individual score north of 89. (There's also the issue of the retail version's reported buginess.) Still, without a solid reason to exclude it from consideration, its score qualifies it for Metacritic Game of the Year honors, even if it is the lowest-scoring such game since 2003 (when the PC version of Grand Theft Auto: Vice City topped the high score chart with a 94).
In the following pages, we'll reveal 2012's best-reviewed games for each platform. Before we do that, take a look at our quick comparison of the various game consoles:
Console Comparison - Games Released During 2012
70.3
Avg. Metascore
204 games *
69.5
Avg. Metascore
243 games *
68.3
Avg. Metascore
53 games *

6

Great Games **


90

or higher

7

Great Games **


90

or higher

1

Great Games **


90

or higher

6

Good Exclusives **


75

or higher

8

Good Exclusives **


75

or higher

6

Good Exclusives **


75

or higher
Best Exclusive:
Journey

92

Best Exclusive:
Trials Evolution

90

Best Exclusive:
Xenoblade Chronicles***

92
And here are 2012's best-reviewed titles, regardless of platform (iOS games excluded; they're ranked in a separate article):
Releases by platform
On the next pages, we examine the best and worst 2012 games released for each platform, including the top titles exclusive to each platform.